The Morrison Government last month announced changes to the deeming rate used to calculate how much a pensioner earns on their financial assets. Specifically, the deeming rate was lowered from 1.75% to 1% for financial investments up to $52,000 (single pensioners) and $86,000 (couples), whereas the upper deeming rate was cut from 3.25% to 3%. The changes meant that single pensioners will see up to $804 extra a year in their pockets and couples $1,053, and will cost the federal budget $600 million over four years.
Today, lobby group National Seniors Australia (NSA) has announced a ferocious campaign that will seek further deep cuts to deeming rates. From The AFR:
National Seniors Australia, Ian Henschke, said changes to the upper deeming rate announced a month ago were inadequate and failed to reflect the actual interest people were earning on cash deposits.

"They're balancing the budget on the backs of pensioners… Deeming was never meant to be a way of punishing pensioners," Mr Henschke said. "It was meant to be a way of assisting them with coping with the pension"…

Mr Henschke said the upper rate was still too high given almost 40 per cent of pensioners kept their money in cash, whereas the bulk of the remainder used a combination of cash and shares.
Seniors Australia believes the deeming rate should be fixed to the cash rate, as it once was, or set by an independent body.

"This will become a major issue in the run-up to the next election and National Seniors will not sit by and say this has been a commonsense approach and we are happy with a 0.25 per cent [cut to the upper rate]."
However, Council on the Ageing Australia CEO, Ian Yates, has countered their lobbying, arguing that most pensioners earn more than 3% on their investment earnings:
Chief executive Ian Yates noted the announcement would not affect 75 per cent of age pensioners.

"Those calling for the full cut in the cash rate to be applied to deeming need to be honest about how many pensioners are affected, and about the fact that if the Government replaced the deeming rate with actual earnings the majority of part pensioners would be worse off," he said.

"We appreciate the frank and constructive discussions we have had over the last week with relevant ministers in the Morrison Government and the positive outcome that has resulted."
Exactly. NSA's argument that the deeming rate is unfair does not pass scrutiny. Deeming rates apply to all financial assets, including equities like shares and unit trusts. And equities typically rise as the cash rate falls.
Deeming rates have to provide a simple benchmark that takes account of cash returns, dividends and other equity returns. That's why there are two deeming rates – a lower one biased to cash (1.00% on the first $51,800 of investment assets for a single), and a higher one biased to equities (3.00% on investment assets over the amount of $51,800 for a single).
The Morrison Government has appropriately slashed the lower one to 1% – in line with the cash rate – while also cutting the upper one by 0.25%. If anything, the upper deeming rate is still far too generous, since actual earnings on equities (dividends) are typically much higher than 3%.
The Guardian's Greg Jericho also make the important point that it is not current, but future, retirees that are likely to suffer under the current system, due to the rise in household debt among pre-retirees, alongside plummeting home ownership rates:
In 2017-18 something happen that has never occurred before – more 55-64-year-olds were still paying off a mortgage than owned their home outright:

At the turn of the century, 64% of people in their pre-retirement years lived in a house owning no mortgage; now it is just 37%.

Forty per cent of such households are still paying a mortgage compared to 20% in 2000.

The percent of renters aged 55-64 has also risen in that time from 14.7% to 21.0%.

And this is where that nice little sentence in the superannuation guides comes back with a vengeance. Because "assumes you own your home" means assumes you have paid off the mortgage.

If you go to the Association of Superannuation Funds of Australia's retirement guide, none of the budget expenses for "ASFA Retirement Standard for retirees" include rent or mortgage repayments.

For those aged 44-54 the issue is even more stark…

In 2000, almost as many 44-54-year-olds had paid off their mortgage as held one. Now 55% have a mortgage and just 17% have paid it off…

Right now our retirement systems operates with three quarters of retirees owning a home; in 20 years it will need to work with less than a third doing so.
That's right. Australia's retirement system is geared towards people owning their home. However all generations, other than today's retirees, have seen home ownership rates plummet: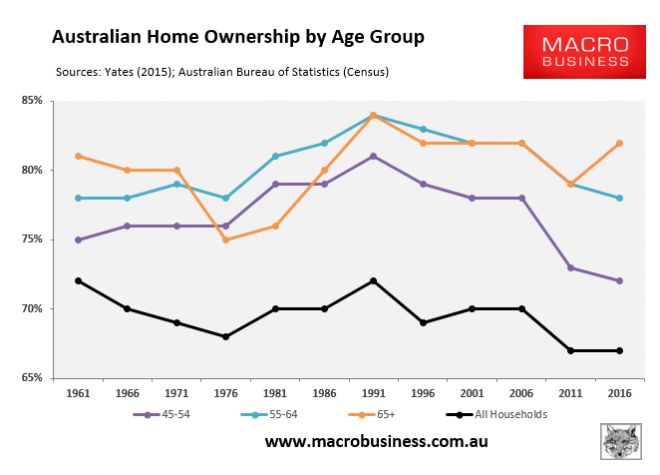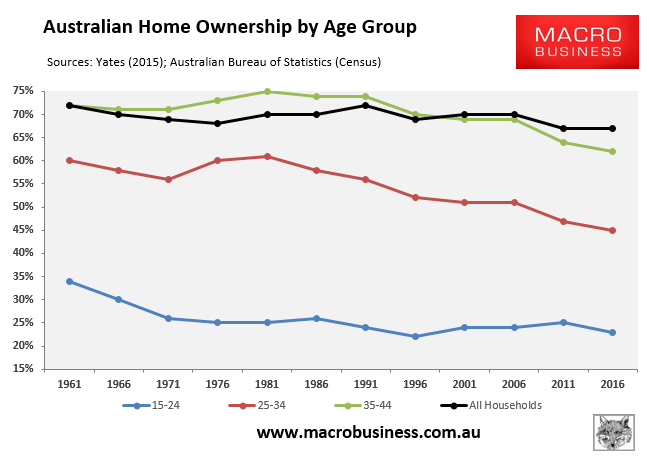 All of which makes the whinging from today's over-fattened retirees a bitter pill to swallow.
Leith van Onselen is Chief Economist at the MB Fund and MB Super. Leith has previously worked at the Australian Treasury, Victorian Treasury and Goldman Sachs.
Latest posts by Leith van Onselen (see all)