After Monday's damning audit from Infrastructure Australia, which warned of intractable infrastructure bottlenecks and rising costs, and claimed that $40 billion in annual infrastructure spending was needed as Australia's population balloons to a projected to 31.4 million people by 2031, the government announced that it would launch a 'powerful inquiry' into Australia's immigration program.
The announcement of this inquiry suggested the Coalition would consider further cuts to Australia's immigration program, but this has been quickly hosed by the chair of the committee, Liberal MP Julian Leeser. He has explicitly ruled-out cutting migrant numbers and will instead look to shift migrants to the regions. From The Guardian:
"It is not about the total number. I think we have had a long debate about how many people we should have in this country, what we haven't had enough discussion on is where they should go."

He said the committee wanted to come up with new policy ideas to try to encourage new arrivals to move to regional areas, which would dovetail with the government's new regional visa push.

"This is a great national goal, many governments have talked about the idea of people moving to regional Australia to address skills shortages in those areas," he said.

"I think hopefully we will break some new ground and hopefully come up with some new policy ideas that we can help put in place [and] will, in combination with the new visa arrangements that the government has announced, help encourage people to choose to live in regional Australia and to stay."

The new regional visa push, announced by the Coalition before the election, has been criticised as being unworkable, while attempts at decentralisation have been pursued for the past century without success…

Leeser, who represents the seat of Berowra in Sydney, said he often heard concerns among constituents about population growth in the city.

"People in my electorate often say to me that we have too many people in Sydney and that they supported very strongly the government's cap on migration, but when you say to people the economy needs people, they say 'well we should have more people move to regional Australia', and that is borne out by the fact that we have got all these jobs that aren't filled in regional Australia."
"I think we have had a long debate about how many people we should have in this country". Really? When? Because almost all recent opinion polls don't won't further population growth and would like to see immigration cut. And if the government truly wants to know what the electorate wants, give us a plebiscite on Australia's future population level.
We already know that most new migrants choose to reside in Australia's two biggest cities – Sydney and Melbourne. This was revealed in the Productivity Commission's 2016 Migrant Intake into Australia report: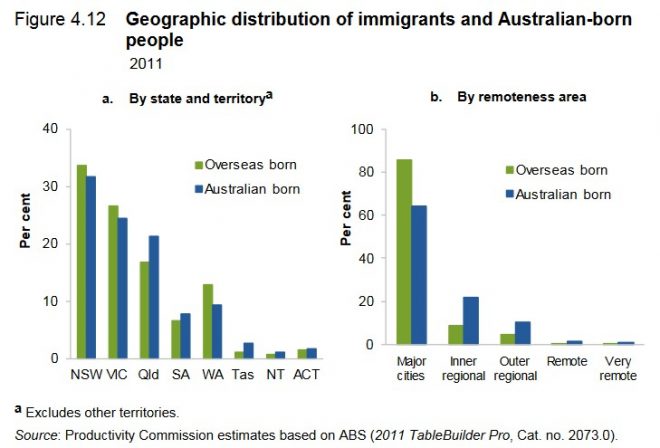 It was confirmed by the 2016 Australian Census, which revealed that 86% of new migrants (1.11 million) in the five years to 2016 settled in the capital cities, versus just 14% (187,000) that settled in regional areas over the same period.
And it was confirmed by the latest migrant settlement data from the ABS, which showed that 85% of migrants settled in the capital cities in 2017-18, with 65% alone settling in Sydney and Melbourne: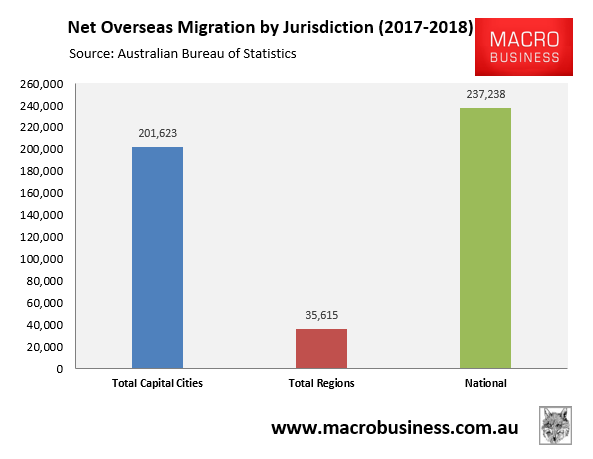 While the Coalition's settlement policy may direct a handful of migrants to regional areas, there is nothing to actually keep them there and most will head into the major cities once their mandatory time period is up.
Indeed, ANU research of settlement patterns, released in May, showed that 60% of migrants that moved to Australia's regions subsequently move to the cities within five years:
An Australian National University study released Thursday found more than 60 per cent of migrants move to a capital city after about five years of living in a regional or remote location.

ANU material went as far as saying new migrants were "fleeing" regional Australia for better opportunities in the cities.

Australia has a number of visas that are designed to entice migrants to regional areas but the research suggests more needs to be done to keep them there.

ANU demographer Bernard Baffour told SBS News, "you can move migrants to areas, but you can't force them to stay there"…

The study found Chinese-born migrants are more likely to settle in Sydney. Erin Chew of the Asian Australian Alliance said, "a lot of the Chinese people are city dwellers, so they want to live in [places] where there's a huge concentration of their community"…

Elsewhere, Melbourne is the city of choice for most Indian-born migrants.
State-based migration programs have been systemically gamed, with migrants temporarily settling in places like the ACT and Tasmania purely to get the required number of points for permanent residency before moving to Sydney and Melbourne.
There is also the problem of scarce water supply in the regions, with huge swathes of NSW and QLD already in drought. How are towns like Tamworth and Dubbo supposed to accommodate tens-of-thousands more people when they are already running dangerously short of water?
And let's not forget that unemployment and underemployment rates are higher in the regions. So where are "all these jobs that aren't filled in regional Australia"?
Let's be real for a moment. Australia hit 25 million a few years ago and we weren't supposed to hit that number until 2050, according to earlier ABS population projections. Now Australia's population is going to be 31 million in just 12 years. With that level of growth, how on earth does the federal government believe that congestion will be lowered? It won't.
Not even Infrastructure Australia (IA) believes it is possible, as it stated clearly in Monday's infrastructure audit. Indeed, Modelling conducted by IA in 2018 explicitly projected that traffic congestion and access to jobs, schools, hospitals and green space will all worsen in Sydney and Melbourne as their populations balloon to a projected 7.4 million and 7.3 million people respectively by 2046, irrespective of whether these cities build up or out: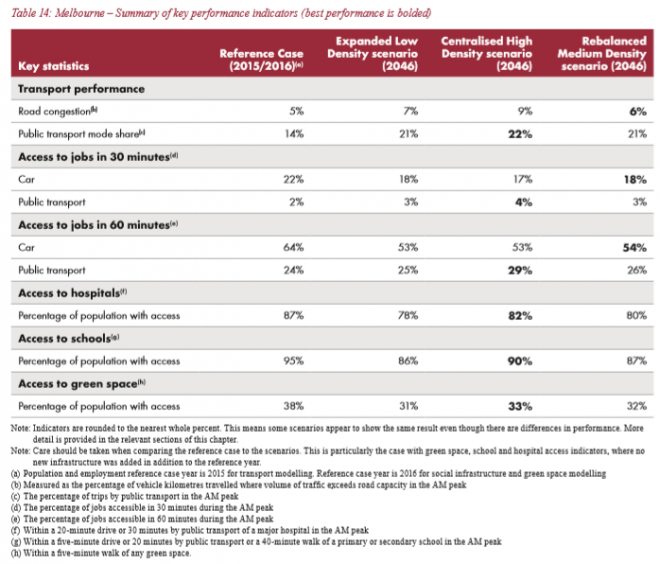 Short of erecting 'migrant proof fences' and electronic tags, how can decentralisation of migrants be achieved in practice when it has failed so dismally in the past, and has been systematically gamed?
The reality is that maintaining a mass immigration 'Big Australia' policy means that Sydney and Melbourne will continue to be crush-loaded as their populations swell to a projected 10 million people each by 2066, placing extreme further pressure on infrastructure and housing, and destroying living standards for incumbent residents: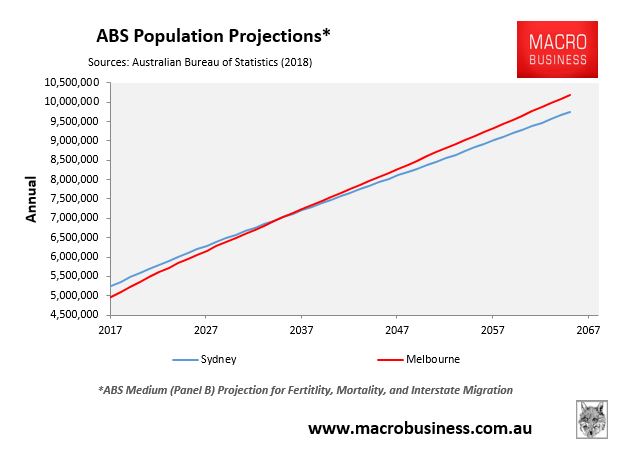 No amount of spin and propaganda by the Government can overcome these basic facts.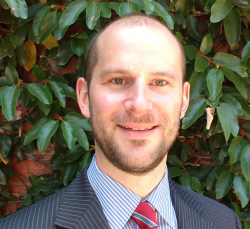 Latest posts by Leith van Onselen
(see all)