Recall Reserve Bank of Australia (RBA) governor, Phil Lowe's, testimony on Friday to the House of Representatives Standing Committee on Economics, whereby Lowe wrongly claimed that increased labour force participation from older Australians is one of the key reasons for excess capacity in Australia's labour market and why wage growth has stuck to historically low levels:
What's happened is that increased demand for labour has been met with more labour supply, especially by women and older Australians. Reflecting this, a higher share of the Australian adult population is participating in the labour market than has ever been the case before. I want to be clear: this is very good news. But one of the side-effects of this flexibility of labour supply is that it's proving harder to generate a tighter labour market and so, in turn, it's been hard to generate a material lift in aggregate wages growth.
Superficially at least, the RBA's claim contains a kernel of truth. As shown in the next chart, the labour force participation rate of over-65s has more than doubled since 2000, and there is obviously much further scope for participation to lift given the legislated increase the Aged Pension eligibility age to 67 from 2023, as well as people living heathier for longer.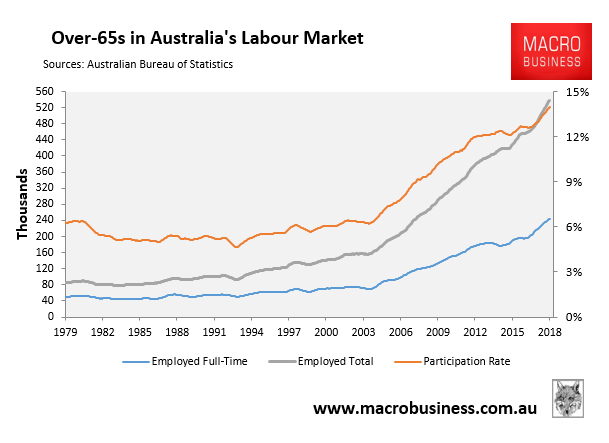 That said, while labour force participation is rising among older Australians, many are also struggling to find work and are joining the ranks of the unemployed, according to analysis from Fairfax:
There are now a record 610,000 people 65 or older holding down part or full time work.

But despite the large increase, many older Australians are finding it very difficult to get work with a 39 per cent jump in the number of unemployed over 65s looking to tie down a full time job…

Unemployment across 65-year-olds looking for any type of work has jumped by almost 28 per cent. Across the general population it fell by a full percentage point over the past year…

National Seniors chief advocate Ian Henschke said many older Australians faced prejudice as they tried to get a job which would worsen as more people sought work in their 60s.
What is generally ignored is that Australia's strong migration program is displacing older workers and forcing them onto the unemployment queue. That is, by allowing employers to pluck cheap migrant workers en masse, they are discouraged from hiring and training local workers, including those aged over 65.
The data supports this contention. According to recent research from Professor Peter McDonald from Melbourne University, migrants took 83% of jobs created between 2011 and 2016:
From July 2011 to July 2016, employment in Australia increased by 738,800. Immigrants accounted for 613,400 of the total increase…

Migration has had a very large effect on the age structure of employment with most new immigrant workers (595,300) being under 55 years.
In a world of rapidly expanding automation, labour force shrinkage should be viewed as a boon, not a threat. Our expanding ability to automate human work across all sectors — agriculture, industry, and services — makes an ever-growing workforce through immigration unnessary and more likely to add to unemployment and create wage stagnation.
Australia will never achieve 'full employment' or solid wage growth while it continues to import migrant workers in bulk.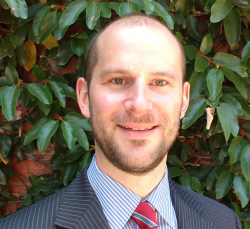 Latest posts by Leith van Onselen
(see all)