The hidden costs of the 'Big Australia' mass immigration policy have surfaced again, with a new report from RMIT's Centre for Urban Research showing an alarming loss of greenery across Metropolitan Melbourne caused by encroaching urban development:
Comparison of the 2014 and 2018 combined tree and shrub cover across the study area reveals an overall change of 50,964 ha to 46,393 ha; representing a change from 21.0% to 19.1% cover and a loss of 1.9 percentage points (or 4,571 ha). For tree cover alone the change is from 34,074 ha to 32,333 ha; representing a change from 14.0% to 13.3% cover and a loss of 0.7 percentage points (or 1,742 ha).
The loss of greenery has been most pronounced in the 'leafy' Eastern region, Inner South East, and Southern region, caused by the loss of parkland, residential lots and streets trees, as well as on other land classes:

The study blame urban densification and subdivision of existing housing lots as being responsible for much of the greenery loss:
Based on 2018 figures, residential land provides the largest area of vegetation cover and of tree cover across the study area (38,888 ha of vegetation cover; of this 15,193 ha is tree cover). Between 2014 and 2018 residential land experienced the largest amount of tree canopy loss in absolute terms (861 ha) and the largest amount of combined shrub and tree loss (1,717 ha). In percentage tree cover, this is a change from 15.0% cover in 2014 to 14.2% cover in 2018, a loss of 0.8 percentage points…

Canopy loss is concentrated in areas where there is significant existing vegetation and significant urban re-development activity.
Speaking to Fairfax, lead author Associate Professor Joe Hurley noted that the loss of greenery is deleterious to residents' health:
"Trees and vegetation in cities provide a lot of benefits to human health and wellbeing, as well as ecological and biodiversity benefits," Professor Hurley said.

Trees were also critical to cooling the climate in built-up spaces, he said.

"The big one is heat amelioration, particularly for drier cities like Melbourne and Perth, where we get very hot conditions and it's only increasing under climate change."
Obviously, the underlying driver of Melbourne's development and the associated vegetation loss is mass immigration, which drove Melbourne's population up by 1.3 million people (36%) in the 14 years to 2018: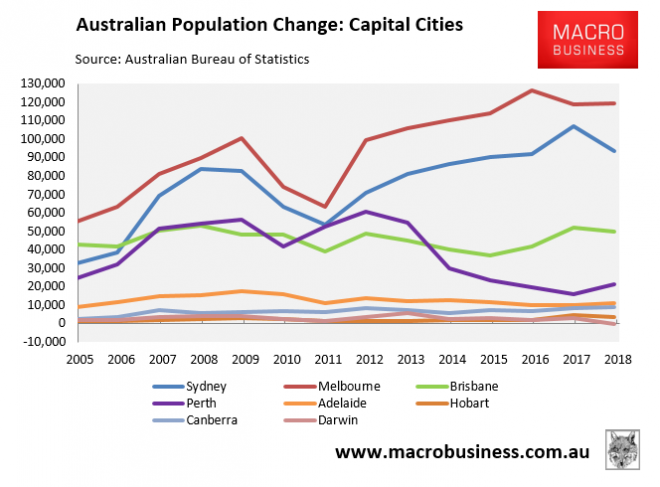 As we know, Melbourne's population is projected by the ABS to more than double again to 10.2 million people over the next 48 years, driven almost entirely by mass immigration: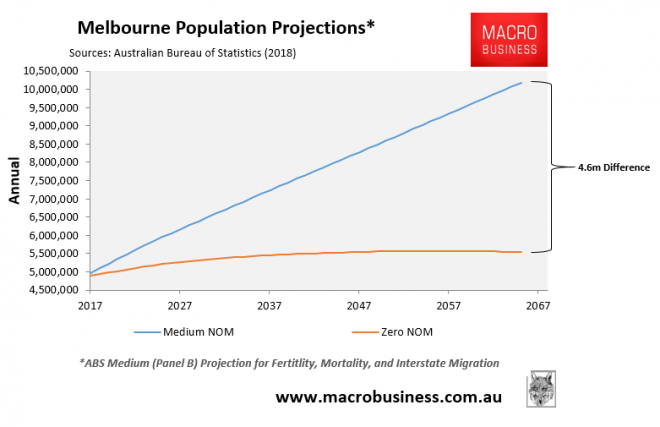 Infrastructure Australia's modelling also projects a significant reduction in access to green space (in addition to other worsening liveability indicators) as Melbourne's population balloons to a projected 7.3 million people by 2046:
Anybody concerned about the loss of green space should address the problem at its source and lobby to slash immigration, since this is the fundamental driver of the rapid development engulfing Melbourne.
Latest posts by Leith van Onselen (see all)