Robert Gottliebsen has rung the alarm that Australia's international student trade risks falling over if Chinese international students stop arriving in record numbers:
Universities are funded by taking in foreign students who pay full fees. Many of these students come from China. Chinese universities have adapted their courses to fit the modern world…

In other words, in business terms, we face a rival which has updated its product. In the past, Chinese universities have not had the capacity to meet the demand, but they are catching up.

And just to make matters even more dangerous for Australia, relations with China are poor, so returning to China with an Australian degree might not carry the same advantage that existed in previous decades, particularly given the rise in the standard of Chinese universities.

On this front, Australia is helped by the fact that the largest education state, Victoria, was smart enough to join China's belt and road initiative.

Of course the student market covers many other countries. We must also recognise that a proportion of the total student market has come to Australia seeking long-term residency. If Canberra tightens the visa requirements, it will be a disaster for the education sector because without visa seeking students, the tertiary education sector could not be funded…

I do not claim to have the answers but Australia's third largest export industry has not recognised that the game has changed. Nor have the federal and state governments, who blame each other. We have to change the debate or we will lose this industry because if overseas students fall then it will go into a downward spiral.
As shown in the next chart, Chinese accounted for 201,000 international student enrolments as at March 2019, well ahead of second placed India (101,301) and third placed Nepal (51,559):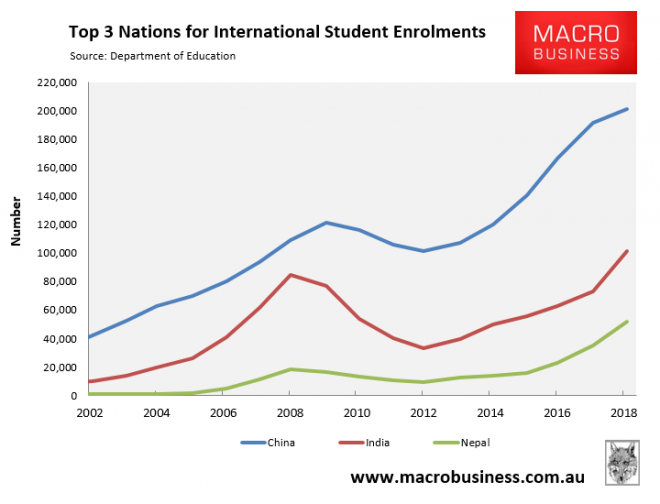 However, the latest student visa data from the Department of Home Affairs shows that visa applications from China fell 3.3% in the second half of 2018, which was more than offset by strong growth from both India (53.5%) and Nepal (47.8%):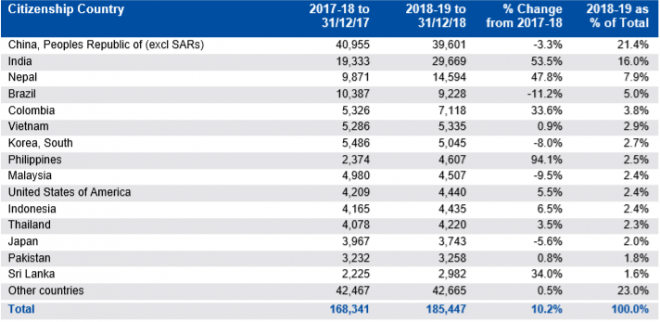 Australia's international student trade is effectively caught between allowing ongoing political interference from China, in an attempt to keep Chinese student numbers flowing, and/or further dumbing down entry and teaching standards to entice lower quality students from India and Nepal, many of whom study in Australia for the primary purpose of qualifying for permanent residency.
Thirty years ago, Australia's tertiary education systems were not big exporters. Thirty years ago, the academic content of the best universities was far more rigorous than today, built upon rational discourse and insistence on evidence, precedent, logic and effective communication. Becoming a big exporter has led the sector to dumb down its courses for profit.
A collapse in the international student market would cause short term pain but long term would prove positive for Australia, since universities would have to go back to being institutes of teaching excellence, not profit driven businesses used as avenues for backdoor migration.
Further, if the trade fell away, there is a natural stabiliser in the falling Australian dollar that would bring in more students seeking value and quality over easy residency.
Over the long term that delivers productivity and competitiveness gains that are both destroyed by the short term money grab.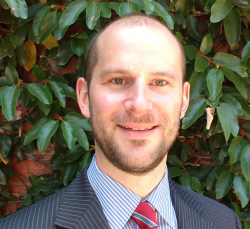 Latest posts by Leith van Onselen
(see all)