Over the past month, Hong Kong international students studying at Australia's universities have endured growing threats and intimidation from both Chinese international students and the Chinese Government.
The issue came to a head last month at the University of Queensland, when peaceful Hong Kong students protesting in favour of independence were physically attacked by a mob of angry Chinese nationalists.
In the weeks that have followed, Hong Kong students have been subjected to ongoing harassment both on and off Australian university campuses. Pro-Hong Kong Lennon boards, which offer messages of support in favour of independence, have been repeatedly torn down. And the Chinese Communist Party (CCP) has paid visits to some families of Hong Kong students identified via facial recognition technologies, warning them of dire consequences from political dissent.
With this background in mind, SBS News has published a report on the many Hong Kong students studying in Australia that are now living in fear that they may not be able to return home:
The fallout following the altercation [at the University of Queensland] saw reports that the Hong Kong students' political activity would be documented and sent to the Chinese government.

Fearing for her own safety, [Hong Kong international student] Phoebe is now protesting from behind a cleaning mask.

"We just found out our photos have been spread over the Chinese internet," she told The Feed.

I'm worried that if the Hong Kong government or the Chinese government find out who I am, then I may not be able to go home, "I do feel like I have to protect my identity in order to keep standing with the Hong Kong people."

Some students have also been reportedly doxed online…

Students from Hong Kong have emphasised that their issues lie not with mainland Chinese students who hold conflicting views, but with those wanting to silence them from voicing their own opinions.

"I feel I'm restricted," Phoebe says from behind her mask.

"I feel like I have to censor myself before saying anything otherwise they will be triggered and then they will destroy our stuff."

She says she plans to return to Hong Kong one day.

"I want to say thank you to all the Hong Kongers that are fighting so hard for our freedom, for our values, for the place we love."
According to the Department of Education's international student enrolment data, Chinese students outnumber Hong Kong students by nearly 20-to-one at Australia's universities: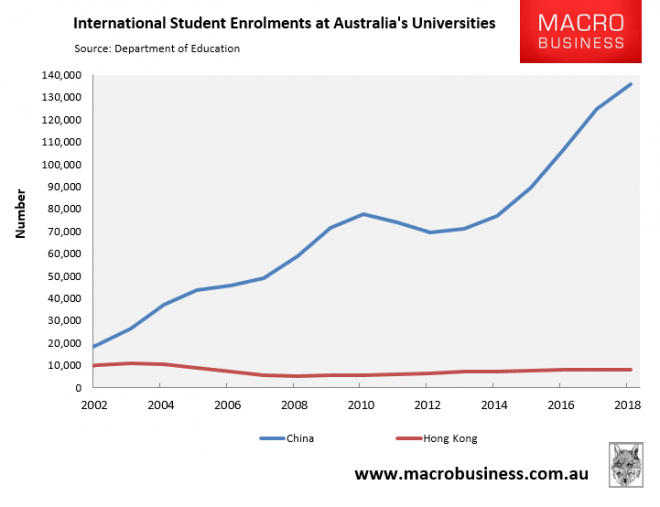 That is, there were 136,000 Chinese international student enrolments as at March 2019, versus just 8,000 Hong Kong international students.
This imbalance must certainly be intimidating for Hong Kong students, particularly in light of China's growing dominance of student political bodies, alongside the proliferation of CCP-backed Confucius Institutes operating on Australian university campuses.
The dilemma facing Australia's policy makers is clear: do they put the lucrative Chinese international student trade at risk by standing up for free speech and democracy? Or do they continue selling-out to the Chinese in order to maintain student flows and profits?
Latest posts by Leith van Onselen (see all)