The fallout from last month's protests at the University of Queensland, which saw nationalist Chinese students attack Hong Kong students protesting in favour of independence, continues to fester across Australia's universities.
In the weeks following these protests, we have witnessed pro-Hong Kong Lennon boards across Australia's university campuses, which offer messages of support in favour of independence, systematically torn down by Chinese students, as well as attempts by Chinese student groups to strongarm universities into suppressing pro-Hong Kong sentiments in order to provide a "clean and pure learning environment".
There have also been ongoing reports of intimidation of Hong Kong students, as reported by Fairfax on Friday:
Students involved in pro-Hong Kong protests at Australian universities say they have been assaulted, filmed and threatened by Chinese students…

At Melbourne's Monash University, organisers of a mobile "Lennon Wall" – a colourful noticeboard where pro-Hong Kong protesters put Post-it notes expressing their opinions anonymously – say students speaking Mandarin got up close to try to film their faces with the aim of finding out their identities.

…one participant of the protest had made a police report after she was recognised and tracked down on social media where she had been insulted and had received calls from unknown numbers.

But he said their main concern was for mainland Chinese students who participated in the demonstration.

"There are some Chinese students on our side and now they are trying to find out who they are and find their addresses in China. We are so concerned about their safety, we are worried when they go back to China something will happen"…

"When we we were making the wall we we were doing it at night, wearing masks, because we were scared," one student involved said. It was torn down by students speaking Mandarin and caught on video.

Fear of repercussions kept them from holding more public demonstrations.
This follows last week's revelation that the parents of a Chinese international student whom attended a pro-Hong Kong independence rally was threatened by the Chinese Communist Party (CCP) and warned of the potential consequences of political dissent:
"I was in the protest. When people were recording I was doing my best to hide my face or stay away from the crowd", [the student said]…

But within days of the rally the student received a call from his mother in China to say the family had been approached by "a guest".

His mother told him the authorities had issued a warning about engaging in "anti-China rhetoric" in Brisbane and warned him not to "join any events where people are gathered together".

"As long as you do that, we can make sure you're safe and we're safe," his mother told him.

She said the family had assured officials that their son was loyal to the Communist Party.
Australia's has let the 'wolf into the henhouse' in its thirst for Chinese international students. There were 136,000 Chinese international students studying at Australia's universities as at March 2019 – an increase of 619% over the past 15 years: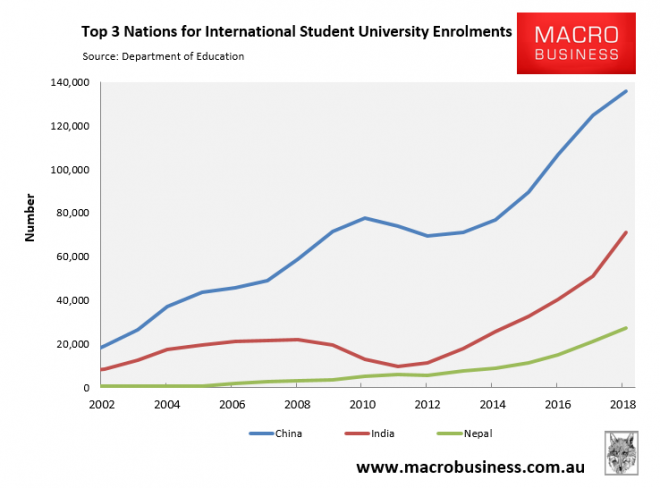 As shown above, Chinese dominate Australia's international student trade, accounting for 38% of total international student market by number and around 40% by value.
The concern is that the Chinese Communist Party has extended its influence to Australia's university campuses via its international student diaspora, and in the process has suppressed the freedoms of other university students.
These concerns have been made worse by the fact that the Chinese Consulate in Brisbane praised the "spontaneous patriotic" behaviour of the Chinese students that attacked the pro-Hong Kong protestors at the University of Queensland, along with the proliferation of China-backed Confucius Institutes operating on Australian university campuses. These Confucius Institutes are a fully funded subsidiary of China's Ministry of Education, and under the contracts of these institutes, China is effectively permitted to dictate what is taught, thus allowing the CCP to spread propaganda and push a nationalist agenda at Australia's universities.
These risk have also been noticed in the US, via Washington Post:
Beijing's increasingly aggressive actions worry Australians, as they should. In a two-part documentary currently screening on Australian television, Stephen FitzGerald — who, in 1973, became Australia's first ambassador to China and is one of the country's leading Sinologists — labels China's attitude toward its diaspora a "provocation." FitzGerald believes that Beijing should back off — but also that Australia needs to do more to embrace its Chinese students, welcoming them into the freethinking world of Western universities and countering the isolation that many experience.

FitzGerald's advice offers a clue to the measured response we need right now. Australians, in the end, must steer a difficult course: trying to avoid the dangers of naiveté without falling back into the anti-Asian sentiment of our early history. At the same time, Chinese ambitions are real, and often explicitly stated. Australia, and the world, will need more than luck to manage them.
Australia's politicians must push back strongly against the CCP's infiltration of Australia's universities. Stephen Fizgerald has previously advised that Confucius Institutes should be pushed off campus. His warnings last year were stark, the ABC:
A former Australian ambassador to China says Beijing's influence here might become a thornier problem for the Federal Government than the dispute over the South China Sea.

In a discussion paper for the high-powered China Matters conference, Stephen FitzGerald wrote that Beijing's sway over ethnic Chinese communities in Australia was palpable and extended to "the surveillance, direction and at times coercion of Chinese students through [People's Republic of China (PRC)]-directed or controlled student associations".

Some of the activity in Australia was being "directed by the Propaganda Department of the CCP Central Committee, whose role in China is to police people's adherence to the views of the Party State and enforce 'correct' thinking", the paper said.

The former diplomat said what made China's influence peddling exceptional was that it brought "Australian and Chinese national interests, and values, into direct contention, challenging fundamentals of our system like freedom of speech and the media and enquiry, and the very validity of our political system".

He pointed to the flow of Chinese Government funds though universities, the media and political parties saying it was designed to "generate among Australians and the Australian government a broad, uncritical approval of China's government and its foreign policies".

"Embassy and consulate officials have become more open in fronting universities and other institutions to voice displeasure at particular actions or decisions, with the suggestion that 'China' will not be happy if these are not changed or reversed," Professor FitzGerald said.
We need rules and enforcement to protect free speech on campus.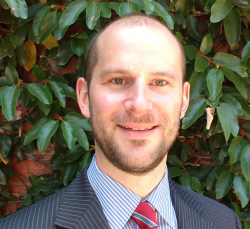 Latest posts by Leith van Onselen
(see all)