The 2008 Bradley review into higher education was concerned that the strict allocation of undergraduate university places over the prior 30 years would lead to a shortage of graduates for the so-called "knowledge economy".
Accordingly, it recommended the uncapping of university places and the implementation of the demand-driven system, which was implemented by the Gillard Government and ran between 2010 to 2017. In terms of pure university participation, this policy was wildly successful. By 2016, 41% of 19-year-olds were enrolled in higher education, up from 31% in 2009: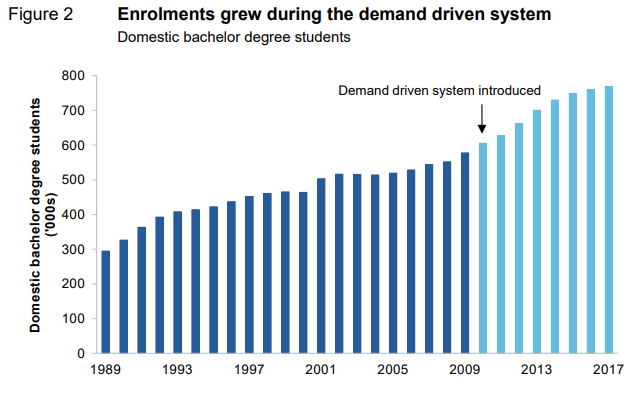 Problem is, it has left the Australian economy way oversupplied with university graduates and with skills in all of the wrong places. Because while university participation ballooned, participation in vocational education and trades plummeted: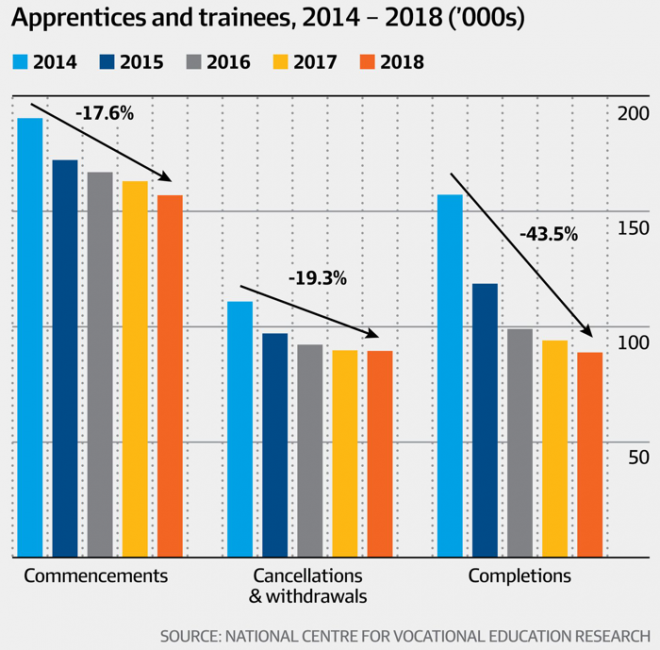 Accordingly, skills shortages among managers and professionals are running at recessionary levels, according to the Department of Jobs and Small Business: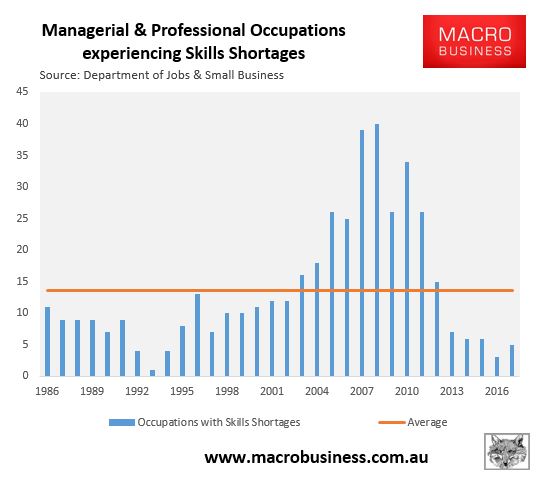 Whereas skills shortages among technicians and trades are running well above-average levels: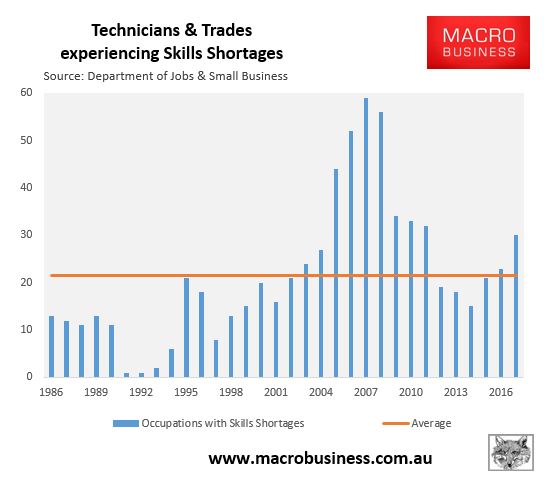 Today, employers have warned that Australia's university-centric higher education system is not fit for purpose and is leaving Australia with a "skills crisis":
Employers have warned Scott Morrison that the nation's ­training system is "bedevilled by inconsistency" and urgently needs "bolder reforms" to tackle growing skills shortages that are threatening the delivery of an ­unprecedented pipeline of infrastructure projects.

Ahead of a Council of Australian Governments meeting in Cairns tomorrow, Australian Industry Group chief executive Innes Willox has written to the Prime Minister detailing how ­increasing demand for skilled workers is occurring as apprenticeship and traineeship numbers fall to a 10-year low, while the number of workers aged older than 65 has doubled in a decade…

Apprenticeship and traineeships numbers have fallen from 446,000 in 2012 to 259,385 last year…
Given Australia is way oversupplied with university graduates, the solution is obvious: Australia's governments must shift funding away from the oversupplied university sector towards publicly run TAFEs.
Latest posts by Leith van Onselen (see all)