Following on from yesterday's post on CoreLogic's daily dwelling values index results for July, CoreLogic has released its full results, which also cover the smaller capitals and regional areas (see next table).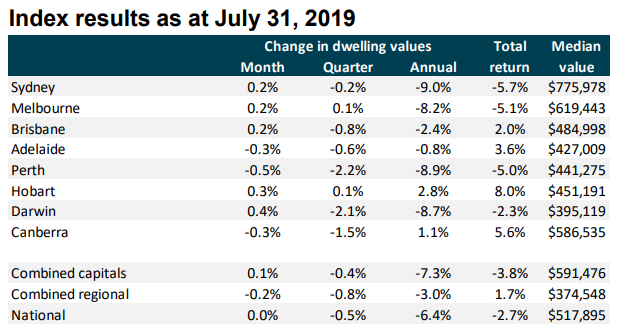 As you can see, Sydney (0.2%), Melbourne (0.2%), Brisbane (0.2%), Hobart (0.3%), and Darwin (0.4%), all registered rising dwelling values in July, whereas Adelaide (-0.3%), Perth (-0.5%) and Canberra (-0.3%) recorded falls.
The below chart shows the change in dwelling values over various time periods: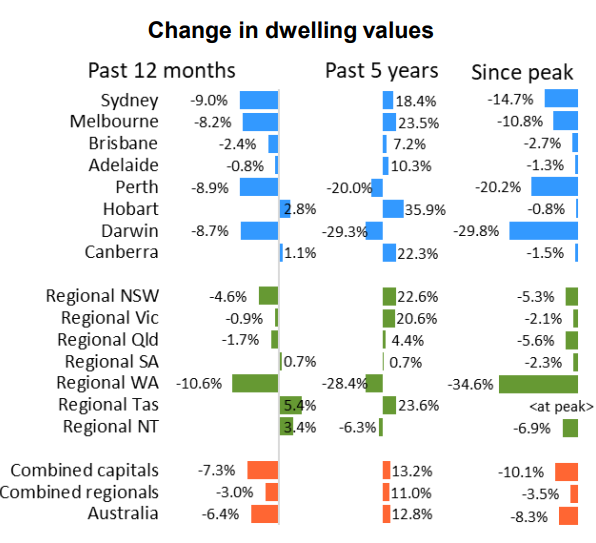 According to CoreLogic, the price recovery is being driven by the higher end of the market: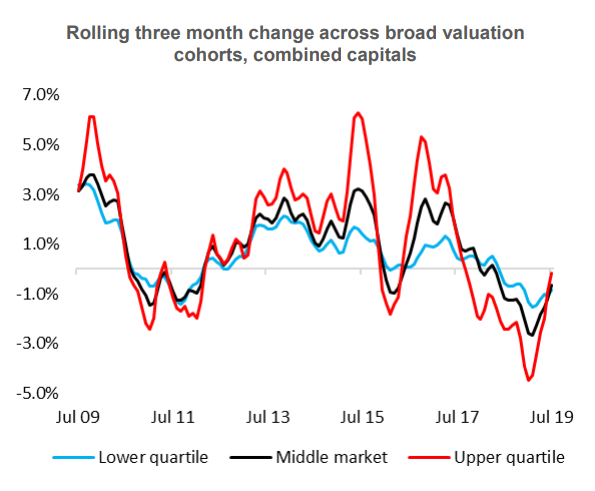 Whereas rental growth remains lacklustre, falling 0.1% in July and rising just 0.6% over the year, with Sydney's rents down 2.4% over the past 12 months: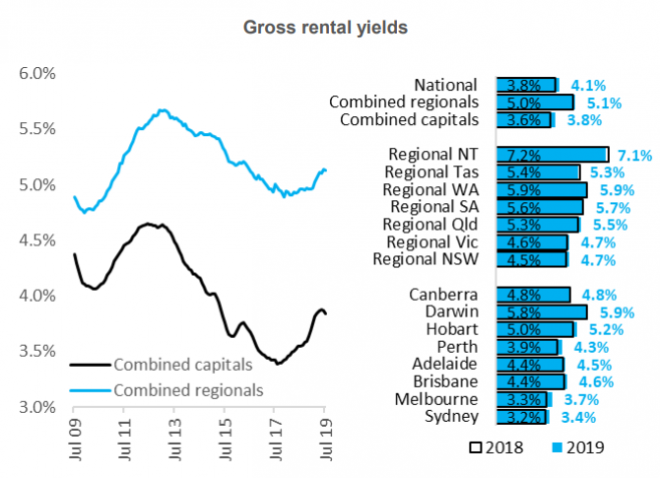 Commenting on the market, CoreLogic claims that "housing conditions are stabilising":
"The July home value index results provide further confirmation that the housing market has reacted positively to the recent stimulus of lower mortgage rates and improved credit availability, however the response to-date has been relatively mild."

While the CoreLogic indices are a timely reference for housing values, other housing and credit indicators are also showing a positive trend.

Auction clearance rates have been holding above 70% through most of July across Sydney and Melbourne, indicating a better fit between buyer and seller pricing expectations.

At the same time, advertised housing stock has been reducing. Across the combined capitals, the number of freshly advertised properties is down 25% relative to the same time last year and total advertised stock levels are now tracking 5% lower relative to a year ago. The reduction in available stock creates less competition among sellers and increased competition among buyers, adding support to higher prices.

According to Mr Lawless the trends in housing credit have also been pointing towards stability. He said, "Although housing finance data from the Australian Bureau of Statistics is only current to May, the trend leading up to June was clearly pointing towards an easing in the credit downturn. Recent CoreLogic valuations platform data shows a modest rise in the daily number of mortgage related valuation events, signaling a lift in housing finance commitments over the most recent two months."

Although the trend towards a recovery in housing values is relatively fresh and centered within the largest cities, Mr Lawless said, "there is no sign of a 'v-shaped' recovery."

Despite an improvement in credit availability, he said, "housing credit polices remain much tougher than they were prior to the Royal Commission as lenders continue to move away from the Household Expenditure Measure (HEM) and examine borrower spending behaviors and expenses more closely."

"Also, lenders now have the benefit of comprehensive credit reporting whereby borrower debt profiles are more transparent, providing lenders with the ability to assess credit worthiness in more detail."

"The ongoing tightness in housing credit is expected to keep a rapid rebound in housing values at bay, despite the lowest mortgage rates since the 1950's."

In closing, Mr Lawless said, "No doubt policy makers will be keeping a close eye for signs of investor exuberance, or a more rapid acceleration in the recovery trend. If values were to start appreciating rapidly, there could be a renewed round of policy responses aimed at keeping a lid on housing prices whilst at the same time, allowing low interest rates to stimulate the economy more broadly."
Spot on.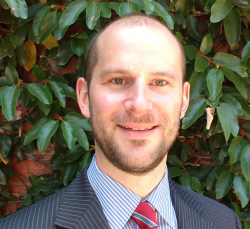 Latest posts by Leith van Onselen
(see all)