It is fair to say that China has been the primary driver of Australia's international student boom.
Over the past six years, Chinese international student enrolments have surged by 94,000, with China accounting for 29% of total international student enrolments at Australian educational institutions: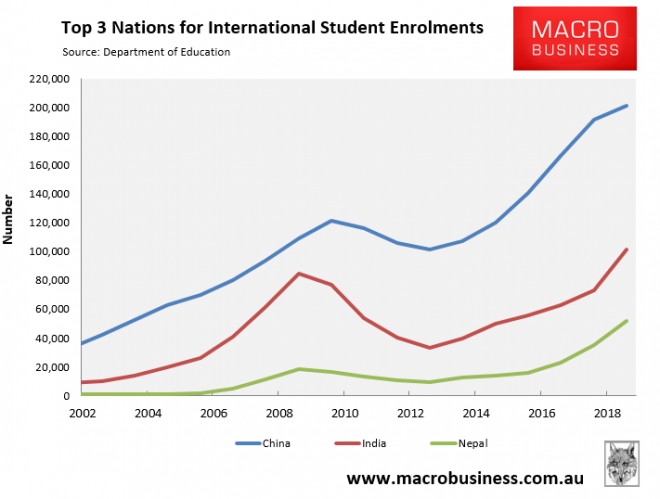 Chinese students also account for around 40% of Australia's $35 billion international student market, with the average Chinese student generating around $72,000 of economic activity in 2018, according to the Department of Education.
The bonanza is coming to an end, however, with new enrolments from China flatlining over the first five months of 2019 and overall student visa approvals slowing. From The Australian:
In the first five months of this year 35,825 Indian students started new courses in Australia, 48 per cent more than the previous year.

The number of students from Nepal — another strong growth market — starting new courses was 32 per cent higher.

In contrast, the number of commencing students from China, the main country driving the past six years of export growth, was unchanged in the first five months of this year…

However, the strong education export growth may not continue because of uncertainty about student numbers from India and other countries in the subcontinent where universities and other tertiary education providers are making a strong push for new students amid fears about declining standards…

Education providers recently have seen delays occurring in visa approvals.

International Education Association of Australia chief executive Phil Honeywood said there was a push for "quality over quantity" in international students, and education export revenue was likely to follow a slower growth path.
As noted above, stagnation in Chinese international student commencements is being more than offset by surging enrolments from India and Nepal.
The Department of Home Affairs' student visa data supports this claim. Visa applications from China fell by 3.3% in the second half of 2018, but this was more than offset by a 53.5% increase in applications from India and a 47.8% increase from Nepal: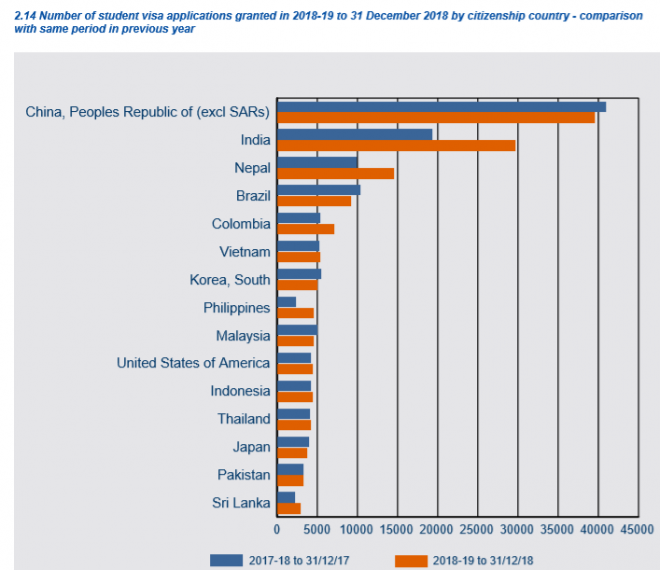 However, the outlook is less rosy for a number of reasons.
First, the average economic activity generated by Indian ($53,000) and Nepalese ($57,000) international students is lower than Chinese students ($72,000), because they tend to study at lower-cost second tier universities and vocational education and training centres. They are also more likely to live in group homes than the Chinese, thereby reducing their expenditure on rents and utilities.
Other things equal, this means that more Indian and Nepalese students are required to offset any loss of Chinese students. And the loss of Chinese students appears inevitable given growing concerns in Australia around political interference from China and the souring relationship between the two nations.
Second, as implied by Phil Honeywood above, growing concerns around university entry and teaching standards – which came to a head in May's Four Corners report – has pressured universities to be more discerning about which international students they take and to focus more on "quality over quantity".
Students from the Indian Sub-continent featured heavily in Four Corners' report, and were identified as being key culprits in the decline of university education standards.
The upshot is that with Chinese student growth slowing, universities would need to further lower both entry and teaching standards in order to encourage greater student flows from India and Nepal, which seems unlikely at this point in time.
Finally, the Morrison Government's reduction in the permanent migrant intake from 190,000 to 160,000 means there are fewer potential permanent residency places available. This lowers the probability of gaining permanent residency and reduces the incentive for international students to study in Australia.
In short, Australia's six year international student boom is nearing its peak. Next comes the decline.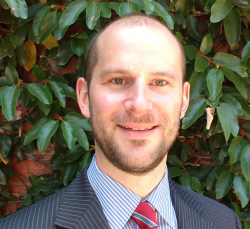 Latest posts by Unconventional Economist
(see all)