There is no more important market for Australia's universities than China, whose international student numbers have ballooned by 66,000 over the past six years and accounts for 38% of total international students: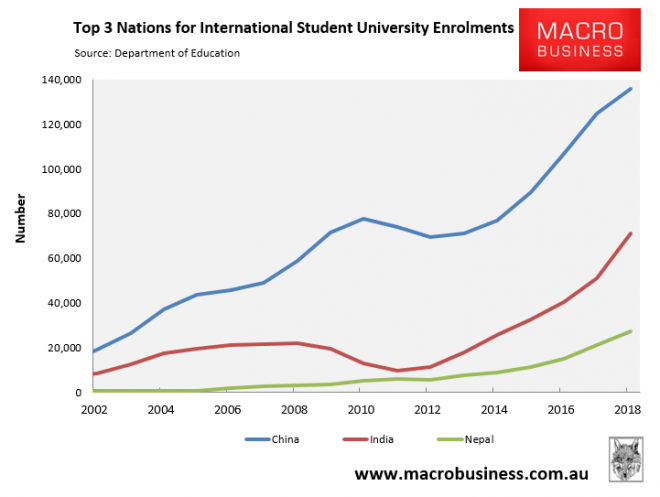 As shown above, there were 136,000 Chinese international students enrolled at Australia's universities as at March 2019, roughly double the next biggest nation, India (71,000).
Moreover, the financial impact of Chinese students is even greater, accounting for 40% of Australia's $35 billion international student market in 2018, according to the Department of Education.
In recent months, we have received strong indications that the great Chinese international student boom is coming to an end, headlined by official student visa data from the Department of Home Affairs recording a 3.3% fall in visa applications in the second half of 2018: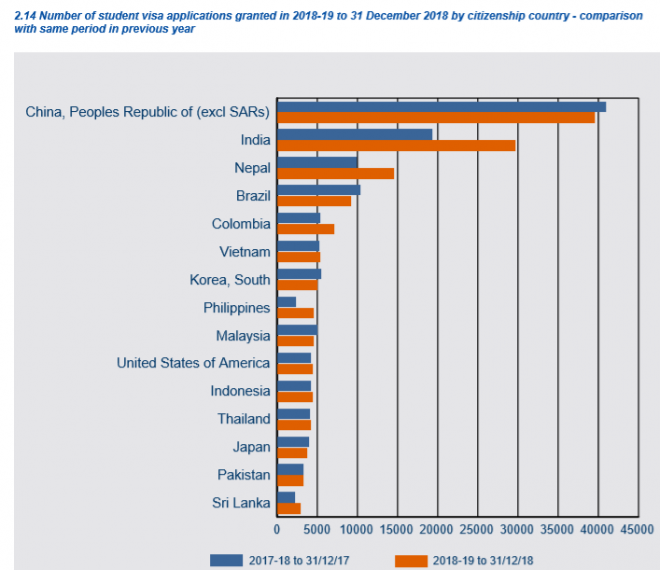 Yesterday, The AFR reported that "Chinese students have already stopped coming to Australia":
Commencements of Chinese students in Australia grew by just 2.4 per cent in the year to the end of May.

It's at least 18 months since Beijing last warned would-be students in China about the hazards of studying in Australia, which means other factors are behind the slowdown…

The CEO of the International Education Association of Australia, Phil Honeywood, says the drop-off has a social origin…

Now they're called 'Sea Weed'; they hang around looking for jobs. The cachet of a foreign university doesn't do for a Chinese CV in China what it did only a couple of years ago. And when it does, US universities are preferenced.
To date, the drop-off in Chinese student enrolments has been more than offset by booming enrolments from India and Nepal. As shown in the graphic above, Indian student visa applications surged by 53.5% and Nepalese by 47.8% over the second half of 2018.
However, there are strong reasons to believe that Indian and Nepalese international student enrolments will soon hit their limits.
First, there are growing concerns around university entry and teaching standards. These came to the forefront in May's Four Corners report, which identified students from the Indian Sub-continent as being key culprits in the decline of education standards.
Universities are now under pressure to lift standards and be more discerning about which international students they take, which should necessarily limit the flow on Indian and Nepalese students going forward.
Second, many students from the Indian Sub-continent study in Australia in order to obtain future permanent residency. However, the Morrison Government's 30,000 reduction in the permanent migrant intake has lowered the probability of gaining permanent residency, therefore reducing the incentive to study in Australia.
Finally, the Indian Sub-continent is far poorer than China, and the potential pool of students is much smaller. Professor Salvatore Babones fleshed out this point in last week's explosive report for the Centre for Independent Studies (CIS):
Australian universities are now seeking to diversify by expanding into the Indian market, but India is too poor to serve as a realistic alternative to China…

A comparative analysis of income levels in India and China makes this very clear. China has approximately 100 million adults with at least $25,000 a year in annual income, compared with approximately 12 million in India. Choosing a higher income threshold makes no difference to the relative sizes of the markets. There are around 24 million adults in China with incomes over $50,000 a year, compared to just 3 million for India. Either way, the potential Chinese international education market is roughly eight times the size of the Indian market, based on potential to pay. In fact, every province of China is richer, in terms of GDP per capita, than every state or territory of India with the exception Goa, and even Goa (population 1.5 million) is only slightly richer than the poorest province of China, Gansu. From a purely financial perspective, Australian universities might as well recruit international students from the poor provinces of western China as set up liaison offices in Delhi and Mumbai…

Australian universities are so eager to demonstrate international student diversity that they have even started offering scholarships that are specifically targeted at Indian students…

The fact that they must offer scholarships in order to attract more students from India and other "non-traditional markets across Asia" underscores the reality that the number of families in the region who can afford to pay full fees for an Australian university degree is not large enough to support Australian universities' international student enrolment ambitions…

Even if a sufficient number of financially-capable Indian international students could be recruited to diversify Australian universities' dependence on Chinese students, recruiting them would likely require Australian universities to reach deep down into the talent pool, reducing standards still further…
In short, with Chinese student numbers about to enter structural decline, and Indian and Nepalese student numbers entering bubble territory, Australia's six year international student boom is coming to an end.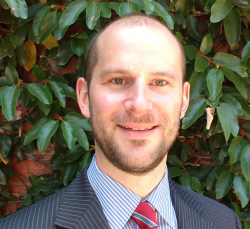 Latest posts by Unconventional Economist
(see all)