Sydney boss, Ryan Graham, claims that lazy young Aussies are turning down tradie jobs paying up to $884,000 a year, forcing him to employ migrant workers:
Young Aussies are turning their backs on jobs with salaries of up to $17,000 a week because they're too lazy to put in the hard yards.

That's according to Sydney man Ryan Graham, who has owned a commercial flooring company for around 10 years.

He said young Australians were abandoning lucrative trades altogether, while the few who did apply for roles regularly quit soon after starting.

The problem has become so widespread the 42-year-old has sponsored foreigners to fill roles in the past.

But he said a government clampdown on the sponsorship of foreigners for his trade had left him in the lurch…

"You know they're going to turn up and do the work, because they don't have mum and dad to look after them," he said…

"People complain that foreign workers are taking Australian jobs … but we've had 15 guys over the last two years that haven't lasted more than a week. I interviewed one guy for an hour who was there for 10 minutes before he walked off the job.

"Australians don't want the job, they would rather do something easy"…

"The older workers who aren't working as hard would make an average of $3000 to $4000 a week but if you want to get in there and work hard, younger guys can average $7000 to $8000 a week. It is hard work but who wouldn't want to work hard for that?"

He said he knew of one contractor who, on good weeks, made $17,000 between him and his apprentice, who probably took home around $1000 of that cash.

"The problem is young guys see that and want $17,000 straight away, but you've got to work three to five years to be able to make that money," he said…

"The most common question we get as soon as someone comes in (for an interview) is 'how much are you paying?'" he said…

"I just wish there was some incentive to change the younger generation, or at least let us sponsor people who really want to work — don't take that away from us."
How dare young Australians ask "'how much are you paying?'". They should be prepared to work for loose change, just like desperate migrants seeking permanent residency.
The aggregate data does not support Ryan Graham's contention. As explained by the Grattan Institute last month, "three quarters of net migrants to Australia today are not high-skill":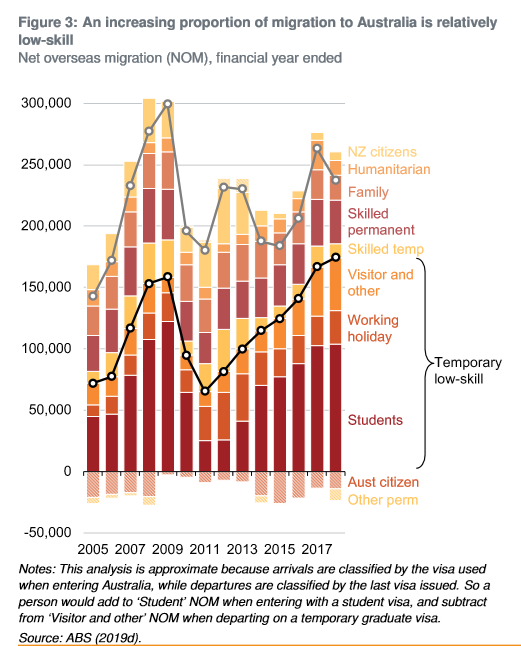 And this migrant tsunami has "put downward pressure on wages" given "measured wages of those aged 20 to 34 have not risen as fast as the wages of older workers for some time (Figure 7)":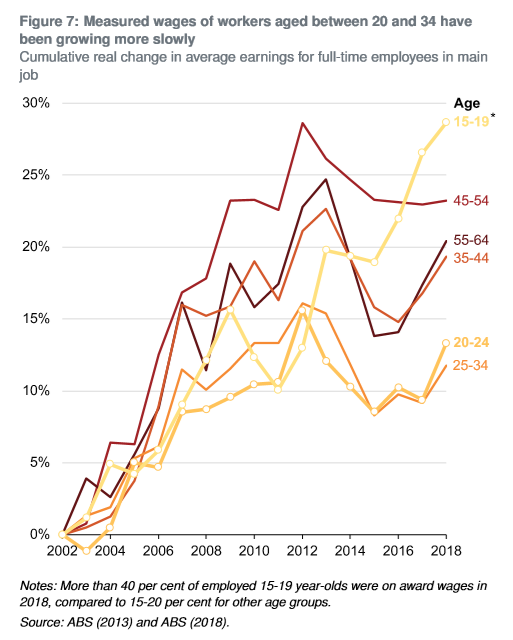 According to Grattan:
Australia is now running a predominantly low-skill migration system. People from this system form a material proportion of the younger workforce. Because of visa conditions, many of these migrants have incentives to work for less than minimum wages, and there is anecdotal evidence that many do. It is impossible for data sources on the Australian labour force to pick up all of this phenomenon. It is possible that the scale of this influx to the labour market is depressing wages and increasing under-employment specifically for low-skill younger workers.
This view is backed by the ACTU:
Wright and Constantin (2015) surveyed employers using the 457 visa scheme and found that 86% state that they have experienced challenges recruiting workers locally. Despite identified recruiting difficulties, the survey found that fewer than 1 in one hundred employers surveyed had addressed 'skill shortages' by raising the salary being offered. Labour 'shortages' should first be addressed through a readjustment in the price of labour – increased wages. An inability to find local workers to work at a specified wage rate, coupled with an unwillingness to offer higher wages, does not necessarily imply a skill shortage – particularly where local workers would be willing and able to work if the wage rate was lifted. This differs from a skill shortage in which there are simply not enough people with a particular skill to meet demand.
Except in very limited circumstances, there is no such thing as a shortage of labour. There is only a "shortage" of labour at the price/ wages firms are generally willing to pay. If companies lifted wages, and provided training, the so-called labour shortages would vanish.
The fact of the matter is that allowing the mass importation of migrant workers circumvents the ordinary functioning of Australia's labour market by enabling employers to source cheap foreign workers in lieu of raising wages, as well as abrogating the need for training.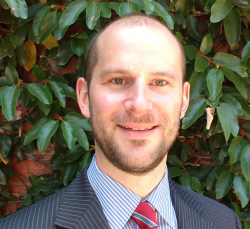 Latest posts by Leith van Onselen
(see all)