Bloomie today:
Australia is on track to close twin deficits that were once seen as the Achilles heel of its small and open economy. Yet the dramatic turnaround is probably not what the Reserve Bank is after.

Data Tuesday could show the first current-account surplus since 1975, while the government's budget is also close to — if not already — being back in the black for the first time since before the global financial crisis.

Both surpluses — should they come to pass — are solidly underpinned by the extraordinary and unexpected spike in iron-ore prices fueled by huge supply disruptions and record Chinese steel production. Though both factors have since unwound and iron ore is set for a record monthly fall, suggesting that any current-account surplus may not last too long.
Both surpluses are already history. As both coals, LNG and iron ore all plunge, the current account deficit will return in Q3, Q4 at the latest and, as the trade war drags on, get worse fast: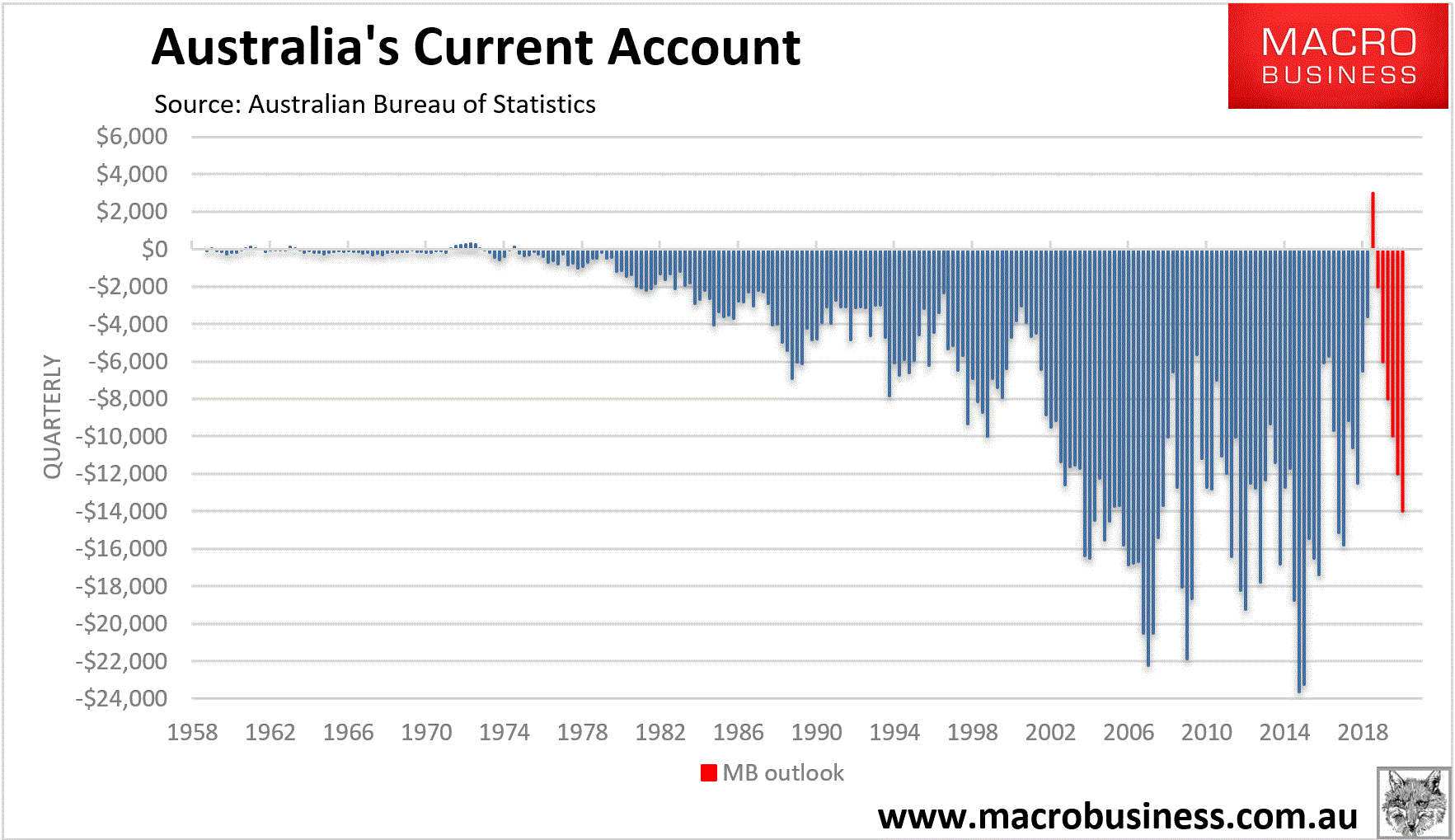 As for Recessionberg's surplus, it will disappear just as fast as collapsing mining receipts can no longer paper over the huge misses in the domestic activity Budget projections:
| | | |
| --- | --- | --- |
| | Budget 2019/20 | MB |
| GDP | 2.75 | 1.75 |
| Dwelling investment | -7.00 | -10.00 |
| Business investment | 5.00 | 1.00 |
| Wages | 2.75 | 2.25 |
| Inflation | 2.25 | 1.75 |
| Terms of trade | -5.25 | -15.00 |
| Nominal growth | 3.25 | 2.00 |
That's my best case. If we get a global recession it will be much worse.
David Llewellyn-Smith is Chief Strategist at the MB Fund and MB Super. David is the founding publisher and editor of MacroBusiness and was the founding publisher and global economy editor of The Diplomat, the Asia Pacific's leading geo-politics and economics portal.

He is also a former gold trader and economic commentator at The Sydney Morning Herald, The Age, the ABC and Business Spectator. He is the co-author of The Great Crash of 2008 with Ross Garnaut and was the editor of the second Garnaut Climate Change Review.
Latest posts by David Llewellyn-Smith (see all)