Late last month, Fidelity International produced the below chart illustrating why many Australians believe their cost of living is rising despite the low official inflation rate:
Mr Doyle analysed the cost of individual products included in CPI figures and found the cost of things that many people "need" has actually risen substantially.

For example, the cost of hospital and medical services has gone up by 195 per cent since 2000, electricity costs have jumped 194 per cent and preschool and primary education is up by 159 per cent.

In comparison, the cost of less-essential products has dropped. Clothing and footwear is down 10 per cent, motor vehicles are down 14 per cent, audio visual and computing equipment is down 89 per cent and furniture prices have only risen by 10 per cent.

If households could calculate CPI using their own individual circumstances, such as whether they had primary school-aged kids or high electricity needs, they might find their wages are not actually keeping up with the cost of living increases.
Basically, luxuries and discretionary goods have fallen in price, more or less, whereas the price of many essentials — which tend to make up a bigger share of poorer households' budgets and certainly their incomes — have increased.
Or to paraphrase Charles Hugh Smith: prices of what you want have shrunk, but prices of what you need have jumped.
Yesterday, Fairfax produced similar analysis showing that the price of goods and services in government administered or controlled areas has risen at up to twice the pace of inflation:
Since the final quarter of 2013, the overall consumer price index has increased 10.4 per cent, while the cost of government-administered or controlled goods and services jumped 23 per cent.

Compared to the general inflation rate, postal service prices soared 26.8 per cent, the cost of education rose 24.9 per cent, childcare climbed 26.7 per cent and medical and hospital services shot up more than 36 per cent, analysis by The Sydney Morning Herald and The Age shows. All are dominated by state or federal governments…

Over the same period, wages grew 13.4 per cent, although for workers in the private sector the increase has been just 12.7 per cent.

AMP Capital chief economist Shane Oliver said cost-of-living pressures were partly driven by the continuing increases in prices across government-controlled parts of the economy…

"It's one of the reasons that despite low inflation, many people say that their cost of living is going up.
Another reason why Australian household feel aggrieved is because the real growth in household disposable income has stalled over the past decade according to both the latest HILDA report: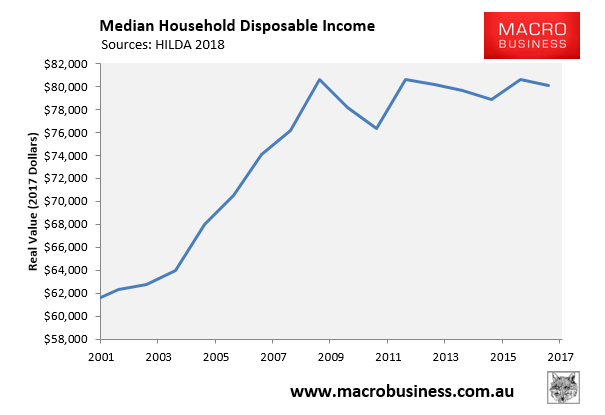 And the ABS national accounts: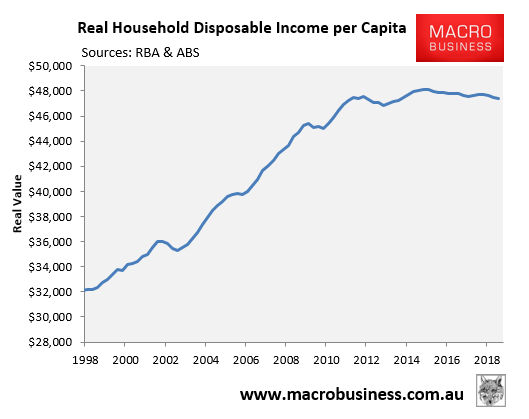 Basically, Australians have had no material improvement in their living standards for a decade
Latest posts by Leith van Onselen (see all)