Allens partner David Donnelly has warned that tunnels are the most vulnerable to cost increases and delays and pose the biggest risk to Australia's $288 billion infrastructure boom:
Tunnels are considered the most risky projects, followed by rail then roads.

Costs on the $11 billion Melbourne Metro project, which tunnels under Melbourne's CBD, have been rumoured to already have blown out by as much as $2 billion, partially due to the scope of the project being widened and unexpected technical risks.

Mr Donnelly said respondents were worried about the concentration of projects in transport and in the cities of Sydney and Melbourne, where tens of billions of dollars are being spent on new tunnels for metros and motorways, including the Sydney Metro and Melbourne's West Gate Tunnel tollroad…

Governments should consider rebalancing the infrastructure pipeline towards social infrastructure such as school and hospital projects, which carry less risks of cost increases and delays than transport projects, he said.
In already built-out cities like Sydney and Melbourne, the cost of retrofitting new infrastructure to accommodate greater population densities is prohibitively expensive because of the need for land buy-backs, tunnelling, as well as disruptions to existing infrastructure. These are what economists call 'dis-economies of scale'.
The Productivity Commission (PC) has been at the forefront highlighting the huge infrastructure costs associated with population growth.
Advertisement
In its 2016 Migrant Intake into Australia report, the PC noted:
Physical constraints in major cities make the costs of expanding infrastructure more expensive, so even if a user-pays model is adopted, a higher population is very likely to impose a higher cost of living for people already residing in these major cities…

Funding will inevitably be borne by the Australian community either through user-pays fees or general taxation…
The PC's 2018 Shifting the Dial: 5 year productivity review similarly noted that infrastructure costs will balloon due to Australian cities' rapidly growing populations:
Advertisement
Growing populations will place pressure on already strained transport systems… Yet available choices for new investments are constrained by the increasingly limited availability of unutilised land. Costs of new transport structures have risen accordingly, with new developments (for example WestConnex) requiring land reclamation, costly  compensation arrangements, or otherwise more expensive alternatives (such as tunnels).
Infrastructure Australia has also regularly warned on the rising cost of infrastructure provision caused by rapid population growth. For example, its 2018 Planning Liveable Cities report noted:
…construction of new infrastructure is often more expensive, due to the need to tunnel under existing structures or purchase land at higher costs. The small scale, incremental nature of growth in established areas can also lead to an over-reliance on existing infrastructure, which can result in congestion and overcrowding.
Advertisement
The huge cost of expanding the road network illustrates these dis-economies of scale. The next chart shows that road construction through undeveloped greenfield land (blue) is many times cheaper than tunnelling under existing brownfield land (red):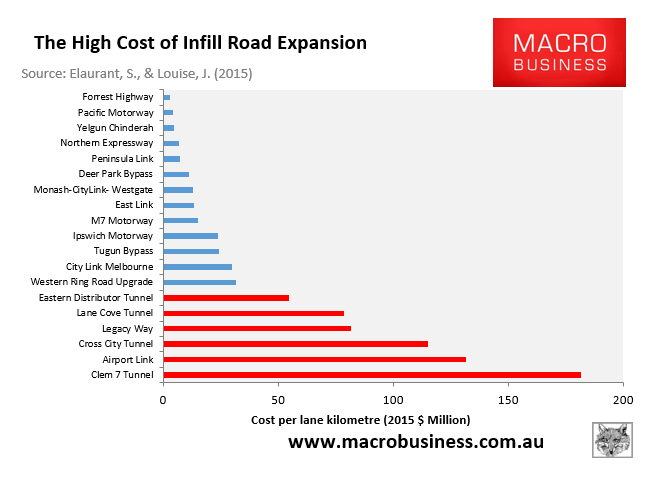 More recent examples are equally stark. The WestConnex project in Sydney will reportedly cost $17 billion for 33 kilometres ($515 million per kilometre) while Melbourne's West Gate Tunnel is expected to cost $6.7 billion for 5 kilometres of highway ($1.34 billion per kilometre). In contrast, the 155 kilometre Woolgoolga to Ballina highway upgrade , costs $4.9 billion, or just $31 million per kilometre (approximately 11 times less than WestConnex, and 29 times less than the West Gate Tunnel, on a "per lane" basis).
Advertisement
Adding nearly a Canberra-worth of population to Australia each and every year – with 90,000 to 110,000 people projected for Sydney and Melbourne alone – requires an incredible amount of investment just to keep up. This explains why Australia's infrastructure deficit has fallen so badly behind over the past 15 years, and why infrastructure deficits will continue to grow under the mass immigration 'Big Australia' policy, in turn eroding residents' living standards.
The cold hard truth is that the quantity of infrastructure investment required for a 'Big Australia' is mind boggling and impossible to meet.