DXY was down last night, EUR up and CNY down: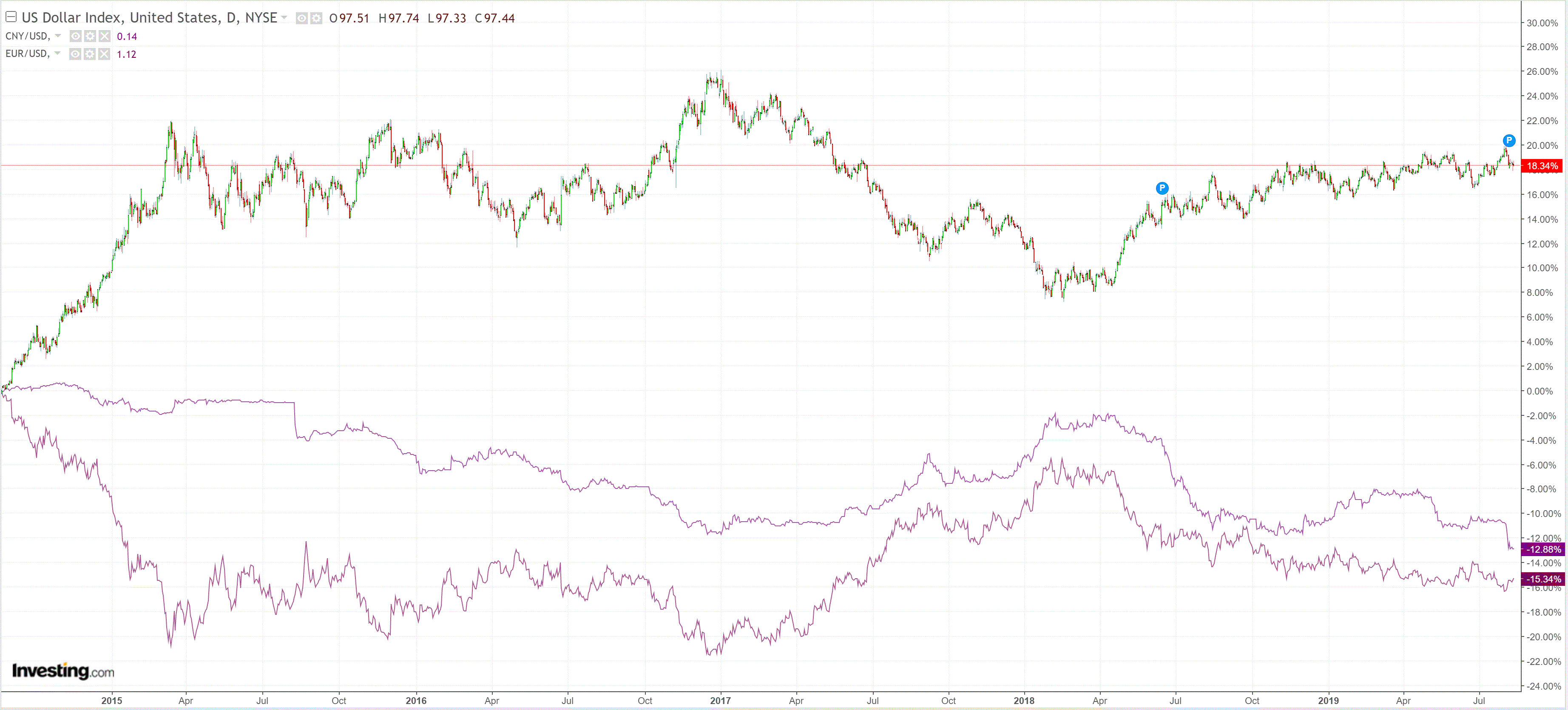 The Australian dollar was smashed against DMs: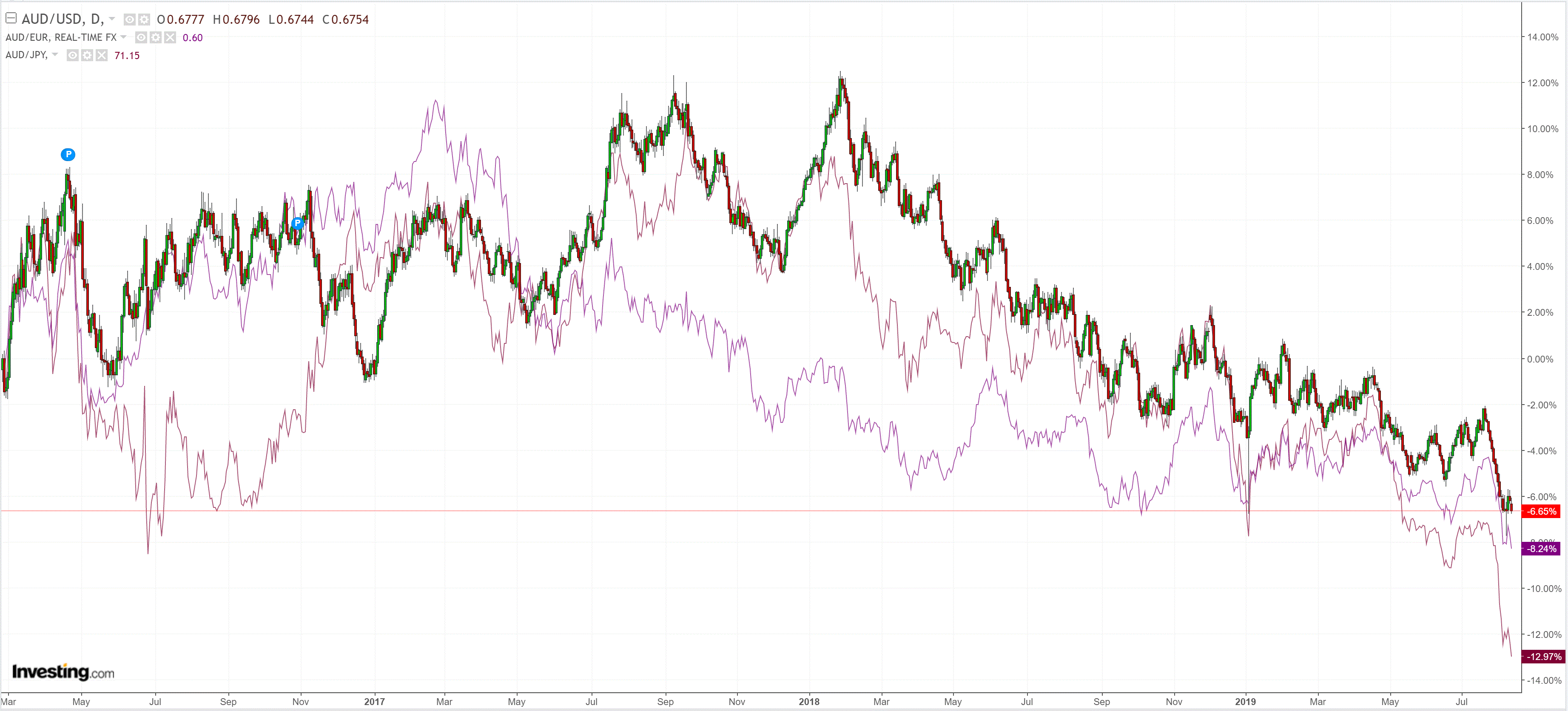 Mixed against EMs: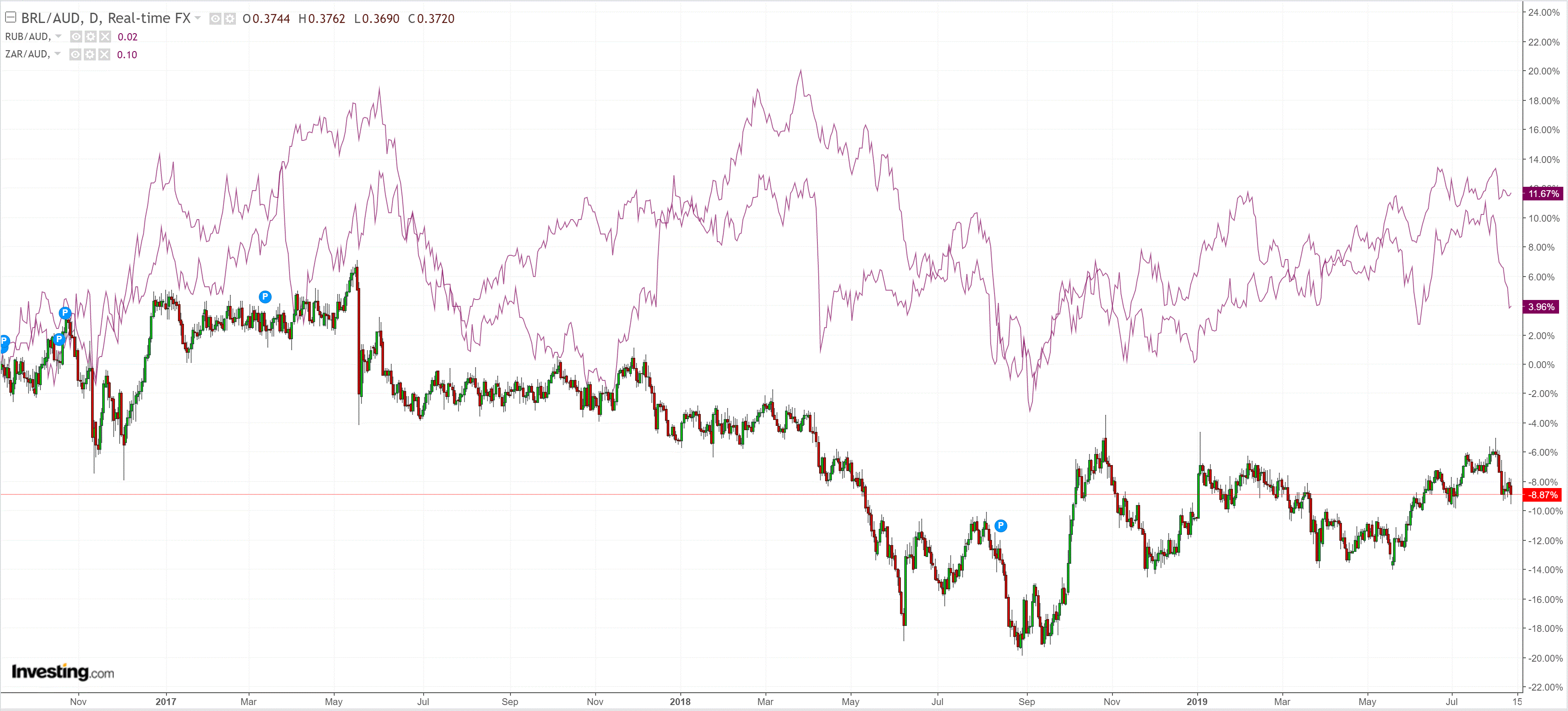 Gold raced to new highs: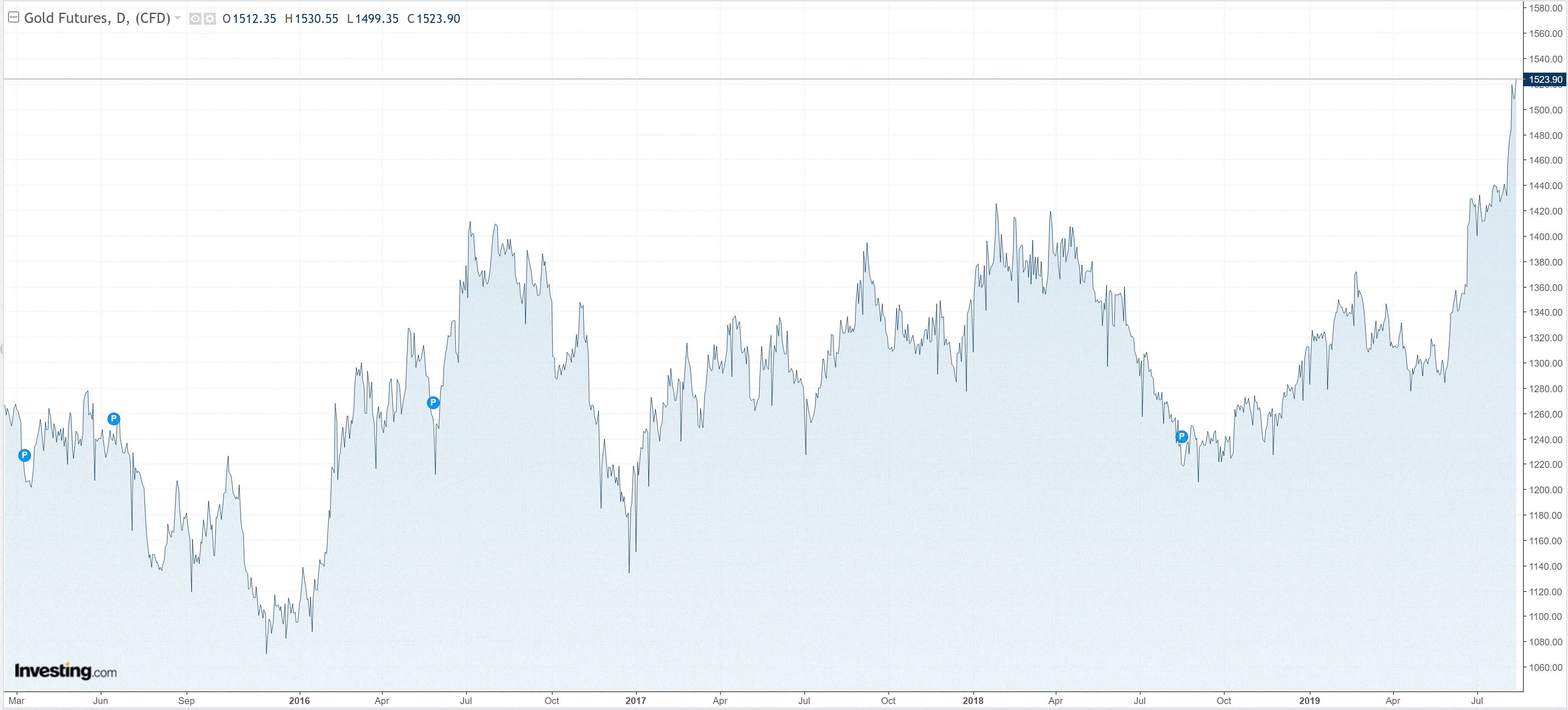 Oil held on: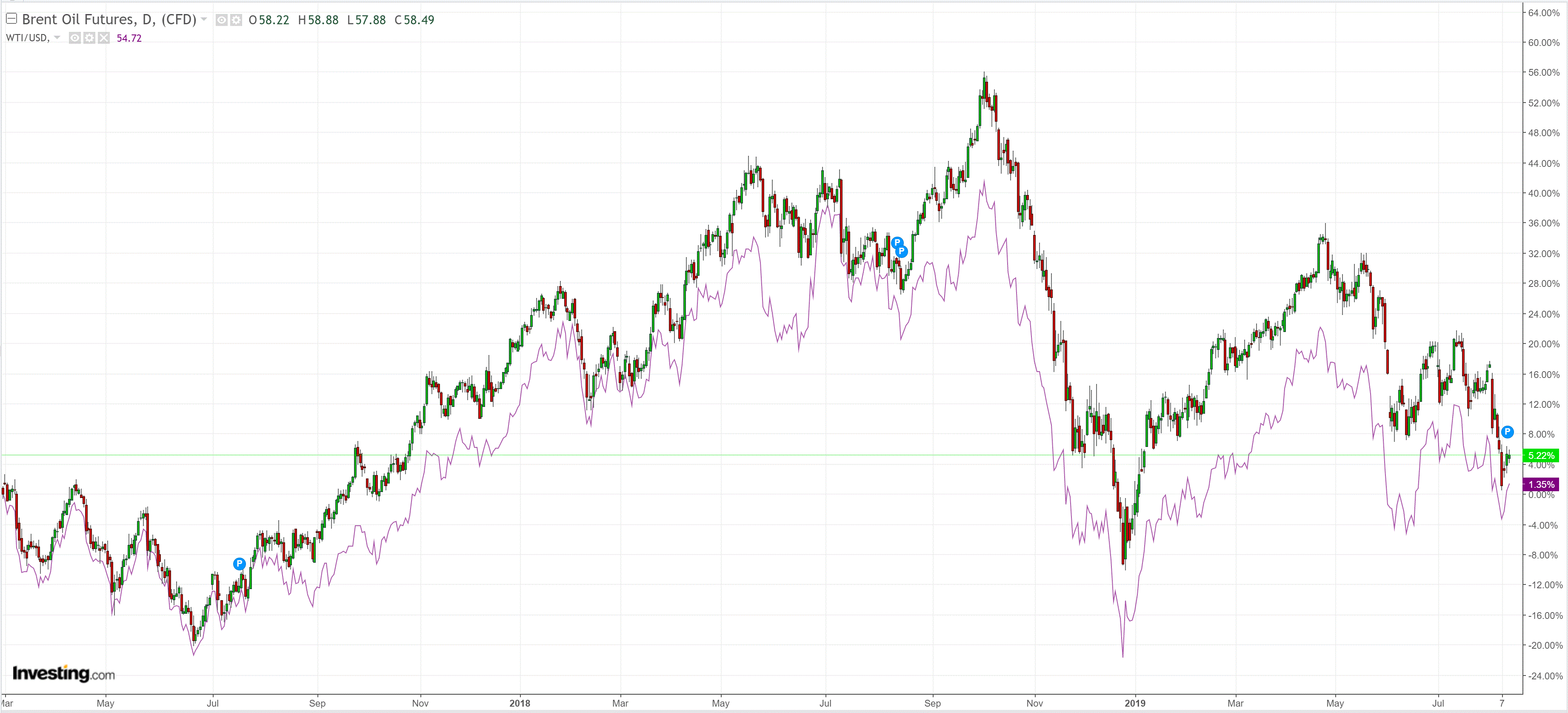 Metals were mixed: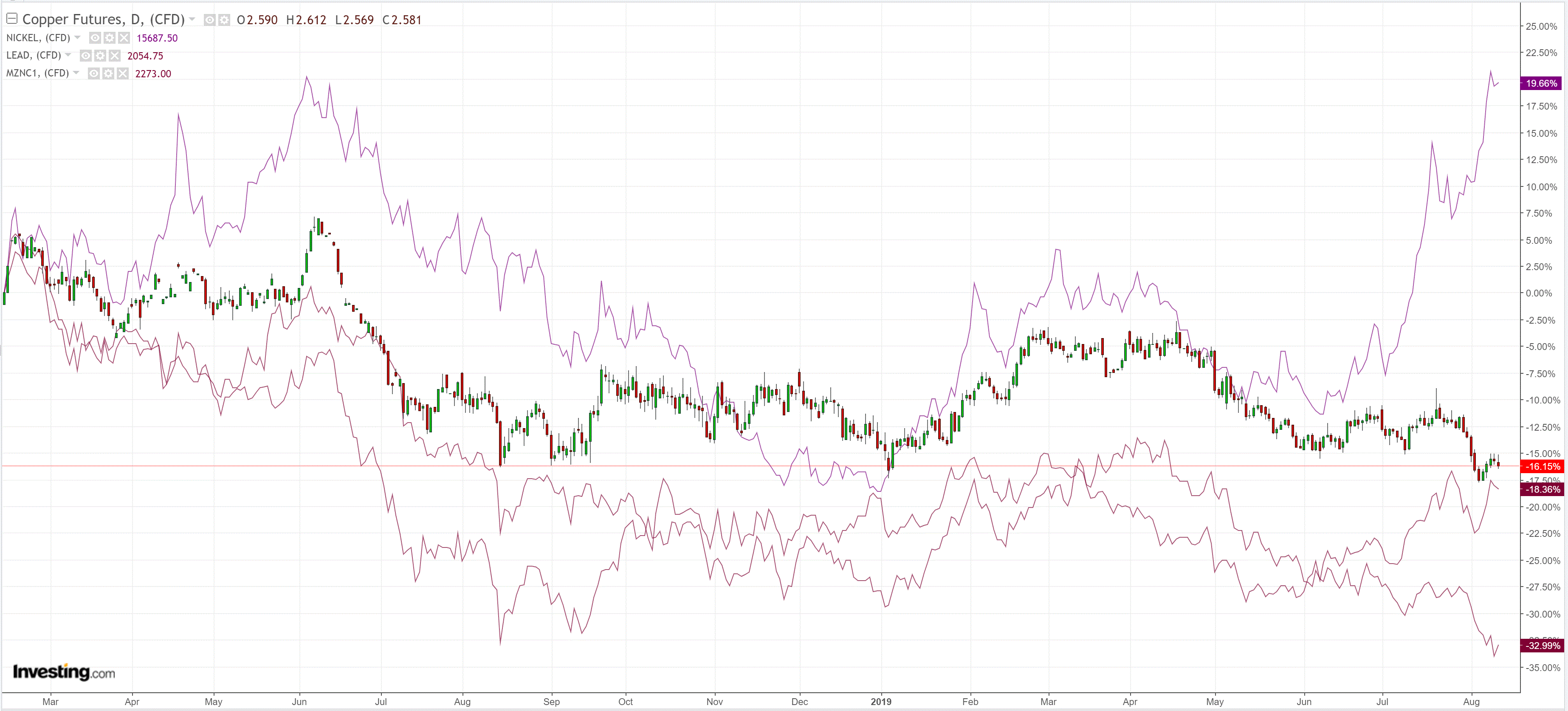 Miners fell: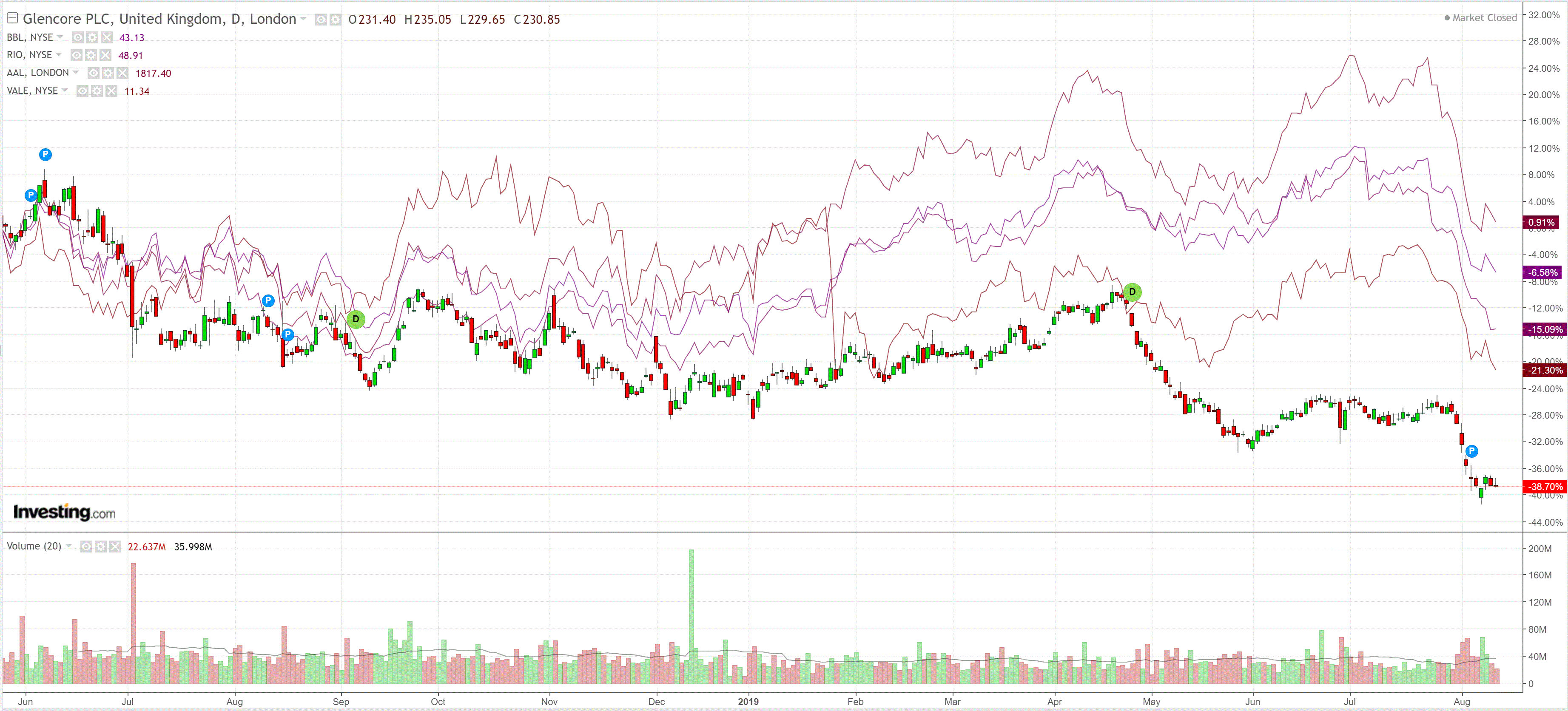 EM stocks too: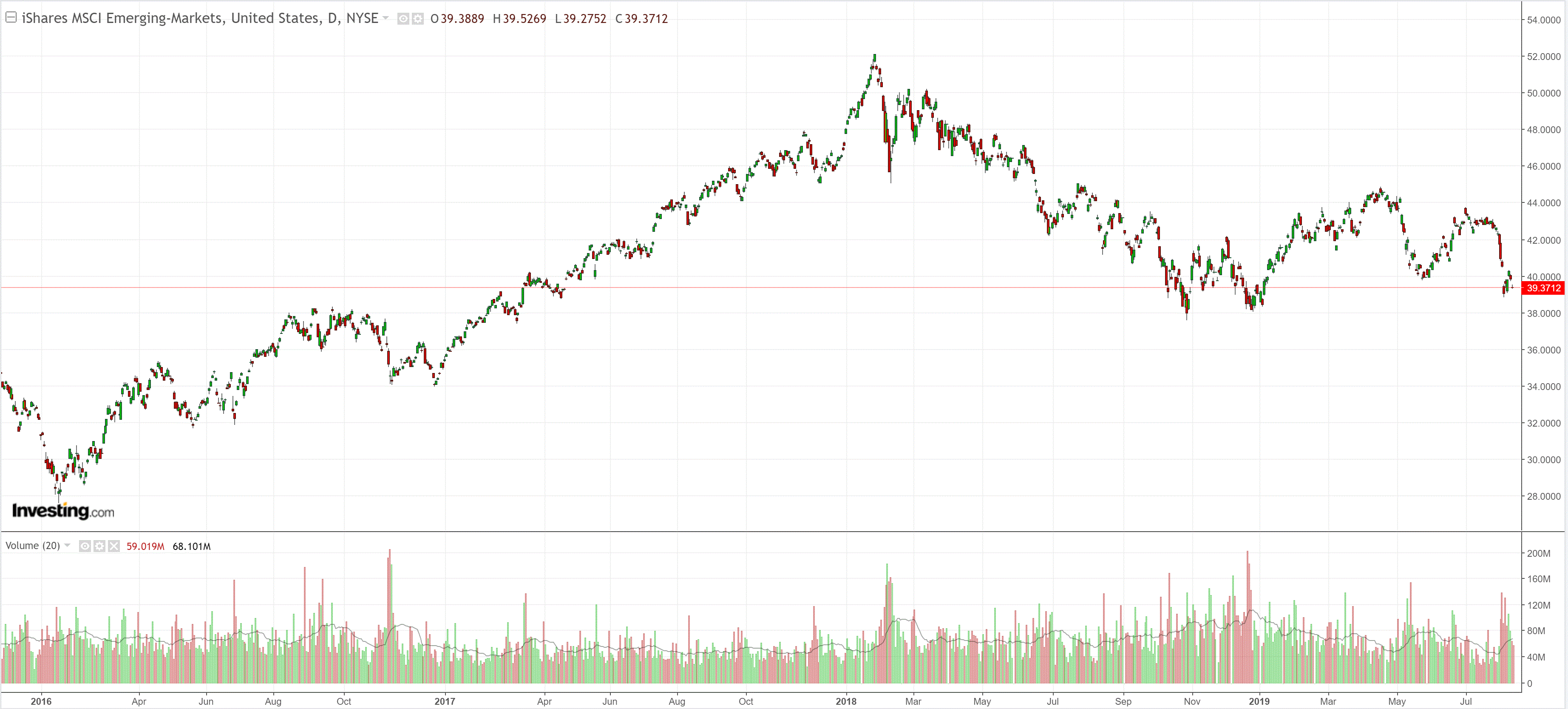 EM junk was smashed, a warning to all markets: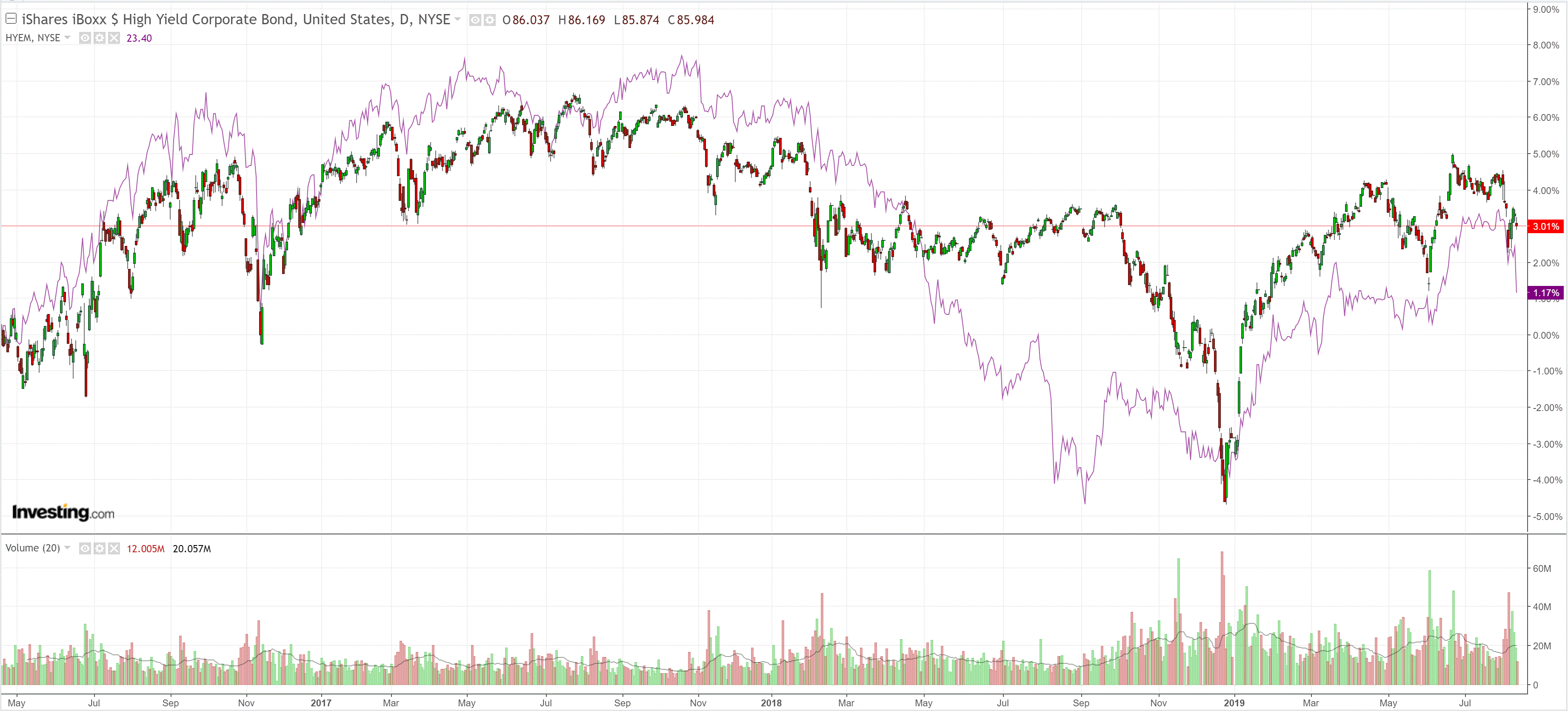 Treasuries boomed: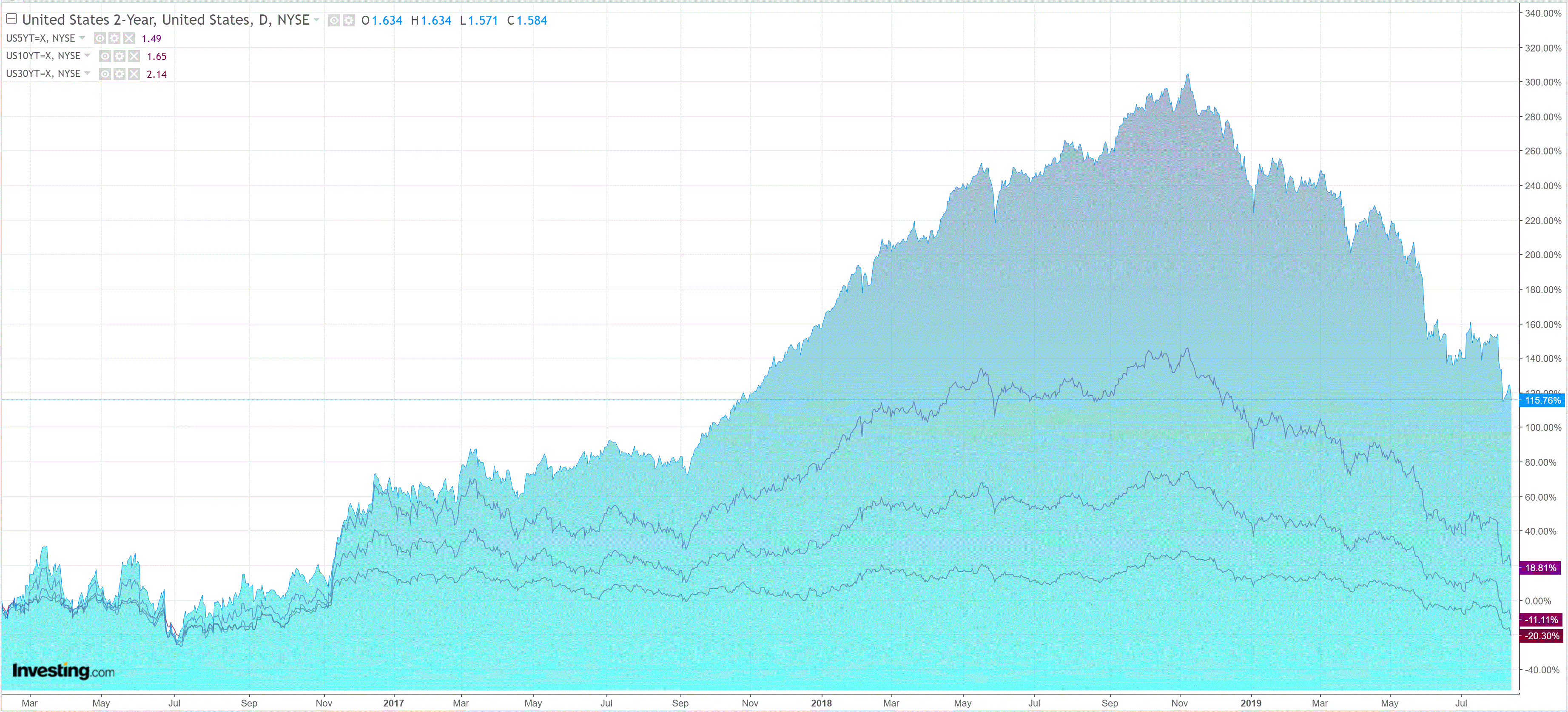 And bunds: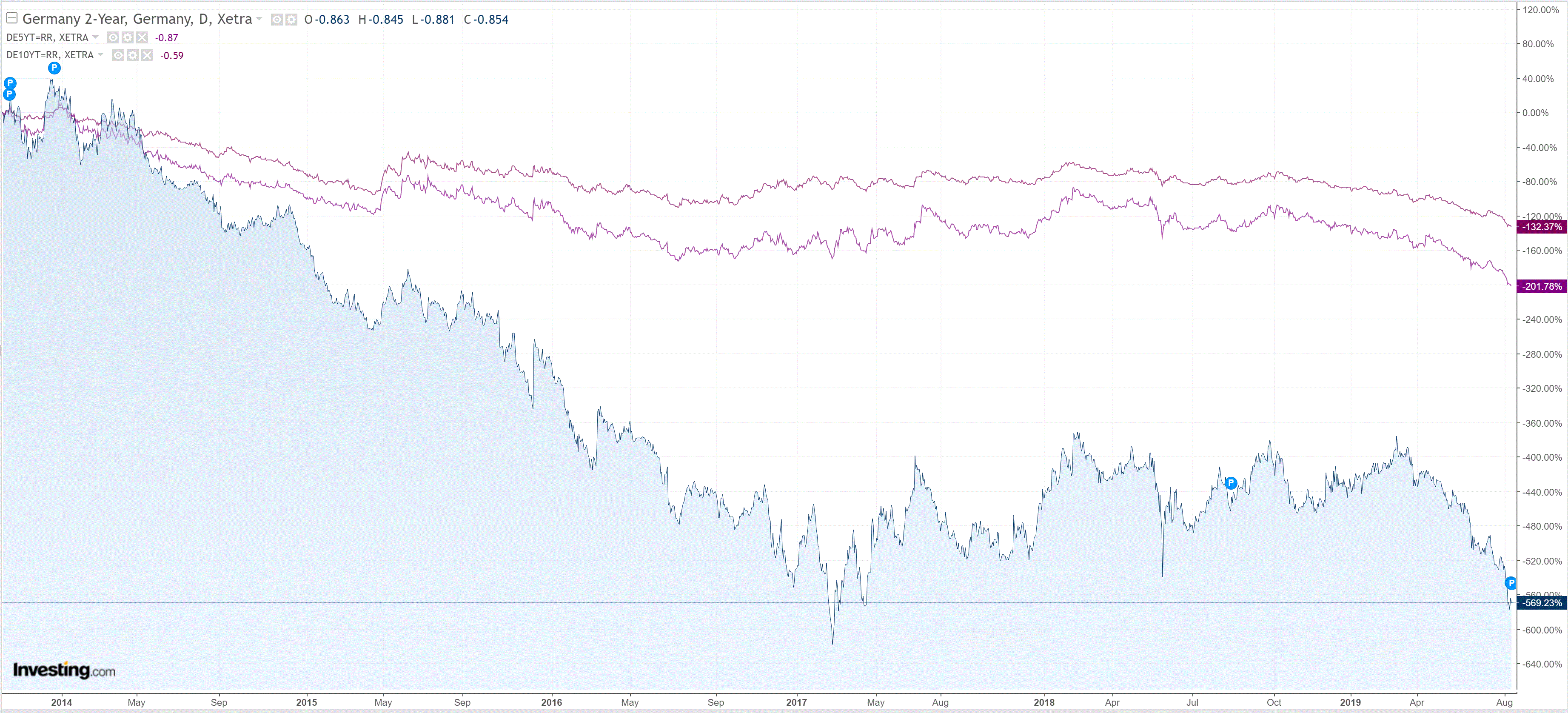 And Aussie bonds: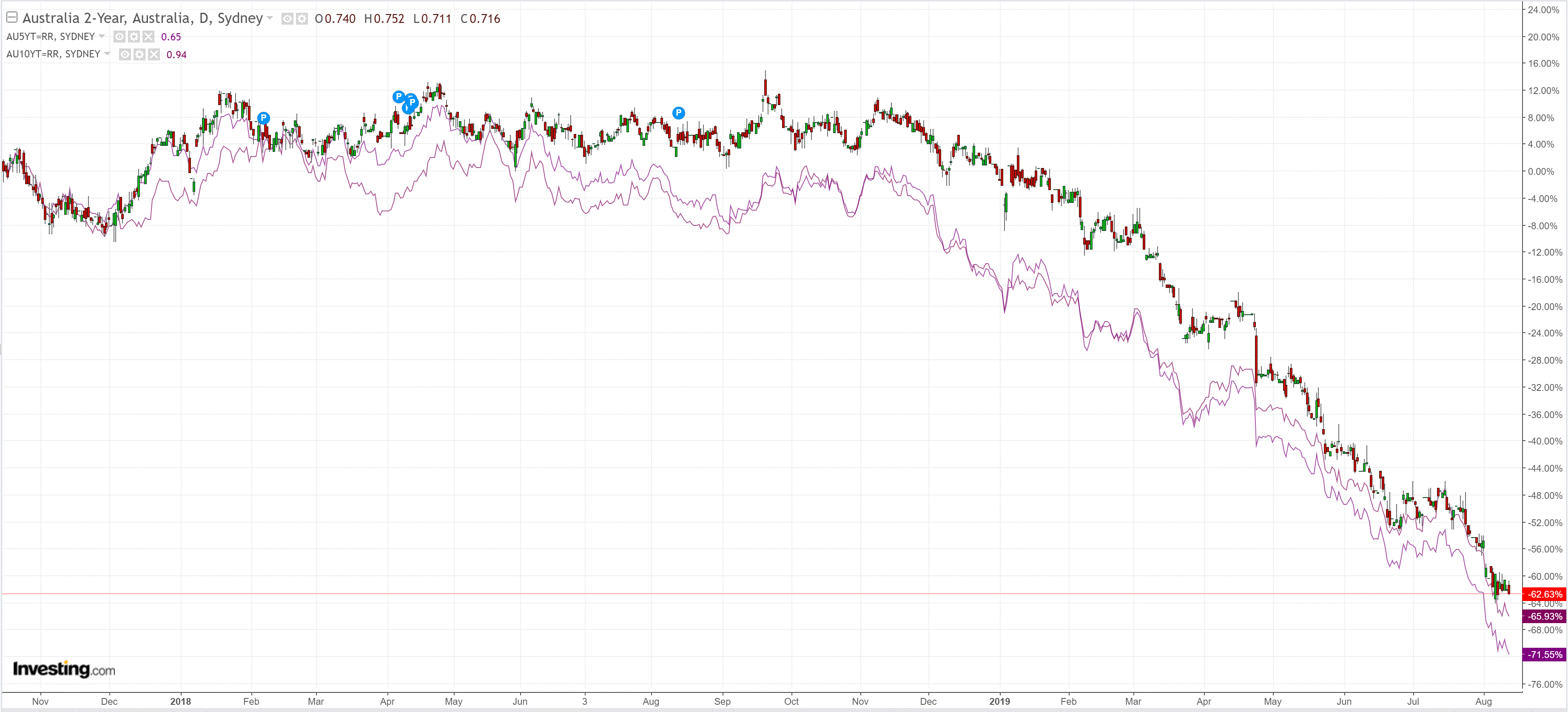 Stocks were hit: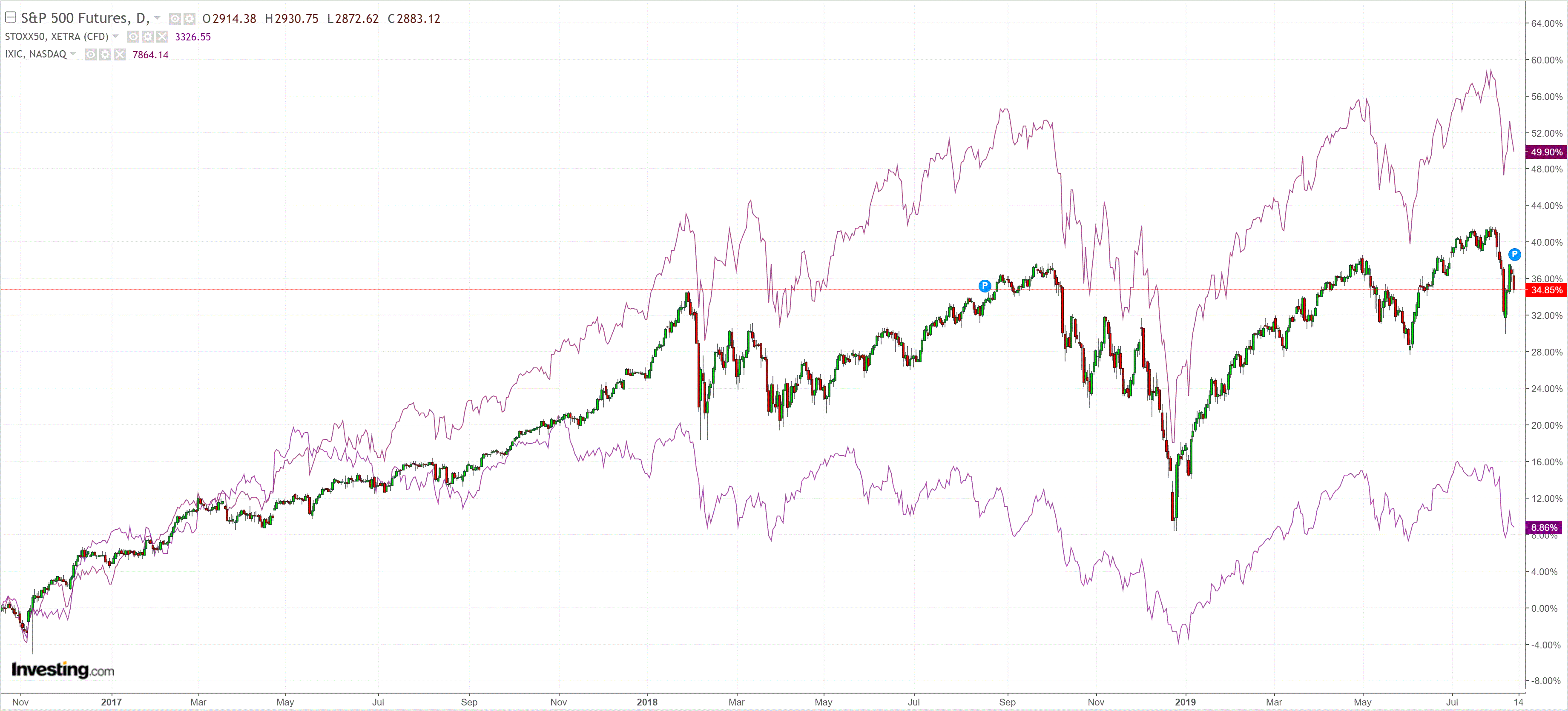 Westpac has the wrap:
Event Wrap

Italy is stepping closer to a vote of confidence in Conte as PM that may see the end of the current fragile 5 Star/League coalition. This may result in another coalition being formed, a caretaker technocrat government being appointed or flash elections. The last option is what Salvini wants, but he may be thwarted given the need for a budget to be passed in September.

Event Outlook

NZ: REINZ housing data for July will be watched for any impact on sales from the continuing decline in mortgage rates. Food prices for July will impact Q3 inflation forecasts.

Australia: RBA Assistant Governor (Financial Markets) Kent speaks at the Finance & Treasury Association Breakfast, Sydney 8:00 am. Jul NAB business survey last showed conditions at +3, a below average read.

Euro Area: Aug ZEW survey of expectations were last at -20.3, having taken another leg lower in recent months.

UK: Jun unemployment rate is anticipated to remain at 3.8%.

US: Jul CPI is expected to rise 0.3% seeing annual inflation edge up to 1.7%yr from 1.6%yr. Core is seen to increase 0.2% with the annual pace holding at 2.1%. Jul NFIB small business optimism and the Q2 NY Fed household credit report are released.
There wasn't much data but all of the damage was done early to the Australian dollar with the release of weak Chinese credit data, via Reuters:
China's banks extended surprisingly fewer new yuan loans in July, while growth of money supply and total social financing also slowed, raising pressure on the central bank to ease policy further to support the slowing economy.

Chinese regulators have been trying to boost bank lending and lower financing costs for over a year, especially for smaller and private companies which generate a sizeable share of the country's economic growth and jobs.

Chinese banks extended 1.06 trillion yuan ($150.06 billion) in new yuan loans in July, down from June and falling short of analysts' expectations, according to data released by the People's Bank of China on Monday.

Analysts polled by Reuters had predicted new yuan loans would fall to 1.25 trillion yuan in July, from 1.66 trillion yuan in the previous month.
Chinese broad credit growth fell to 11.1% and the reflation is in trouble: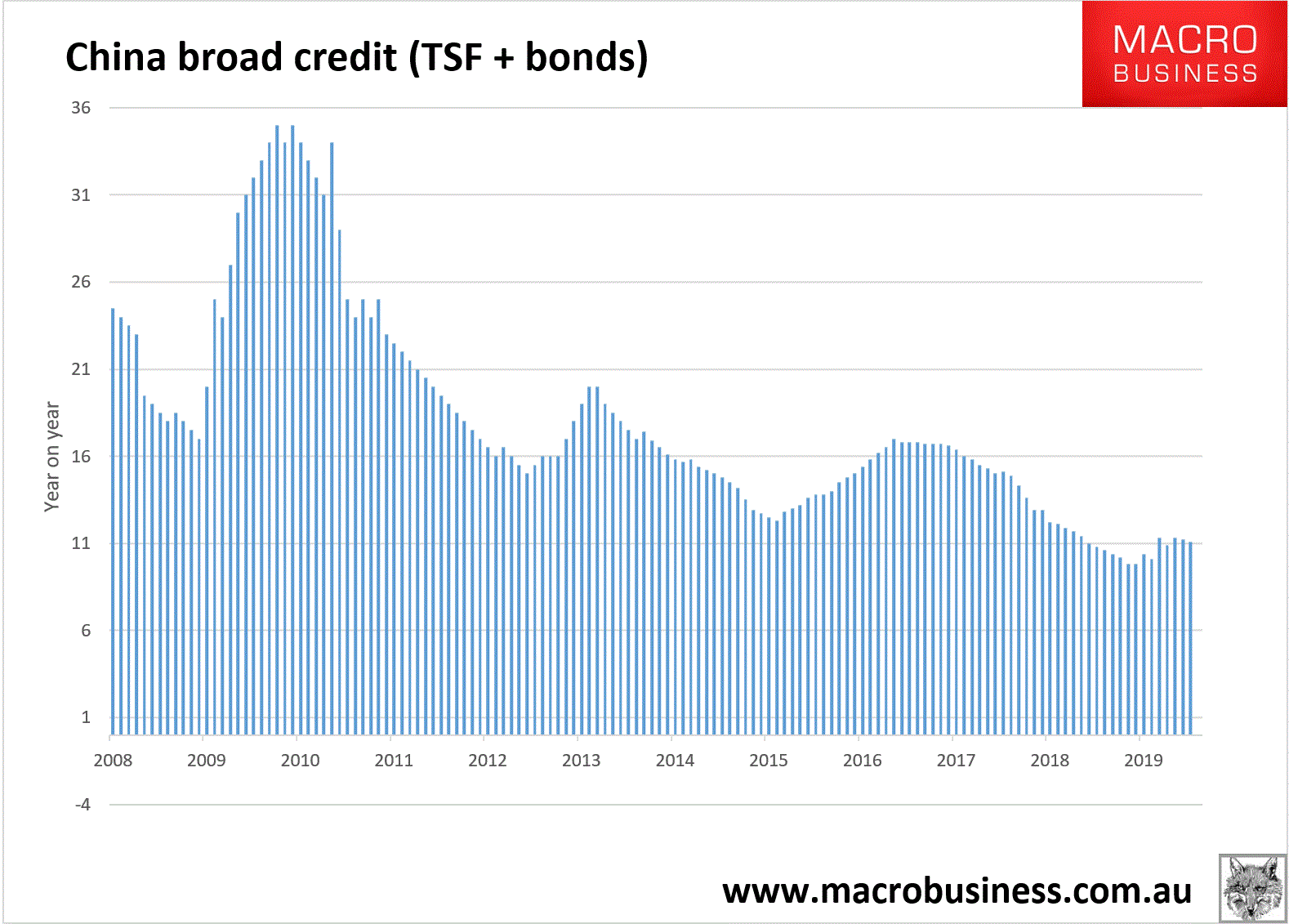 The only question is is it deliberate or out of control? As we know, China has been forced to bail out three regional banks in recent weeks and with no end in sight this is obviously going to weigh on credit issuance and growth at the margin, if via no other channel of contagion than confidence.  To wit, China economist Wei Yao at Society General:
It would not be an overstatement to say that Baoshang's fallout is a milestone in China's deleveraging reform and financial liberalisation. The deleveraging process is bound to expose weak institutions along the way, and it is only a matter of time before counter-party risk reaches the interbank market. …When the deleveraging process enters the very core of the financial system, the risk of things going terribly wrong rises. We still think China has a chance to pull through without a financial crisis, given the Chinese government's control over many things…but we will be keeping a close eye on interbank developments, as this may be the source of under-appreciated risk for the global economy. We are not yet convinced of a clear recovery trend. Against a backdrop of continued trade uncertainties and deterioration in the liquidity conditions of small financial institutions after the PBoC's takeover of Baoshang Bank, the economy remains on shaky ground.
Interbank spreads have blown out, via Goldman:
…the sustained spikes in intraday repo rates suggest that some banks are still under pressure and are having to pay higher costs to obtain funding in the interbank market. A number of action has been taken to ease concerns regarding credit risk at smaller banks, including the recent equity injection into Bank of Jinzhou by ICBC Financial Asset Investment Company and China Cinda Asset Management
That said, the PBOC could be doing more with liquidity if it wanted. But not without trashing CNY.
As the trade war intensifies, the impossible trinity – controlling interest rates, capital flows and currency all at once – is tightening its noose around China. The biggest victim so far, and ahead, is the Australian dollar.
David Llewellyn-Smith is Chief Strategist at the MB Fund and MB Super. David is the founding publisher and editor of MacroBusiness and was the founding publisher and global economy editor of The Diplomat, the Asia Pacific's leading geo-politics and economics portal.

He is also a former gold trader and economic commentator at The Sydney Morning Herald, The Age, the ABC and Business Spectator. He is the co-author of The Great Crash of 2008 with Ross Garnaut and was the editor of the second Garnaut Climate Change Review.
Latest posts by Houses and Holes (see all)