See the latest Australian dollar analysis here:
DXY was up, CNY stable and EUR down last night: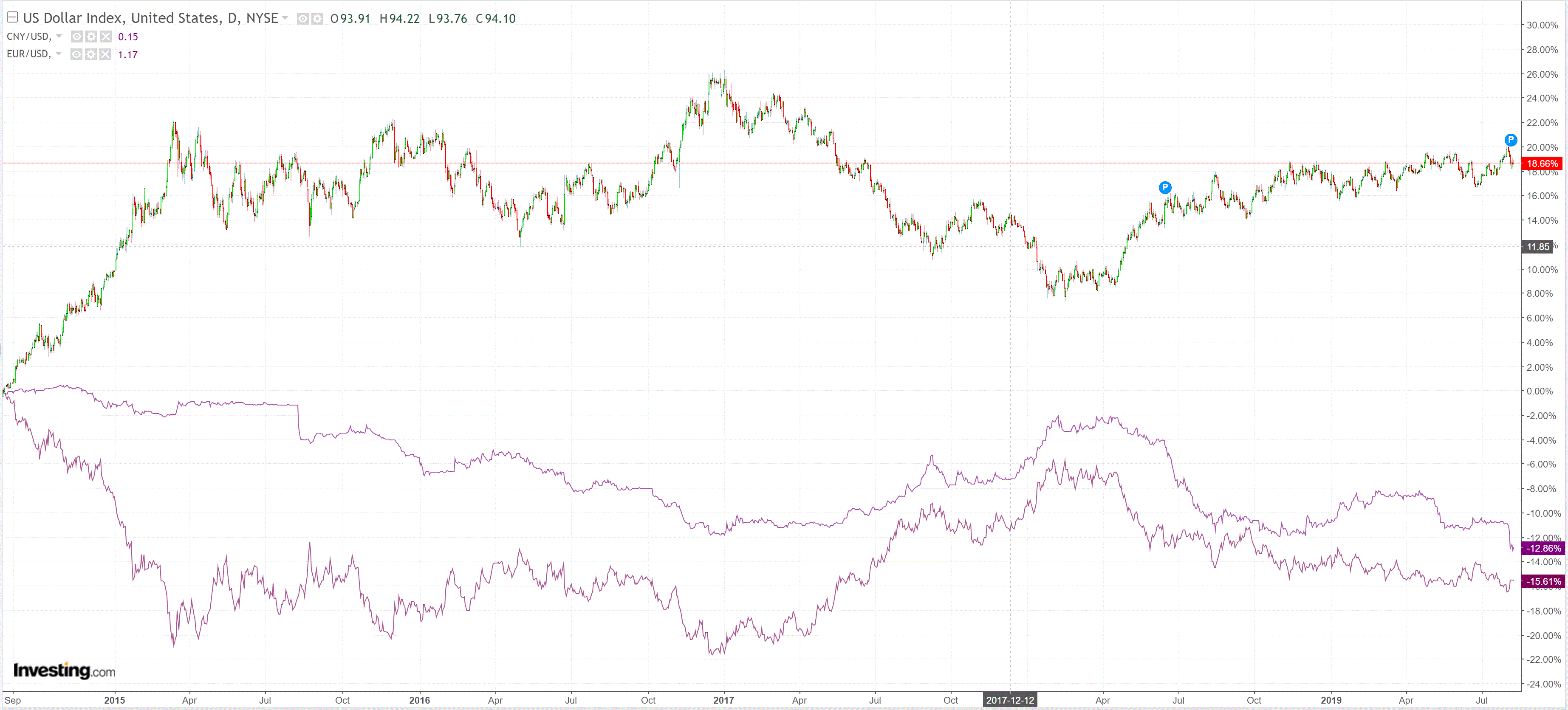 The Australian dollar roared higher just because: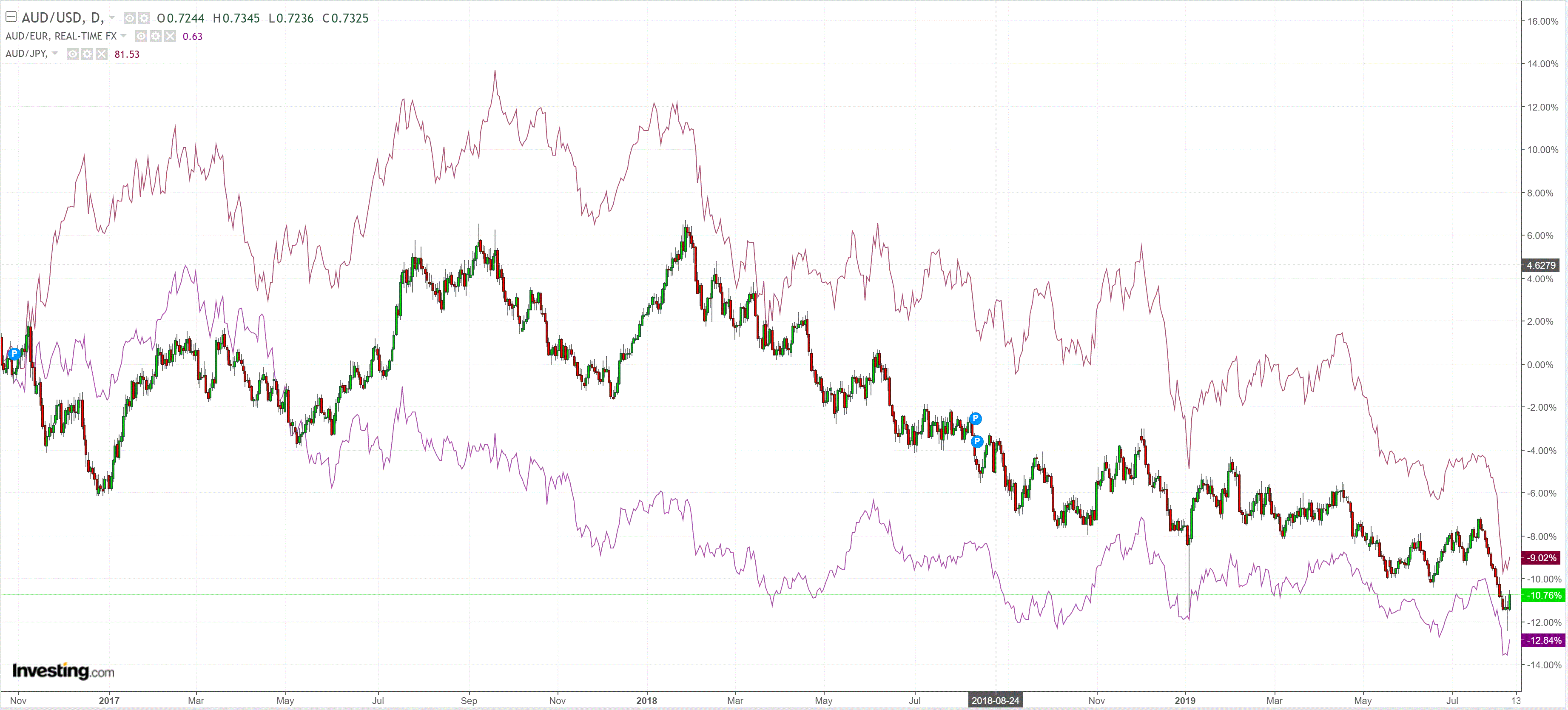 EMs were mixed: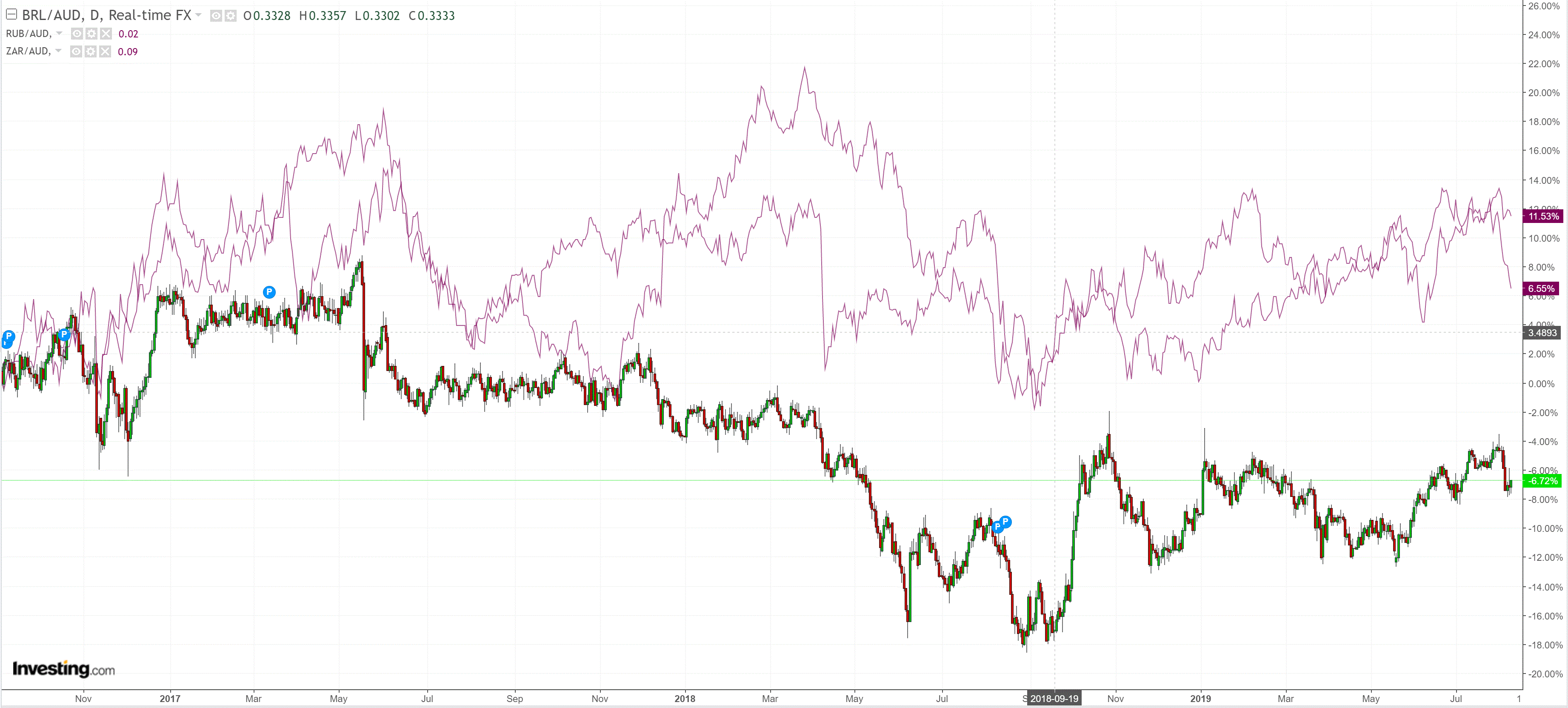 Gold held the gains: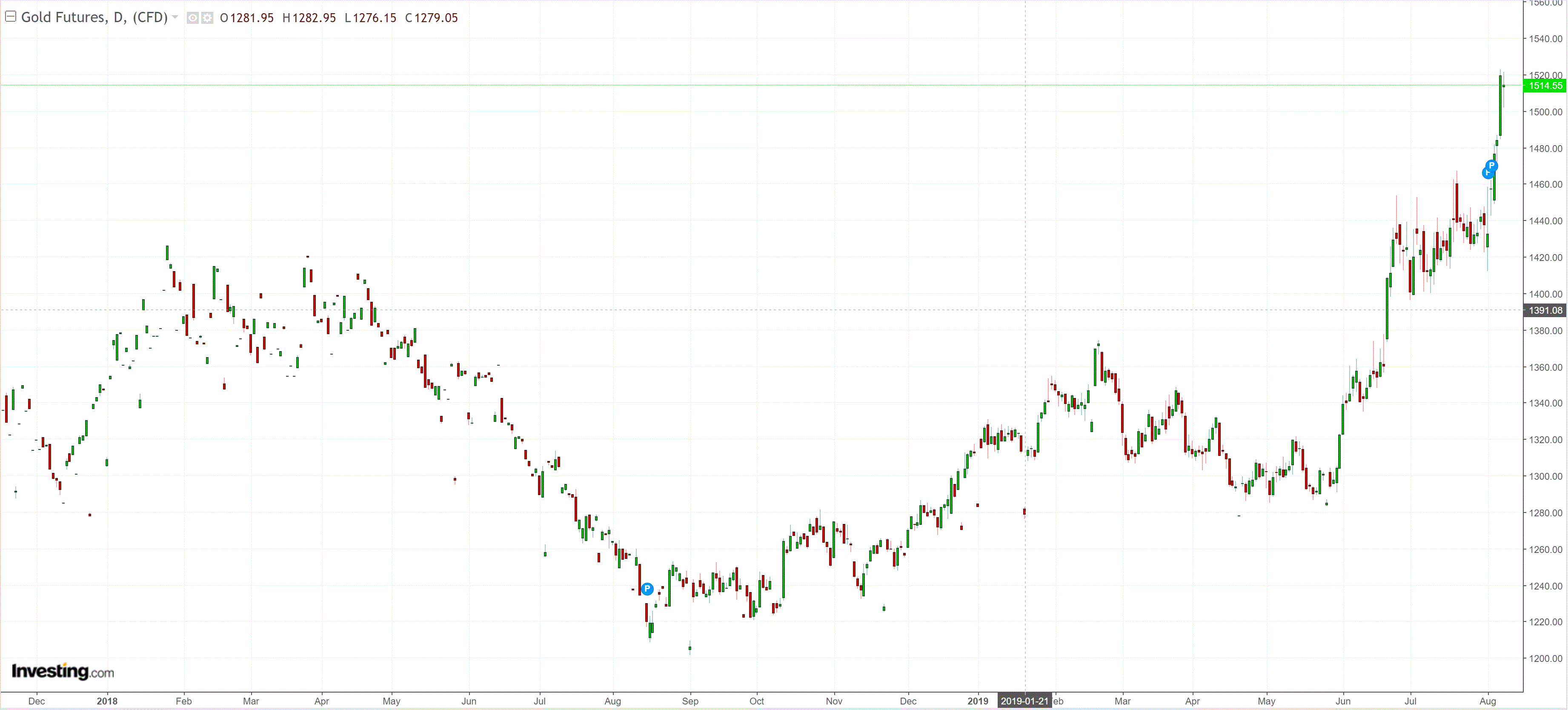 Oil rebounded: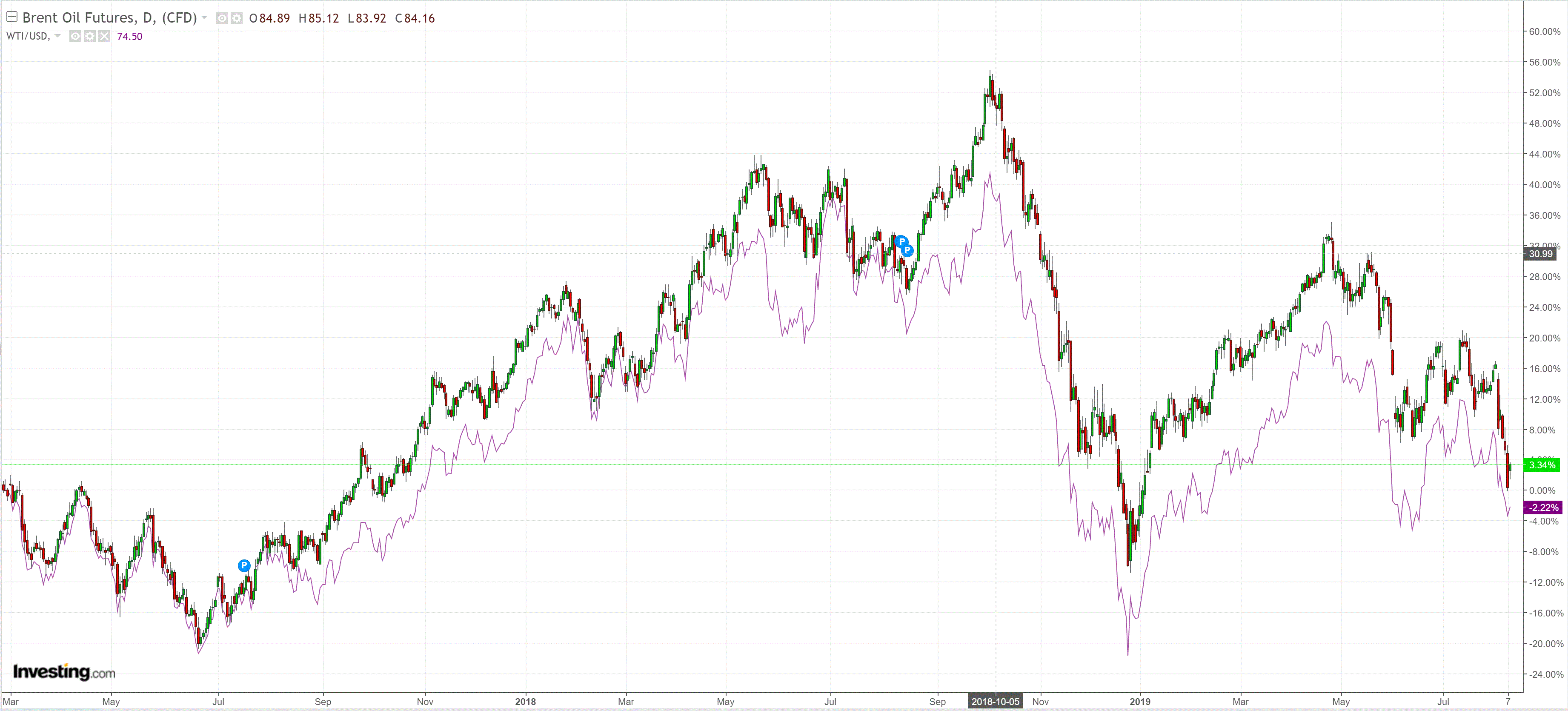 Metals too: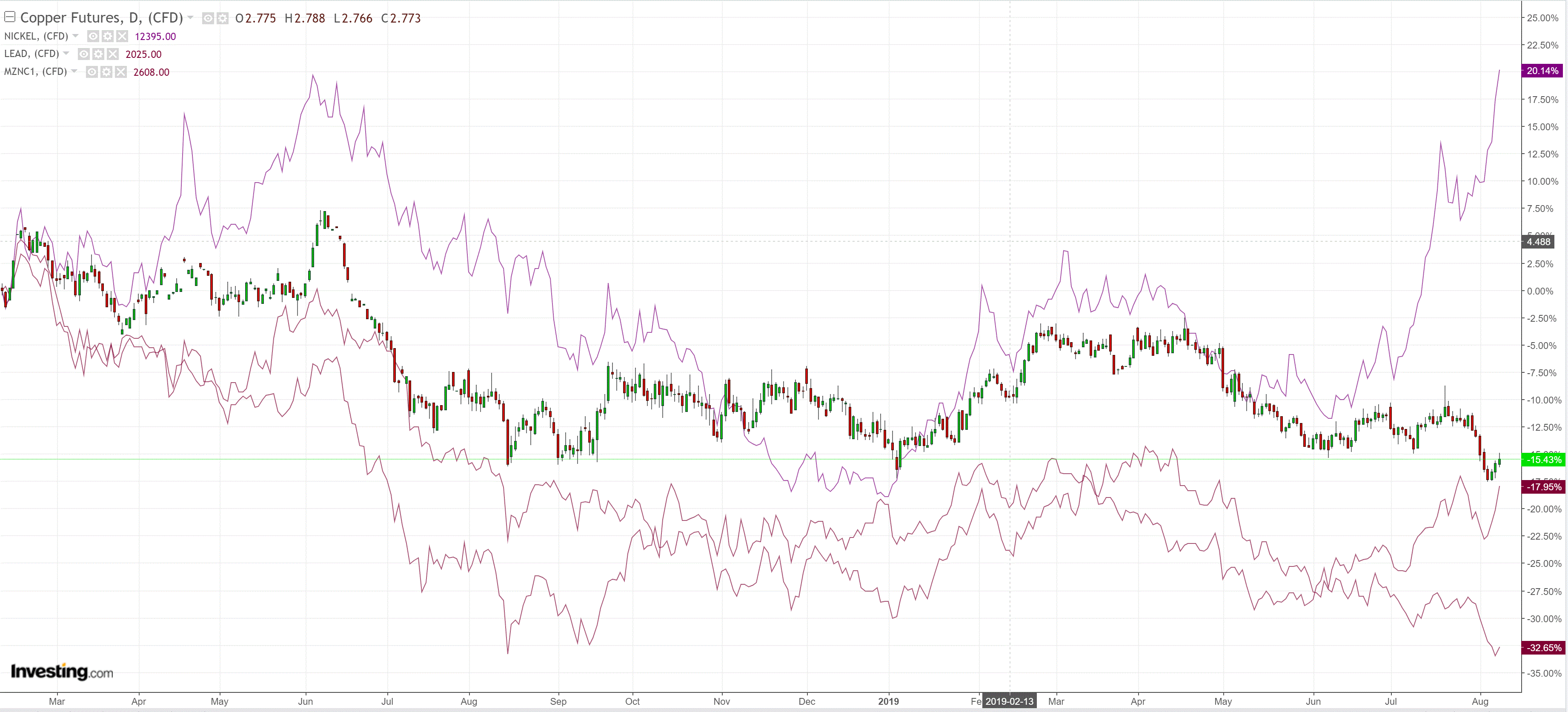 And miners ex-RIO: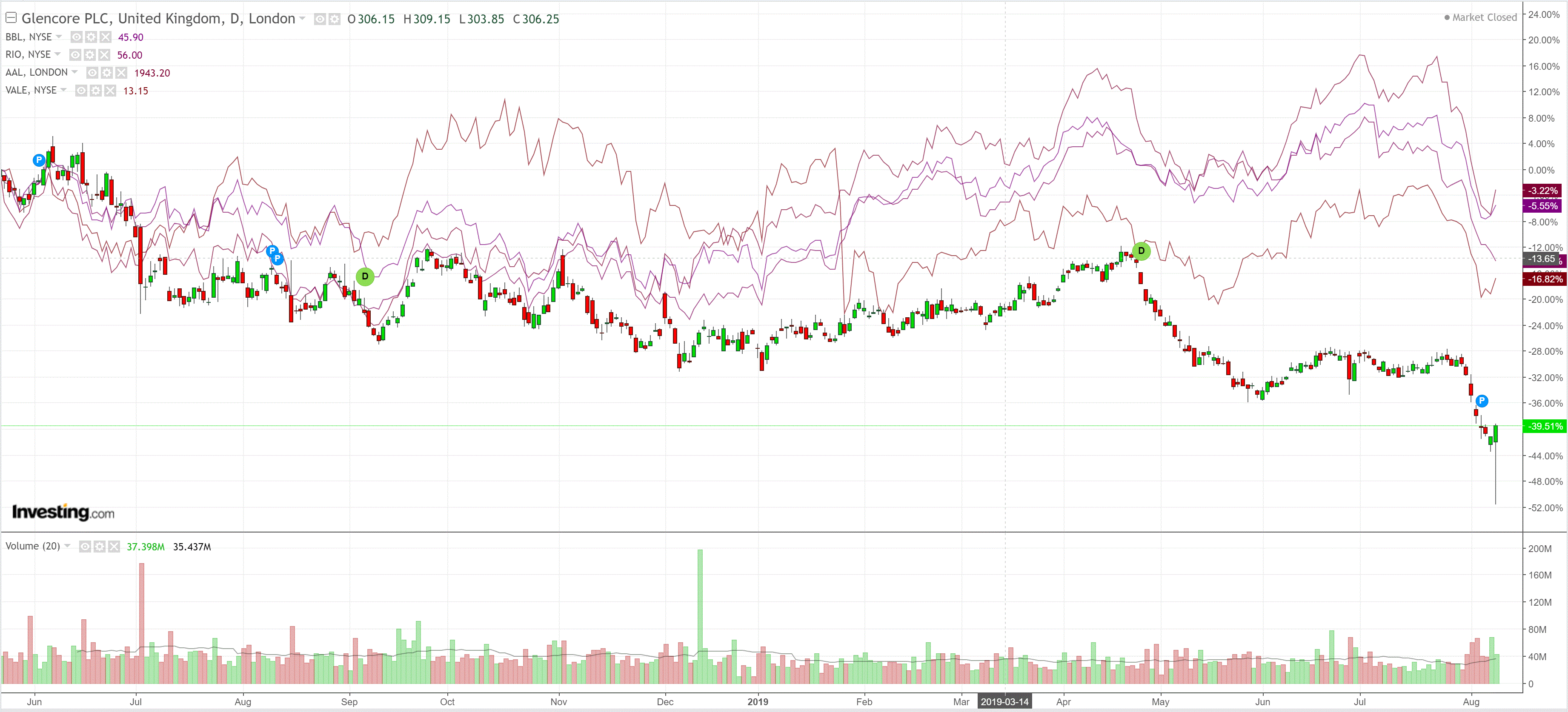 Plus EM stocks: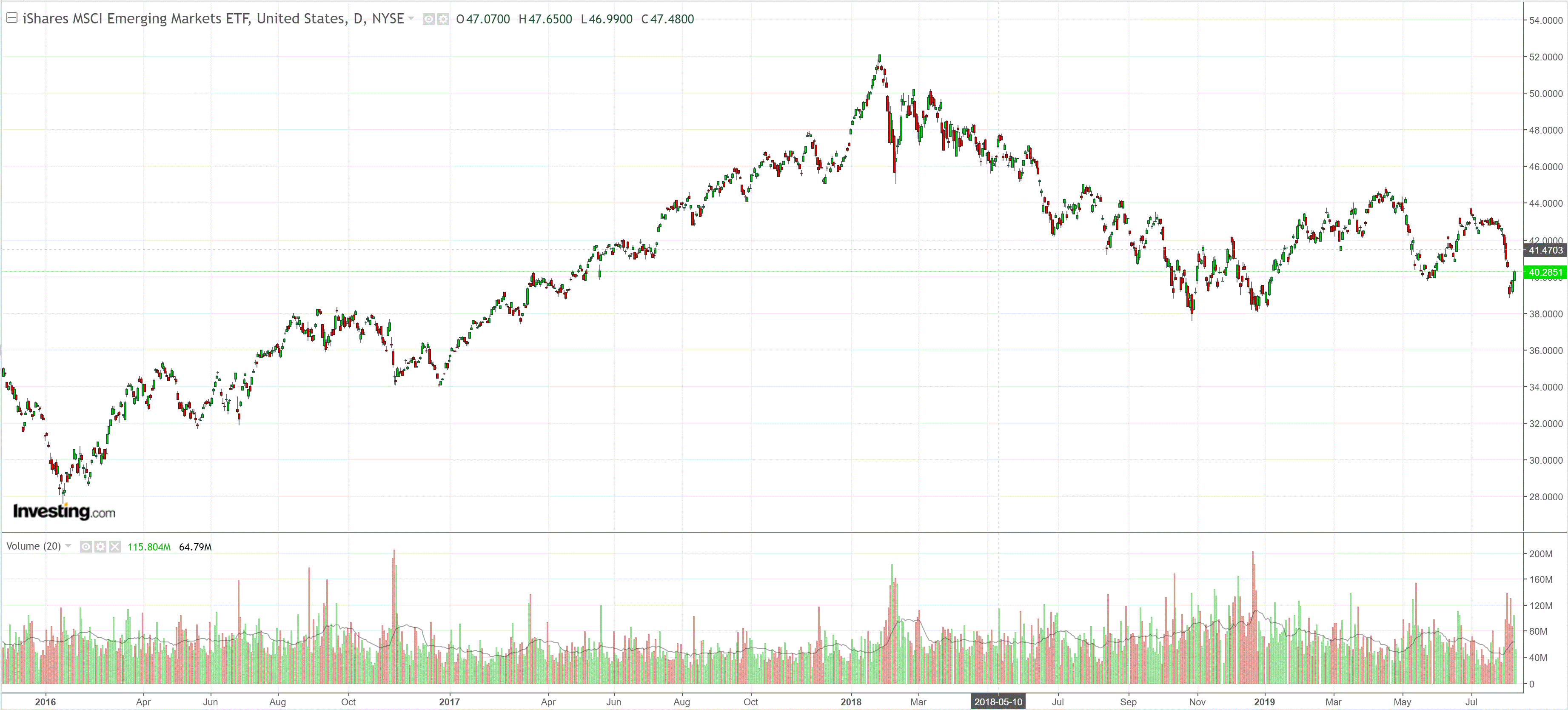 Junk was mixed: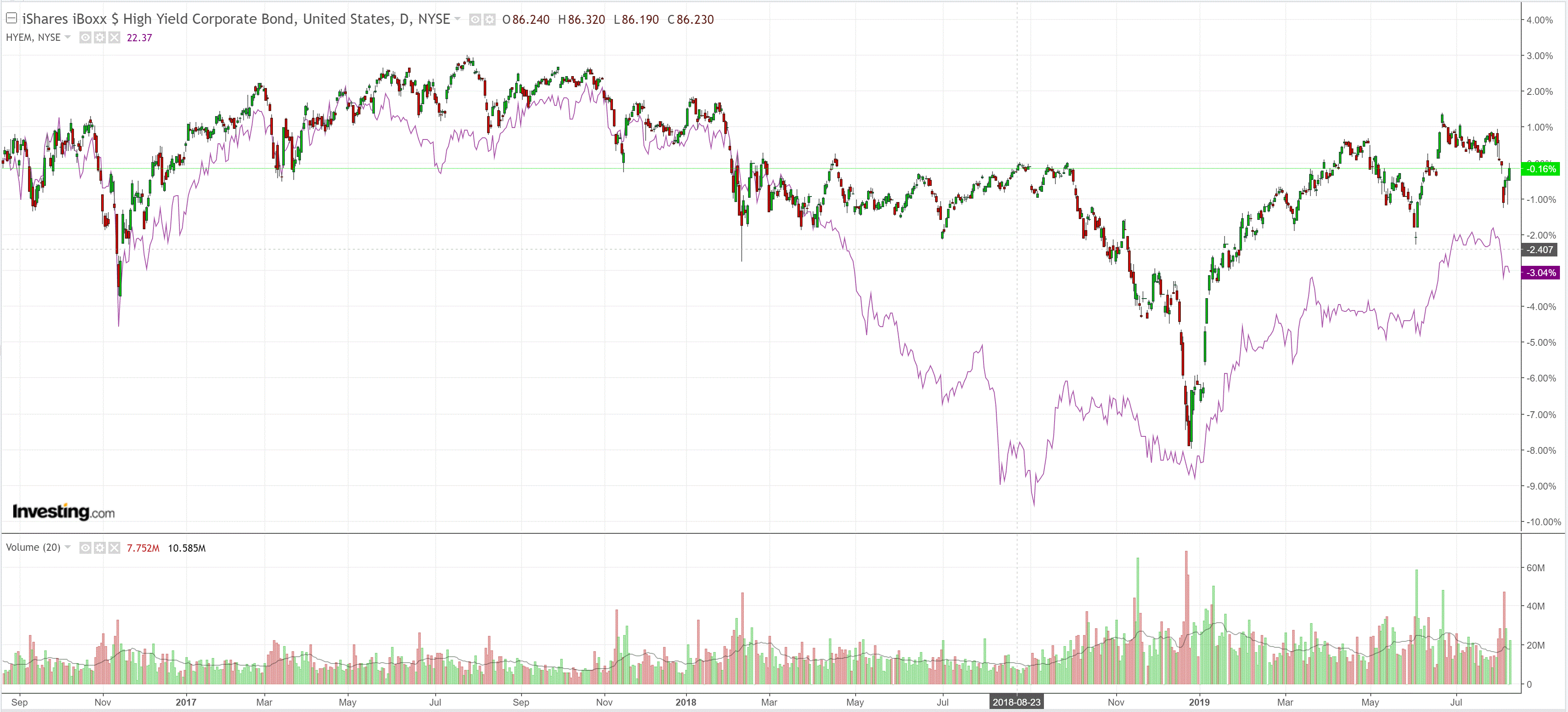 Treasuries sold: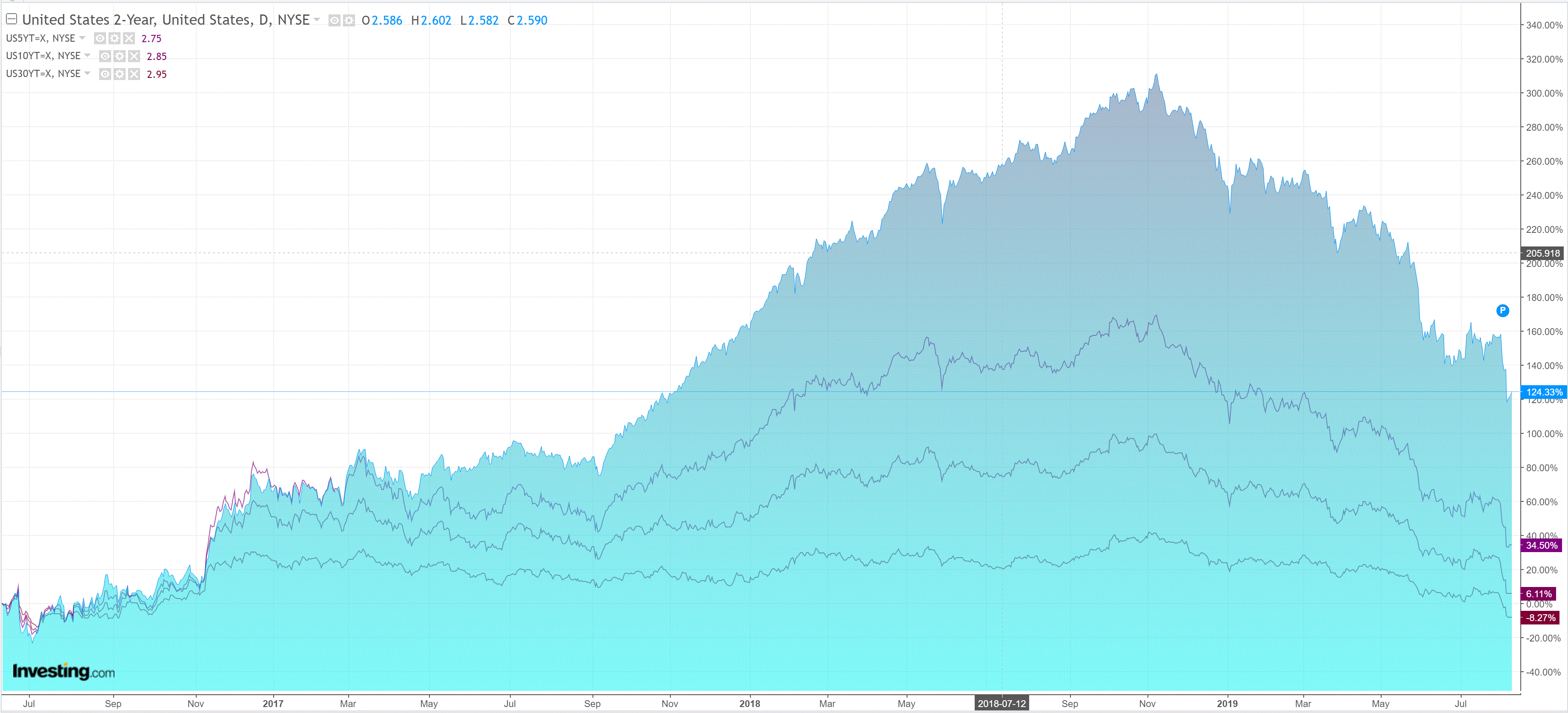 Bunds less so: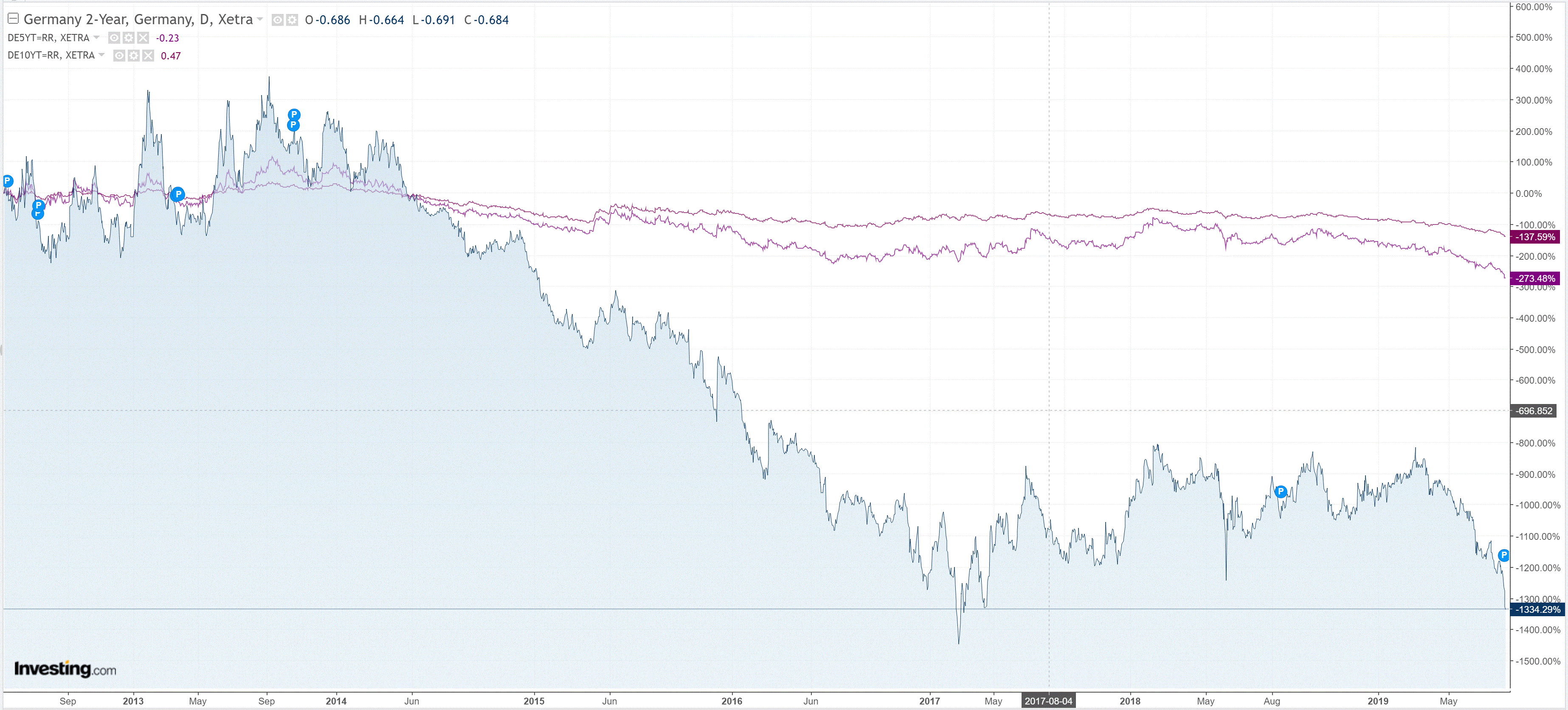 And Aussie bonds: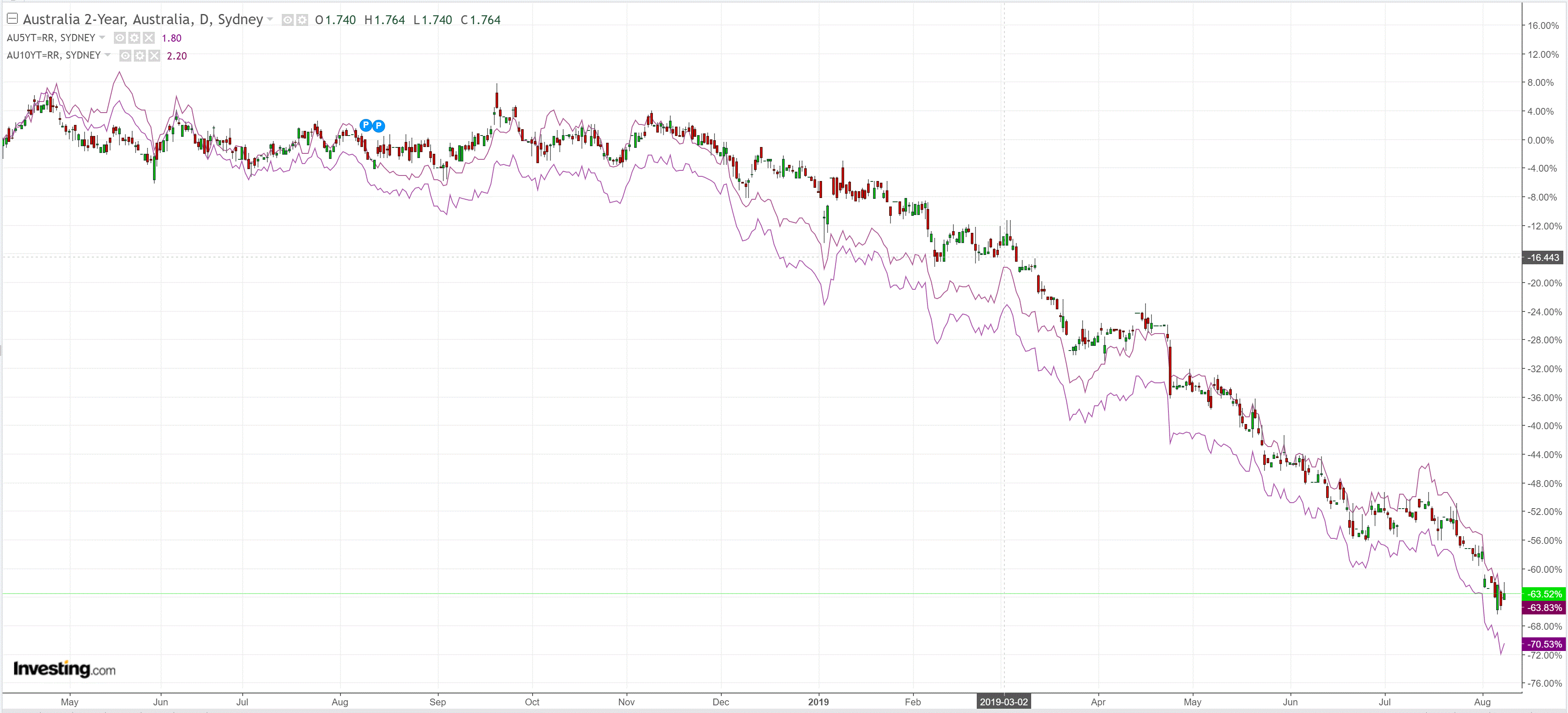 Stocks went happy clappy: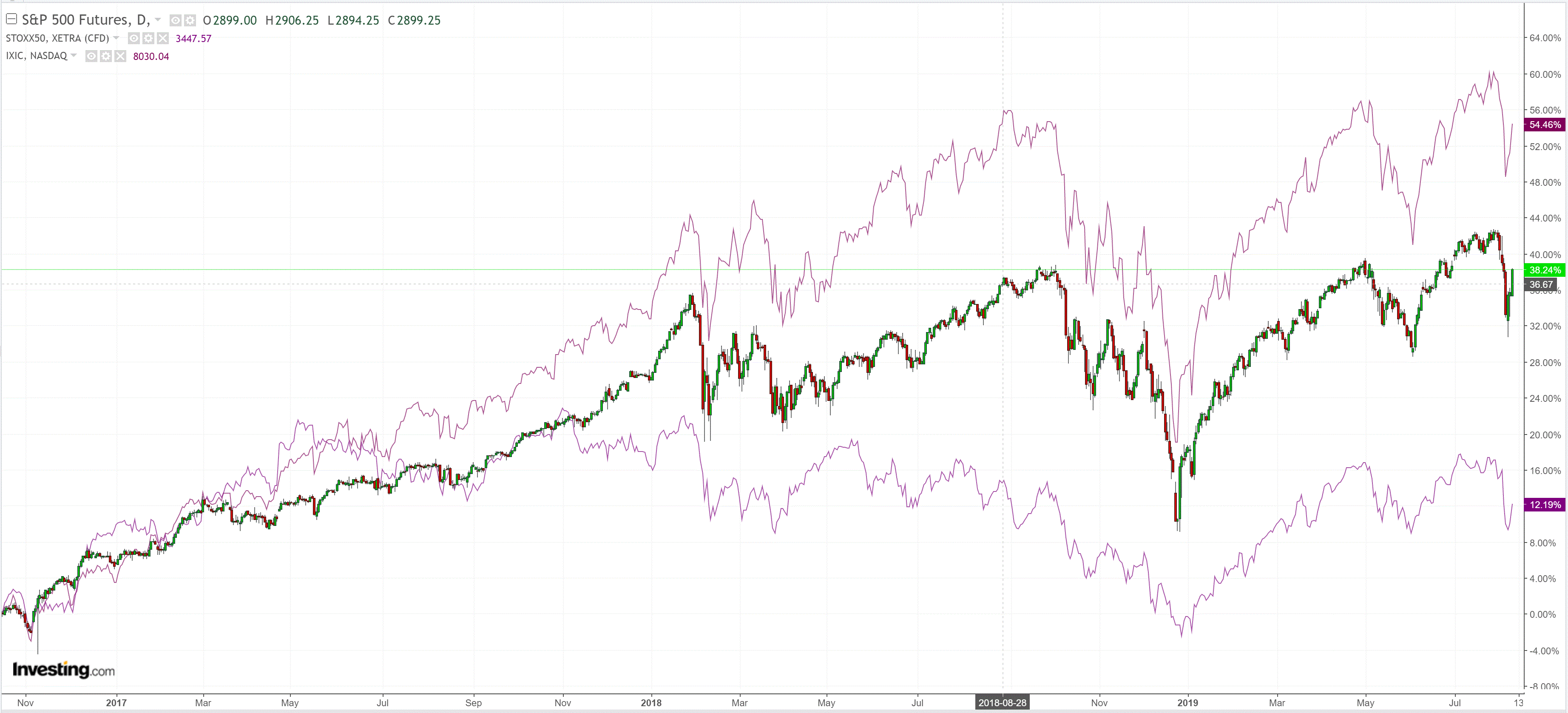 Westpac has the wrap:
Event Wrap

There was no major data to report. The Atlanta Fed's GDP prediction model projected a 1.95% growth rate for Q3, little changed from the 1.94% on 1 August.

Event Outlook

NZ: Migration has slowed, the annual pace around 50,500 in May.

Australia: RBA Governor Lowe's half yearly testimony begins at 9:30 am in Canberra. The RBA Statement on Monetary Policy is released with updated forecasts. Tuesday's decision statement indicated slight downward revisions to growth in 2019, but 2020 unchanged at trend; slight upward revisions to unemployment; and a longer period of below target underlying inflation.

Japan: Q2 GDP is expected to be up 0.1% following a 0.6% increase in Q1 with weak exports partly offset by a rebound in consumption.

China: Jul CPI and PPI data are released and the Q2 current account will provide further detail on financial and trade flows.

UK: Q2 GDP is expected to be flat following a 0.5% increase in Q1 which was partly associated with restocking ahead of the original Brexit deadline date.
No news is good news, I guess! At least, so think the machines, at Bloomie:
Corporate America bought back shares at a furious pace as the S&P 500 plunged 3%, according to activity at the Goldman Sachs Group Inc. unit that executes repurchases for clients. Since then, the equity benchmark has rebounded 2.3%. A similar surge in buybacks during May's rout helped establish a market bottom.

"On Monday when the market dropped, the Goldman Sachs buyback desk saw executions increase dramatically," David Kostin, the firm's chief U.S. equity strategist, said on Bloomberg TV with Alix Steel and David Westin. "Companies are sensitive to the level of stock prices."
And more:
Whether Fed easing will reverse the slowdown in an economy held hostage by a trade war is irrelevant. Cheaper corporate borrowing is the end result, and the entire market knows to which ends that cash will go, as laid out by colleagues Liz McCormick and Ben Holland.

Most economists, blinded by faith in financial markets as the most efficient allocators of resources, have missed the whole problem, according to Lazonick.

"They just say, 'Oh, the investment ends up somewhere,' " he says.

"That's an argument with no evidence." Lazonick says the label favored by corporate bosses to describe their buybacks—­"capital return program"—is misleading. "Capital is something that gets invested," he says. "It's not capital. It's just money."

It's too enticing of an option for the boards of SPX Index member companies to pass up in the late cycle U.S. economy. Spending to invest in expansion or retooling business lines in this era of lackluster earnings growth won't cut it.

It's far more lucrative to just take part in the Pavlovian experiment now playing out in markets — the White House rings the trade-war bell, the salivating Fed presses the button, and the buyback morsel is delivered to equity investors on the S&P 500's path to new highs (repeat as necessary.)
It's as good an explanation as any. There's no discernible narrative to describe such day to day volatility.
Australian dollar trails along.
David Llewellyn-Smith is Chief Strategist at the MB Fund and MB Super. David is the founding publisher and editor of MacroBusiness and was the founding publisher and global economy editor of The Diplomat, the Asia Pacific's leading geo-politics and economics portal.

He is also a former gold trader and economic commentator at The Sydney Morning Herald, The Age, the ABC and Business Spectator. He is the co-author of The Great Crash of 2008 with Ross Garnaut and was the editor of the second Garnaut Climate Change Review.
Latest posts by David Llewellyn-Smith (see all)