See the latest Australian dollar analysis here:
DXY was down last night, EUR bounced but CNY was hit: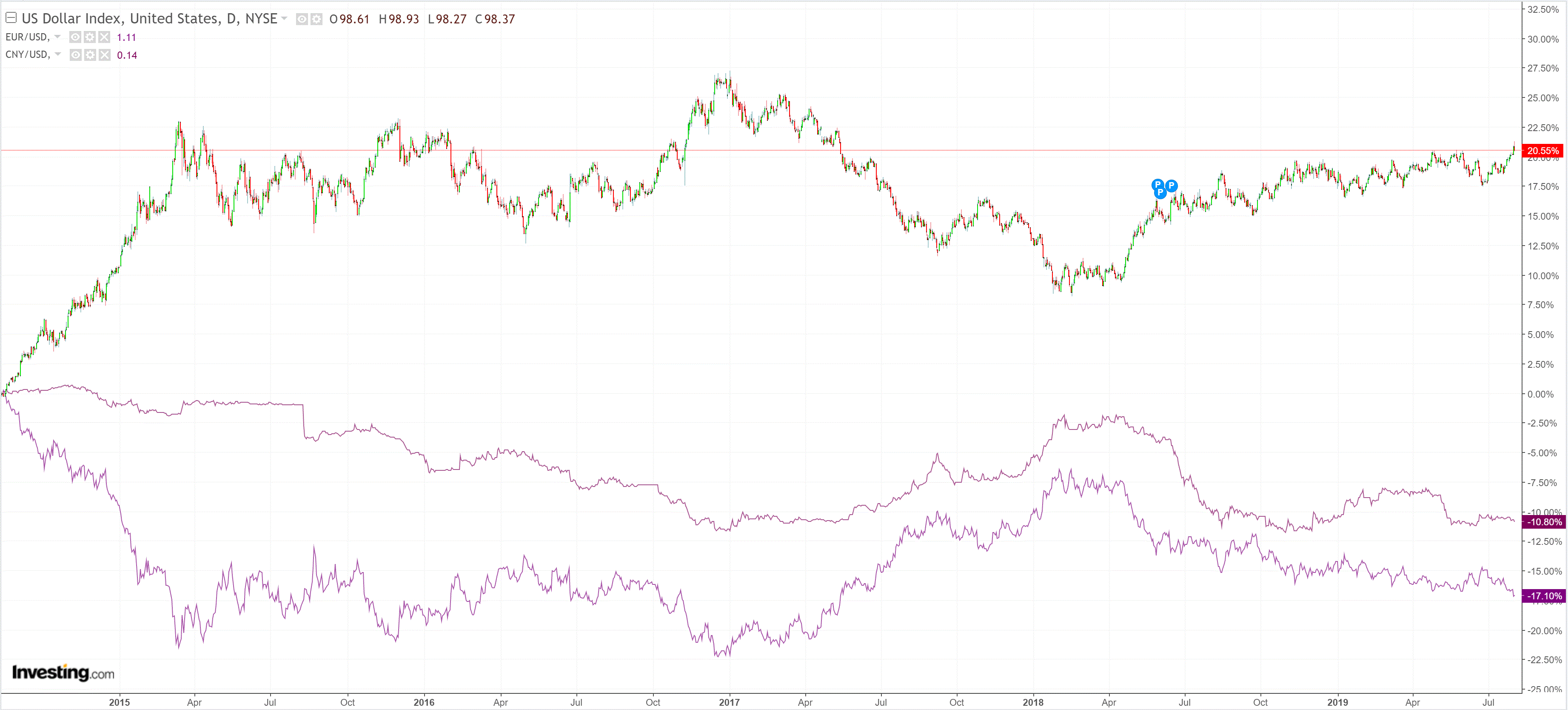 The Australian dollar crashed against DMs to decade closing lows: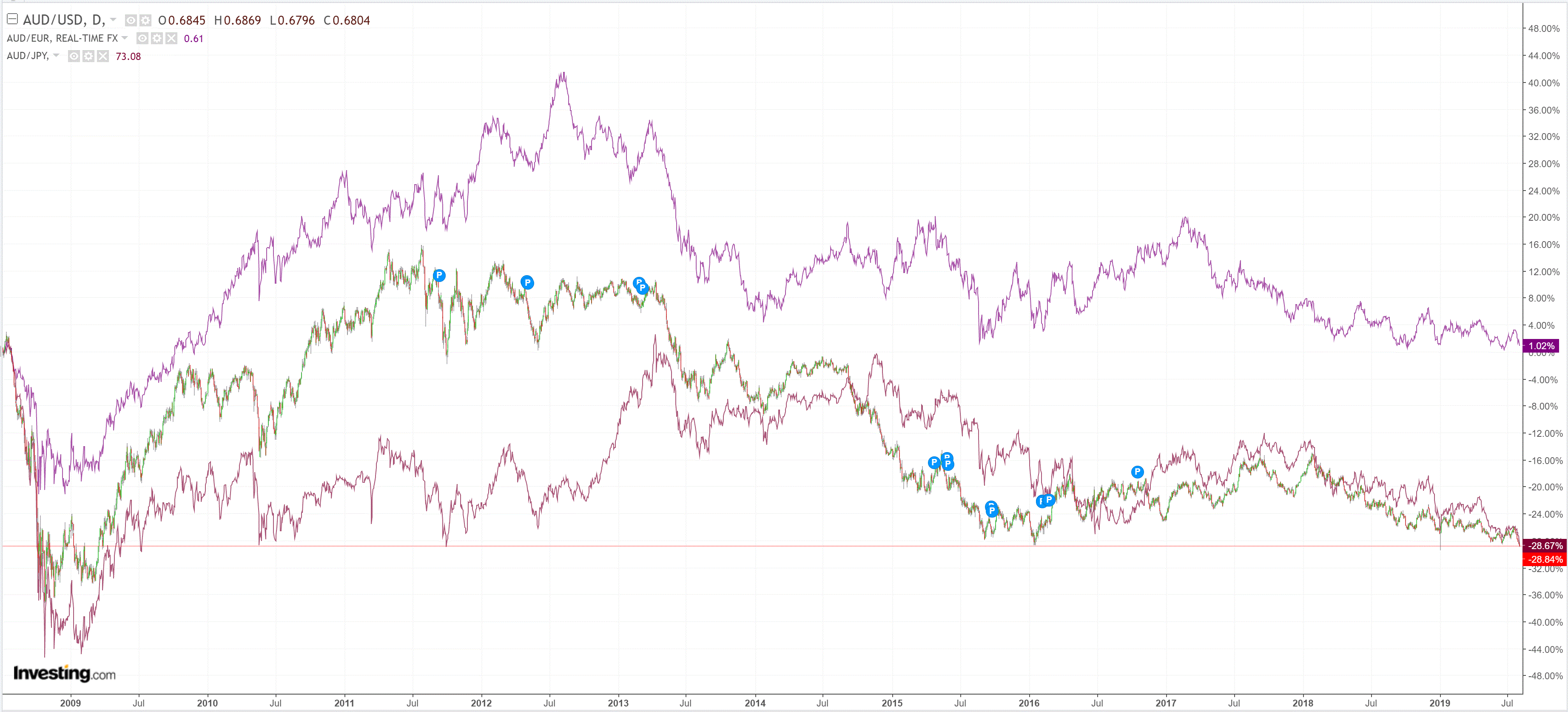 But could not fall fast enough to outpace EMs: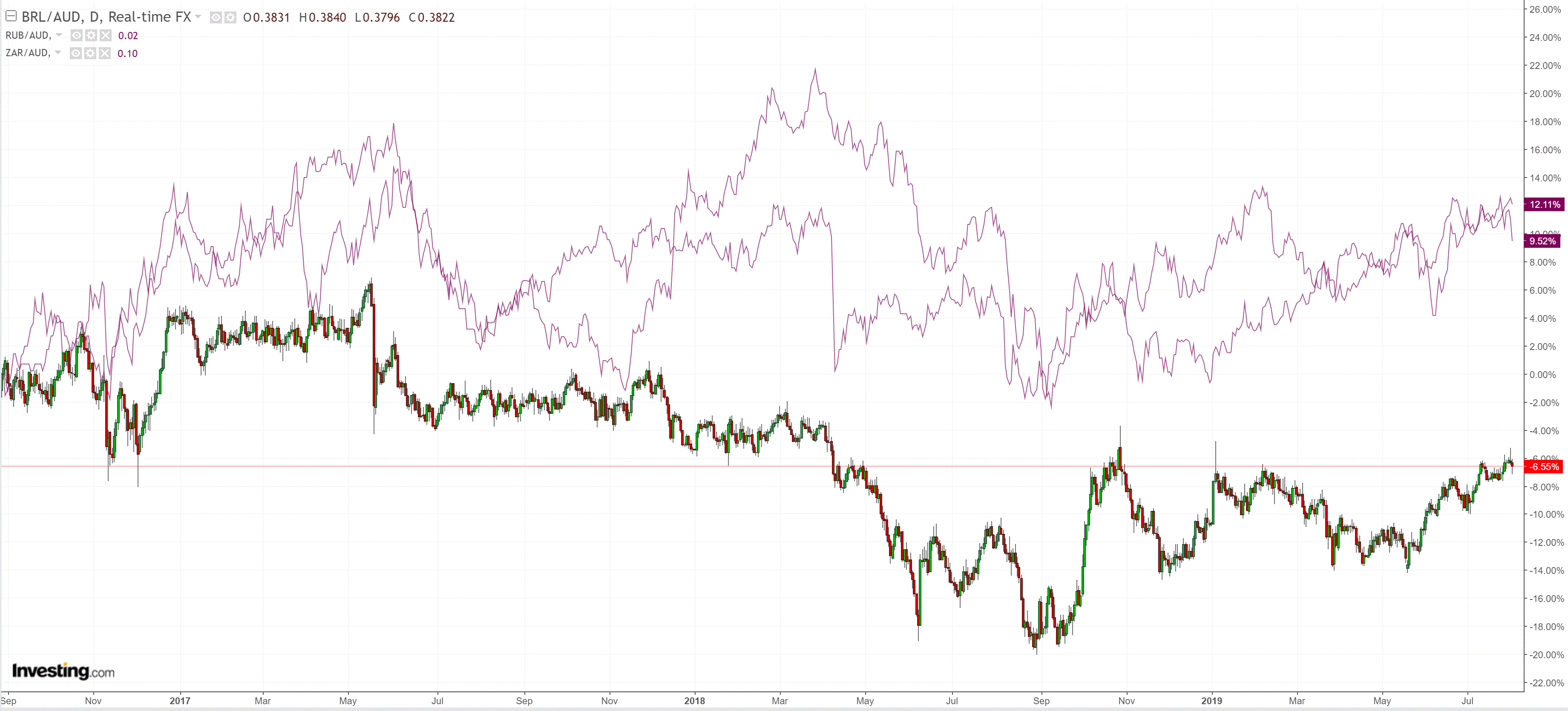 Gold took off: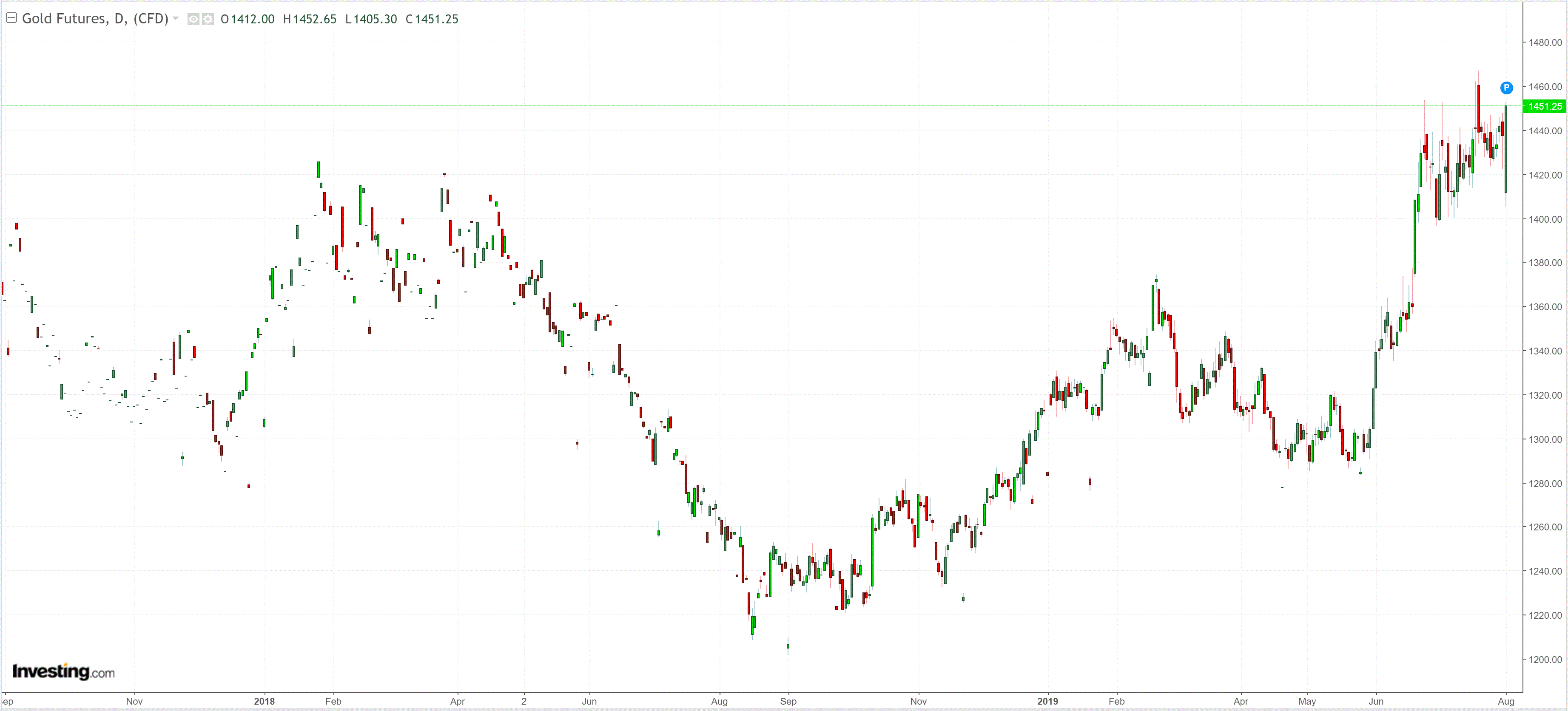 Oil crashed: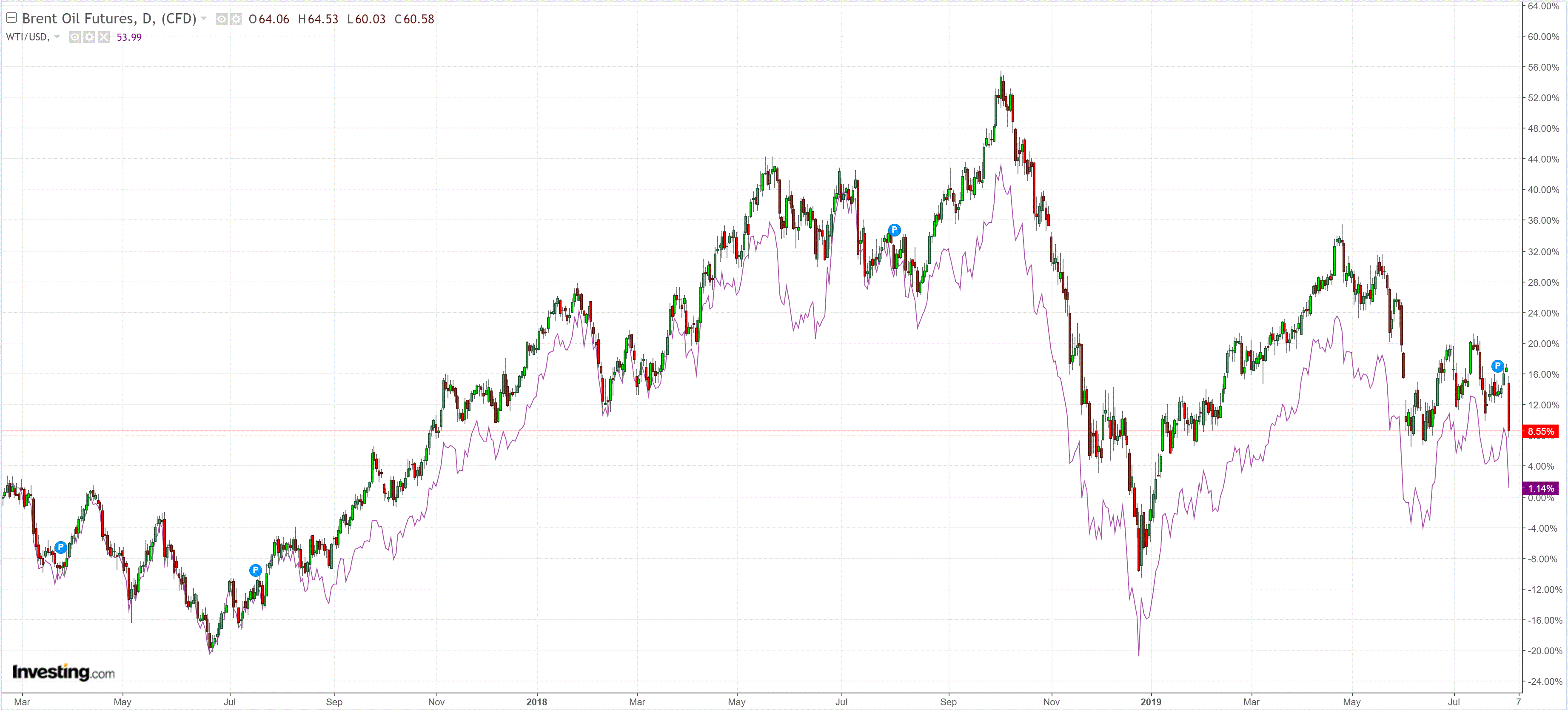 Metals were hit: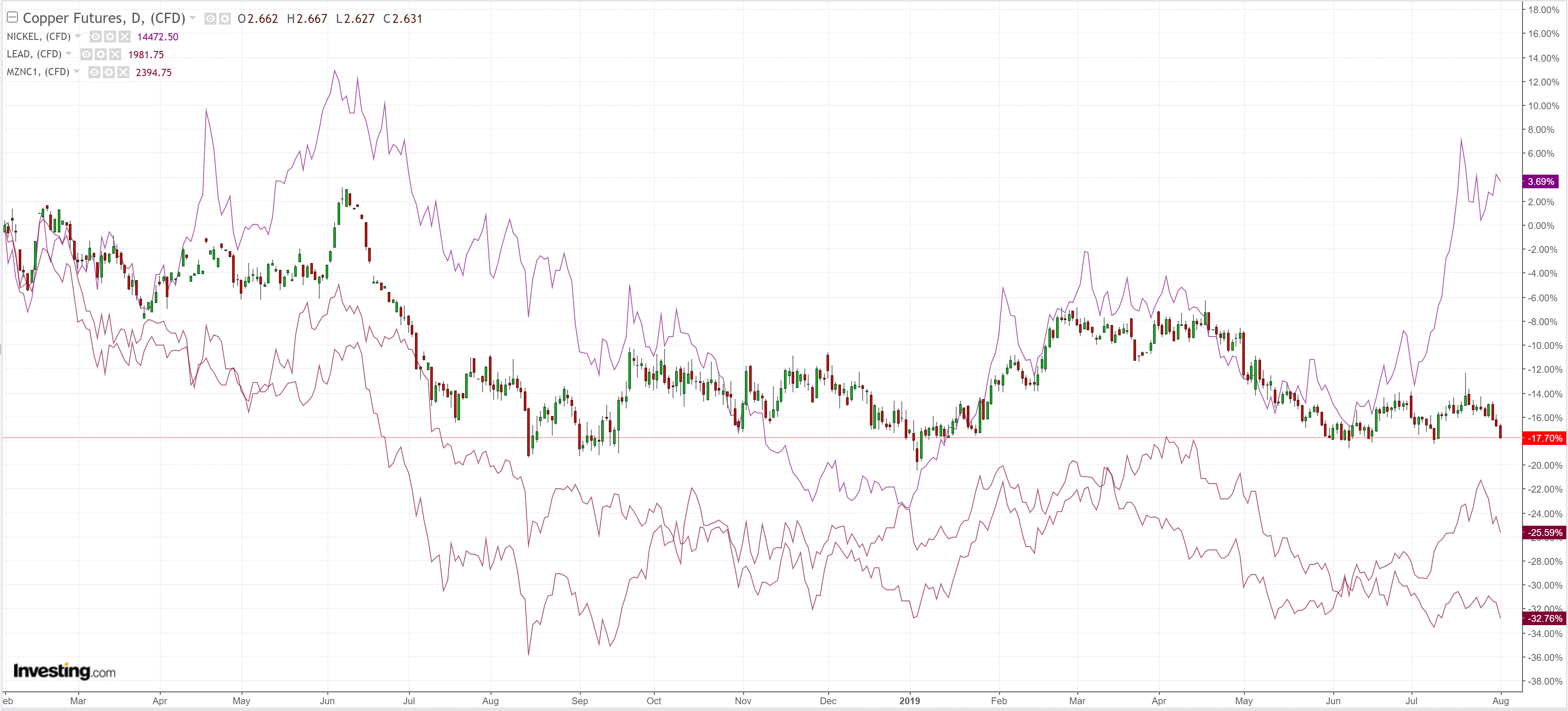 Miners crashed: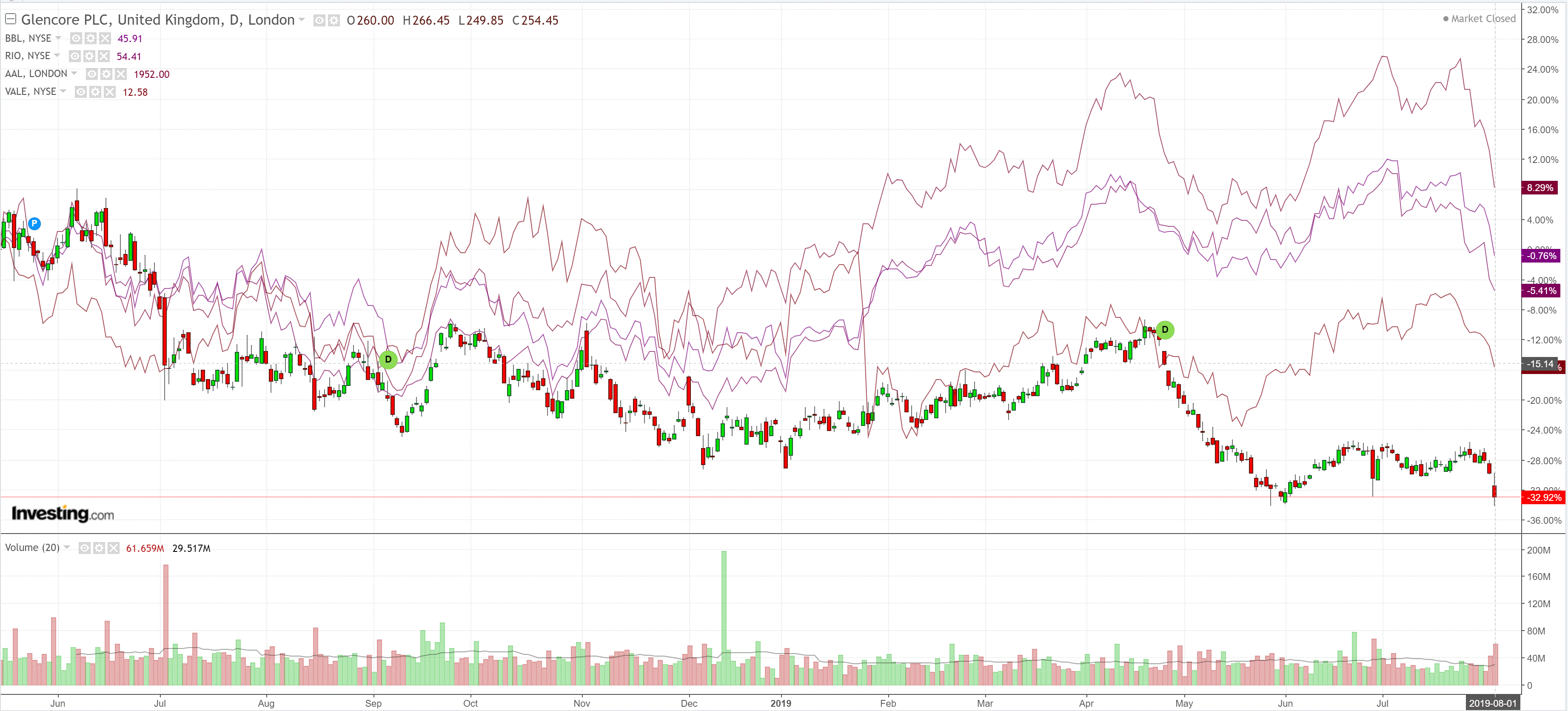 EM stocks crashed: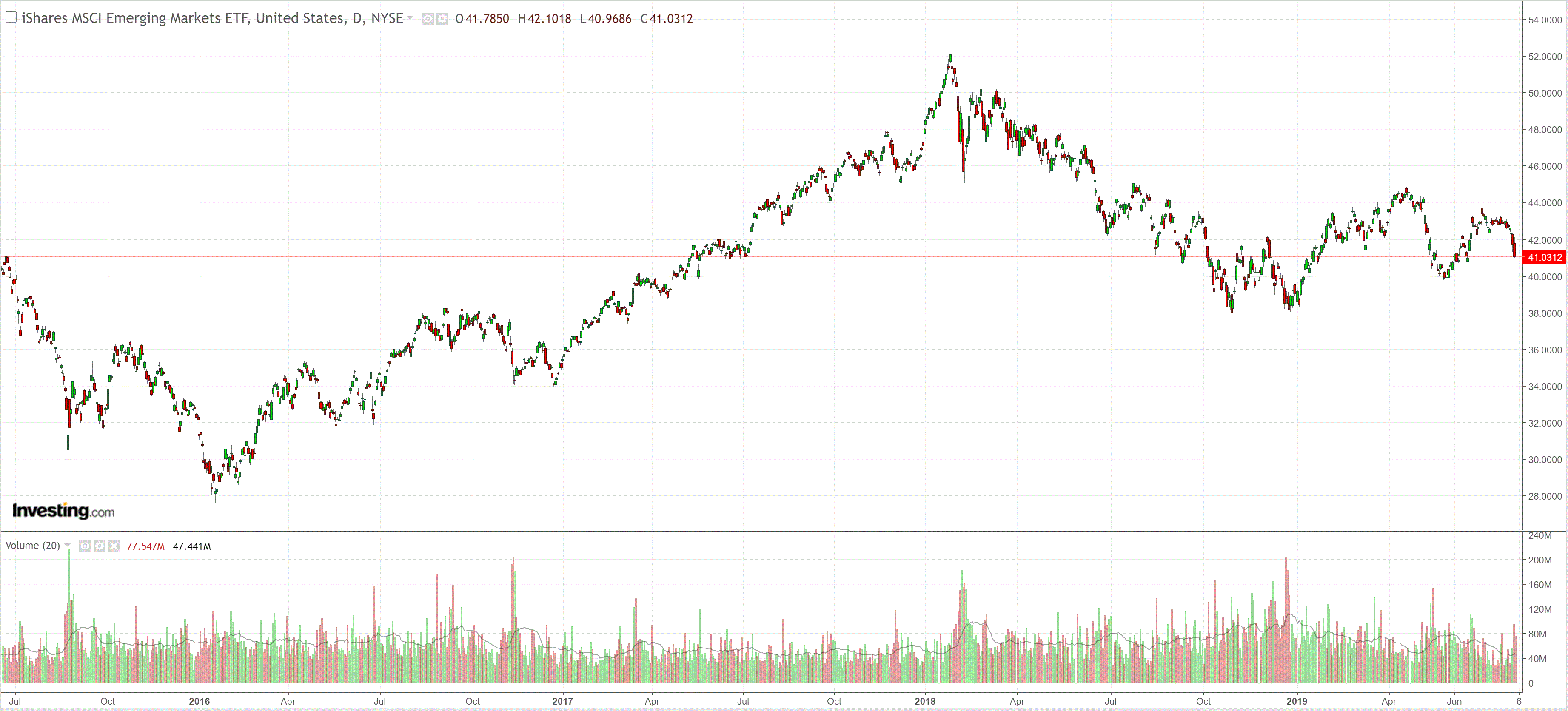 Junk crashed: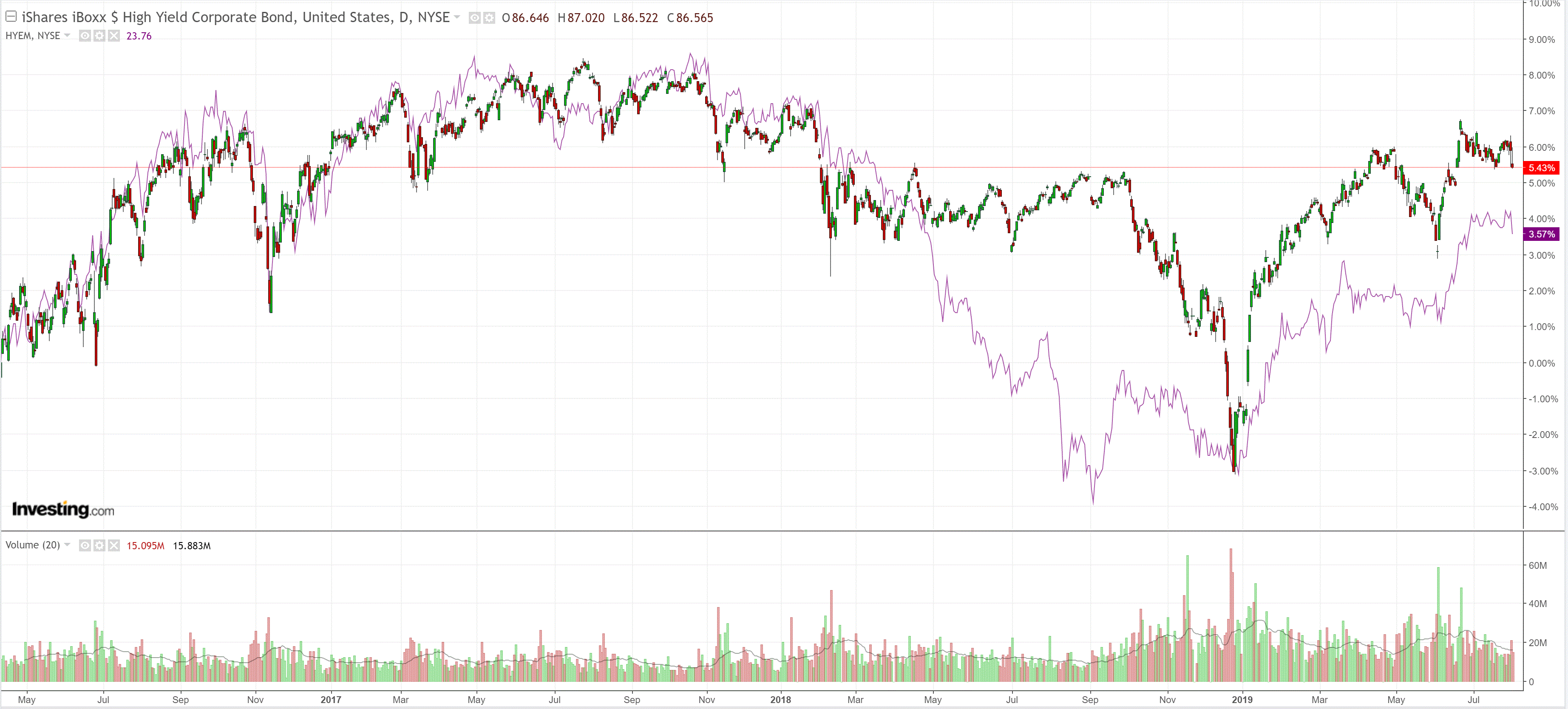 Treasuries went mad: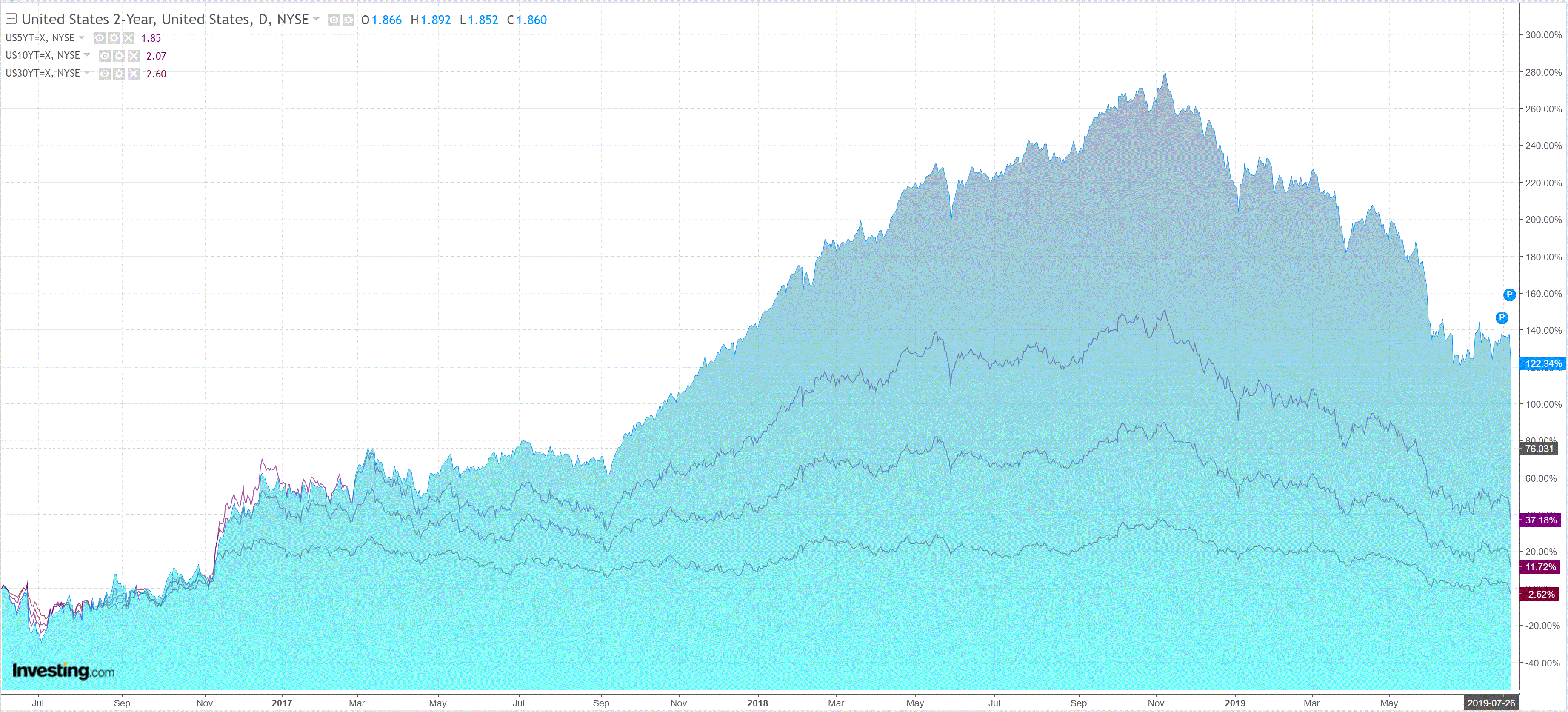 Bunds too: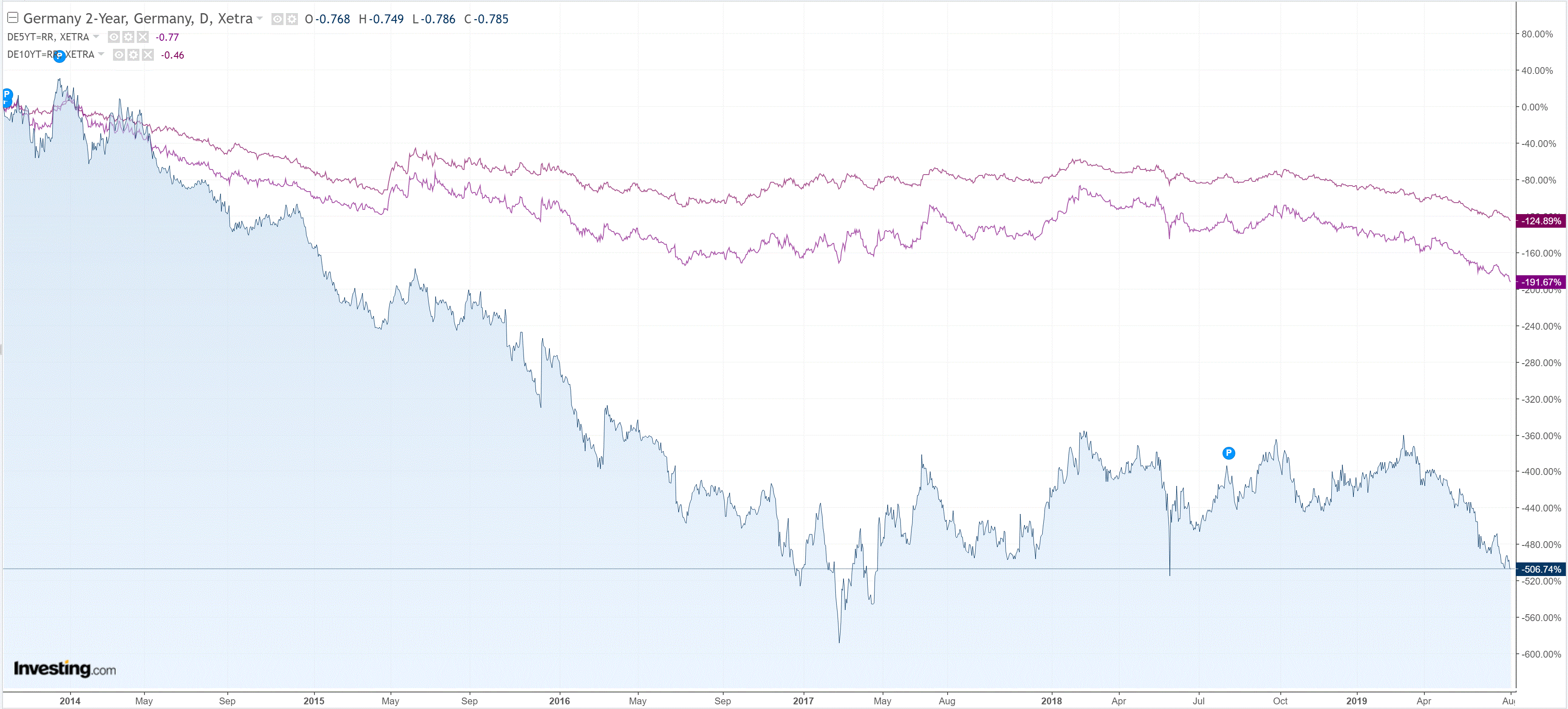 OMG, Aussie bonds: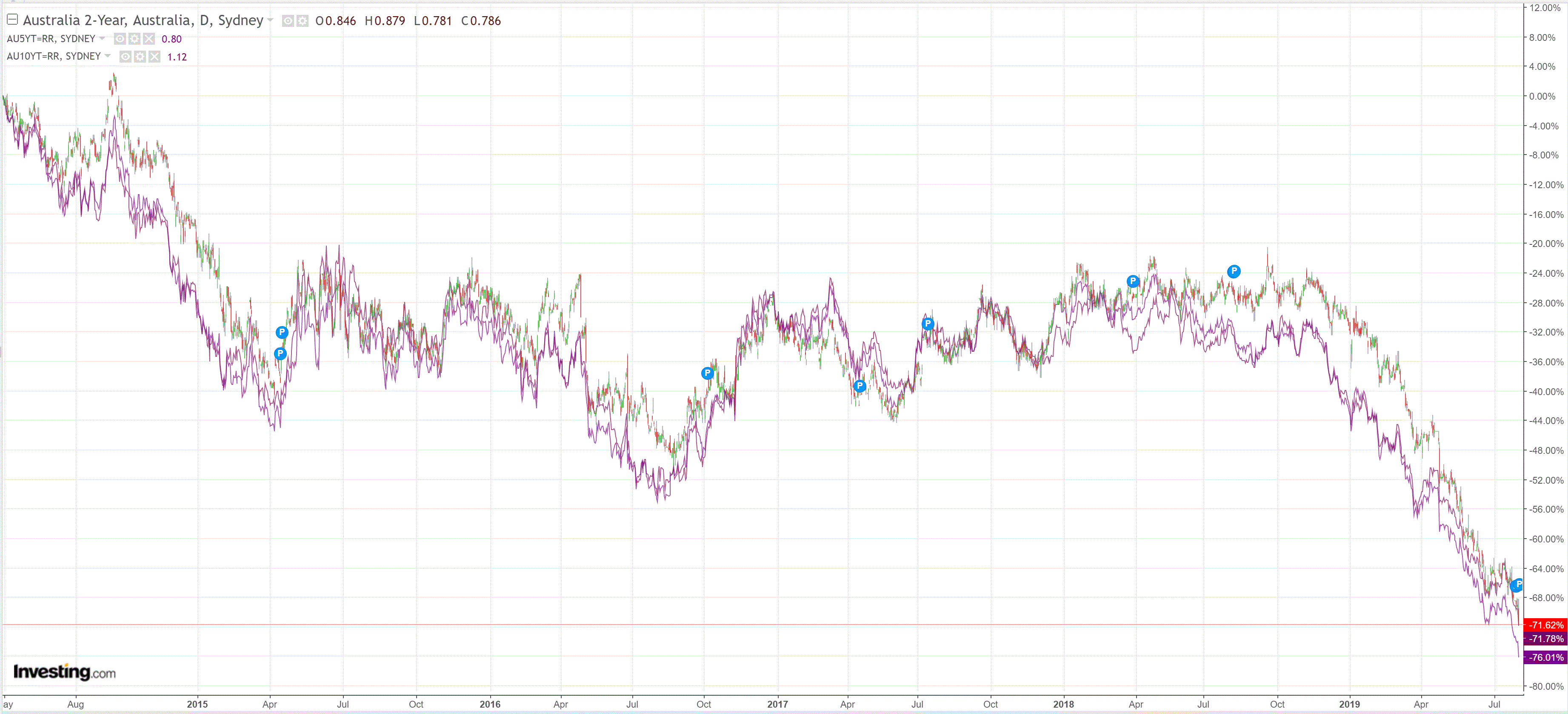 Stocks fell but were perhaps spared a little: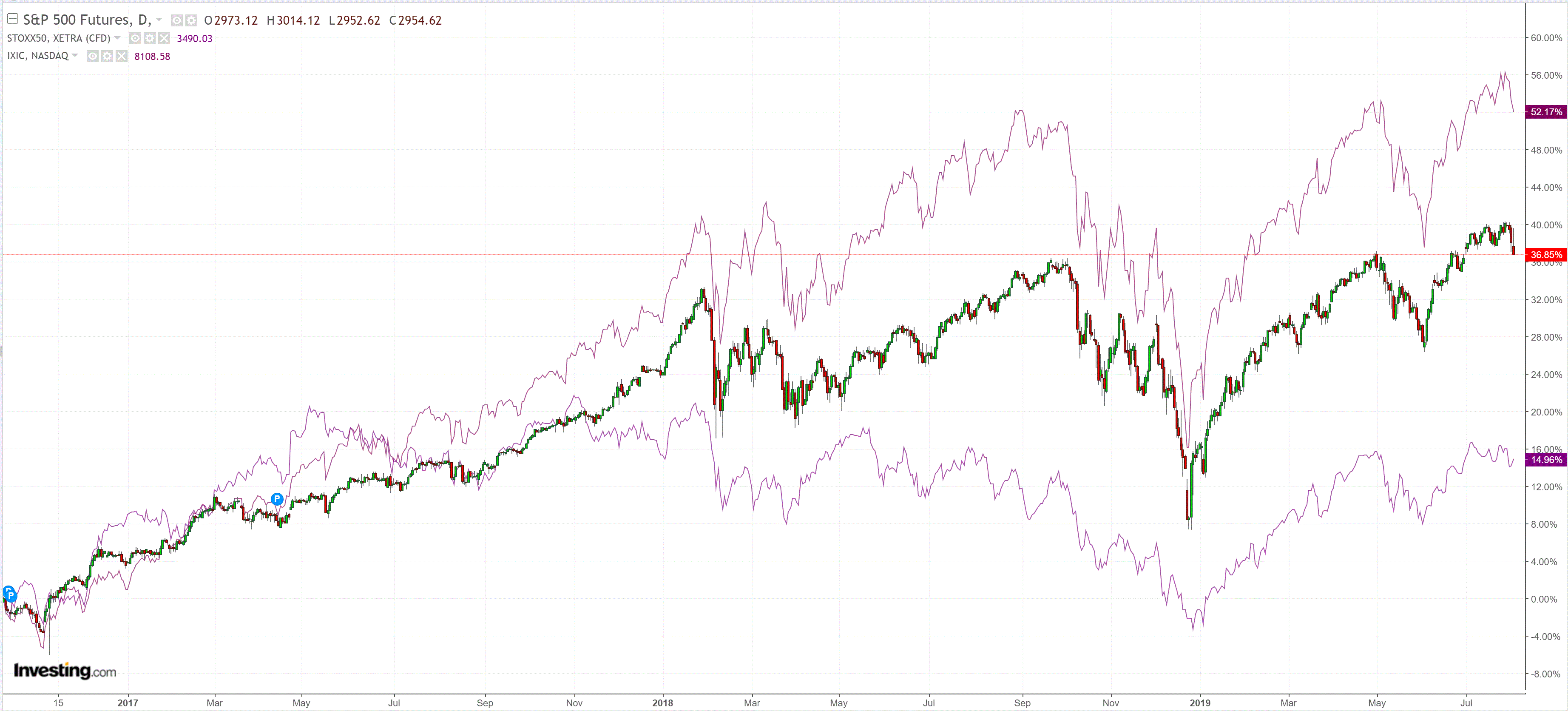 The issue is simple. From President Donald Trump on Twitter:
Our representatives have just returned from China where they had constructive talks having to do with a future Trade Deal. We thought we had a deal with China three months ago, but sadly, China decided to re-negotiate the deal prior to signing. More recently, China agreed to…

— Donald J. Trump (@realDonaldTrump) August 1, 2019
…buy agricultural product from the U.S. in large quantities, but did not do so. Additionally, my friend President Xi said that he would stop the sale of Fentanyl to the United States – this never happened, and many Americans continue to die! Trade talks are continuing, and…

— Donald J. Trump (@realDonaldTrump) August 1, 2019
…during the talks the U.S. will start, on September 1st, putting a small additional Tariff of 10% on the remaining 300 Billion Dollars of goods and products coming from China into our Country. This does not include the 250 Billion Dollars already Tariffed at 25%…

— Donald J. Trump (@realDonaldTrump) August 1, 2019
…We look forward to continuing our positive dialogue with China on a comprehensive Trade Deal, and feel that the future between our two countries will be a very bright one!

— Donald J. Trump (@realDonaldTrump) August 1, 2019
Obviously designed to get China back to the negotiating table but how can it now without some massive loss of face? Bill Bishop at Sinocism sums it up:
If Trump is hoping the Chinese will cave in the face of this September 1 threat for new tariffs I expect he will be disappointed. This goes against two of China's core demands -sincerity and removal of existing tariffs-and is humiliating once again to its top negotiators.

It should make any upcoming Beidaihe discussions about the US-China relationship even more interesting, and probably will give Xi more cover, if he even needs it, against any grumbling that he has mishandled the US China relationship. It should be an easy argument to make that no one can manage Trump and so those trying to blame Xi have other, ulterior motives, and that even if China agrees to humiliating concessions there is no guarantee the US side will keep its word.

Given the trade imbalance China can not match this move 1:1. We should expect an intensification of non-tariff measures that penalize American firms and executives.

Such measures include but are not limited to: an accelerated rollout of China's unreliable entities list; licensing problems; increased inspections; canceled deals, especially with SOEs; enforcement actions; media attacks; nationalist outrage, and harassment or worse of employees of US firms.

I guess the new status quo in US-China relations is that there is no status quo and we are in an increasingly unstable and unpredictable New Era.
As the trade war returns, and China's industrial economy is crushed, the implications write themselves. First, China's industrial recession will intensify, even if it does not appear in the official data. Partial indicators will show it, such as the PMI: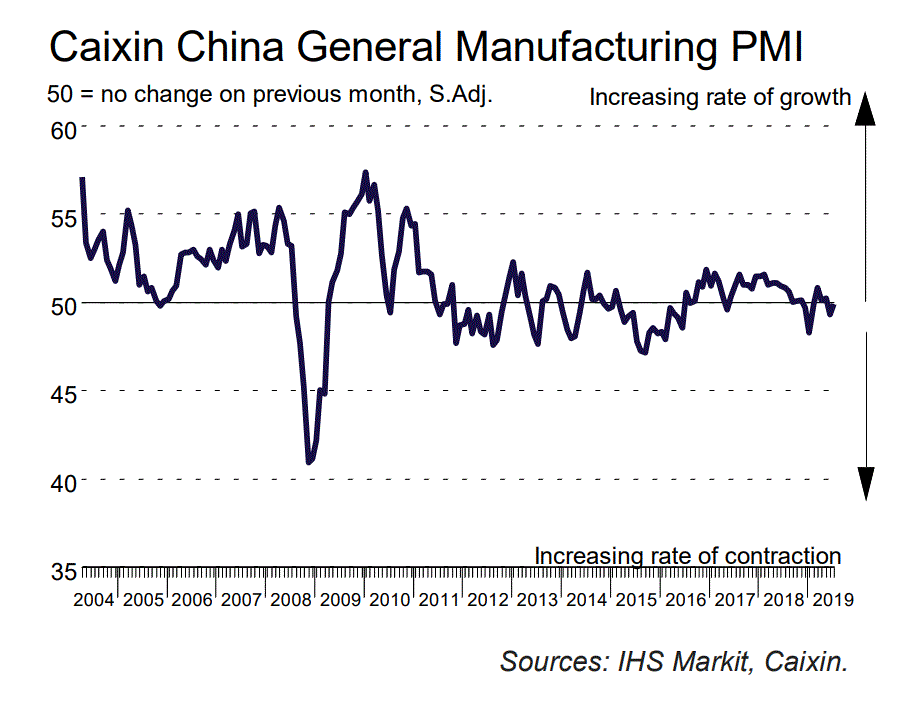 It will spread to Europe via its preposterous continental export led economy, where industry is already in deep recession: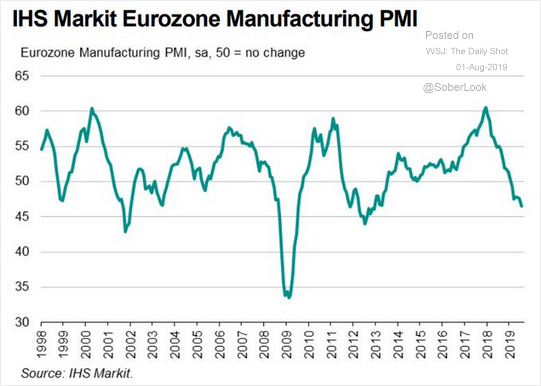 And broader GDP is siding away: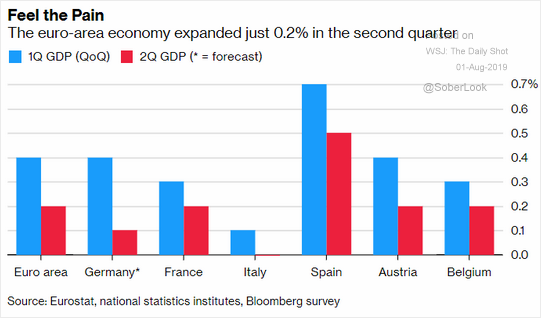 China will respond with more empty apartments but weakening global output will take down commodity prices anyway, including iron ore which is now abundant. However, the key will be tumbling oil which will feed back into US growth via falling investment: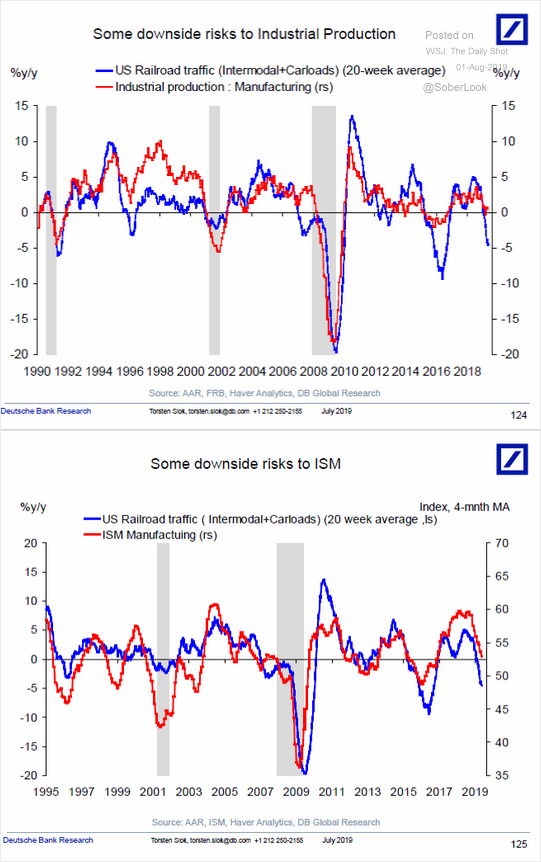 Unless something changes, this will hit earnings and stocks which will drag in the US consumer: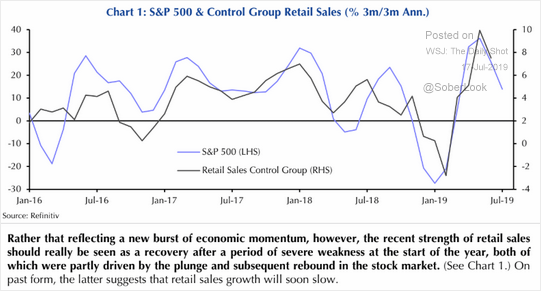 And global recession will ensue.
This is all bad for the Australian dollar. And given the key driver is China being shoved out of the global economy by a revitalised US hegemon, it is likely to be even worse for the little Aussie battler, which is now a global whipping boy.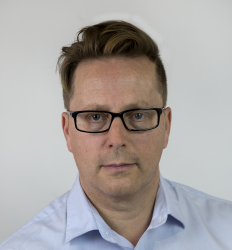 Latest posts by David Llewellyn-Smith
(see all)