See the latest Australian dollar analysis here:
DXY eased overnight despite a weak EUR and CNY hitting an eleven year low: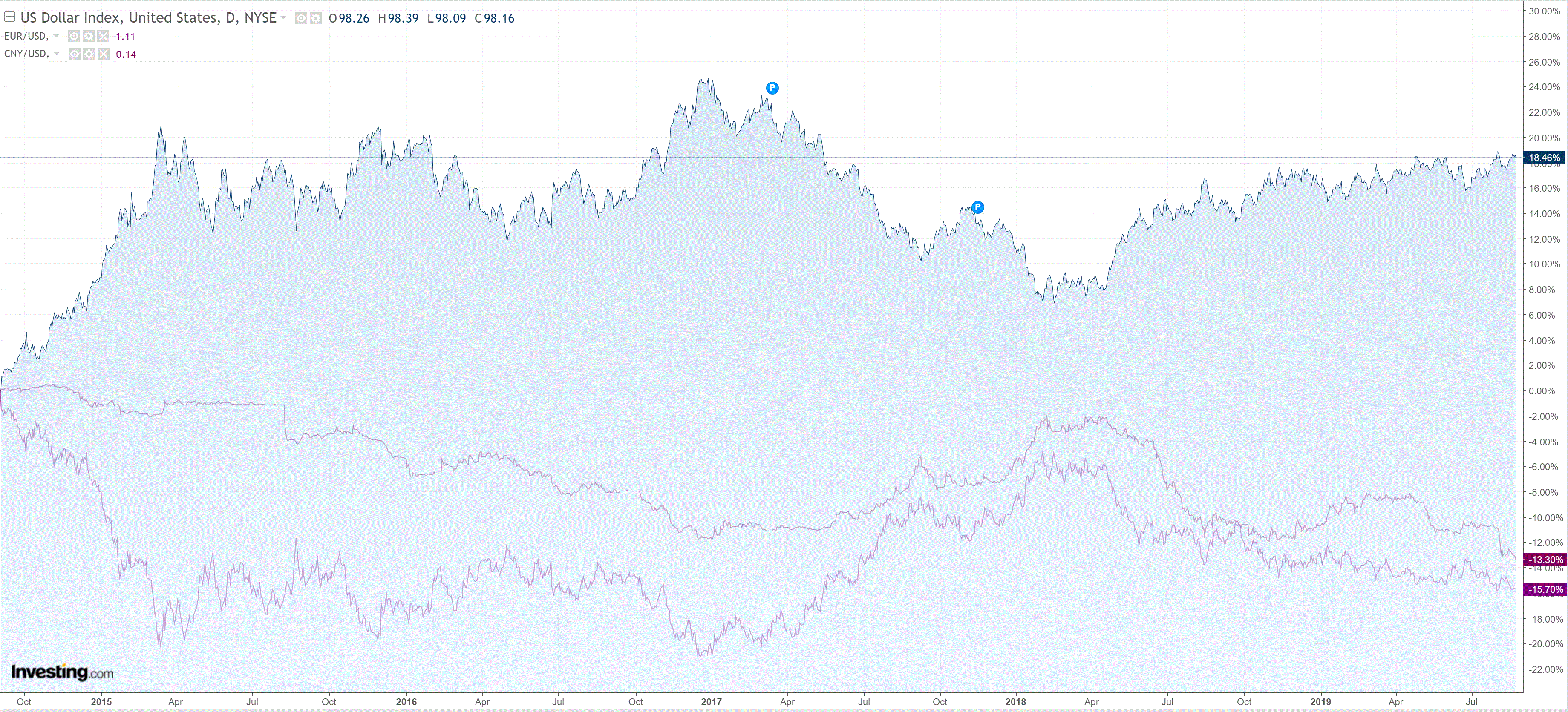 Here it is with a chart to disturb the even a hardened geopolitical observer: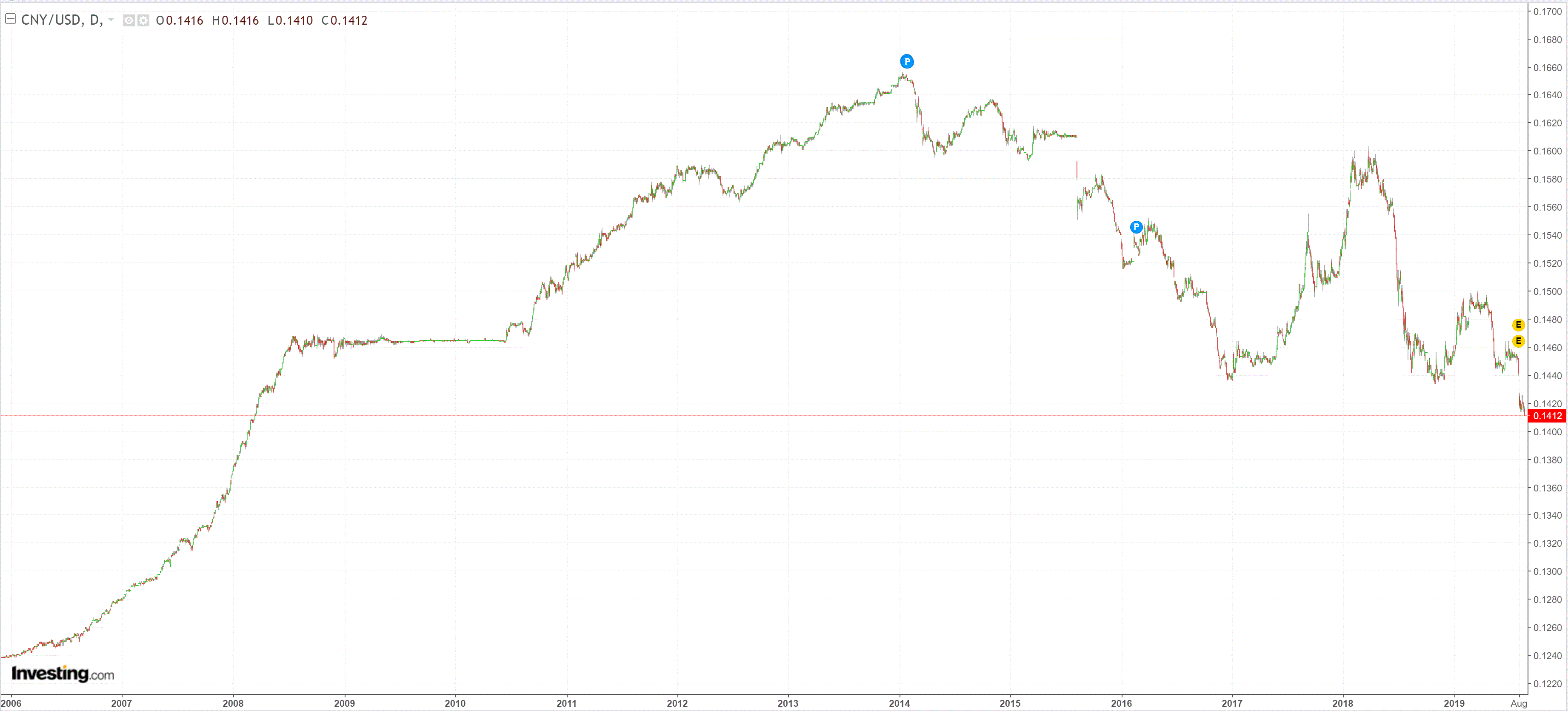 The Australian dollar was hammered versus DMs: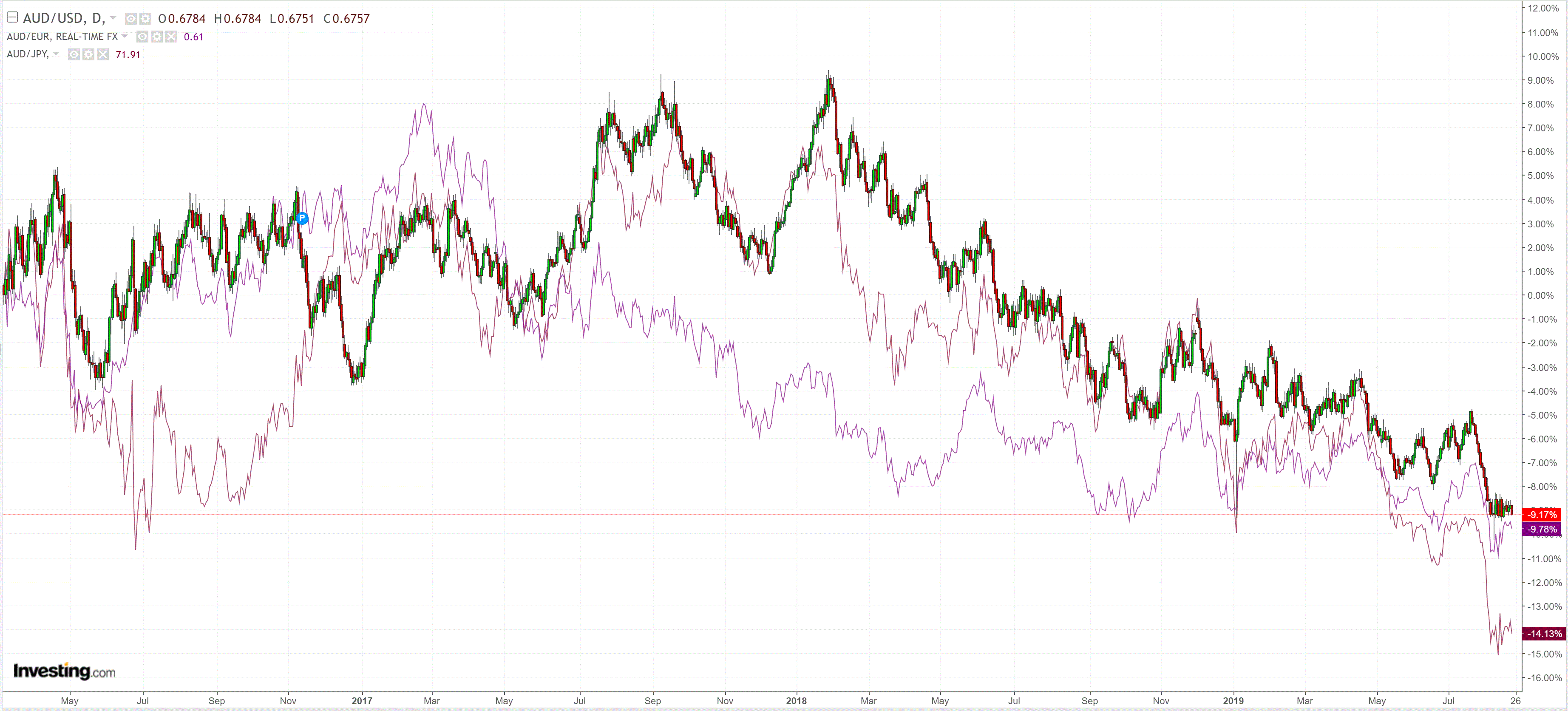 And EMs: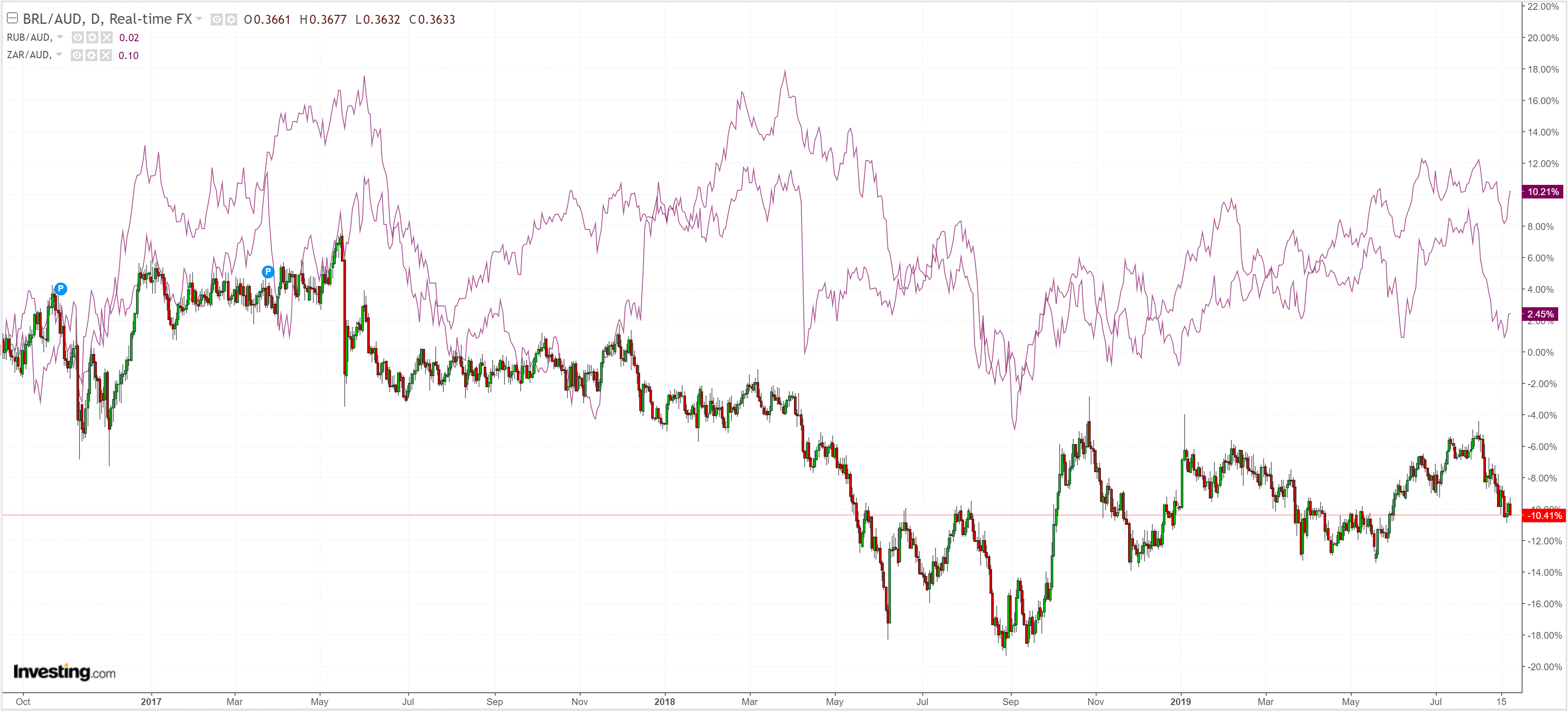 Gold held on: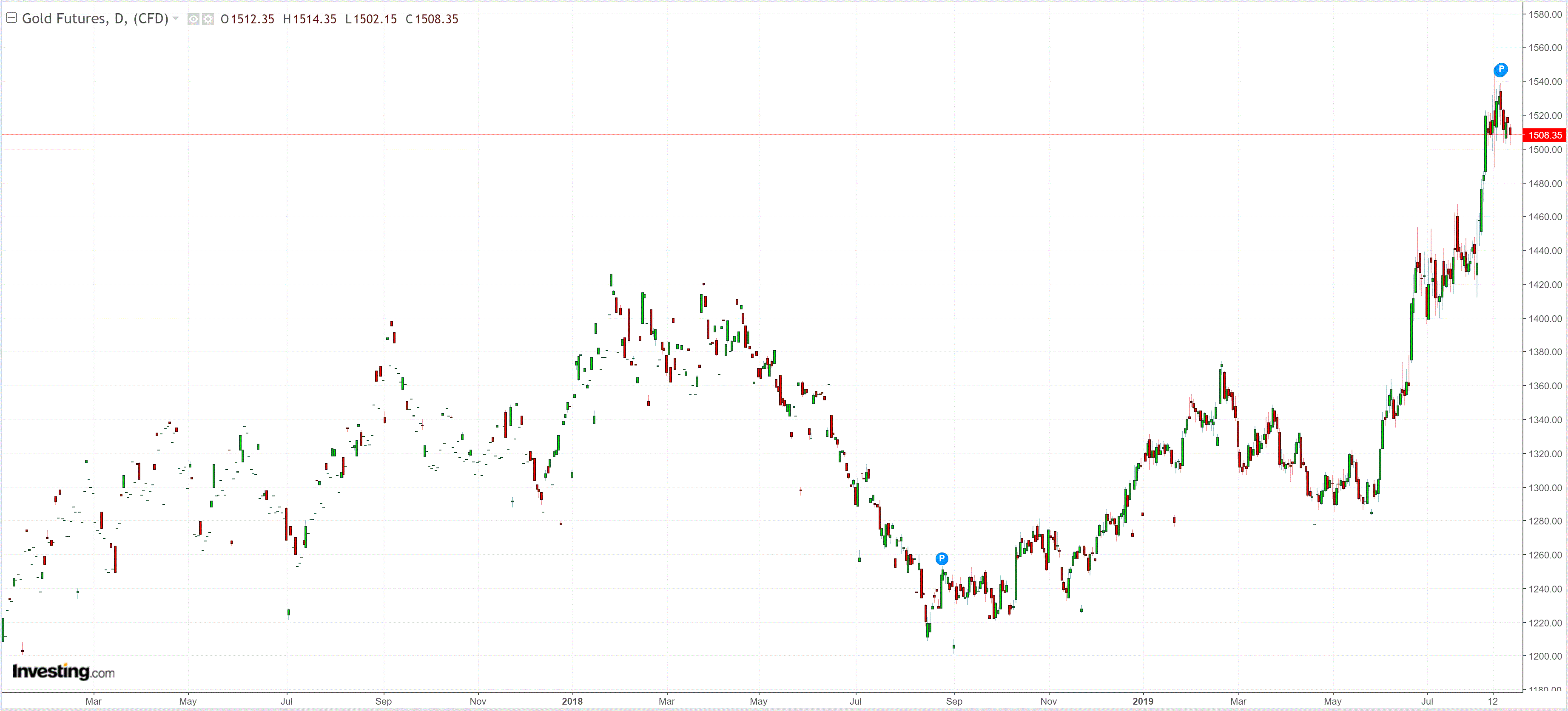 Oil fell: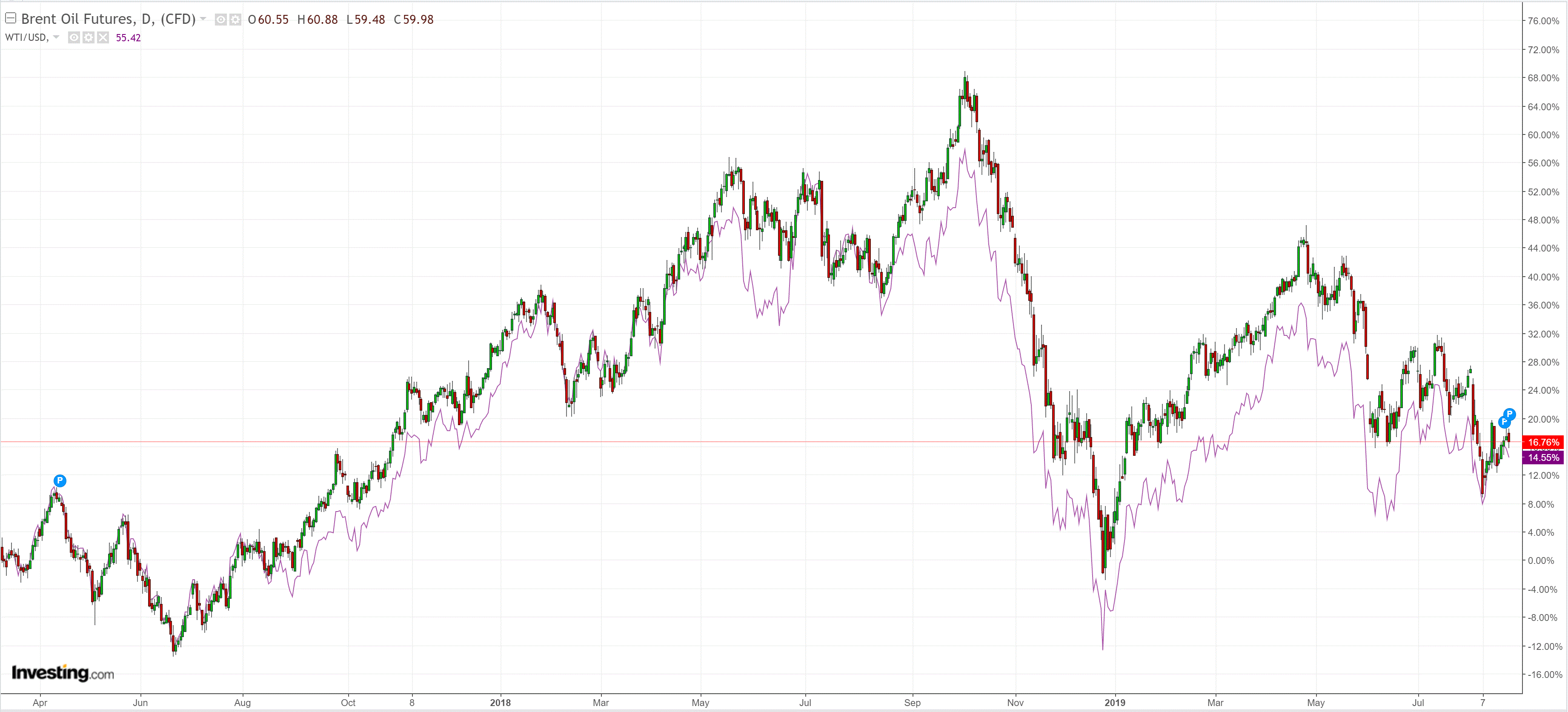 Metals do not look well: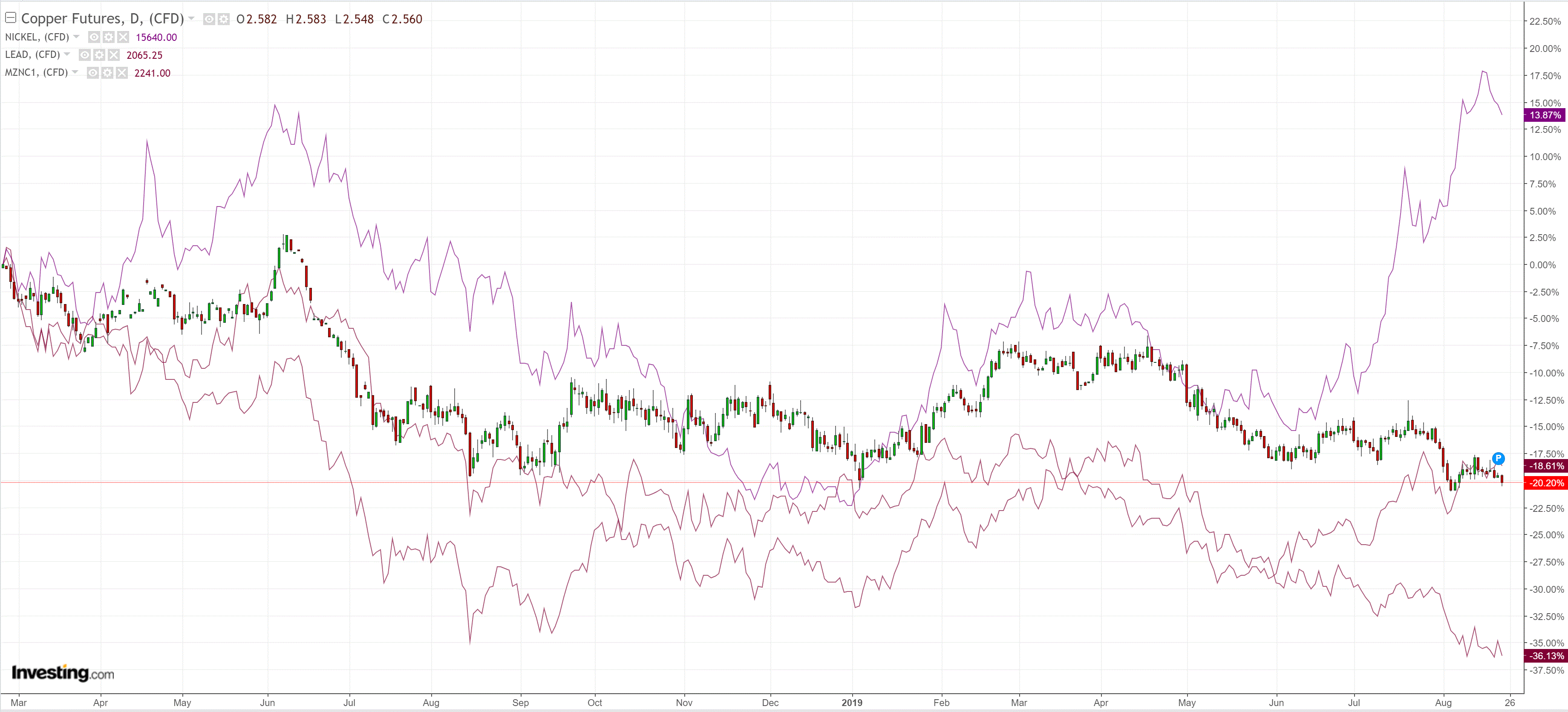 Nor big miners: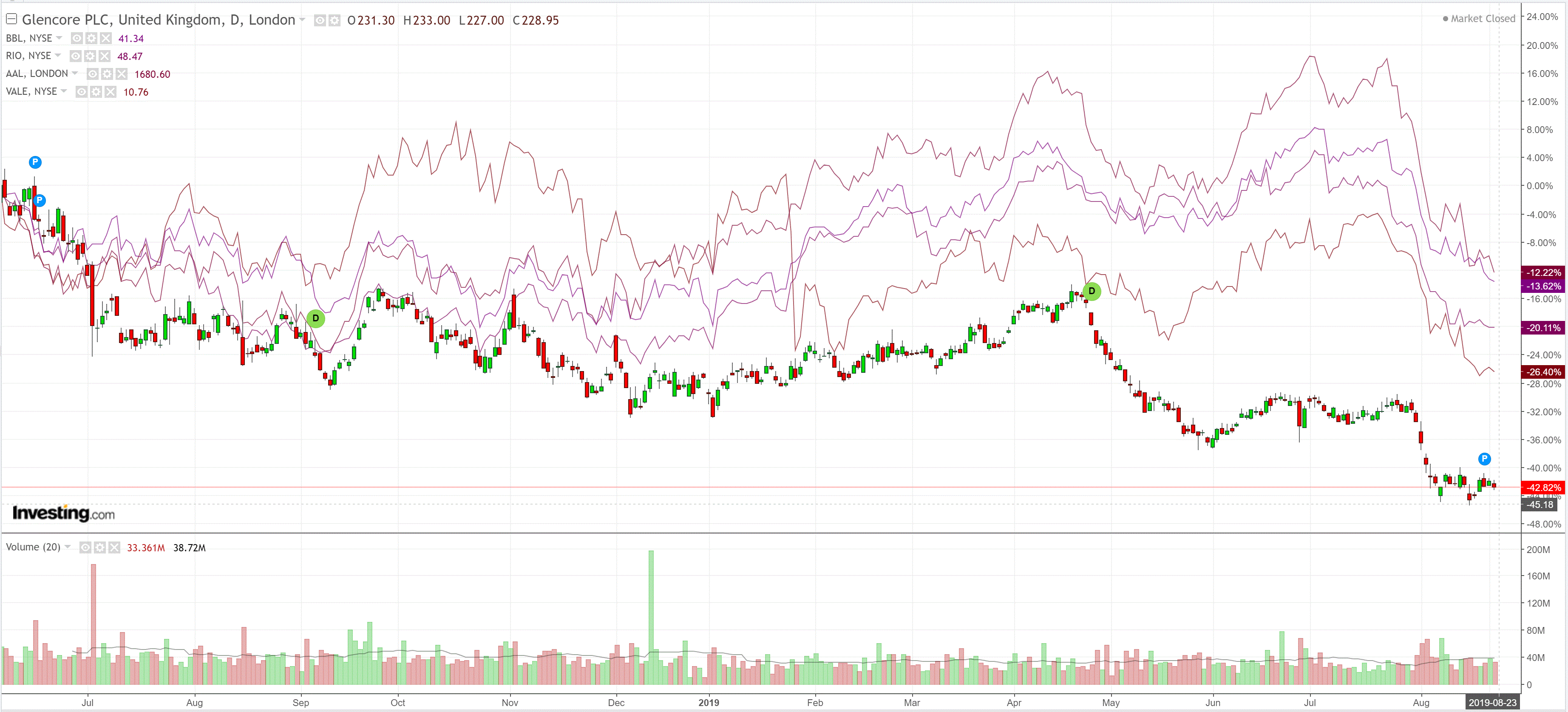 Or EM stocks: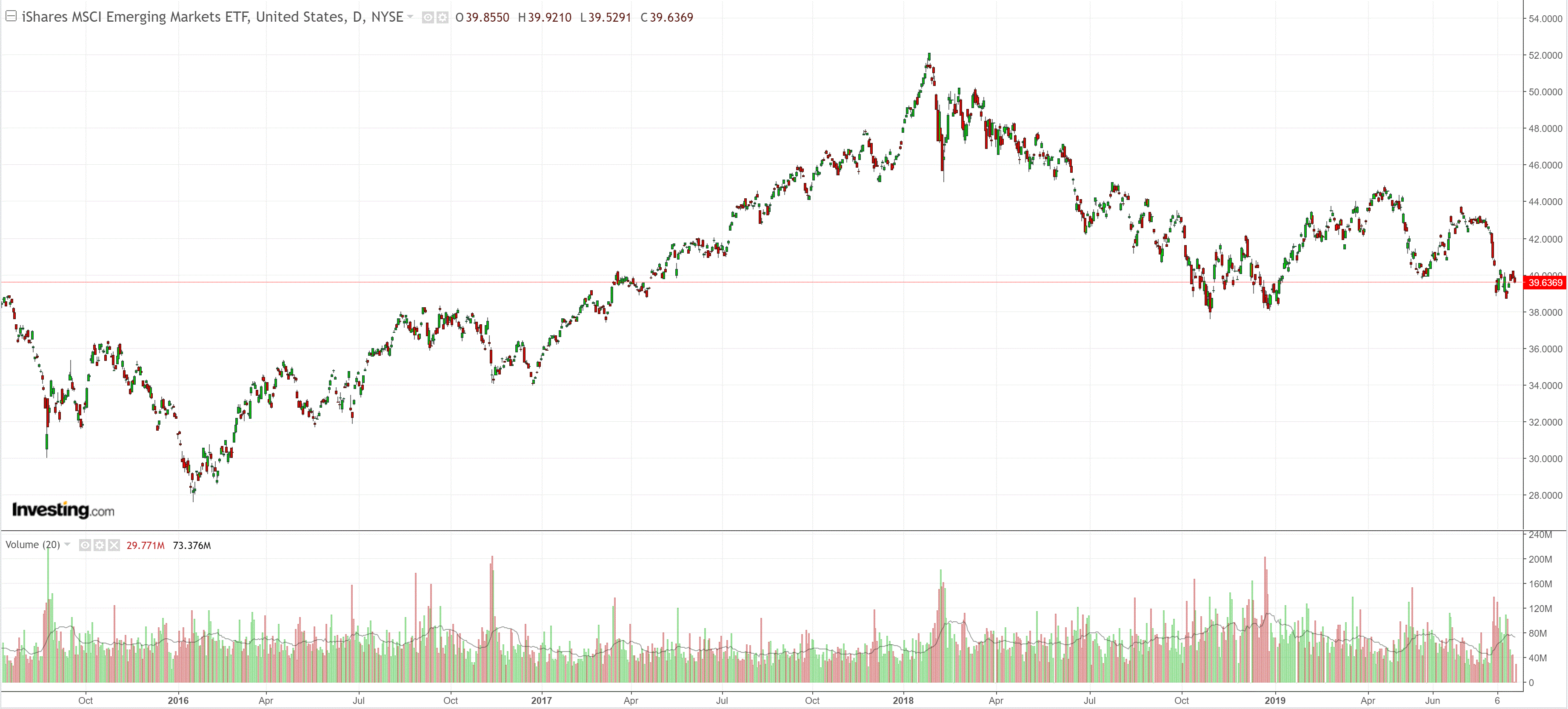 Nor junk: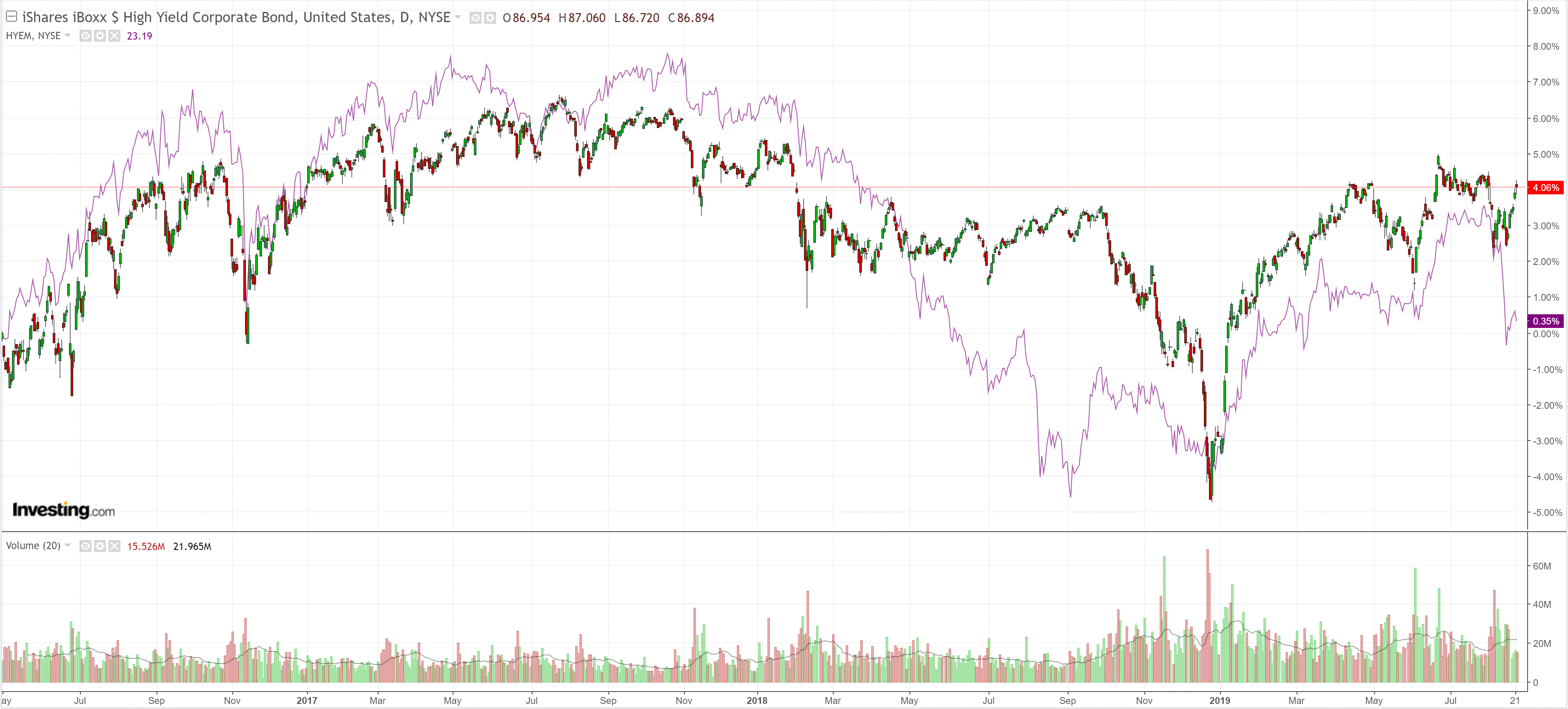 Treasuries sold, perhaps entering Jackson Hole: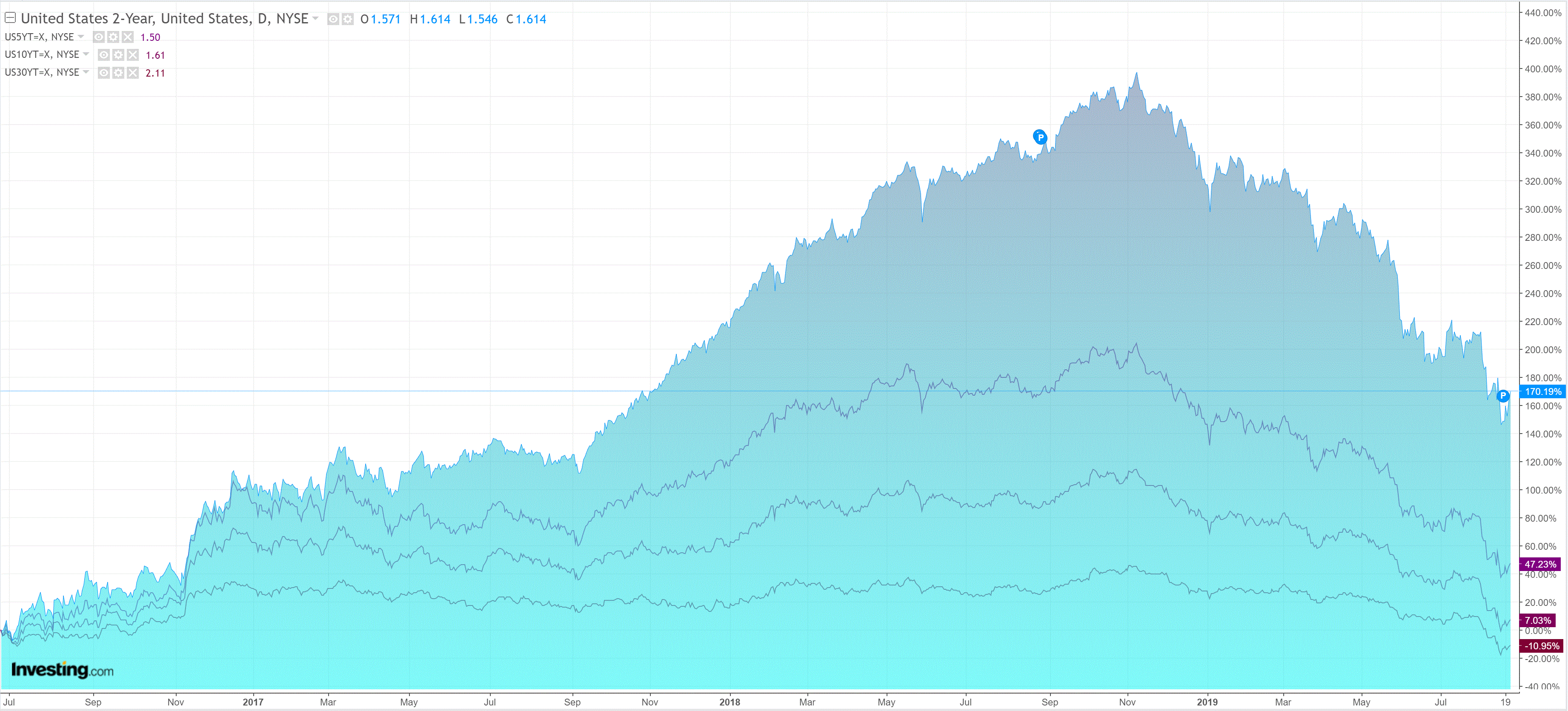 Bunds were bashed: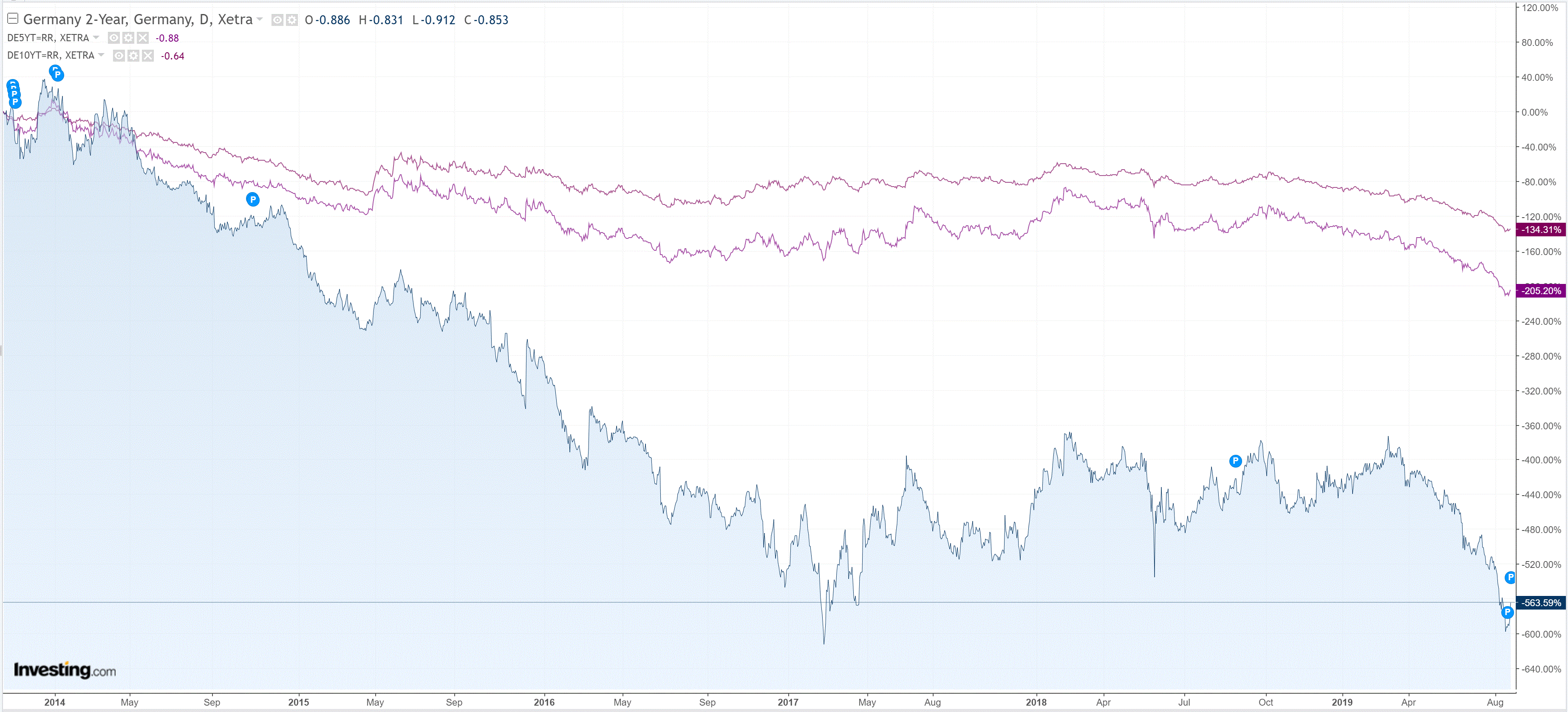 Aussie bonds eased: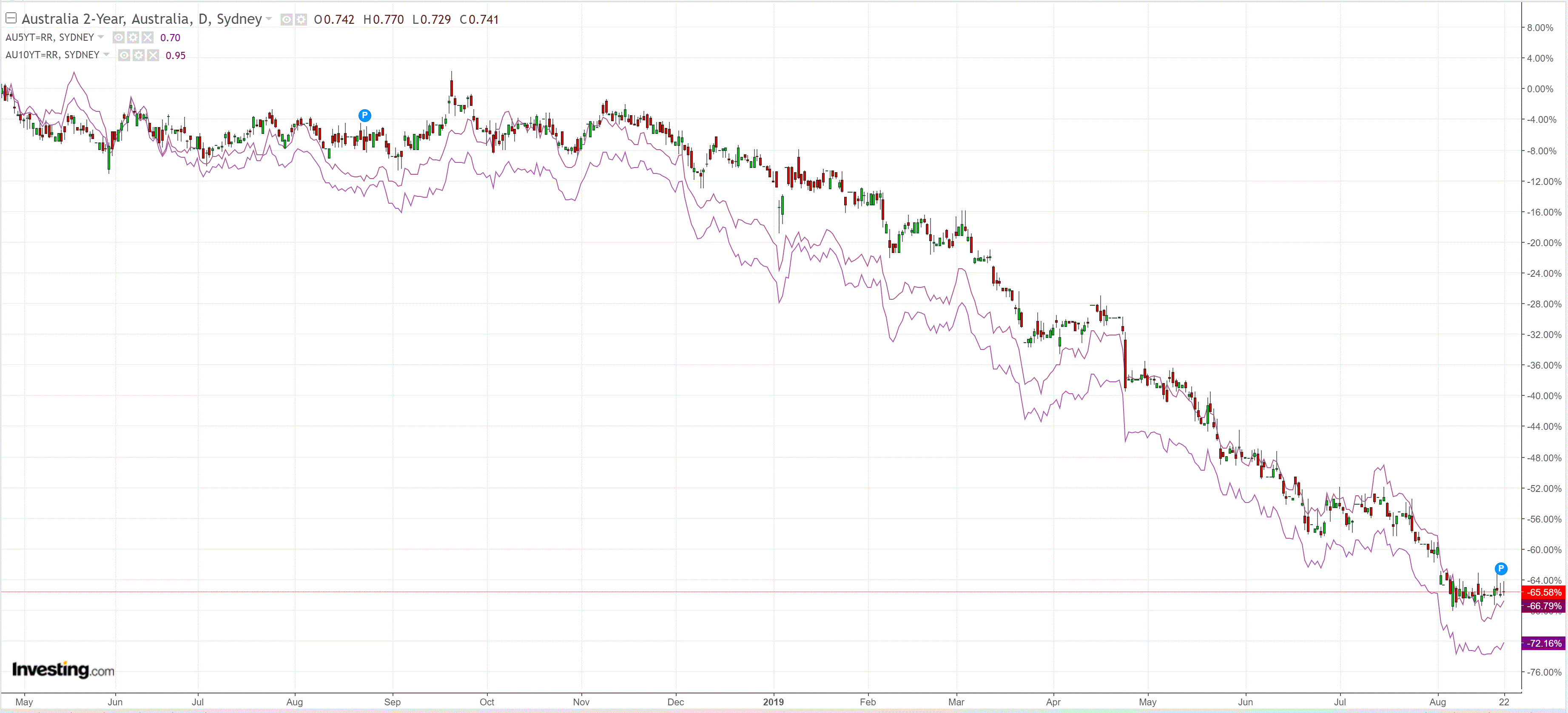 Stocks were soft: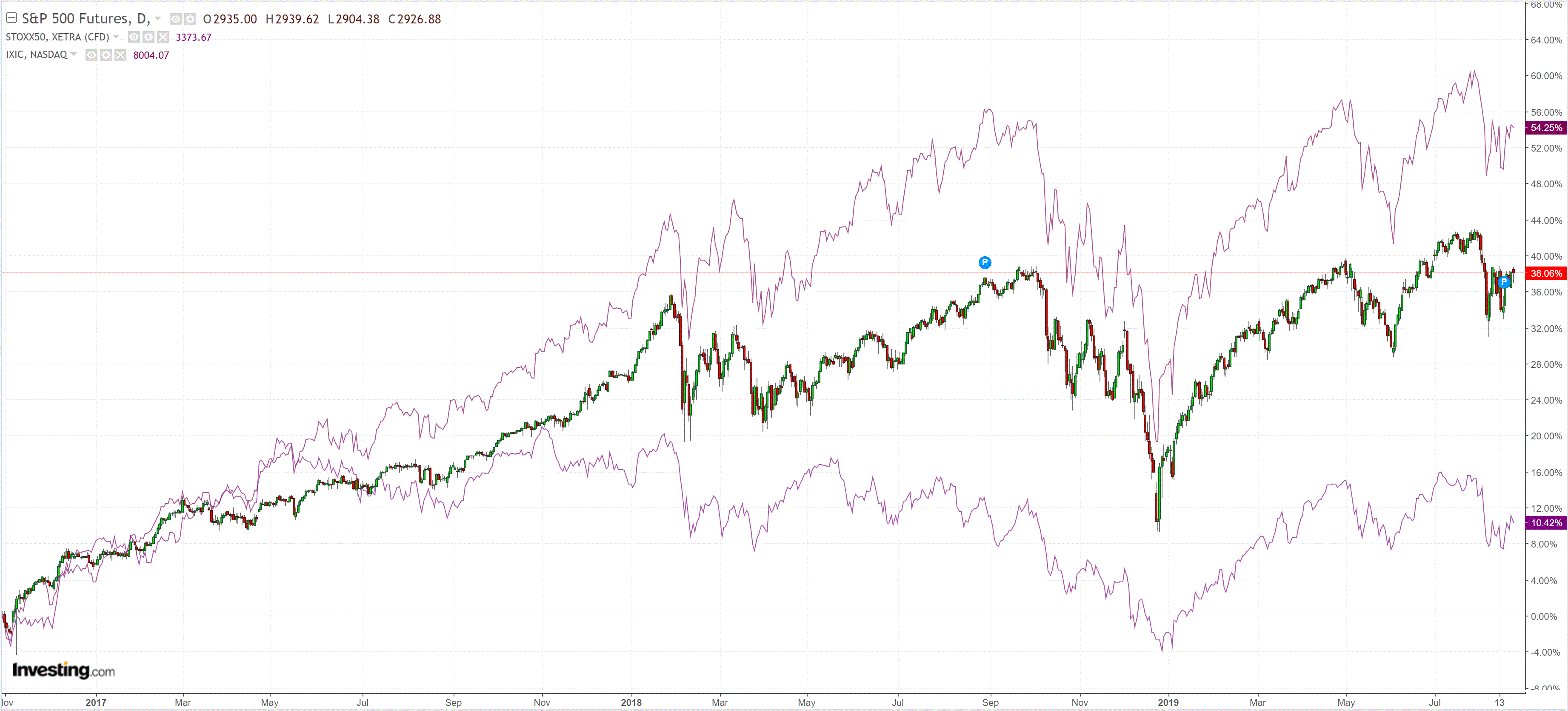 Westpac has the wrap:
Event Wrap

Kansas City Fed business survey missed expectations, slipping to -6 (est. +1, prior -1) in "its largest monthly drop in over three years" as respondents cited negative impacts from the latest round of US tariffs on China. US flash August PMIs were disappointing for all components. Manufacturing PMI fell into contraction territory at 49.9 (est. 50.5,) and both services (est. 52.8, prior 53.0) and composite (prior 52.6) PMIs slipped to 50.9. Markit cited a marked fall in new orders, to the slowest rise in a decade, and a clear softening of the economy in 3Q due to headwinds on spending and lower prospects for domestic growth. The leading index for July managed a mild lift of +0.5% (est. +0.3%, prior revised from -0.3% to -0.1%) but was overshadowed by the weak US August surveys above.

Kansas Fed President George spoke at the start of the Jackson Hole gathering of global central bankers, stating that she was not ready to cut rates further without seeing evidence of a slowdown, noting that the economy was in a good place. Harker said he reluctantly supported the rate cut in July to bring policy back to neutral, and thought the Fed should now remain on hold and monitor developments. Kaplan said he'd like to avoid further action but was open-minded.

Eurozone flash PMIs rose above weak expectations, although the manufacturing sector remains in contraction and Markit warned of  weakness in 3Q'19 and a technical recession (manufacturing 47.0, est. 46.2, services 53.4, est. 53.0, composite 51.8, est. 51.2). There was a more notable lift in the French surveys with a less negative outlook than that of Germany and the Eurozone.

The ECB minutes of its late August meeting underscored their weak economic outlook for the region and need to examine and implement further and substantial easing.

UK PM Johnson highlighted the potential of alternative arrangements to the Irish border backstop as he met with French President Macron and discussions were described as "complete and constructive". The release of an Irish border paper by Prosperity UK has been seen as grounds to progress Brexit talks, although many obstacles remain.

Event Outlook

NZ: Retail sales for Q2 is expected to have risen 0.3% (Westpac expects -0.3%), vs 0.7% in Q1. The housing market slowdown and higher fuel prices explain much of the expected weakness.

Australia: RBA Governor Lowe participates in a panel at the Jackson Hole Symposium on Saturday.

Japan: Jul CPI is anticipated to show annual headline inflation edge down to 0.6%yr from 0.7%yr.

US: Jul new home sales data is released. Fed Chair Powell delivers the opening speech at the Jackson Hole Symposium on "Challenges for Monetary Policy" (Aug 23-24).
It was PMI night and didn't throw up much encouragement. Europe was marginally less bad:
▪ Flash Eurozone PMI Composite Output Index(1) at 51.8 (51.5 in July). 2-month high.

▪ Flash Eurozone Services PMI Activity Index(2) at 53.4 (53.2 in July). 2-month high.

▪ Flash Eurozone Manufacturing PMI Output Index(4) at 47.8 (46.9 in July). 2-month high.

▪ Flash Eurozone Manufacturing PMI(3) at 47.0 (46.5 in July). 2-month high.

The recent soft patch in the eurozone economy continued into August, according to latest PMI data from IHS Markit, with activity rising modestly amid a marginal increase in new business. The recent pattern of services growth compensating for a downturn in manufacturing was repeated midway through the third quarter. August did see a drop off in confidence among companies in the singlecurrency area, with firms becoming more wary of hiring additional staff as a result. The IHS Markit Eurozone Composite PMI® ticked up to 51.8 in August according to the 'flash' estimate, up from July's three-month low of 51.5 but still one of the weakest readings for six years. Although narrowing slightly from the previous month, there remained a wide divergence in performance between the manufacturing and service sectors. Services activity continued to increase at a solid pace, with growth recorded in Germany, France and across the rest of the euro area. In contrast, manufacturing output was down for the seventh month running, albeit to a lesser extent than in July. While France was able to eke out production growth, falls were seen in Germany and outside of the 'big-2'.
Markets don't pay much attention to the US version, preferring the ISM, but it was not very good either:
 Flash U.S. Composite Output Index at 50.9 (52.6 in July). 3-month low.

 Flash U.S. Services Business Activity Index at 50.9 (53.0 in July). 3-month low.

 Flash U.S. Manufacturing PMI at 49.9 (50.4 in July). 119-month low.

 Flash U.S. Manufacturing Output Index at 50.6 (50.5 in July). 2-month high.

August data signalled a renewed slowdown in the rate of U.S. private sector business activity growth. The seasonally adjusted IHS Markit Flash U.S. Composite PMI Output Index dipped from 52.6 in July to 50.9 in August, to signal only a slight increase in business activity and the slowest pace of expansion for three months. Moreover, the latest reading was the joint-lowest since February 2016. The composite index is based on original survey data from IHS Markit's PMI surveys of both services and manufacturing. Weaker business activity growth largely reflected a loss of momentum in the service sector during August. Although manufacturing production rose at a broadly similar pace to that seen in July, the rate of expansion remained softer than that recorded in the service economy. Private sector companies revealed a marked slowdown in new business growth in August, with the latest upturn in order books the weakest since the series began in October 2009. Survey respondents often cited subdued corporate spending in response to softer business conditions and concerns about the global economic outlook.
US still outperforming is the key. That keeps the EUR under pressure as we head for the ECB bazooka. Markets do not appear primed for any kind of dovish even at this weekend's Jackson Hole event, either, after hawkish comments from FOMC Governors George and Harker overnight.
Meanwhile, MB's other four key risks are intensifying. Hard Brexit, via FT:
French president Emmanuel Macron on Thursday cast doubt on British prime minister Boris Johnson's talk of a Brexit deal before October 31, saying any renegotiation of the UK-EU withdrawal agreement would leave it little changed from the original.

Mr Johnson said he was "powerfully encouraged" by his meeting on Wednesday with German chancellor Angela Merkel, when she expressed hope the UK and the EU could find a solution in the next 30 days to the vexed issue of the Irish border.

…But Mr Macron, ahead of talks with Mr Johnson at the Elysée palace in Paris, said the backstop was an "indispensable" part of the accord.

"In the coming month we are not going to find a new withdrawal agreement that is far from the original," said Mr Macron.
Merkel also clarified that she was just being polite.
There's not much comfort about Hong Kong. Nor any progress on the trade war. The falling CNY is a thumb in the eye of Donald Trump.
And the AUD likes none of it. Especially a falling CNY. Indeed one looks a proxy for the other: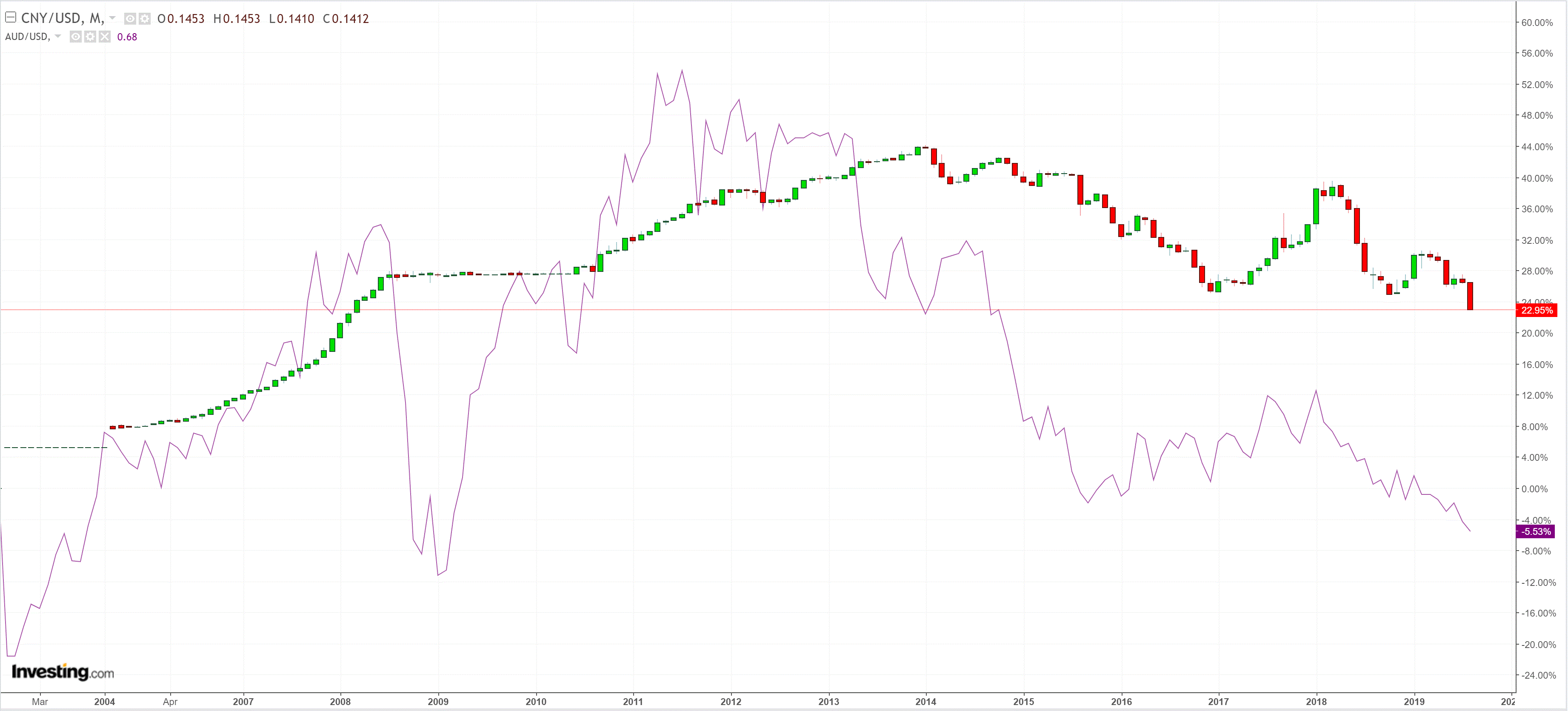 AUD is still going lower.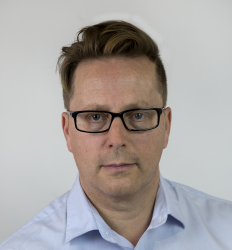 Latest posts by David Llewellyn-Smith
(see all)