See the latest Australian dollar analysis here:
DXY was firmer last night. EUR weaker and CNY up: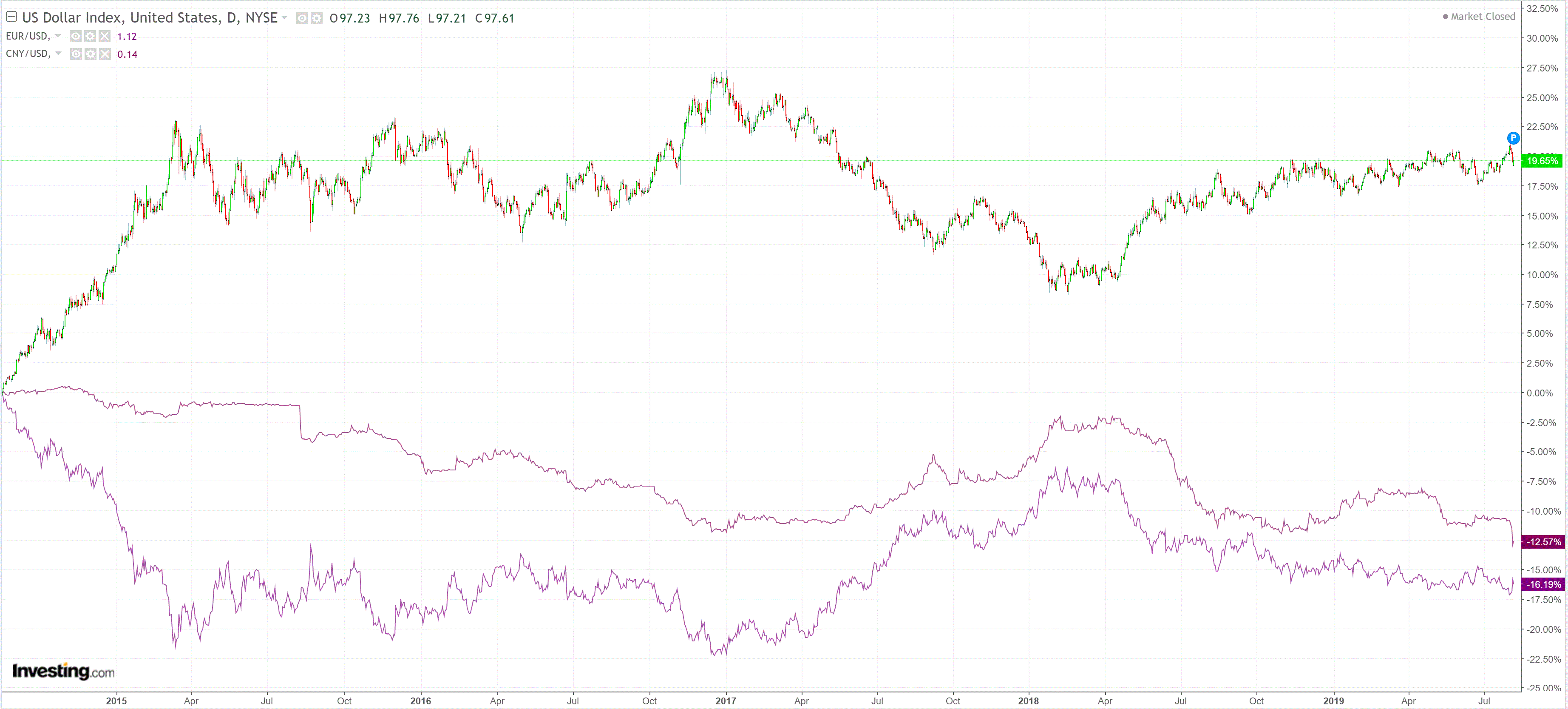 The Australian dollar remains right at decade lows against the USD: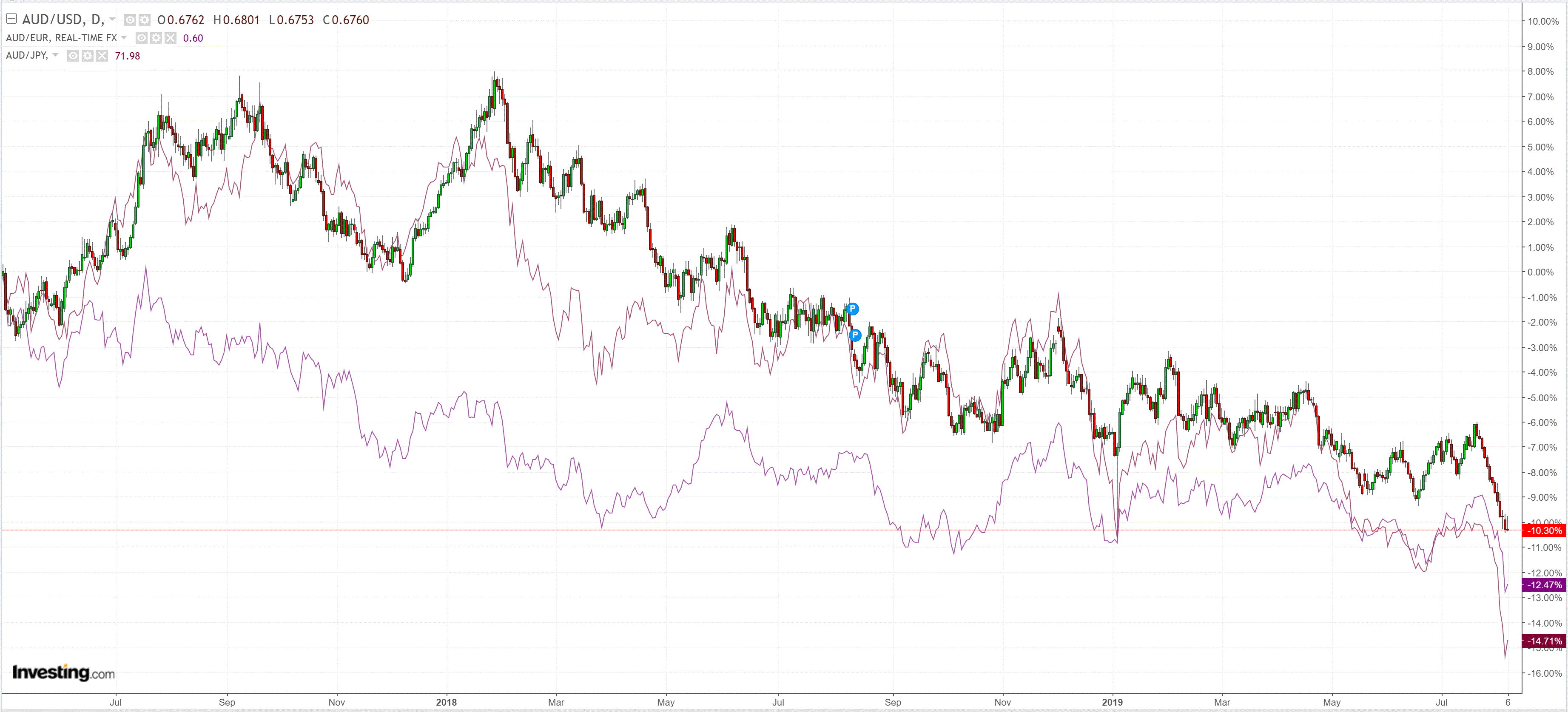 EMs did better too: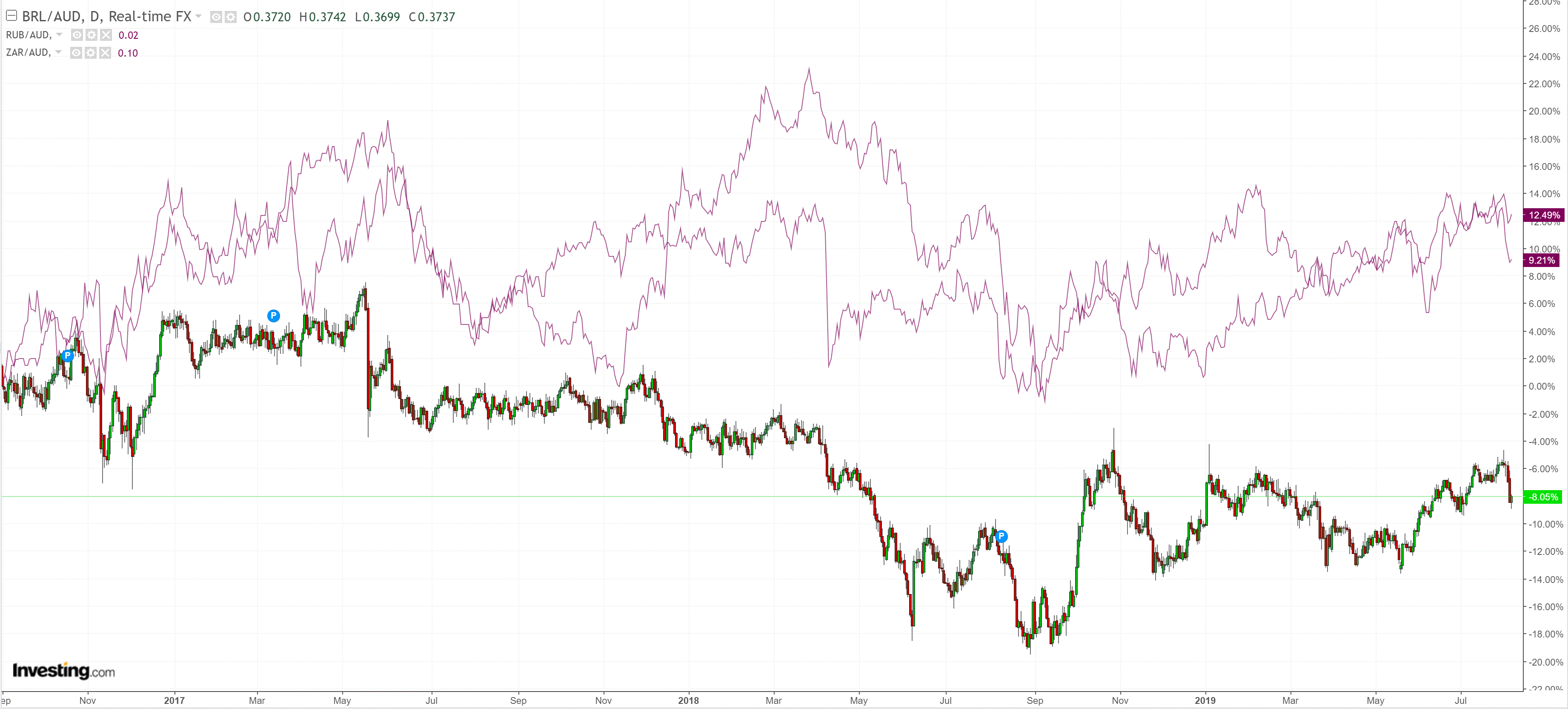 Gold is a freight rain: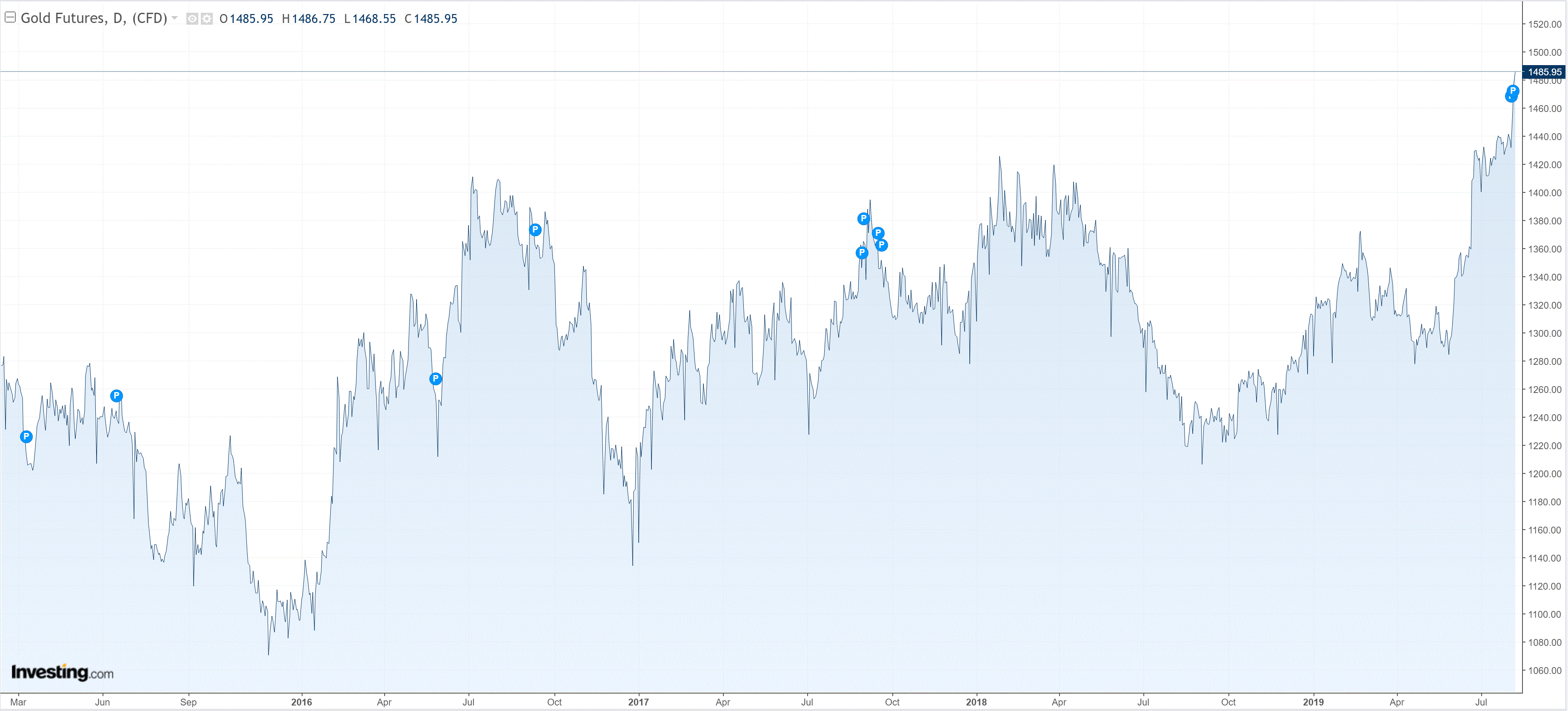 Oil fell: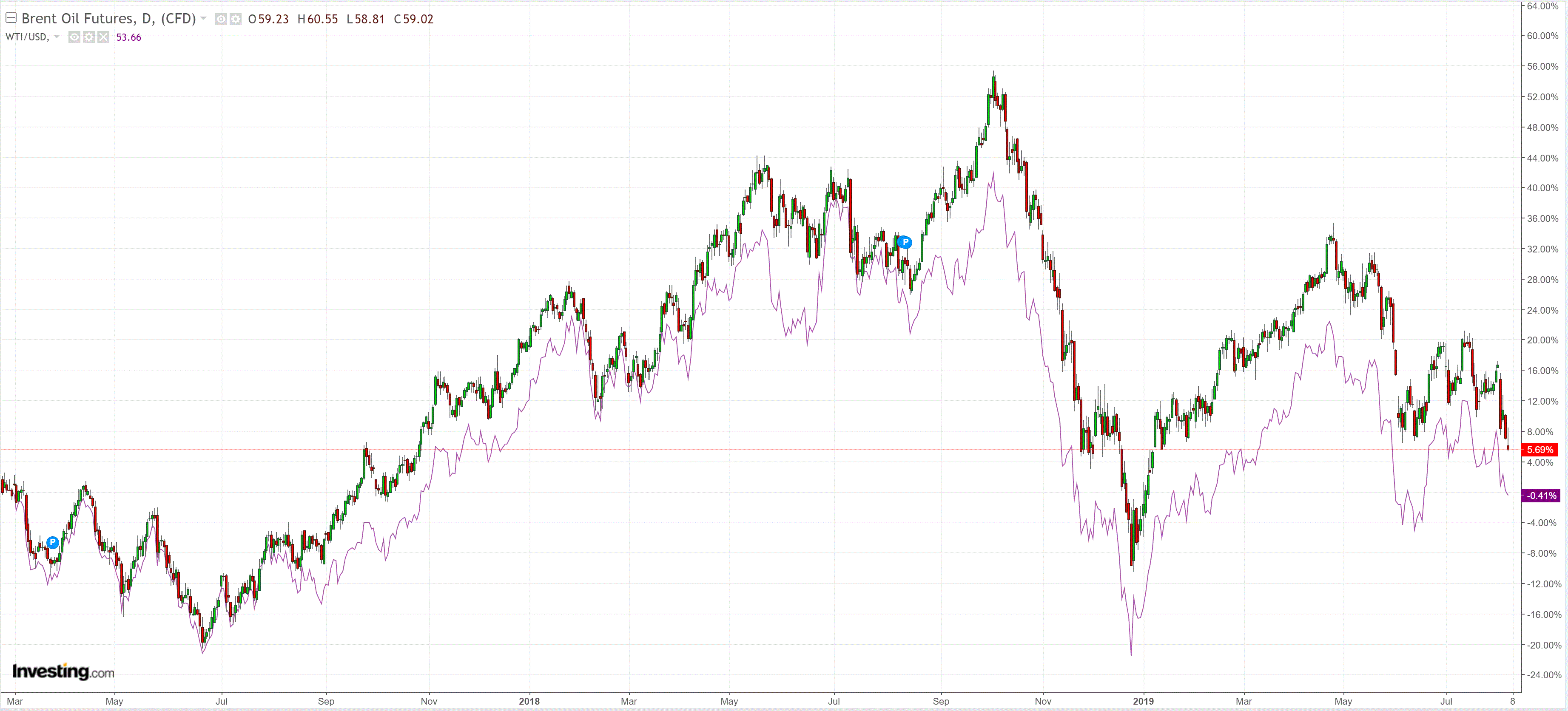 Metals bounced: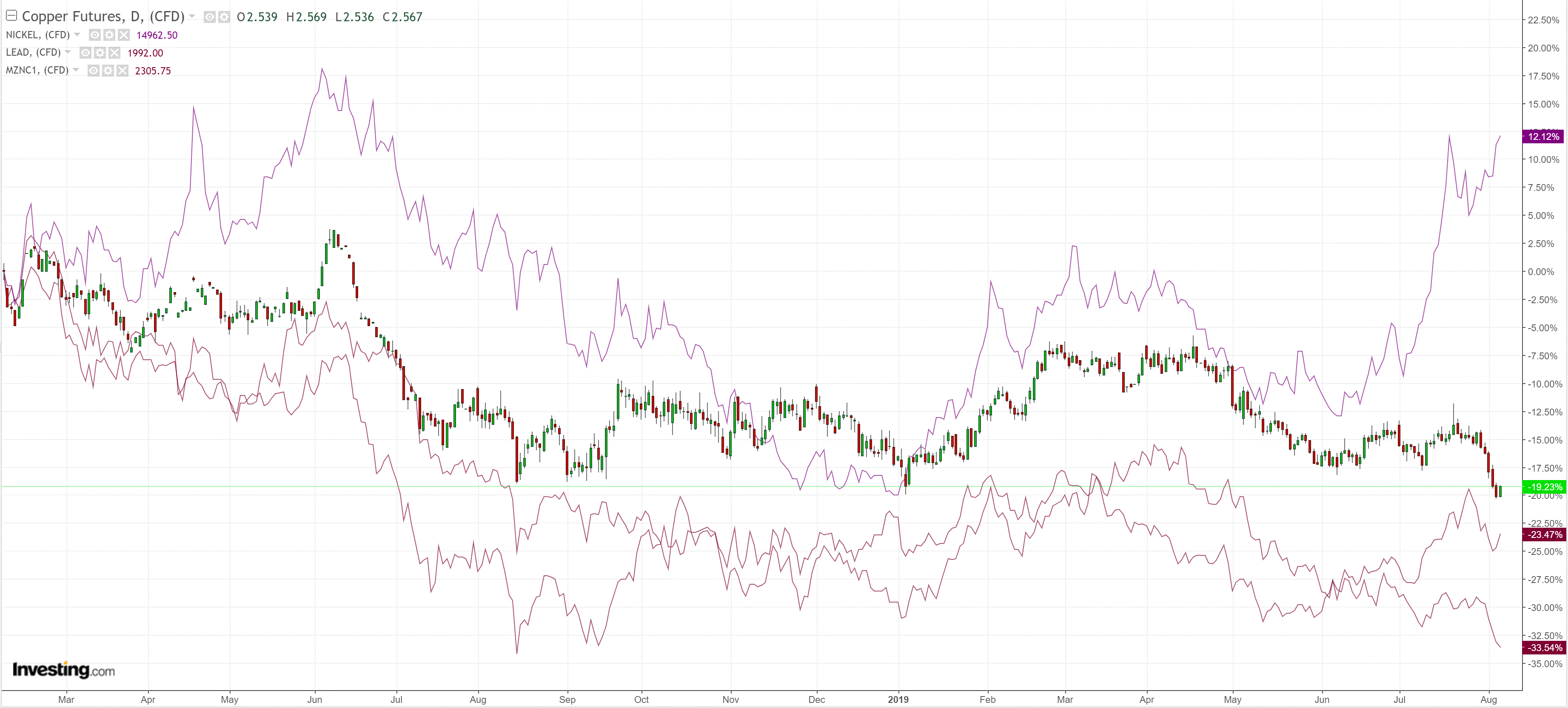 Miners didn't: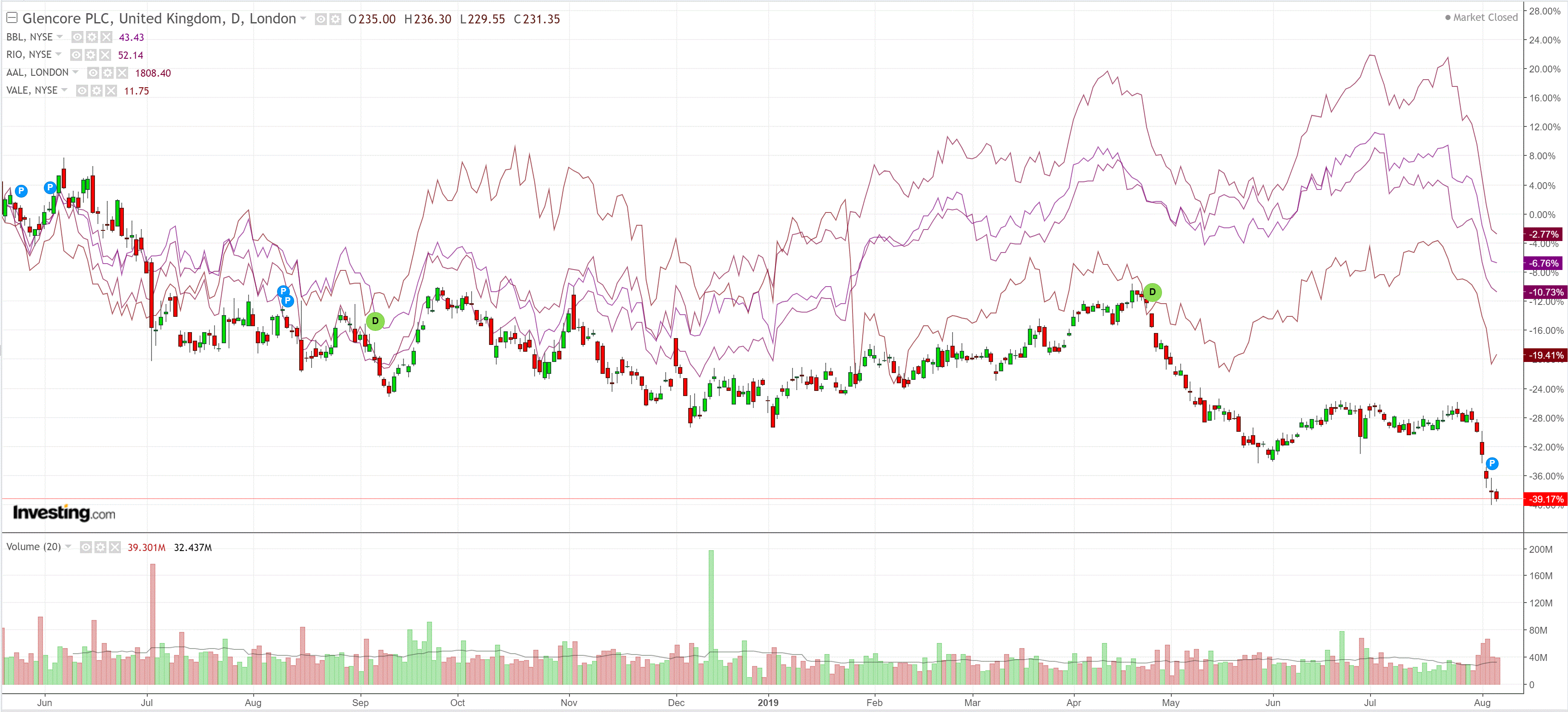 EM stocks did: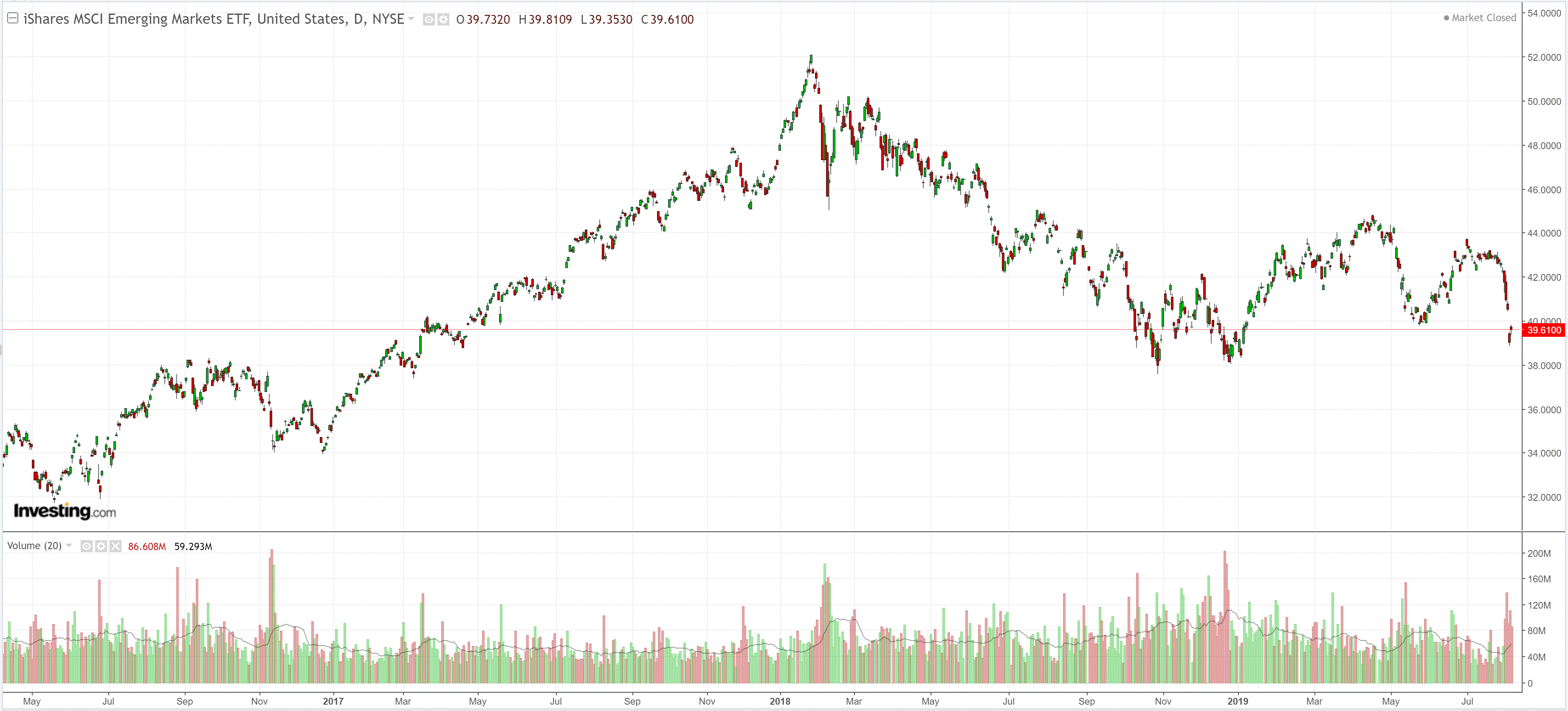 And junk: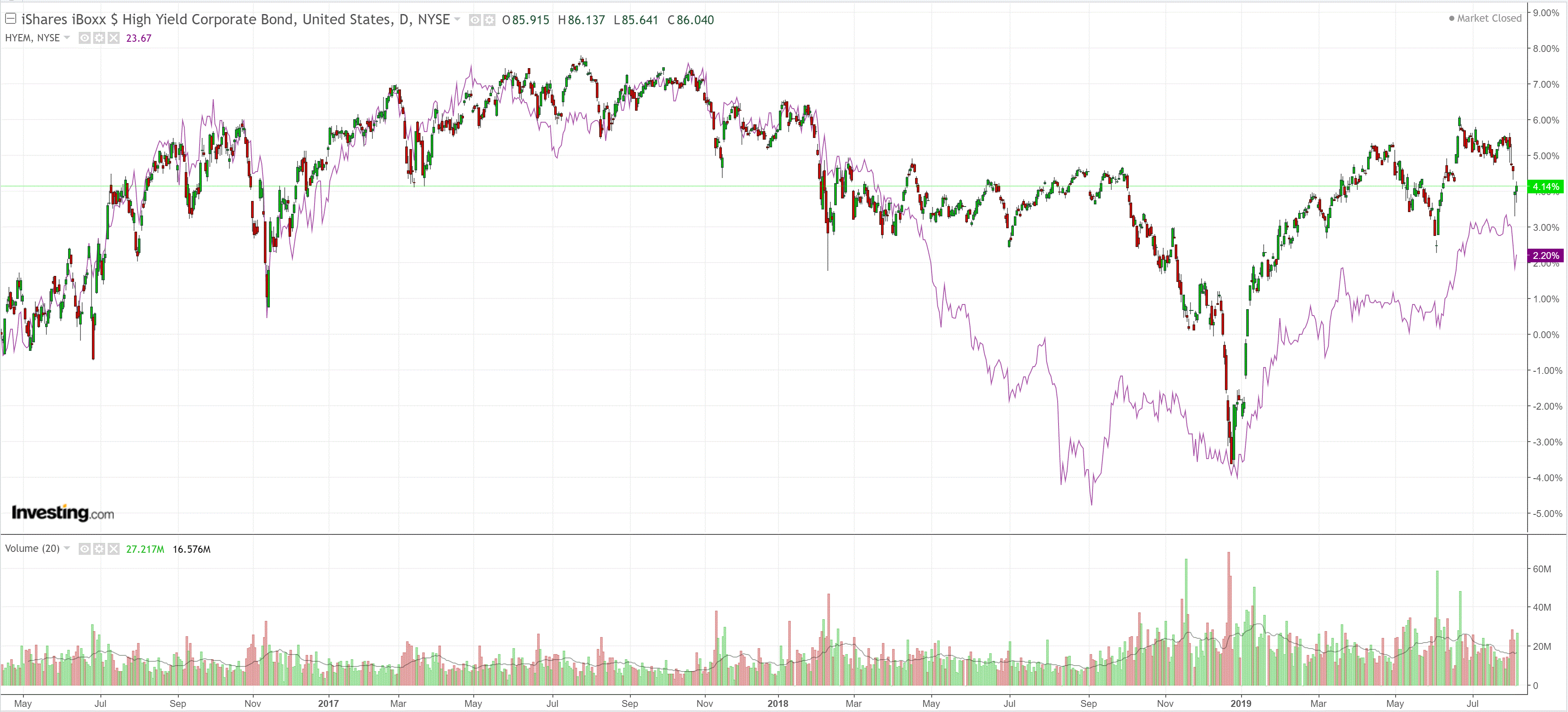 Treasuries were sold: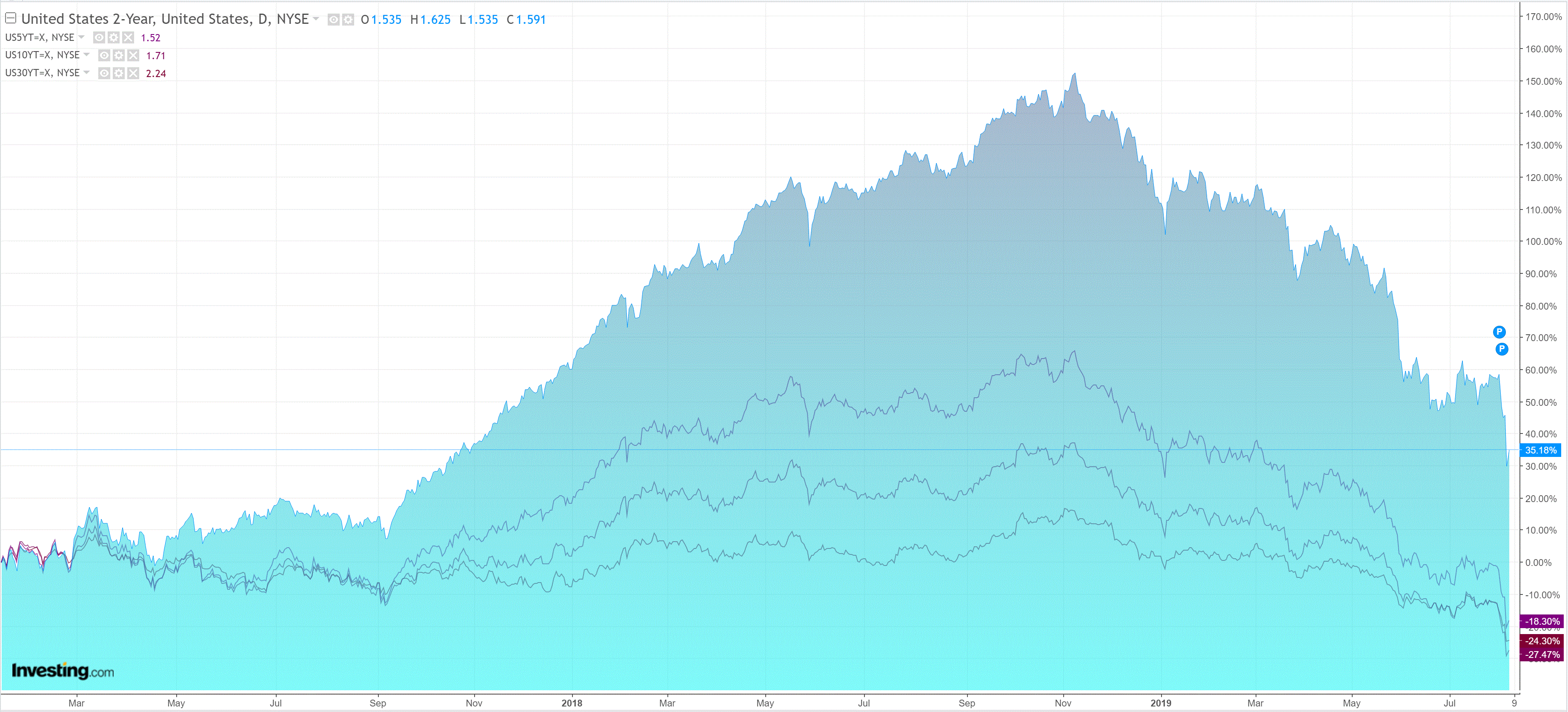 Bunds bid: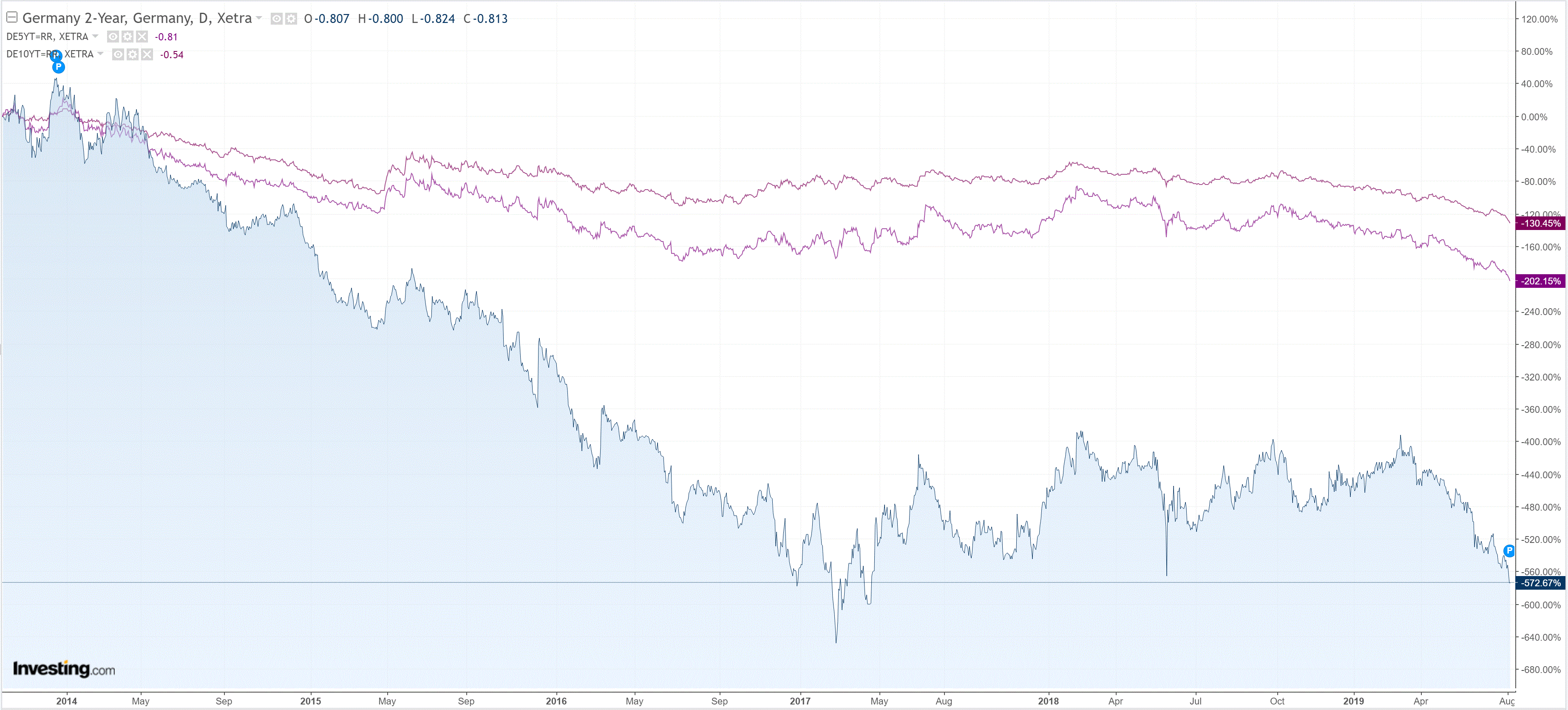 Aussie bonds too: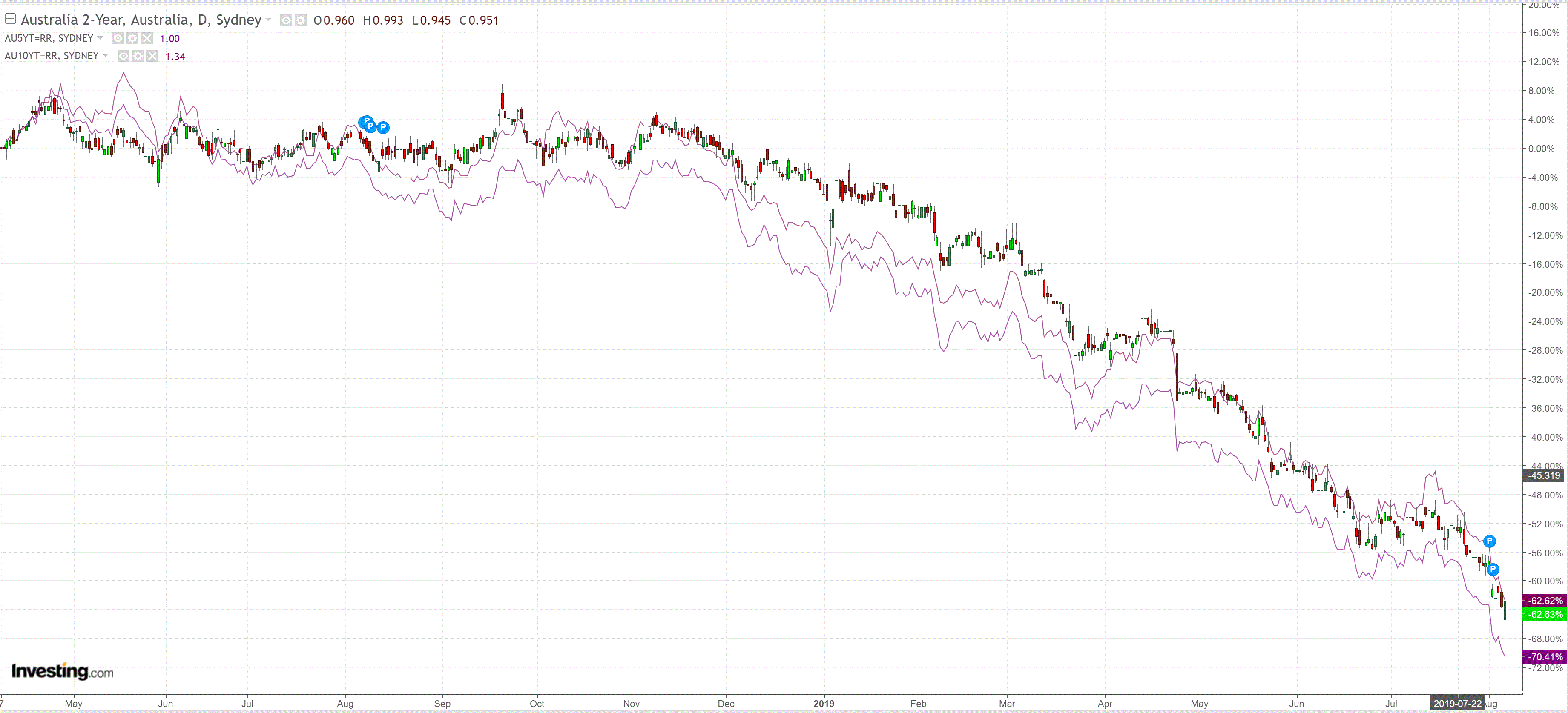 Stocks bounced: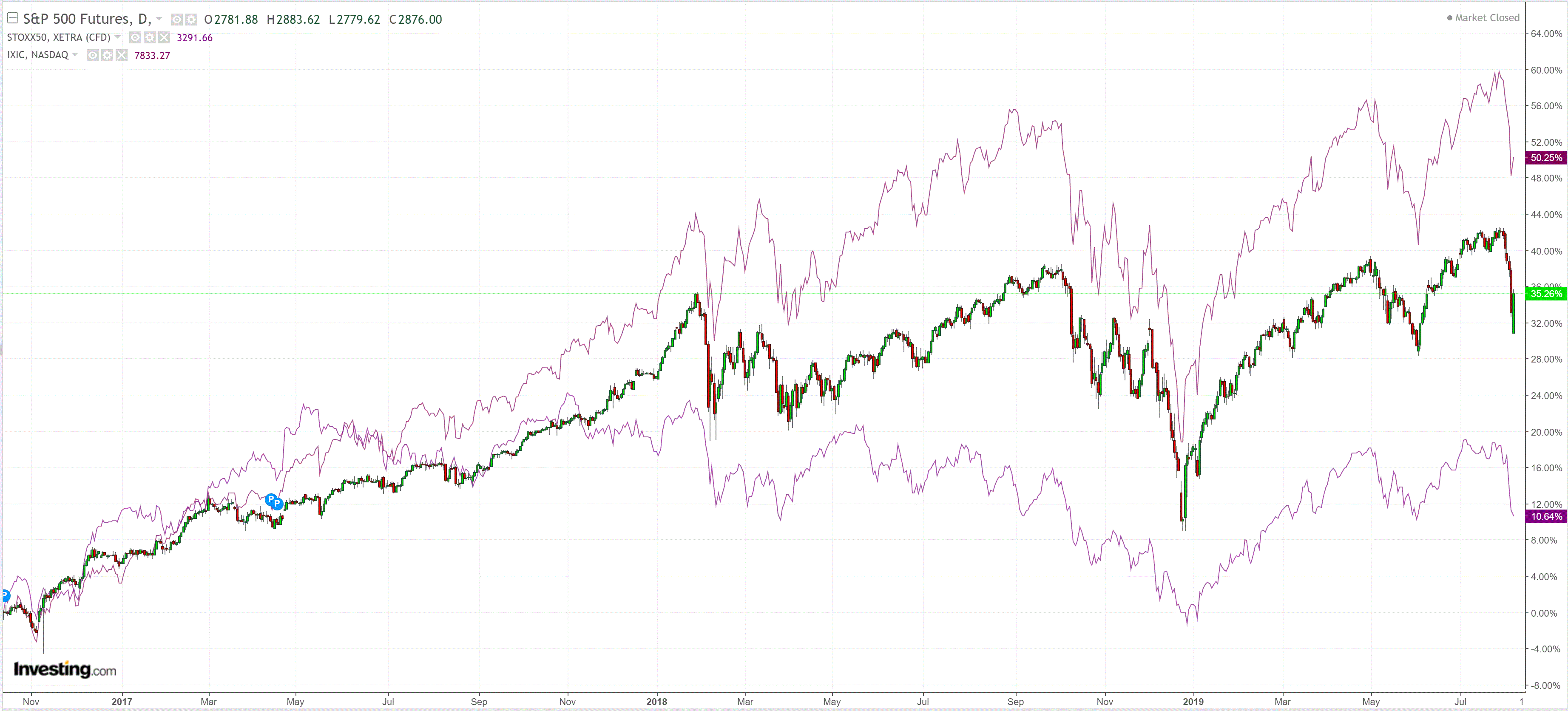 In data, US jolts were still rock solid:
The number of job openings was little changed at 7.3 million on the last business day of June, the U.S. Bureau of Labor Statistics reported today. Over the month, hires and separations were little changed at 5.7 million and 5.5 million, respectively. …

The number of quits was little changed in June at 3.4 million. The quits rate was 2.3 percent. The quits level was little changed for total private and decreased for government (-19,000).
The Fed's James Bullard spoke and stuck to the insurance cuts narrative, via Reuters:
After the U.S. central bank reshaped monetary policy around global trade volatility, a Federal Reserve official offered a message to the White House on Tuesday: Don't expect more rate cuts every time trade policy threats or announcements send markets into a tailspin.

St. Louis Federal Reserve President James Bullard said the Fed's shift since the first of the year, from projecting continued rate hikes to cutting rates at its meeting last week, had made monetary policy "considerably" looser and had adequately offset the uncertainty caused by the U.S. trade spat with China, as well as related global developments.

"I don't think it is realistic for the Fed to respond to each threat and counter threat in a tit-for-tat trade war," Bullard said, referring to the current situation as a "Pandora's box" that will be difficult for the United States, China and other countries to resolve any time soon.

"We are taking a one-time increase in trade uncertainty on board," Bullard said in comments to the National Economists Club that indicate a more patient approach to additional rate cuts than he has previously shown.
It is true that the long bond has already delivered huge stimulus to prospective property buyers, recalling that most US mortgages are fixed at the long bond rate: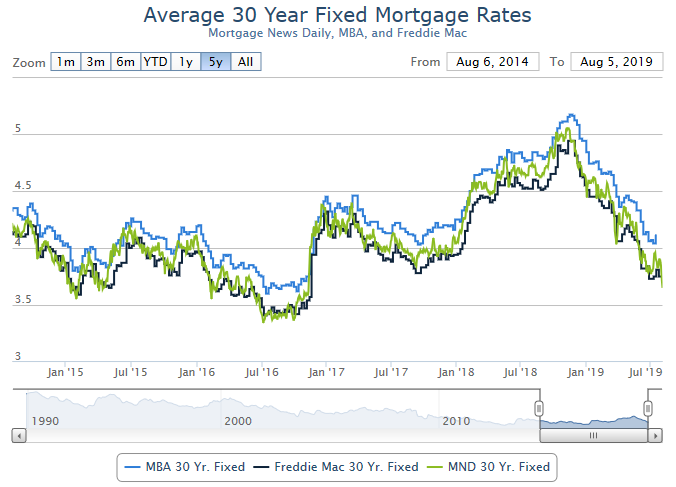 But the key will be stocks and that relationship to the consumer which is much more important than it is Australia where housing wealth dominates: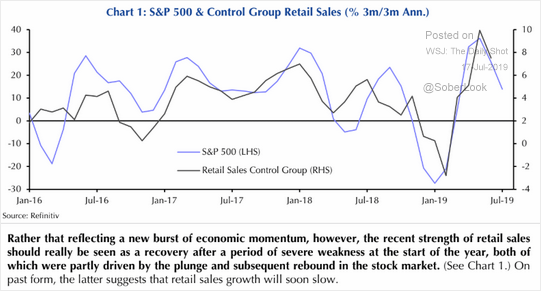 I still think stocks will get messy ahead as the trade war blowback steadily erodes growth and earnings, China fails to rebound and Europe sinks with a hard Brexit. So the Fed will be back for more than insurance cuts.
But not before things get much worse everywhere, taking bond yields and the AUD down with it.  Westpac today asks how low can yields go:
There is little reason to expect a material and extended selloff. Tactically buy dips. 3yr yield vs Future RBA Path (Market Expectations) AU vs US 3-10yr Bond Curves Australian 10yr bond yields began the week at all-time lows, below 1% before pulling back slightly to settle back above that level. Nonetheless it is a remarkable level in both absolute terms and also due to the fact that that 10yr yields pushed briefly below the prevailing cash rate at these levels. That certainly reflects the market's pessimism around domestic growth prospects, the effectiveness of traditional monetary policy and its ability to drive unemployment lower and inflation expectations higher. So how much lower can yields go? While the long end will be largely a factor of UST price action, it is perhaps more apposite to assess relative value at the 3yr maturity (left chart). The black solid and dotted lines show the terminal rate and the projected cash rate profile over the next year respectively. Basically, Westpac's view of a 0.5% terminal rate is largely priced in, as is the profile in which the RBA gets there. So does that mean that 3yr bonds are a sell? They are certainly not cheap, however the chart shows that relative to the terminal cash rate, they were around 20bps MORE expensive in the 2015-2016 period. Given that a lot of the drivers of market sentiment today are similar to that period, we think that is a valid comparison, supported further by the prospects of QE. The chart at right shows how the yield curve continues to flatten to new levels. We think it will be largely directional based on long end yield shifts, but we remain of the view that any US-led bear steepening would be short-lived and should be faded.
Yields and AUD lower yet!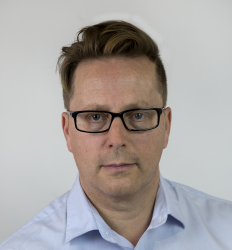 Latest posts by David Llewellyn-Smith
(see all)