Several analysts have warned that the slowdown in residential construction amid ongoing strong immigration will force up rental costs from 2020:
Scott Keck, chairman of property consultants Charter Keck Cramer, said Australia's steady influx of migrants would shore up demand for apartments…

The bigger problem for Australia, he said, was that supply would fail to meet demand over the next few years, causing rents and prices to rise as a result. "In Melbourne, current population growth requires about 50,000 new dwellings a year"… "So we're very quickly finding ourselves going from concerns of oversupply to concerns of undersupply"…

The Grattan Institute's Brendan Coates is also concerned that the current slowdown in construction will lead to an increase in rents and prices some time next year – and erode recent inroads made into affordability… "The population is still growing quite rapidly … and so unless we build enough housing, then housing will become more expensive. It's pretty straightforward".

Low-income earners would be the worst affected by the declining affordability, as those already living in the cheapest apartments would be unable to move into something less expensive when rents rise, Mr Coates added…

And Urban Taskforce Australia CEO Chris Johnson said… "There will be undersupply – probably in 18 months' time"…
Hard to disagree.
Looking at the national picture first, you can see that dwelling approvals and commencements have crashed at the same time as population growth has firmed to near record high levels: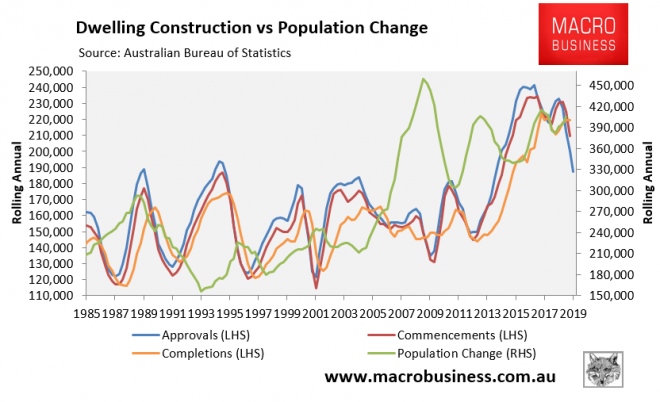 It's a similar story for the immigration magnets of Sydney and Melbourne, where approvals and commencements are also plunging at the same time as population growth remains turbo-charged: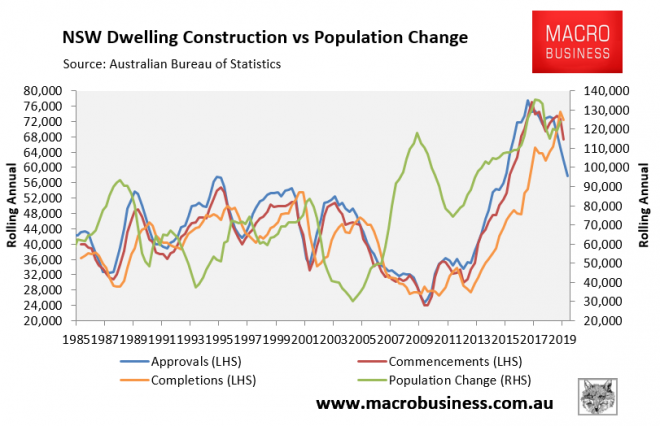 So, this data is pointing to tightening rental vacancies into 2020, which other things equal suggests higher rents down the road.
That said, whether rents rise will also depend on what happens to the labour market, since you cannot leverage rents. We expect wage growth to remain weak and unemployment to rise, which should dampen any rental increase.
Latest posts by Leith van Onselen (see all)