Westpac CEO, Brian Hartzer, has joined the chorus calling for stamp duties to be replaced with a broad-based land tax:
Mr Hartzer on Tuesday argued that getting rid of stamp duty could help address the high cost of housing, and allow more first home buyers to enter the market…

"The big upfront cost of buying a home – particularly stamp duty – is both a barrier for buyers and a disincentive for people to sell a home that's bigger than they need (since they would then incur their own stamp duty when they move)," Mr Hartzer said at the Trans-Tasman Business Circle lunch…

"Replacing stamp duty on purchases with a broad-based land tax would fix this and provide governments with stable revenue."
You'll get no disagreement from me. The states have become overly reliant on stamp duties for revenue, as illustrated in the below charts from the ABS: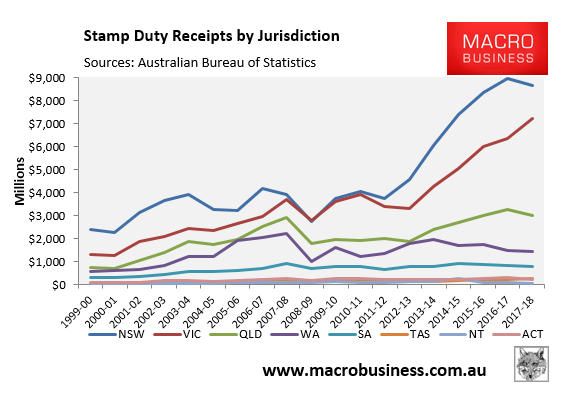 However, because stamp duties depend on both dwelling prices and sales volumes, they are highly volatile and experience boom/bust conditions, as illustrated by the below chart for NSW: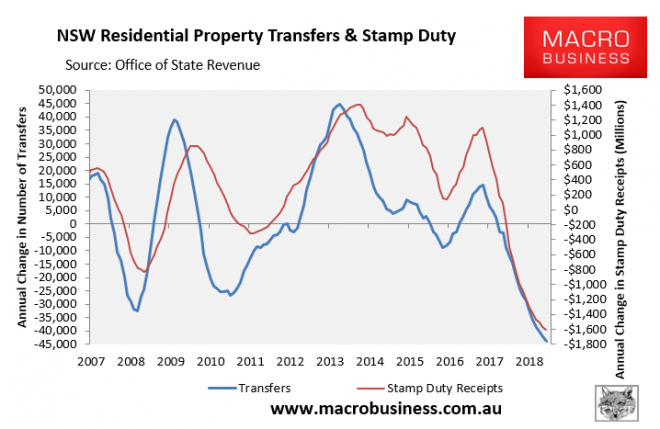 The logical choice for shifting state tax bases away from stamp duties is to replace them with a broad-based land value tax.
The Australian Treasury has already shown that stamp duties on real estate are one of the least efficient taxes going around whereas land taxes are the most efficient source of tax available, actually creating positive welfare gains to the domestic population since non-resident home owners are also taxed (see below chart).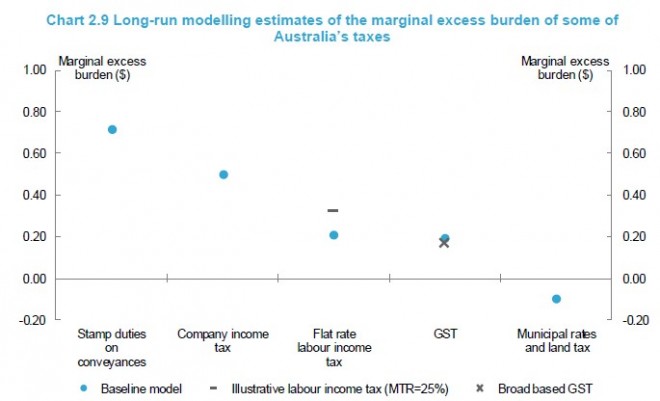 The Henry Tax review came to similar findings. As has the Productivity Commission.
It's a no-brainer, but very difficult policy politically.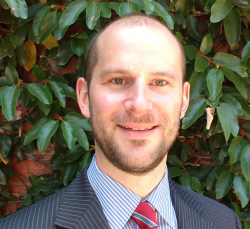 Latest posts by Leith van Onselen
(see all)