by Chris Becker
There are three indicators currently weighing on higher probability of a US recession, probably in early 2020. First, buried in Friday night's unemployment print was the "unemployed for over 26 weeks (6 months) indicator, remaining stuck at a cyclical low: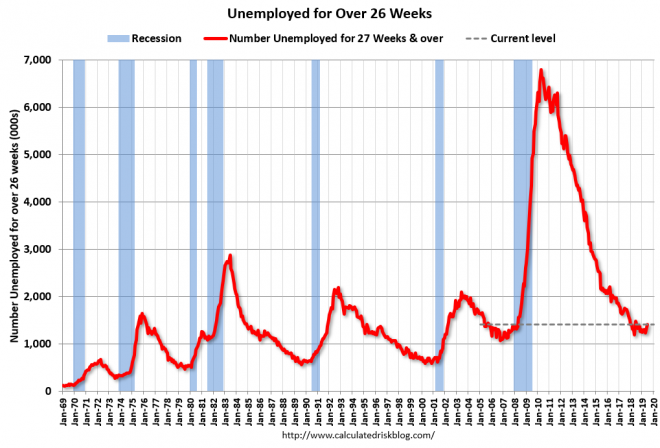 Interestingly, it has taken large rounds of rate cuts, huge tax cuts and a burgeoning stock market to get to this level, with the recovery phase slowing down once Trump took office in 2016 and bottoming out in this calendar year. With the headline unemployment rate at a record low, there's no more room to move and as every other cycle since 1968 shows, once this indicator bottoms out, a recession ensues.
Then there's the recent Morgan Stanley equities downgrade that suggests stocks will only return 1% or so over the next 12 months as the global economy slows down. They opine that each successive recession is caused by a financial "event", precipitated by the Federal Reserve hiking rates too soon into a recovery. And that the recent Fed reversal in rates is too late with a co-ordinated easing by the ECB, Fed, BOJ to only push on a string:
Our concern is that the positives of easier policy will be offset by the negatives of weaker growth: We think a repeated lesson for stocks over the last 30 years has been that when easier policy collides with weaker growth, the latter usually matters more for returns. Easing has worked best when accompanied by improving data.

As markets have rallied over the last month, global trade and PMI data have continued to worsen. Global inflation expectations, commodity prices and long-end yields suggest little optimism about a growth recovery. On the back of the G20, our economists downgraded their global growth forecasts. We forecast an aggressive Fed and ECB action because we think growth concerns are material.
Then finally, the yield curve inversion – when short term rates are higher than low term –  now in play for over three months: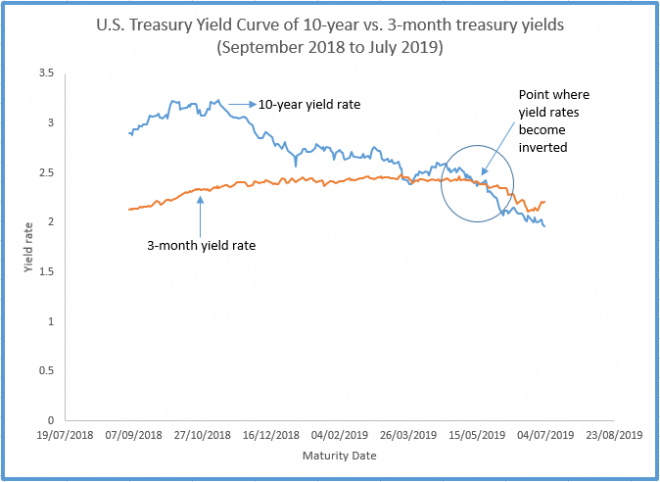 Adding this all up doesn't make sense if you look at the absolute macroeconomic levels. But in relative terms, the cycle is over and ready to bottom again.
Latest posts by Chris Becker
(see all)