It ain't rocket surgery, via the BBC:
Wage growth in the UK accelerated to 3.6% in the year to May 2019, the highest rate since 2008, according to Office for National Statistics figures.

Wages have been outpacing inflation since March 2018.

A record high of 32.75 million people were in employment up to the end of May, while 1.29 million were out of work, the lowest since at least 1992.

"The labour market continues to be strong," said ONS deputy head of labour market statistics Matt Hughes.

"The number of self-employed part-timers has passed one and a half million for the first time, well over double what it was 25 years ago," he added.

"Regular pay is growing at its fastest for nearly 11 years in cash terms, and its quickest for over three years after taking account of inflation."
And, of course, GBP is also crashing, driving huge competitiveness gains, de-bottlenecking Britain, lifting living standards, and even driving gains in productivity, via the FT:
Silvana Tenreyro, an external member of the BoE's monetary policy committee, said in a speech in Glasgow that fluctuations in output per hour had masked an uptick in productivity since 2014, leaving the UK economy with excess capacity and mitigating the need for further interest rate rises.

"Smoothing through some of the volatility, there is some evidence of a mildly improving trend emerging," Ms Tenreyo said, adding that according to BoE calculations, annual productivity growth had picked up from 0.4 per cent between 2010 and 2014 to 0.6 per cent in the next four years to 2018.

"Moreover, early estimates of [output] (and therefore productivity) are typically revised up over time," she said, pointing out that Bank of England economists believed revised statistics would show that the trend in productivity growth increased to 0.8 per cent per year between 2014 and 2018.

Productivity growth has been the missing piece of the UK's economic recovery since the 2008 financial crisis: it has been blamed for low wage growth and, until recently, slow growth in tax receipts.
As we know, the magic tonic has been Brexit immigration cuts: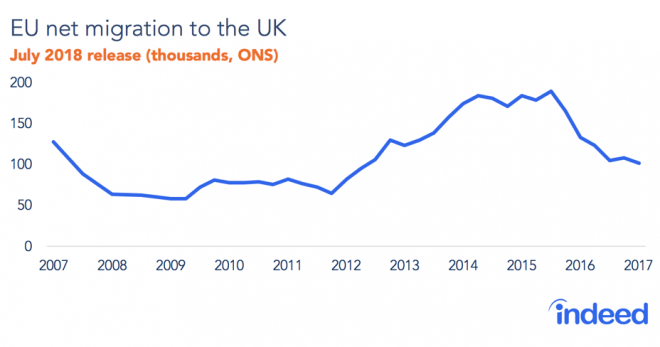 The decline in EU immigration into the UK in the wake of the Brexit Turmoil has proven to be a massive boon for workers, with unemployment falling to the lowest level since the 1970s:
Average wages are rising at the fastest rate in a decade and employment has reached a record high in the UK, according to official figures released today…

The Office for National Statistics (ONS) said total earnings were up 3.5%, including bonuses, despite expectations the labour market would be suffering more from the UK's looming departure from the European Union.

Figures released by the ONS also show employment has soared to its joint highest level since records began at 76.1% of the working-age population. The official unemployment rate has dipped to 3.9%, the lowest since the mid-1970s…

Matt Hughes of the ONS said: "The jobs market remains robust, with the number of people in work continuing to grow. The increase over the past year is all coming from full-timers, both employees and the self-employed"…
Meanwhile, with the UK's unemployment rate cratering, and wages rising, employers have lashed-out at the government for stemming the flow of EU migrant workers:
"A tight labour market represents yet another headache for small business owners," the FSB said yesterday.

"One in five small UK employers rely on staff from the EU. The sharp drop in European arrivals is a real concern for many smaller firms."

The Recruitment & Employment Confederation also piped up – "our surveys show that firms are still experiencing shortages of key staff. This is a big risk to future growth" – while the British Chambers of Commerce bemoaned "the perennial skills shortages plaguing UK businesses"…
Low unemployment (3.8%). Strong wages growth (3.6%). Low and steady inflation (2%). Crashing currency. Rising productivity and living standards. House prices going nowhere. What's not to like?
It is basic economics that if you stem the flow of foreign workers, then workers' bargaining power will increase. This was explained by The Australia Institute's chief economist, Richard Denniss, when he noted that the very purpose of foreign worker visas is to "suppress wage growth by allowing employers to recruit from a global pool of labour to compete with Australian workers".  That is, in a normal functioning labour market, "when demand for workers rises, employers would need to bid against each other for the available scarce talent". But this mechanism has been bypassed by enabling employers to recruit labour globally. "It is only in recent years that the wage rises that accompany the normal functioning of the labour market have been rebranded as a 'skills shortage'".
Except in very limited circumstances, there is no such thing as a shortage of labour. There is only a "shortage" of labour at the price/ wages firms are generally willing to pay.
Given faster wage growth: a) the least productive businesses would lose people, shrink and go bust, transferring workers, land and capital to more productive businesses, raising average productivity across the economy; and b) all businesses, observing higher wages, would invest more in labour saving technologies, training and restructuring to raise productivity.
This is how the labour "market" is supposed to work. But allowing the mass importation of foreign workers circumvents the ordinary functioning of the labour market by enabling employers to pluck cheap foreign workers in lieu of raising wages. It also discourages employers from training locals in favour of hiring ready-made workers from overseas. This is deleterious for both workers and the broader economy.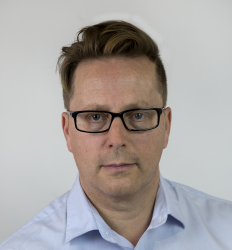 Latest posts by David Llewellyn-Smith
(see all)