Last weekend, CoreLogic released its preliminary auction clearance rates, which revealed the following results:

Yesterday, CoreLogic has released its final auction results, which reported a 4.9% decline in the final national auction clearance rate to 64.0% – well above the same weekend last year (52.6%) and above last week's 62.9%: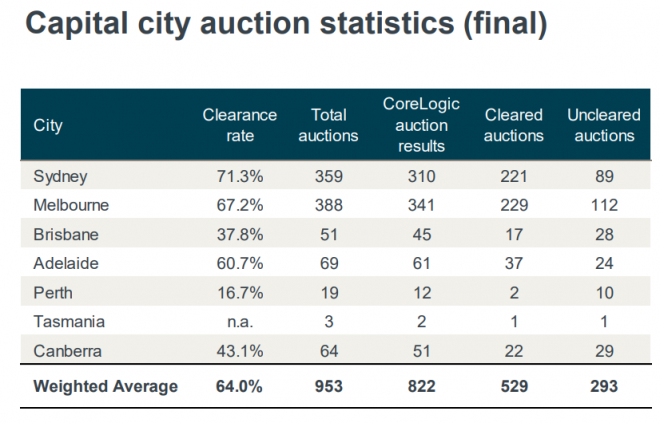 As you can see, Sydney's final auction clearance rate was 6.9% lower, whereas Melbourne's was 3.1% lower. However, both final clearances in Sydney and Melbourne were well above last year's 50.1% and 56.1%. Sydney's clearance rate was also the highest in more than two years (June 2017).
The chart below shows the bounce in auction clearance rates nationally: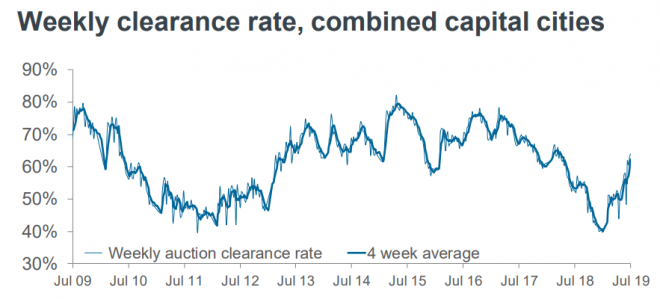 According to CoreLogic:
Last week, 953 auctions were held across the combined capital cities, returning a final clearance rate of 64 per cent, surpassing the previous week's 62.9 per cent, making it the highest weighted average result seen since April last year. The improved clearance rate last week was across a lower volume of auctions week-on-week, however the auction market appears to be strengthening with final clearance rates holding above 60 per cent for four consecutive weeks now…

Sydney returned a final auction clearance rate of 71.3 per cent last week, making it the best performing auction market and the highest clearance rate the city has recorded since June 2017.
The below charts plot the trend change in final clearances in Sydney and Melbourne against dwelling value growth: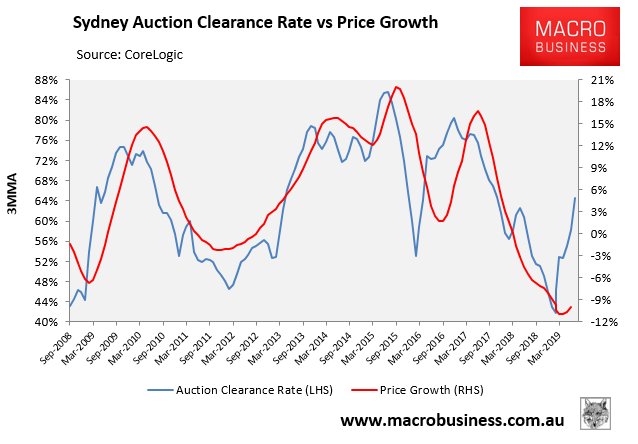 As you can see, the bounce in clearance rates is pointing to prices rebounding.