Sydney's apartment crisis continues to deepen following a series of high profile structural faults reported across major complexes.
Residents of faulty apartment blocks have inundated a NSW parliamentary inquiry with submissions before it investigates construction standards in August. From The SMH:
Human waste flowing down apartment hallways and bubbling up through shower drains, wall cracks stuffed with newspaper, crumbling building facades and balconies that need propping up.

Residents of faulty unit blocks have seized an opportunity to raise concerns about apartment building defects before a NSW parliamentary inquiry scrutinises construction standards in August…

Owners of apartments in [one] block had at one stage been quoted $1.1 million, spread across 48 residential lots, to fix building problems.
"As is common, the developer had liquidated the company and phoenixed so that there was no restitution," the submission said…

The majority of these defects related to poor or non-existent water proofing, [one] submission said, and included balcony weep holes that had been covered up, causing units to flood…

"Government needs to do its job. As more people are forced to live in apartments, this must be addressed to stave off future problems and developers creating the slums of tomorrow."
Meanwhile, residents of the "Joshua" apartment block in Alexandria are facing legal action after a private certifier illegally allowed them to move into the building despite the developer failing to carry out "extensive construction work" to make it safe. Also from The SMH:
Of the greatest concern were fire safety defects that meant the building was "not compliant" with the Building Code of Australia.

The council also complained that cladding and vertical screens had not been installed on the facade, the fourth storey had not been stepped back as agreed, windows had been reconfigured and there had been changes to a balustrade and the grade of a driveway.

The council refused to issue the developer, GCorp Property Pty Ltd, with a building certificate…

"The city … is considering further action, including issuing a notice of intention to demolish and to rebuild the building in accordance with the conditions of consent," lord mayor Clover Moore wrote in a letter to residents in September 2015…

The court heard GCorp property was a "special purpose vehicle" created specifically for the Alexandria project and "does not have the means by which to finance the outstanding works."
To date, we know of major faults across five developments, namely:
The newly built 392-apartment Opal Tower at Sydney's Olympic Park;
The 12 year-old, 10-storey high Mascot Tower;
The 3 year-old residential apartment complex in Campsie;
The Sugar Cube development in Erskineville; and
The Lofts apartments in Zetland.
We are likely seeing the very tip of a gigantic iceberg in the Australian development industry, given the massive boom in high-rise construction across Australia's major cities over the past decade: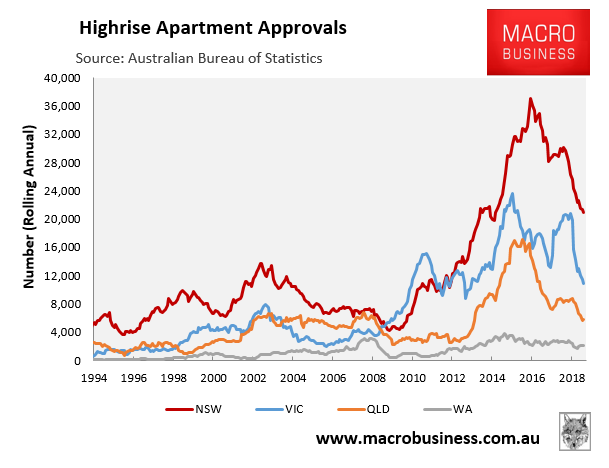 How bad the situation gets, and how many billions of dollars it costs to rectify, is anybody's guess. And this comes on top of the additional billions required to replace flammable cladding.
It's an issue that could plague Australia for a generation as the shoddy dog boxes crumble one by one.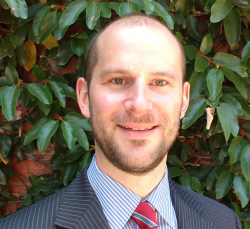 Latest posts by Leith van Onselen
(see all)