Yesterday's Lending to households and businesses release from the ABS revealed that total mortgage lending (excluding refinancings) stabilised in May, but have tanked by 19% over the year in trend terms, driven by an epic 27% crash in investor commitments, whereas owner-occupied commitments also fell by 16%: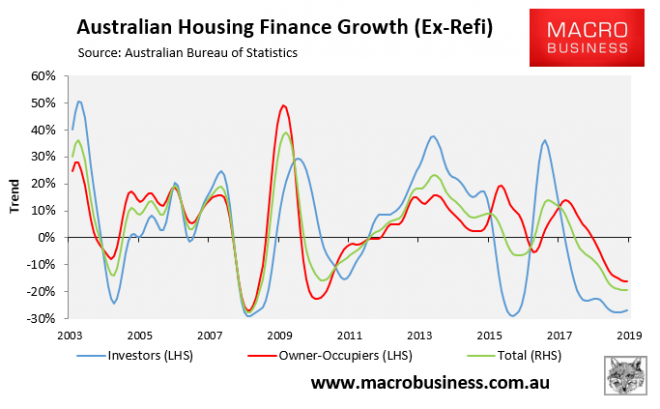 As regular readers of MB will know, we consider the flow of housing and investor finance commitments to be premier indicators for dwelling value growth. This view is based on the incredibly strong historical correlation between finance and prices, as illustrated by the next charts: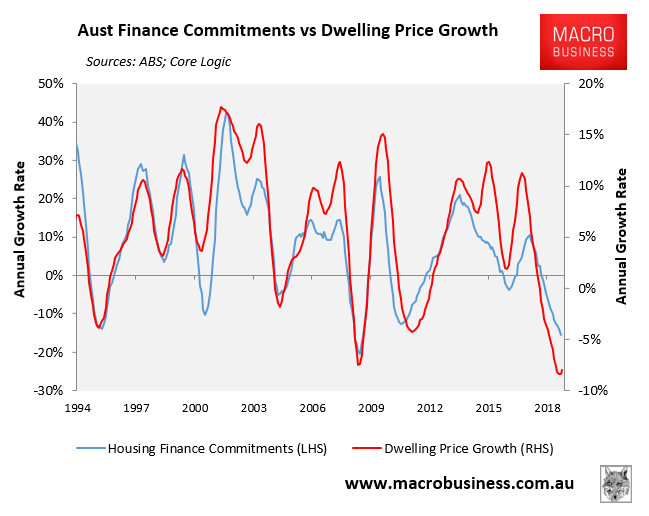 As you can see from the above charts, investor and housing finance growth as well as dwelling price growth has crashed particularly hard across Sydney and Melbourne, but is also weak across the other major capitals. However, there are signs of stabilisation, at least on a national level.
This data largely pre-dates the Federal Election, as well as the RBA's latest interest rate cuts, macro-prudential easing by APRA, and announced first home buyer subsidies. We, therefore, expect mortgage credit to improve in the second half, with house prices likely to rise modestly into 2020.
It should be stressed that changes to the Household Expenditure Measure (HEM) presents a structural barrier to loose mortgage credit, and should thereby limit any upswing. This was discussed in detail in our Half-Year Report.