S&P Global Ratings upgraded Australia's credit rating outlook to 'stable' in September 2018. S&P's Anthony Walker says the federal government must retain its target of returning the Budget to surplus in 2019-20 in order to retain its triple-A credit rating. He has stressed the need for the government to have a strong public balance sheet so it can respond with fiscal stimulus if there is an external shock to the economy in the future. Martin Petch of Moody's Investors Service says the Australian economy will be boosted by factors such as the government's income tax cuts, official interest rate cuts and spending on infrastructure. From The AFR:
"The sovereign needs a strong fiscal position towards a surplus and addressing the net debt to maintain its AAA stable rating," Mr Walker told The Australian Financial Review.

"The thing holding back the return to surplus at the moment is actually the states' infrastructure spending.

"There is some budget room for the federal government to respond, but the states are already responding"…

Moody's senior sovereign credit officer Martin Petch said the economy was expected to grow about trend and would receive a "kick along" from the RBA's dual interest rate cuts, income tax cuts passed last week and infrastructure spending.

"But if the government felt growth was likely to be lower than currently expected Australia does have some headroom to increase debt, still consistent with a triple A credit rating," Mr Petch said.
Meanwhile, Treasurer Josh Frydenberg has criticised Labor's call for further measures to stimulate the economy, arguing that doing so would jeopardise the return to a Budget surplus. He adds that recent comments by Reserve Bank governor Philip Lowe on the need for structural reforms have been misinterpreted as a call for more fiscal stimulus. Chris Richardson of Deloitte Access Economics has also cautioned against further fiscal stimulus at present, arguing there would be less firepower in the event of a future economic shock. From The Australian:
"People should be careful in how they interpret what the Reserve Bank governor has said," Mr Frydenberg said.

"The RBA has been quite clear that it has cut the official cash rate because it is keen 'to support ­employment growth'.

"Governor Lowe has also ­publicly stated that the RBA's 'central scenario for the Australian economy remains reasonable, with growth around trend expected'"…

Mr Richardson said yesterday Australia was already doing a lot to stimulate the economy.

"We're cashing in insurance that could be used at any stage," Mr Richardson said. "If at some point a real crisis hits Australia, we'll have less wriggle room in the Reserve Bank and the government. We need to remember that there may be a time when the Australian economy needs help a lot more than we need it today.

"The more we do now, the less we have available down the track."
With expensive tax cuts locked-in, the biggest risk to Australia's AAA credit rating is a reversal of the fortuitous commodity price and terms-of-trade boom, which has dramatically boosted company tax receipts: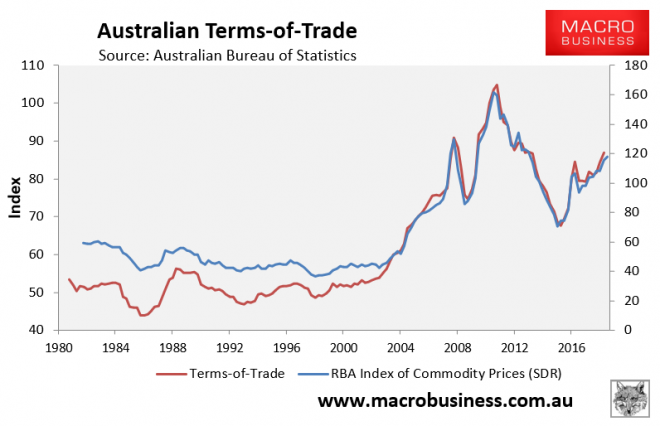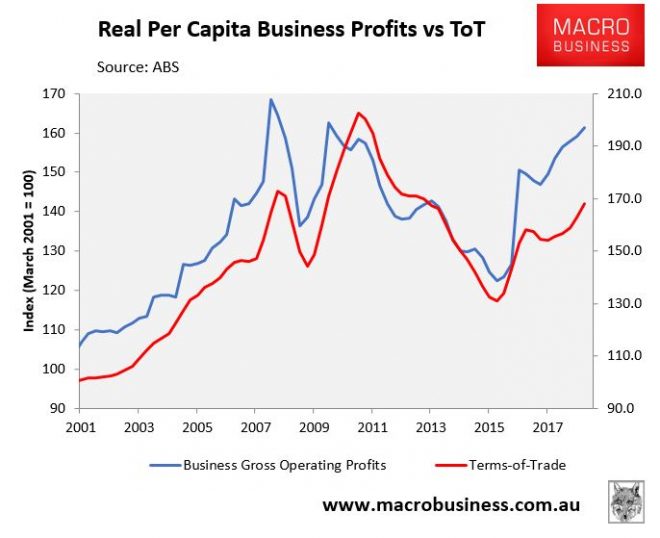 This terms-of-trade boom is based entirely on one mining accident in Brazil, which shuttered Vale's iron ore production and sent prices to the moon.
As Vale's iron ore volumes return through 2019/20, the terms-of-trade boom is likely to turn bust, causing big falls in company tax receipts and bigger Budget deficits.
Using temporary commodity price windfalls on permanent tax cuts was always foolish policy.