Chief population ponziteer, professor Peter McDonald, has accused the Morrison Government of overestimating immigration forecasts used to prepare the April 2019 Budget, primarily by underestimating international student departures. McDonald says this would mean that net overseas migration (NOM) will be lower than predicted, which in turn means that population growth will be lower. From The ABC:
Peter McDonald, a professor of demography at the University of Melbourne, said Australia could expect a surge in departures of students after they finished their degrees.

"I suspect the numbers in this table may underestimate the student departures out to 2022," he said.

"That means net overseas migration will be lower than what is projected in these numbers, and then population growth will be lower."
I agree with Peter McDonald here. Unless temporary migrants can transition to permanent residency, they will eventually have to leave Australia; although this could take many years, as evidenced by the explosion in bridging visas: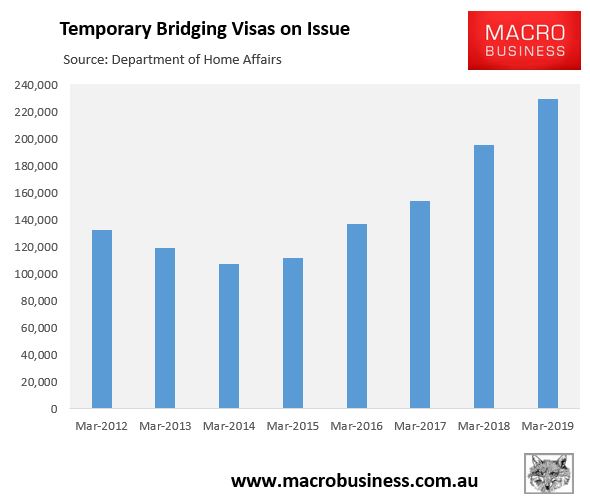 That is, the rapid rise in temporary student visas over the past six years – whose numbers have roughly doubled – should result in a lagged rise in international student departures over the Budget forward estimates: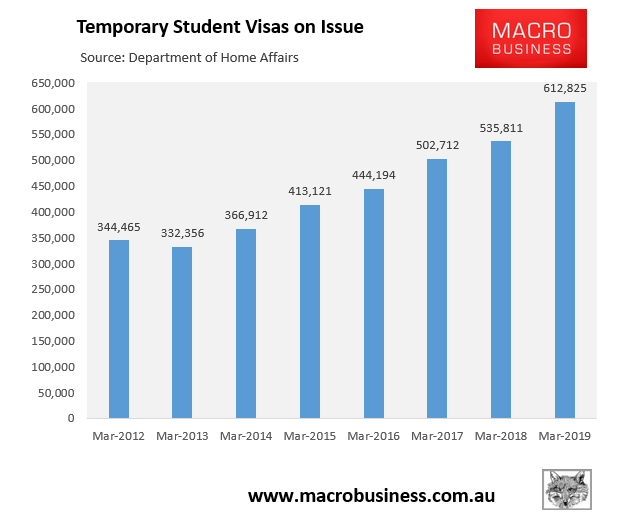 Therefore, while immigration into Australia will remain turbo-charged, it is unlikely to be at the insane levels forecast in the April Federal Budget.