The department of Home Affairs has released its biannual "Student visa and Temporary Graduate visa program report" for December 2018, which reveals that the boom in Chinese international students is officially over.
As shown in the below chart and table, the number of student visas granted to Chinese citizens fell by 3.3% in the second half of 2018, with China's share of total international student visas granted also falling to 21.4% from 24.4% in 2017: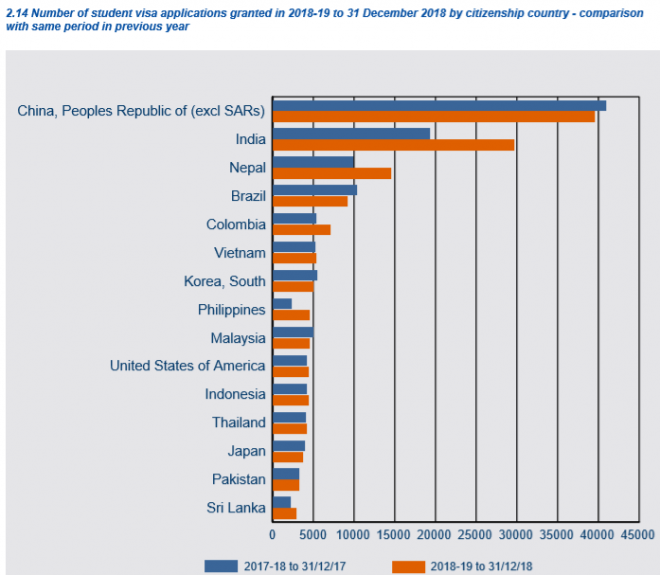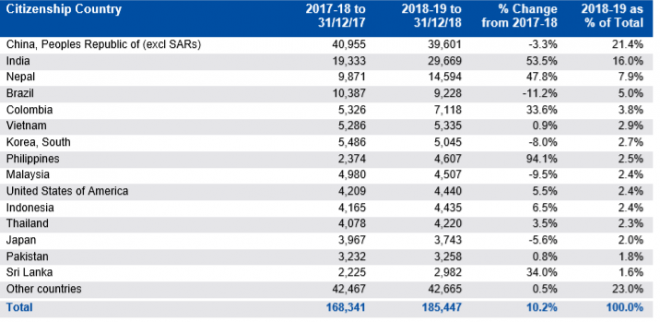 However, the fall in Chinese international students was more than offset by Indians and Nepalese, which experienced explosive growth in students numbers in H2 2018 of 53.5% and 47.8% respectively.
The next chart shows how Indian international student numbers are quickly closing the gap with their Chinese counterparts: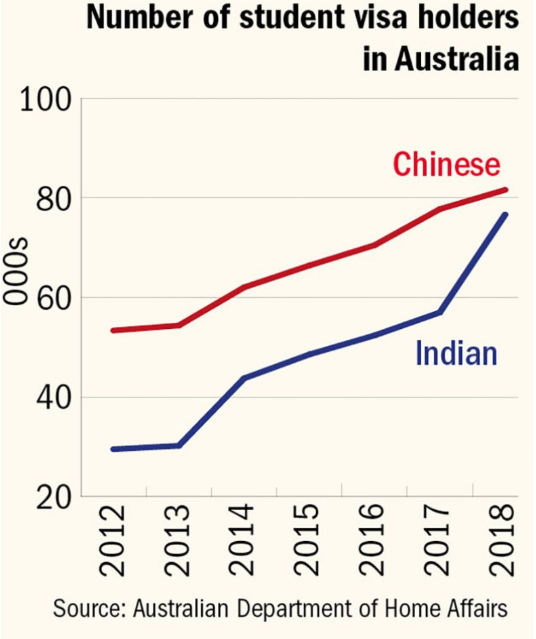 The decline in Chinese international students has caused alarm at Australia's Group of Eight universities, given the Chinese account for the lion's share of fees paid:
The pivot to India could hurt the university sector because Indians are about 50 per cent more likely than their Chinese counterparts to pursue vocational study.

…the prestigious research-intensive universities will be disadvantaged because they rely heavily on Chinese students. The University of Sydney and UNSW Sydney both sourced more than 26 per cent of their revenue last year from Chinese students' fees. Melbourne, Monash, Queensland and the Australian National universities are also highly dependent on this income stream…

Australian Bureau of Statistics data show that the number of visitors from China has fallen for 10 consecutive months and is now at its lowest level in two years – a trend consistent with suggestions that Chinese media criticism of Australia, a side-effect of the countries' tense bilateral relations, is dampening Chinese people's enthusiasm to travel there…

In another potential blow to Australian universities' coffers, there are signs that some Chinese students ostensibly in Australia to undertake higher education may never do so.

Many Chinese students visit Australia on "packaged" visas that authorise stints of English-language study and possibly short "non-award" courses, culminating in university education. Home Affairs includes them among the 85 per cent of Chinese student visas that are attributed to the higher education sector.
As MB has noted previously, there are several possible explanations for why Chinese international student numbers are falling.
First, China is busy investing heavily in its own higher education, which comes at the same time as doubts have arisen over the quality of Australia's tertiary education.
Second, Chinese may be dissuaded from studying in Australia due to escalating political tensions between the two nations.
Third, the CCP may be dissuading its citizens from studying abroad in a bid to slow capital outflow and protect its currency.
One thing's for certain, the Chinese international student boom looks done.
Leith van Onselen is Chief Economist at the MB Fund and MB Super. Leith is an economist and has previously worked at the Australian Treasury, Victorian Treasury and Goldman Sachs.
Latest posts by Unconventional Economist (see all)