Another one joins the MB led consensus, never a comfy position to be for us, via Morgan Stanley:
If clearance rates can sustain in a lifting auction volume environment then we may see a stronger housing recovery – although this looks unlikely to us at this stage".

We think the likelihood of a price rebound is low – given the still soft economic environment and limited appetite from regulators for a credit rebound.

…Risks remain as the focus moves from future price and wealth impacts to the real economy impacts of further price declines.

…significant construction weakness over the next 18 months large enough to impact headline gross domestic product and employment.

While lower supply will eventually be a positive for the housing market, any disruptive economic effects of the decline risk feeding back into the housing market as second round impacts.
Here is the Morgan Stanley housing index via the AFR which remains deeply bearish: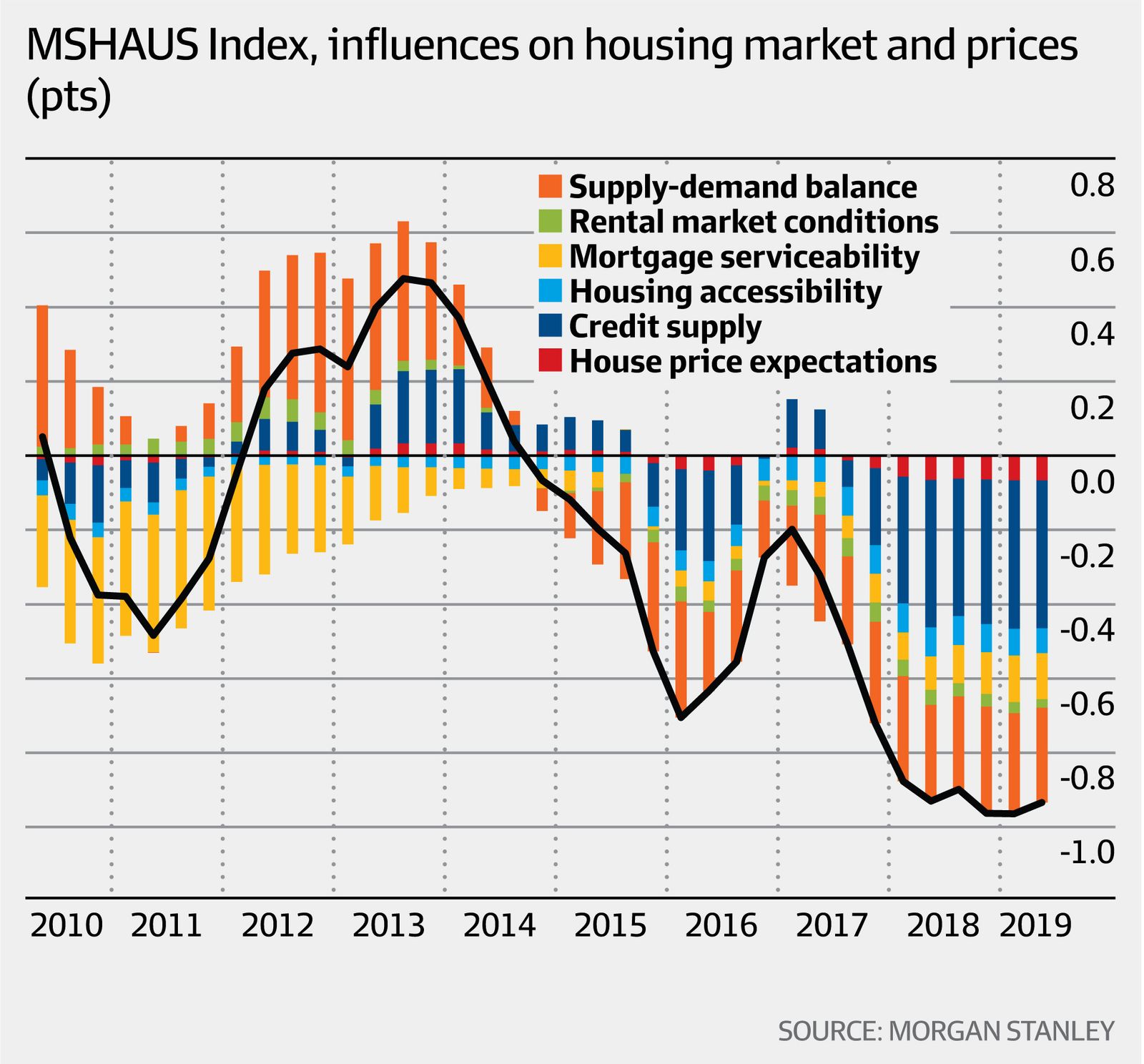 Hard to believe that credit supply has not improved a little more that that after the APRA and RBA cuts.  A bit of warning sign that the analysis is too complacent.
Shane Oliver is singing from the same hymn sheet:
Prelim Domain auction clearances.
Syd 78% (=final ~74%,last wks final 71%). On track for best mth since May 2017
Melb 74% (=final ~71%,last wks final 65%). On track for best mth since Oct 2017

Rebound on "ScoMo effect",rate cuts..continuing
Vols low,but clearances tend to lead pic.twitter.com/tYrM4ZMtR3

— Shane Oliver (@ShaneOliverAMP) July 20, 2019

"I think we'll spend this six month period between now and the end of the year bottoming out and then you might see modest gains coming in through next year."

"There's a bunch of positive factors supporting the property market but I don't think prices are going to run away because lending standards are a lot tighter this time around. This is not 2011/12 when banks were happy to lend to virtually anyone. I also think unemployment is going to rise so I think that's also going to put a cap on prices."

"The increase in demand has pushed up clearance rates on still relatively low volumes, which begs the question as to whether it's sustainable"

"Spring is going to be a bit of a test in all of this, to see whether these kinds of clearance rates continue."
APRA should be warming up the macroprudential just in case.
David Llewellyn-Smith is Chief Strategist at the MB Fund and MB Super. David is the founding publisher and editor of MacroBusiness and was the founding publisher and global economy editor of The Diplomat, the Asia Pacific's leading geo-politics and economics portal.

He is also a former gold trader and economic commentator at The Sydney Morning Herald, The Age, the ABC and Business Spectator. He is the co-author of The Great Crash of 2008 with Ross Garnaut and was the editor of the second Garnaut Climate Change Review.
Latest posts by Houses and Holes (see all)