Last year, Sydney's Lord Mayor, Clover Moore, warned of high-rise "ghettos of the future" arising from the Berejiklian Government's proposed higher-density targets:
"This is a planning disaster and a significant threat to Sydney's future economic growth and livability.

"The reality is that the pretty pictures in the government's brochures will turn out to be the ghettos of the future.

"Tall dark towers next to overshadowed parks and streets gridlocked by congestion"…
Yesterday, Clover Moore entered the fold again, labelling the state government's regulation of the building industry as "breathtakingly irresponsible" and blaming it for the proliferation of cracking, flammable high-rise slums:
Cr Moore said the state had "removed independent certification and supervision of construction sites"…

"This has resulted in arrangements that have allowed buildings unfit for occupation to be released to the market and certified for occupation," she said.

Cr Moore's push for tighter regulation comes as the mayors of some of Sydney's most densely-populated areas called for sweeping reforms to lift building standards and restore confidence in the residential apartment market…

She said all buildings should be assessed by independent, third-party inspectors.
This is all too little too late, I'm afraid and is akin to shutting the gate long after the horse has bolted.
Sydney has just undergone the biggest high-rise apartment construction boom in its history, which has left the city with potentially thousands of defective buildings and billions of dollars of potential rectification costs: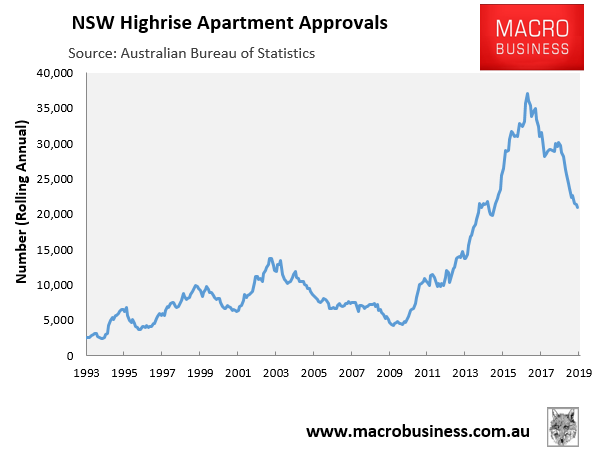 The underlying cause of this mess is not only lax building regulation, but also mass immigration.
Sydney's population has grown by more than one million people since 2004, with 93,400 growth in 2017-18 alone: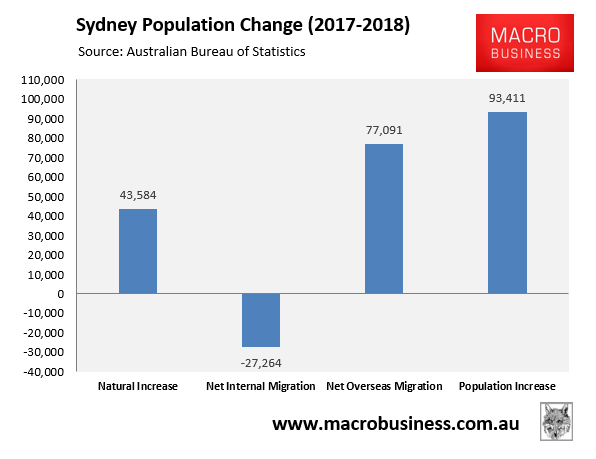 The flood of migrants into Sydney has meant that lots of apartments have needed to be built very quickly, resulting in builders and regulators cutting corners, and lowered construction standards and quality.
Moreover, with Sydney's population projected to roughly doubling to nearly 10 million people in just 48 years, driven entirely by NOM: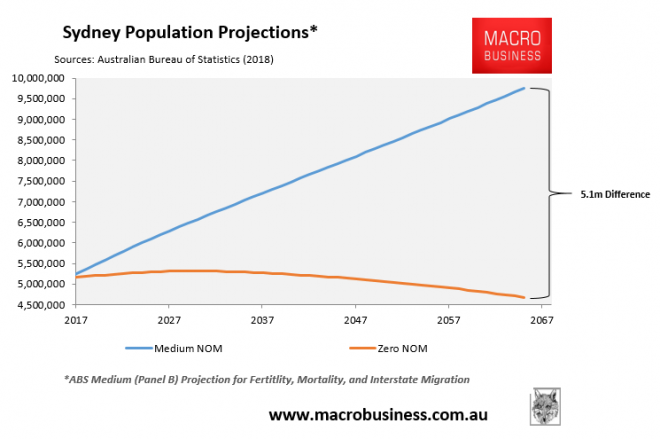 There will forever be pressure to compromise on build quality in order to house the bulging population.
Put another way, it will be next to impossible to build quality homes with Sydney's population growing by a projected 100,000 people a year ad infinitum. Corners will need to be cut.
Slashing immigration must be part of the solution.
Leith van Onselen is Chief Economist at the MB Fund and MB Super. Leith has previously worked at the Australian Treasury, Victorian Treasury and Goldman Sachs.
Latest posts by Leith van Onselen (see all)