See the latest Australian dollar analysis here:
Last week Donald Trump pretty much declared as much:
I am not a fan of Bitcoin and other Cryptocurrencies, which are not money, and whose value is highly volatile and based on thin air. Unregulated Crypto Assets can facilitate unlawful behavior, including drug trade and other illegal activity….

— Donald J. Trump (@realDonaldTrump) July 12, 2019
Over the weekend, the US Congress moved into action as well:
A drafted bill entitled "Keep Big Tech out of Finance" has surfaced online, allegedly deriving from within the United States House of Representatives Financial Services Committee. The document's metadata dates it July 12.

The bill's provenance is unconfirmed, but crypto news site The Block quotes an inside source as saying it is with the Financial Services Committee.

The document reads:

"A large platform utility may not establish, maintain, or operate a digital asset that is intended to be widely used as medium of exchange, unit of account, store of value, or any other similar function, as defined by the Board of Governors of the Federal Reserve System." 

The alleged bill goes on to define "a large platform utility" as a tech company that earns annual global revenues in excess of $25 billion.

Given that Libra is scheduled for hearings before the Senate Banking Committee on July 16 and with the House Financial Services Committee on July 17, this bill seems clearly designed to preempt congressional authority to take decisive action on the issue of Libra.

Libra has attracted commentary and criticism from many corners. Chair of the Financial Services Committee Maxine Waters initiated the congressional hearings on Libra on June 18 by calling for a moratorium on the project. As Cointelegraph reported at the time, Representative Waters wrote:

 "Given the company's troubled past, I am requesting that Facebook agree to a moratorium on any movement forward on developing a cryptocurrency until Congress and regulators have the opportunity to examine these issues and take action" 
More from Reuters:
A proposal to prevent big technology companies from functioning as financial institutions or issuing digital currencies has been circulated for discussion by the Democratic majority that leads the House Financial Services Committee, according to a copy of the draft legislation seen by Reuters.

In a sign of widening scrutiny after Facebook Inc's (FB.O) proposed Libra digital coin aroused widespread objection, the bill proposes a fine of $1 million per day for violation of such rules.

Such a sweeping proposal would likely spark opposition from Republican members of the house who are keen on innovation, and would likely struggle to gather enough votes to pass the lower chamber.

Even if it were to pass the full house, it would still have to pass the senate which would also likely be an uphill struggle.

Nevertheless, the draft proposal sends a strong message to large tech firms increasingly eyeing the financial services space.

…Facebook, which would qualify to be such an entity, said last month it would launch its global cryptocurrency in 2020.
On the monthly chart, gold and BTC are still tracking together: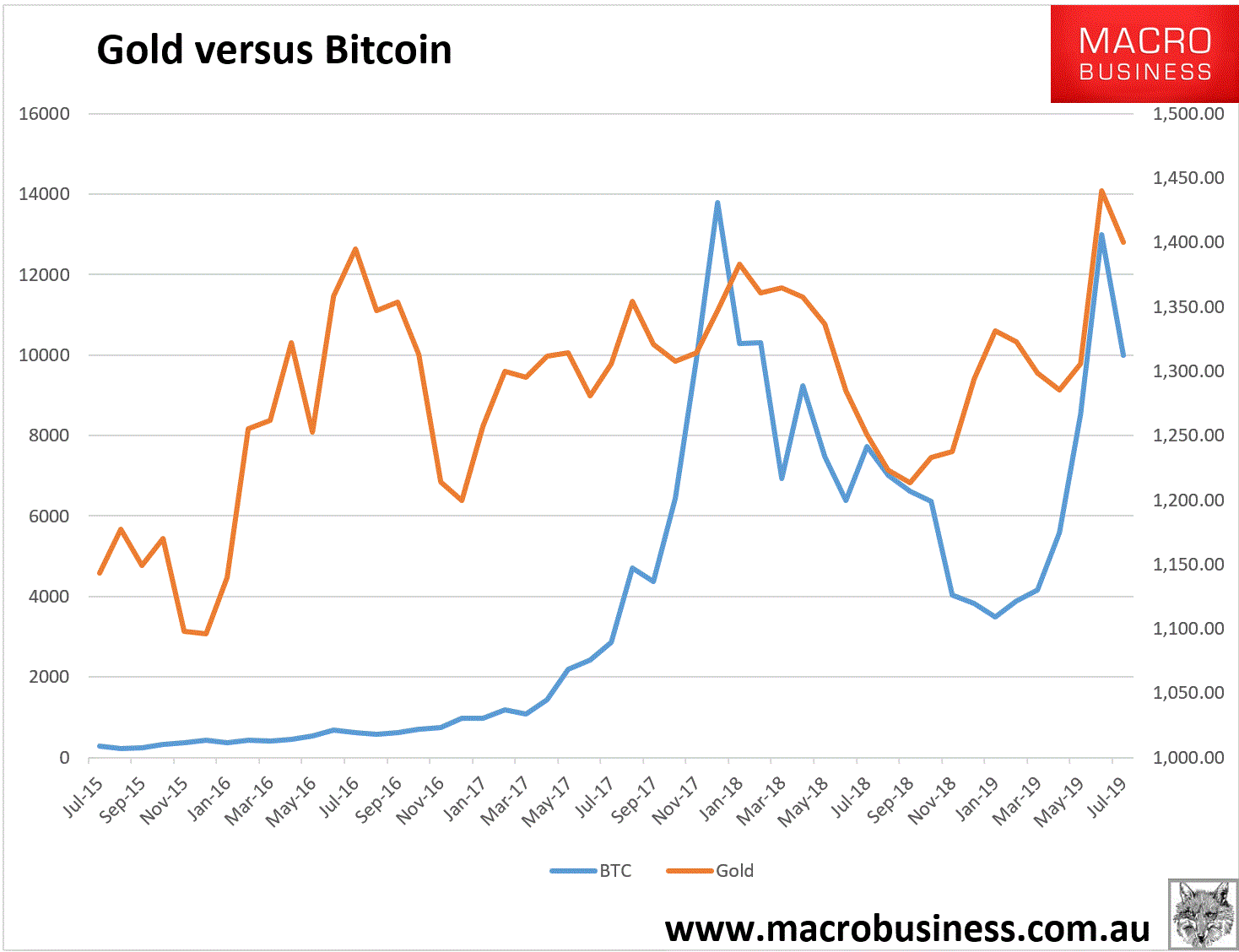 But the daily has seen a big dislocation: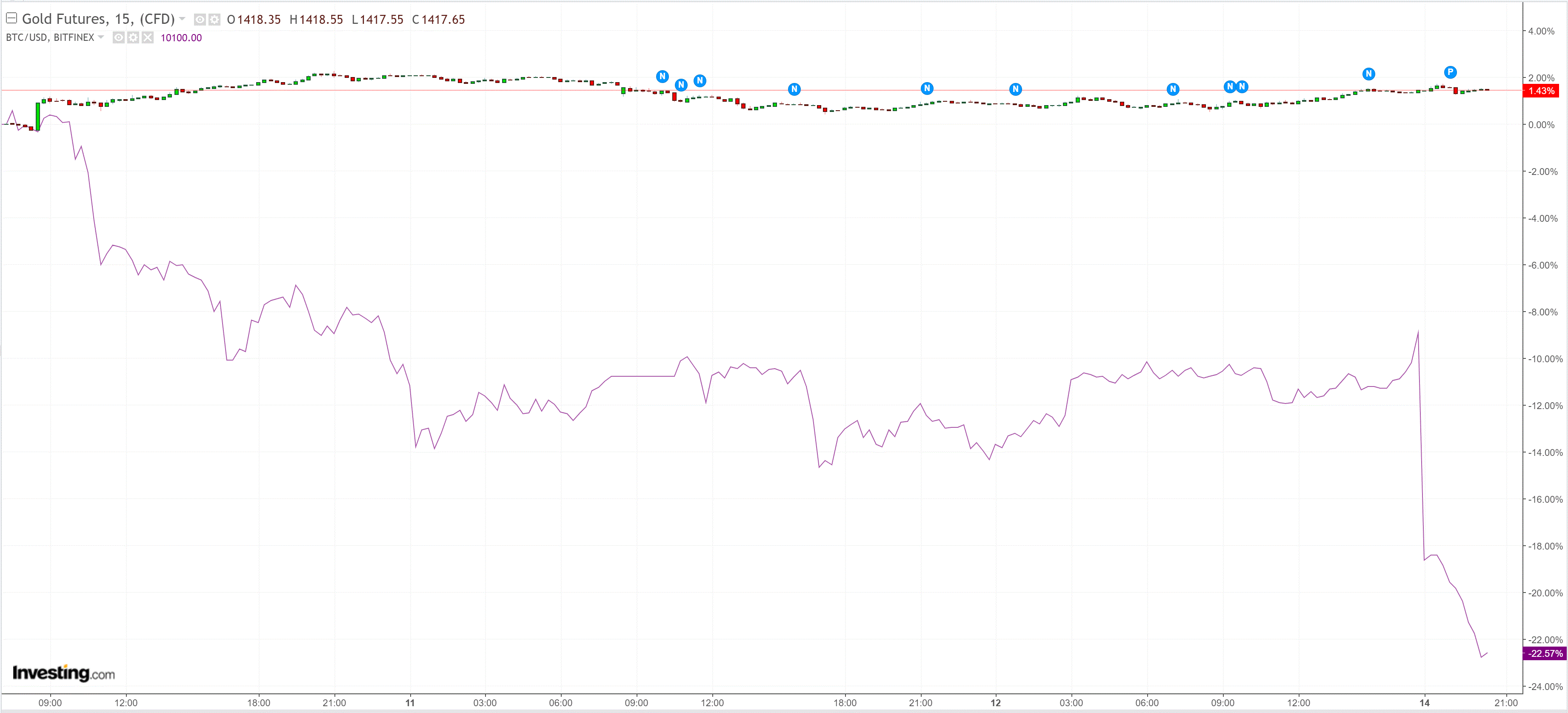 Whether this is the end BTC who knows? I fully expect it to end in a regulatory crash of just this kind. This is its paradox. The more it succeeds the greater the risk of its failure as it undermines governments, taxation, banks, central banks, pretty much anyone and everyone with a gun big enough to kill it where it stands.
Latest posts by David Llewellyn-Smith (see all)