Over the past six years, Australia has experienced an unprecedented boom in international students, whose numbers have nearly doubled to around 613,000, according to the Department of Home Affairs: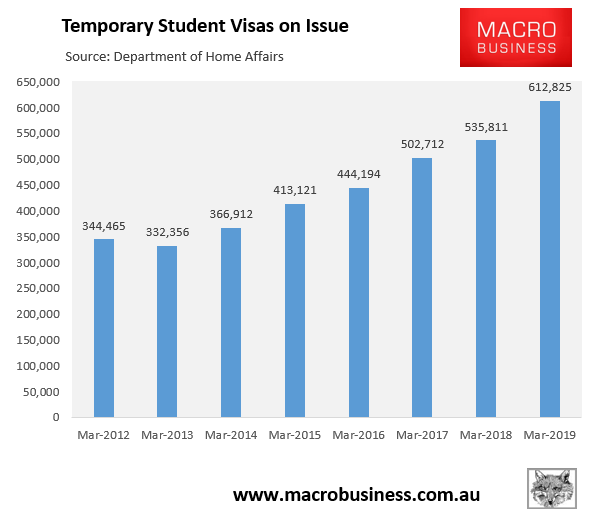 One of the unfortunate side effects of this student explosion is that it has corresponded with a dramatic rise in cheating at Australia's universities, alongside an erosion of overall education standards.
In 2014, international students from China were implicated in a widespread ghost-writing scandal, of whom whistleblowing academics labelled "functionally illiterate".
In 2015, ABC's Four Corners aired a disturbing report, entitled "Degrees of Deception", which claimed that cheating was widespread across Australia's universities, and featured an academic accusing half of the international students of plagiarism [my emphasis]:
With thousands of students often struggling with English, the pressure to pass is helping to fuel a black market…

ZENA O'CONNOR: I'm, I'm staggered by the increase in plagiarism. Ah, to start with: in my experience, it was a very small proportion – you know, maybe two, three, four per cent. I would peg it now at being much, much higher: well over 50 per cent.

LINTON BESSER: The academics who have spoken out tonight are not alone in their concerns. In our research for this program, we spoke with scores of academics around Australia. The vast majority had witnessed or personally experienced the pressure to ignore plagiarism and to pass weak students.
Also in 2015, 70 international students across New South Wales were caught up in a cheating racket, prompting the state's Independent Commission Against Corruption to demand that universities take decisive action.
Last year, an ABC investigation claimed that "English language standards are often too low or can be sidestepped via loopholes, and that students are often put in stressful classroom situations that can lead to cheating".
In January this year, international student associations demanded greater regulation of overseas education agents amid concerns of widespread cheating on English language tests.
In May, Four Corners aired another shocking report, entitled "Cash Cows", which again documented more plagiarism, academic misconduct, and rising failure rates among international students.
And shortly after this Four Corners expose aired, domestic students from Perth's Murdoch University claimed "some international students were trying to circumvent the language gap by plagiarising their assignments or contracting outside sources for help".
With this background in mind, The AFR yesterday reported that the level of cheating across Australia's universities is increasing at an "alarming rate":
Researcher Tracey Bretag said cheating has spread like wildfire across all universities and TAFEs, including her own, the University of South Australia.

"For every assessment that I set, and despite the fact that I spend a great deal of time in class talking about academic integrity, I still encounter examples of contract cheating," she said.

She said university students who buy their way through their degree by paying someone to do their assignments and sit their exams are a "risk to society… they won't be fit for professional practice"…

Dr Bretag said students can specify what grade they would like for the assignments, which can also be tailored to sound like the student if English is their second language…
The boom in cheating is largely the result of the commercialisation of Australia's university system. Universities have dropped entry standards so low, in a bid to boost enrolment numbers, that almost any international student now qualifies to study provided they can pay the fee. And because these students have paid so much for entry, and lack the basic English language proficiency to succeed, they inevitably turn to cheating services.
A culture has been created whereby higher education is now viewed as a commodity for purchase, rather than something to be earned. And this has been aided and abetted by greedy universities more concerned about maximising student throughput, fees and profits than providing a quality educational experience to students.
Given the conga-line of scandals, it's time for a royal commission into the whole rotten university system.
Leith van Onselen is Chief Economist at the MB Fund and MB Super. Leith is an economist and has previously worked at the Australian Treasury, Victorian Treasury and Goldman Sachs.
Latest posts by Unconventional Economist (see all)