Cry infrastructure! Via Domain:
NSW Treasurer Dominic Perrottet says the federal government should follow the state's lead and provide "equitable funding" for critical projects such as Sydney's Metro West to boost the economy.

Mr Perrottet said comments by Reserve Bank governor Philip Lowe that Australia should not "rely on monetary policy alone" were an endorsement of the approach of the NSW government.

It comes as a $230 billion national shortfall in critical infrastructure could be the starting point of a massive fiscal boost to the economy as pressure mounts on the Morrison government to ramp up spending to help drive down unemployment and boost wages.

A report prepared for the G20 has found that Australia needs to pile billions of extra dollars into infrastructure, particularly railways and ports, if it is to deal with growing population and freight pressures in major cities.
Of course NSW wants the Feds to pay. It's run out of money owing to the property bust. I have my sympathies. NSW has tried to lower immigration and it is stymied by horizontal fiscal mismatches.
Here comes John Hewson with the answer:
Setting aside all the hubris and exaggeration of the election rhetoric on the strength of our economy, it is fundamentally important to recognise that the Morrison government faces the near-term challenge that our economy is drifting towards a recession, in a very difficult and unpredictable global growth and trading environment, compounded by serious and mounting longer-term structural weaknesses in almost every area of public policy.

The RBA has indicated its willingness to do more, even pushing the cash rate to near zero, and probably quantitative easing – injecting extra liquidity into the economy. But it obviously fears this may still prove inadequate, now constantly calling on the government to use its budget and other initiatives to provide additional stimulus.

There are many options for a short-term response and what might be good policy. Unlike the disastrously bad quick-fix policies of the Rudd government's attempt to stimulate in response to the global financial crisis – most noticeably spending on pink batts and school halls – there are immediate needs, and effective opportunities, in terms Newstart, social housing, and the like.
Yeh, yeh. But the process is broken. Whatever is delivered will be crush loaded before launch, be pork, or be sold to rentiers for private taxation. It won't lift productivity, incomes or living standards. It will lower all three in the context of mass immigration and rampant corruption. Alan Mitchell does his best:
Real interest rates might be low or even negative, but the "opportunity cost" (measured as the foregone benefits) of giving political preference to second-rate projects is high. As is likely to be the cost of restricting competition in order to make privatisation more profitable for the government and the new owners – a favourite trick of politicians from Margaret Thatcher to Gladys Berejiklian.

The challenge is to make the public more appreciative of the economic importance of infrastructure (all government spending is not the same) and politicians more accountable for their choice of projects and their funding.

With the first objective in mind, the federal government has begun to more clearly distinguish between its own capital and recurrent spending by highlighting the importance of the budget's operating balance. However, most of the federal money for infrastructure still appears in the budget as recurrent grants to the states, local government and non-profit organisations.
One small step amid a giant swamp. Let's not forget that we were here just two year ago, arguing exactly the same things. That's because relying on building to drive economic growth never lasts. It is the rate of change in the investment that matters so you always have to build more every single year to add to growth at all: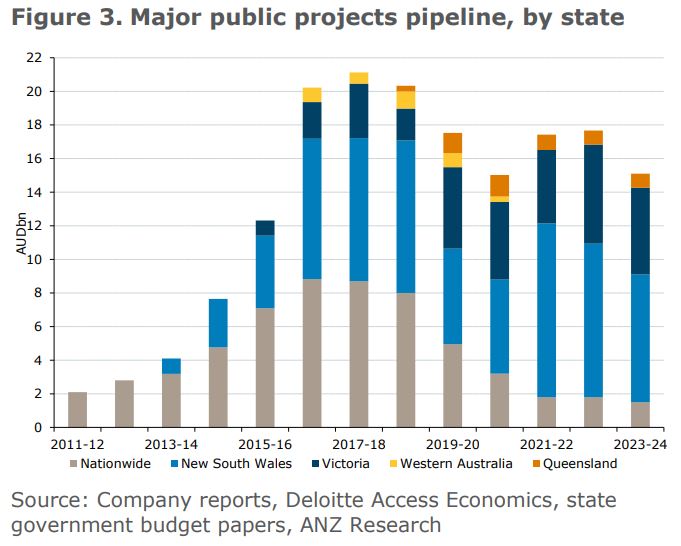 It's nearly impossible to keep the pipeline full enough. The failing Chinese model is the greatest living example, now building a new Europe every year and striding backwards into stagnation and debt.
As we crush load everything in sight with mass immigration, we have little choice but to keep the rat wheel spinning but let's not pretend that it is anything other than a pointless running on the spot enriching nobody but a few Transurbans.
The answer is as obvious today as it has been for years: cut immigration; boost innovation and competition; reform tax concessions; lower land prices; lower energy costs and lower the AUD.
All of this will happen anyway. Either by choice in a few sharp years of reform. Or by the steady hollowing out of productive capacity and much deeper stagnation as we force feed people and pointless building.
Latest posts by David Llewellyn-Smith (see all)