The Australian's Judith Sloan has done a good job demolishing calls for more infrastructure, claiming it is the wrong solution for problems that could be easily addressed via reducing immigration:
Last week, when the board of the bank met in Darwin, governor Philip Lowe offered this advice: "It is appropriate to be thinking about further (infrastructure) investments, especially with interest rates at a record low, the economy having spare capacity and some of our existing infrastructure struggling to cope with ongoing population growth"…

There is a creeping naivety among many commentators that all infrastructure spending enhances productivity and that more infrastructure spending, particularly in the context of very low interest rates and a slowing economy, is desirable.

This is notwithstanding some well-known instances of disastrous infrastructure projects. Remember the Adelaide to Darwin railway… What about the massively expensive National Broadband Network… And let's give a thought to Sydneysiders who have had to put up with the ongoing disruption of the light-rail project… We also can see the influence of politics in the federal government's groundless promotion of very-fast train links, another example of infrastructure spending.

All the evidence points to an inevitable outcome in which costs will vastly exceed benefits…

In the case of the federal government, there is an irony in this — its refusal to cap immigration underpins many of these projects. Population growth, particularly in Melbourne and Sydney, has created the need for infrastructure that we all must pay for while enduring the disruption…

First, the government must cap population growth by restricting immigration. Second, it must set up highly transparent processes for cost-benefit analyses involving different researchers making estimates for the same project.
Too right. Whatever infrastructure is delivered will be crush loaded before launch, will be pork, or be sold to rentiers for private taxation. It won't lift productivity, incomes or living standards. It will lower all three in the context of mass immigration and rampant corruption.
Let's not forget that we were here just two year ago, arguing exactly the same things. That's because relying on building to drive economic growth never lasts. It is the rate of change in the investment that matters so you always have to build more every single year to add to growth at all: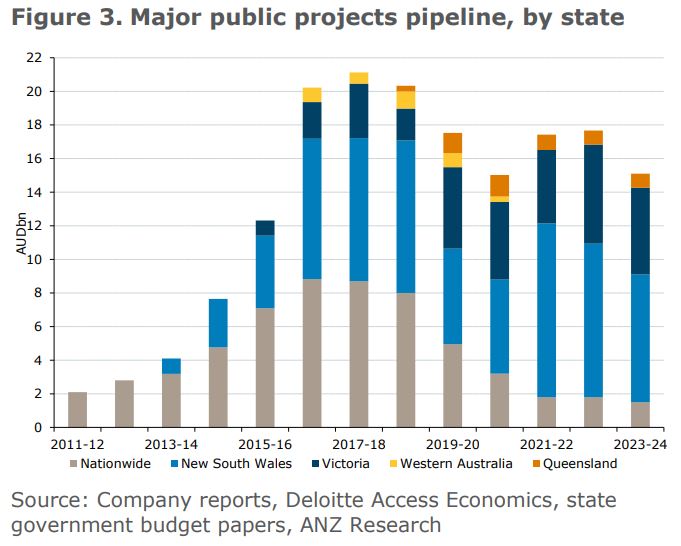 It's nearly impossible to keep the pipeline full enough. The failing Chinese model is the greatest living example, now building a new Europe every year and striding backwards into stagnation and debt.
As we crush load everything in sight with mass immigration, we have little choice but to keep the rat wheel spinning. But let's not pretend that it is anything other than a pointless running on the spot enriching nobody but a few growth lobbyists like Transurban.
The answer is as obvious today as it has been for years: cut immigration; boost innovation and competition; reform tax concessions; lower land prices; lower energy costs and lower the AUD.
Following the current path will further hollow out Australia's productive capacity, leading to much deeper stagnation as we force feed people and pointless building.
Leith van Onselen is Chief Economist at the MB Fund and MB Super. Leith has previously worked at the Australian Treasury, Victorian Treasury and Goldman Sachs.
Latest posts by Unconventional Economist (see all)