The Australian Bureau of Statistics (ABS) on Friday released its short-term arrivals and departures figures for May, which revealed that annual international student arrivals rose to 608,800 – up 34,100 (6%) over the year and the second highest arrivals in history: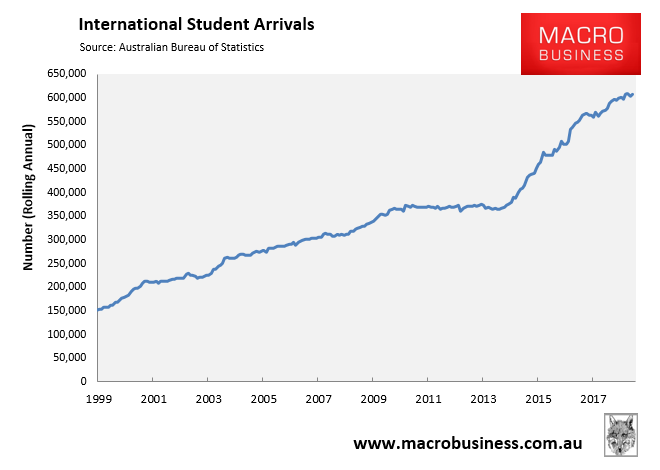 According to the Department of Home Affairs' latest "Student visa and Temporary Graduate visa program report", this rise in international students has been driven overwhelmingly by Indians and to a lesser extent students from Nepal.
As shown in the next table, the total number of international student visa applications granted rose by 10.2% in the second half of 2018, driven by a 53.5% surge from India and a 47.8% increase from Nepal:
Advertisement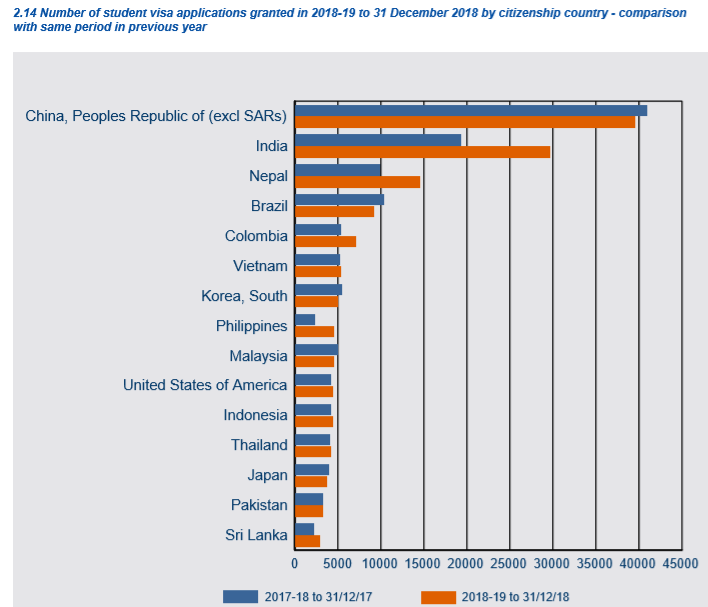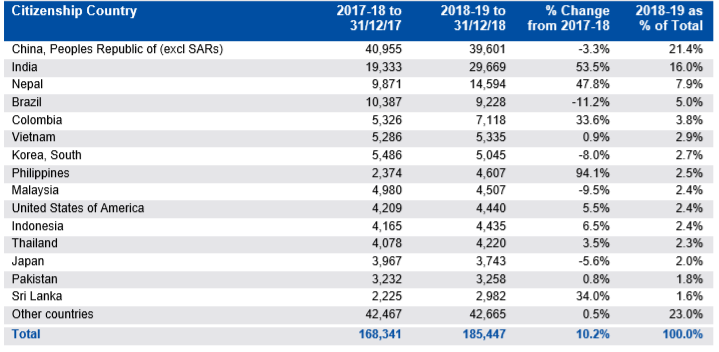 Moreover, the total number of Indian students in Australia is fast catching up with those from China:
Advertisement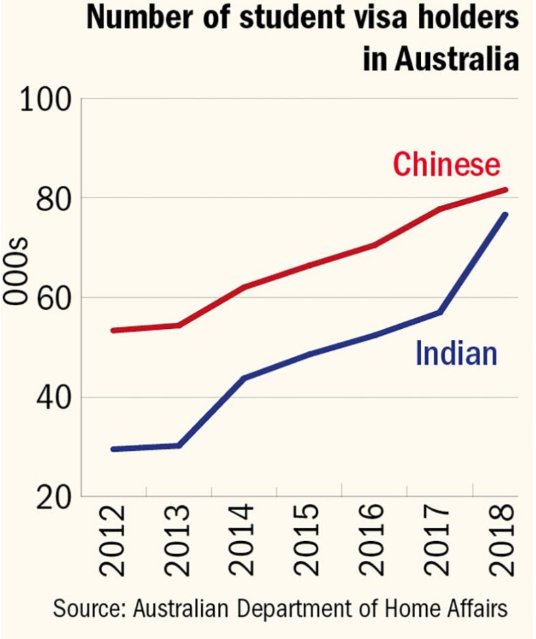 As at 31 December 2018, there were 433,624 student visa holders in Australia, with China in the lead at 81,592, followed closely by India (76,624) and then Nepal (49,737):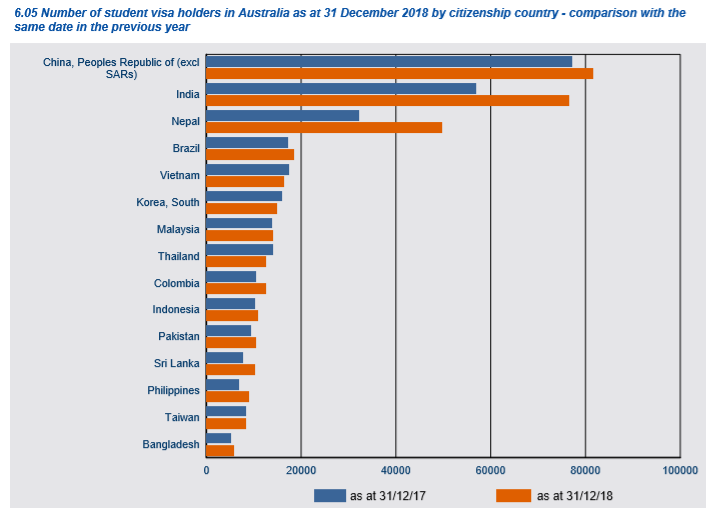 Advertisement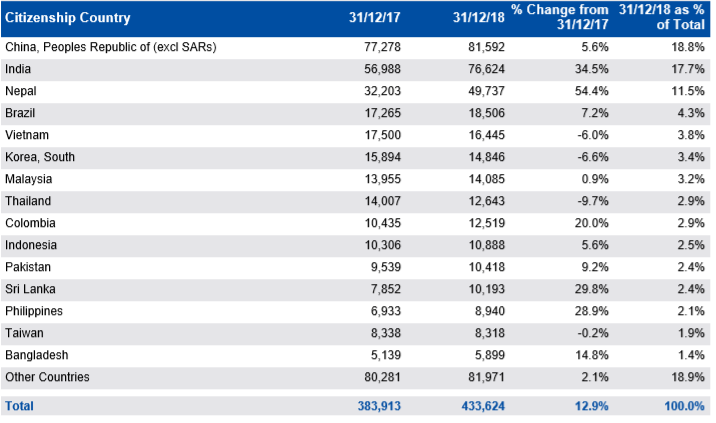 Finally, Indian international students are often perceived to study in Australia for the primary purpose of gaining backdoor permanent residency, as explained by Dr Bob Birrell from the Australian Population Research Institute:
Dr Bob Birrell said some interstate universities with "shopfronts" in Melbourne were ­offering cheap business and IT courses that provided minimum accreditation for a skilled visa application…

Dr Birrell said students who finished their degrees here could then apply for another student visa, the 485 visa, allowing them to stay and work in Australia for two more years.

"It has little to do with the excellence of the education that's offered here," he said. "It seems to be effectively selling access to jobs and ­permanent residence."
Advertisement
The visa data from the Department of Home Affairs supports this contention with Indians dominating Temporary Graduate (485) visas, which allows the applicant to remain in Australia for an additional 18 months to get prepared for a permanent visa under General Skilled Migration: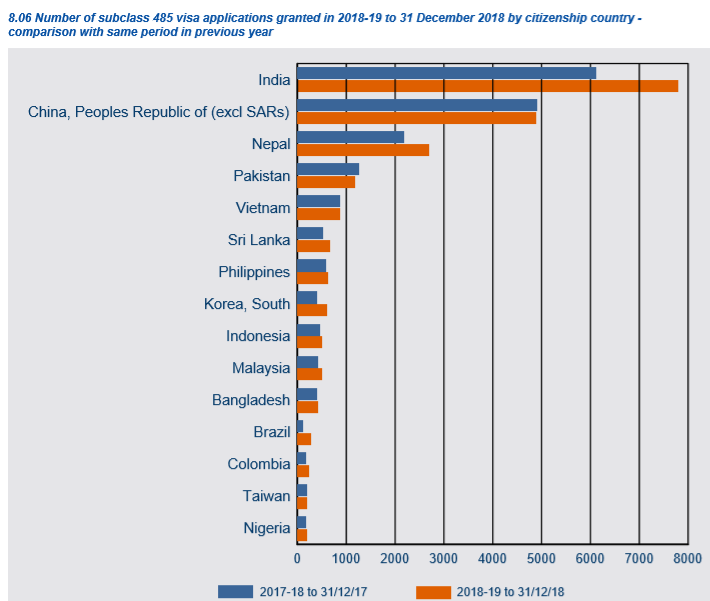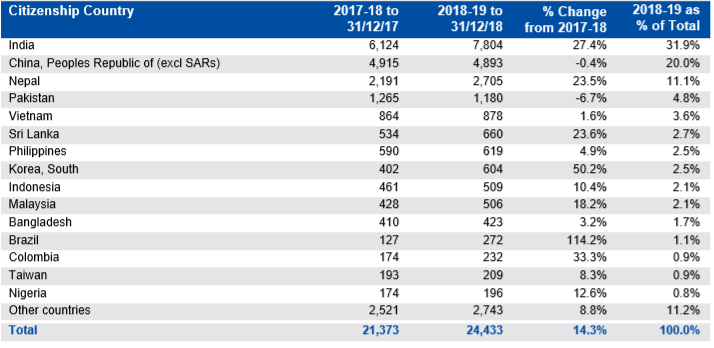 Advertisement
As you can see, Indian's accounted for just under one third of 485 visas granted in 2018-19, which comes after experiencing explosive growth of 27.4% from 2017-18. Nepal also experienced explosive growth of 23.5%; albeit from a smaller base.
Clearly, Australia's higher education sector has pivoted hard toward India and Nepal, which is reflected by the increasing concerns around degraded education standards and quality.