A jump in the number of high-risk student visa applications from India have driven lengthy delays in student visa processing across New Zealand:
The majority of offshore student visa applications received by Immigration NZ since November last year have been high risk. Since November 2018, only 16 percent of the 3800 visa offshore student applications were deemed to be low risk…

This assessment was made based on certain risk factors, including the potential for fraudulent documentation, future exploitation, and insufficient documentation to meet immigration instructions.

With the number of confirmed cases of fraudulent visa applications on the rise – up 88 percent last year – officials were scrutinising applications through phone interviews, independent verification of the documentation, and third-party checks, including security checks…

However, some education providers, particularly in the PTE [private training establishments] sub-sector, continued to focus on quantity over quality.

They did this by promoting low-level courses in non-skill shortage areas and in higher risk markets. PTEs and ITPs also carried out minimal vetting of prospective students, the briefing paper said…

Immigration New Zealand specifically singled out the northern states of India as being a high-risk market… In 2018, 47 percent of ITP applications and 62 percent of PTE applications came from one of these states, compared with just 14 percent of university applications.

Of the applications being processed by the Mumbai office on April 3, 76 percent were deemed high risk (a total of 2773) and 22 percent medium risk.
May's Four Corners expose on Australia's international student trade was particularly scathing of the quality of students coming from the Indian sub-continent, reporting widespread plagiarism, academic misconduct, and high failure rates.  The below email to colleagues from Murdoch University's Professor Benjamin Reilly highlights the issues:
"In semester one 2018 we experienced a surge in new international students into some postgraduate courses. This surge increased sharply in semester two 2018, with several hundred new students, mostly from the Punjab region of India, enrolling in a small number of postgraduate courses.

"While some were OK, many do not have the language skills to study at a postgraduate level and have thus been unable to participate in class or complete assessments for the units legitimately.

"Hence we now have a much larger number of academic misconduct issues, supplementary assessments and outright failures than we have previously experienced in the units in which this cohort has enrolled"…
Correspondence from Dr Duncan Farrow, a maths lecturer and academic misconduct investigator, similarly encapsulates the problems:
"Perhaps the most telling statistic of them all: 48 of the 80 students admitted to the MIT in semester one this year had at least one academic misconduct finding against them," he wrote.

"Not only was there a huge increase in numbers of misconduct cases but additionally the investigations were more difficult due to the poor language capabilities of many of the students involved.

"I have just reviewed the results for students from the Punjab region in BSC100 Building Blocks for Science Students and it is depressing. Of the 52 students in this category, 12 have passed the unit outright — a pass rate of less than 25 per cent.
Australia has also experienced a proliferation of "ghost schools" with limited staff and minimal student attendance, used mostly by Indian students in search of working rights and permanent residency:
Dr Bob Birrell said some interstate universities with "shopfronts" in Melbourne were ­offering cheap business and IT courses that provided minimum accreditation for a skilled visa application…

"It has little to do with the excellence of the education that's offered here," he said. "It seems to be effectively selling access to jobs and ­permanent residence."

Home Affairs Department figures show Indians are the biggest applicants of the 485 student visa, with the number granted to them rising from 10,015 in 2016-17 to 14,026 last year. Many Indian students afterwards apply for permanent residency, with more than 4000 given skilled independent visas onshore in 2016-17…
Indeed, across the ACT private colleges sprung up like mushrooms catering primarily to Indian students seeking permanent residency under the Territory's migration scheme:
"When the subclass 190 visa popped up, the students started streaming in," Min Gurung, marketing and sales manager from JP International College, in Mawson said. The college experienced an increase of 300-400 students in the past year, with many students moving to the ACT with their partners and young families…

Unity College in Belconnen experienced an almost two-fold increase in its student numbers to about 50…

Some operators of the colleges are reluctant to speak out, with one reporting his institution had about 100 students before July last year. In the past year, that number grew to about 300 students…

It's believed up to eight colleges have opened in the past year and more applications could be in the works…
Reflecting the above, the Department of Home Affairs' biannual student visa data shows that applications from India surged by 79.6% in 2H 2018 to 39,678: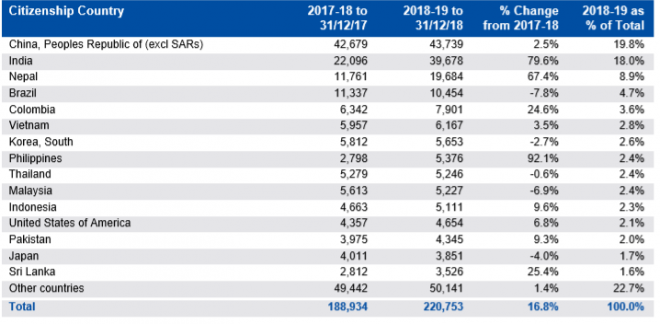 However, the number of visa applications granted was much lower at 29,669; albeit they were still up 53.5% in 2H 2018: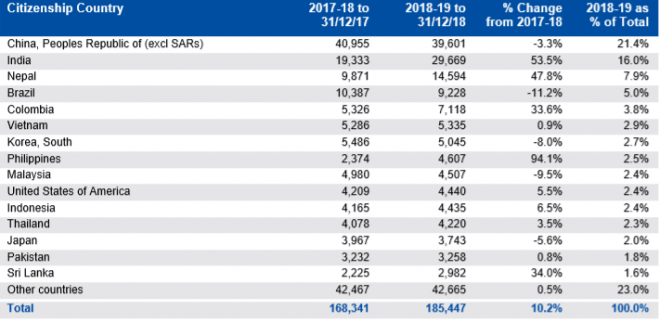 Accordingly, the proportion of Indian visa applications granted has plummeted, especially for those applying offshore where the grant rate is the lowest of all nations at 71.5% (i.e. 28.5% rejection rate):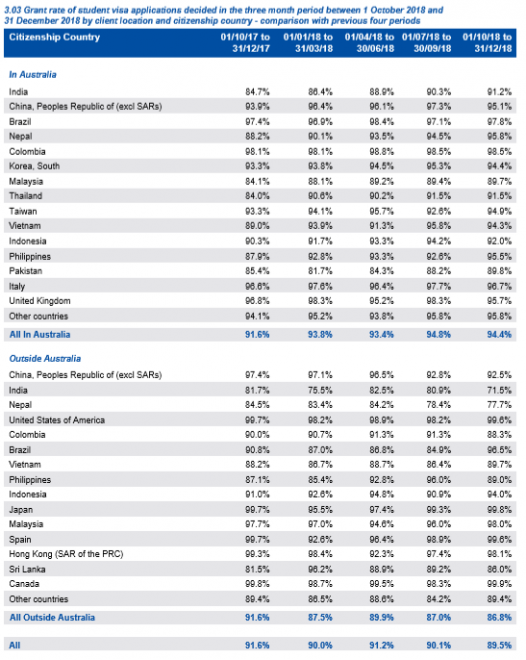 There is also a huge backlog of Indian student visas awaiting decisions, presumably delayed because they are high risk: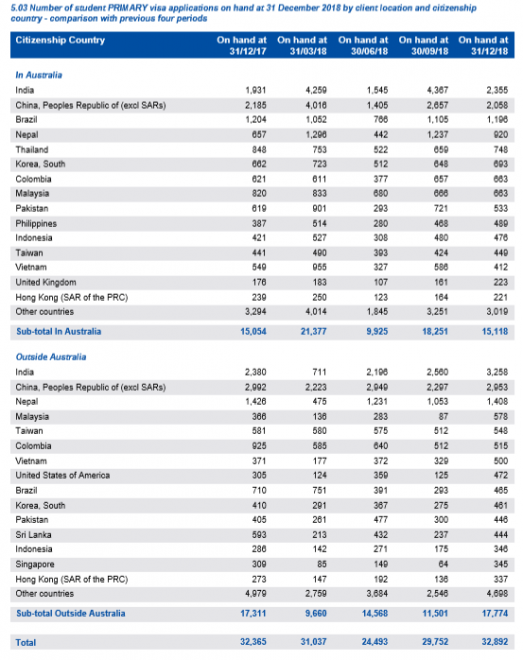 The aggressive growth in international students has already unambiguously lowered Australian university standards. And there is the clear and present danger that standards will be eroded even further by the influx of lower quality students from India, who are using the student visa system as a backdoor for gaining working rights and permanent residency.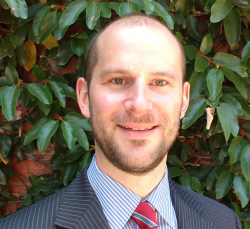 Latest posts by Leith van Onselen
(see all)