For several years, media outlets like The Australian ran a campaign against the so-called 'blowout' in welfare spending, backing claims made by the Coalition Government that nearly half of the population receives more in welfare than they pay in tax.
The 2019 Household Income and Labour Dynamics in Australia (HILDA) survey has demolished this myth, showing that welfare reliance for those at working age has actually fallen materially over the past 16 years:
Reliance on welfare remains a significant concern for policymakers in Australia…

Figures 3.8 and 3.9 respectively present cross-sectional estimates of welfare receipt and welfare reliance for 'working-age' people, defined here as people aged 18 to 64. In 2017, 30.6% of individuals aged 18 to 64 were living in a household that received income support at some stage of the financial year ending 30 June 2017. This is substantially lower than at the beginning of the HILDA Survey in 2001, when the corresponding figure was 38.5%…
Welfare reliance among over-65s has also fallen: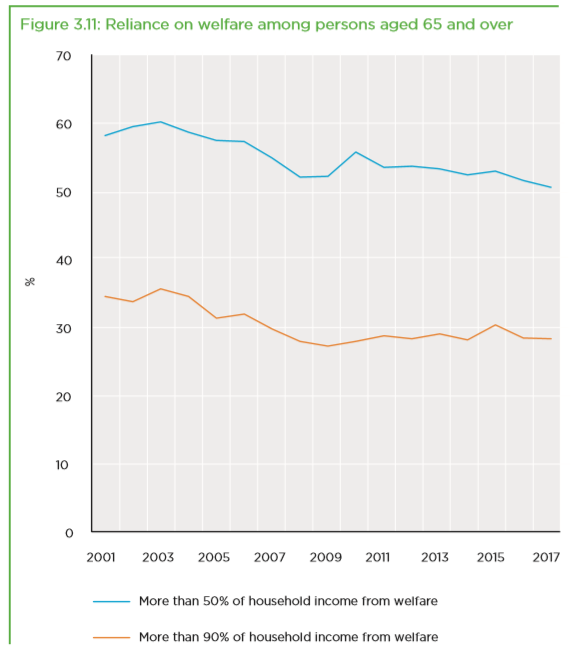 Another myth busted.
Leith van Onselen is Chief Economist at the MB Fund and MB Super. Leith is an economist and has previously worked at the Australian Treasury, Victorian Treasury and Goldman Sachs.
Latest posts by Unconventional Economist (see all)