by Chris Becker
We've seen Bitcoin crater in recent days, but the true fallout from the G20 trade war truce maybe the real Minsky Metal – gold.
Yesterday saw the biggest one day fall in over a year, nearly 2% to $1384USD an ounce after recently hitting a six year high before the summit, with a stronger USD following the lifting of tariff threats by Trump: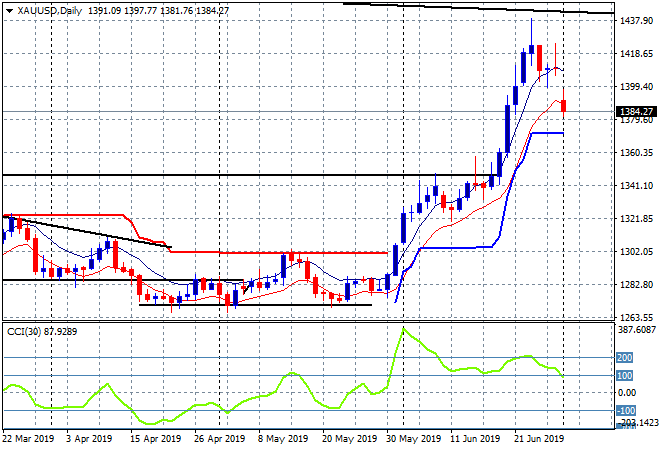 This was after a $100 plus rally that broke through a series of weekly highs stretching back to 2016, where speculators got ahead of themselves and tried to bid the shiny metal up to the multi-year downtrend line (upper right on the chart above).
Interestingly, the price move wasn't just a technical overbought reversion, as the biggest center for demand also saw real price falls, via Livemint:
Gold prices today fell sharply in India, mirroring a big decline in global prices. On MCX, gold futures for August delivery fell below the 

₹

34,000 per 10 gram, when they declined 1.2% to

₹

33,810. The October gold contracts on MCX also fell sharply but managed to hold on to 

₹

34,000 level. October gold futures contracts were down 1.2% at RS 34,026.

"We're quite positive toward gold, we think this abatement in the U.S. dollar strength and potential rate cuts in the near term will certainly continue to boost investment demand," said ANZ group analyst Daniel Hynes.

Michael Taylor, managing director of Moody's Investors Service, said: "Although the US-China agreement will likely partially relieve recent negative sentiment in the financial markets and support near-term growth, it stops short of removing existing tariffs. However, we expect China will continue to ease policy in an effort to offset the impact of the existing tariffs and that major central banks will maintain their bias towards more accommodative policy."
The key element here is monetary stability. Going into this week's non-farm payroll (US unemployment) which will set the agenda for the end of July Fed meeting, any consideration of further QE will play into gold's hands as the business cycle starts its inevitable end. This means a reversal for USD and hence the shadow greenback will shine again.
Of course, for Australian dollar holders, gold continues to shine and is probably still the better bet than shorting the Aussie dollar proper: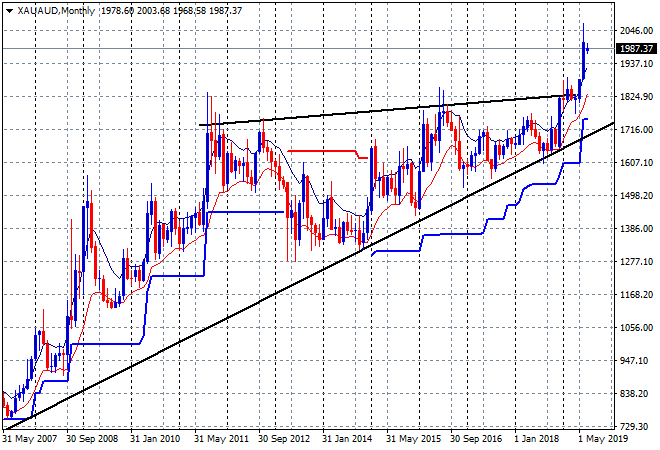 Latest posts by Chris Becker
(see all)