Via New Daily:
The federal government may soon announce further changes to the gas market, to ease the burden on consumers being stung by high energy costs.

Senator Rex Patrick has told The New Daily he has been negotiating with the government to further strengthen the neatly titled, Australian Domestic Gas Security Mechanism (ADGSM), amid ongoing uncertainty about the security of domestic gas supply.

In 2017, the Centre Alliance senator was instrumental in convincing the Turnbull government to introduce the ADGSM after forecasts of gas shortfalls in New South Wales, South Australia and Victoria.

The ADGSM is the regulatory tool the government can trigger to force gas producers to ensure enough supply for the domestic market.

Senator Patrick declined to reveal details of the undertakings he had secured from the government, but said senior ministers had been receptive, and there would be an announcement soon.

"The policies the Centre Alliance has discussed with government are designed to fix the market," he said in an emailed statement.

In a statement to The New Daily, Finance Minister Mathias Cormann said only the government was committed to bringing down the price of gas on the east coast and to boost the supply of gas into the domestic market.

"We will continue to work in good faith with non-government senators in relation to the policy issues they have raised with us," Senator Cormann said.

When asked about the likely response of gas companies to further pressure to ensure domestic supply, Senator Patrick said: "The gas companies are trying to fight this tooth and nail, they are pushing back …

"But they have limited input rights on this [issue] because these companies pay very little tax. Basically, to my mind, they operate without social licence, and so will have very few rights to have input into public policy.

"If they want to benefit from our education systems, from Medicare, from our security forces and the rule of law, they have to contribute something and right now they don't."

Vivek Dhar, a commodities specialist with the Commonwealth Bank, said the ADGSM had clearly been working as the previous forecasts of gas shortages had been alleviated, and prices had stabilised.

"In terms of the supply of gas, it is working," Mr Dhar said.

"But it doesn't try to control price. The question for the government is 'How far do you want to intervene in commodity markets?'"

And yet we're preparing to import gas

However, the development comes amid news that Australia may soon be importing natural gas, despite the country this week pipping Qatar as the world's largest exporter of LNG.

A handful of multinationals has proposed the building of five import gas terminals in Victoria, New South Wales and South Australia, to enable the importation of gas to plug the looming shortfall in the eastern states.

Australia currently has no import gas terminals, but two have been proposed in Victoria, two in NSW and one in South Australia.

One of those – a $250 million facility at Port Kembla in NSW – was approved by the state government in April.

Bruce Robertson, an investment analyst with the Institute for Energy Economics and Financial Analysis (IEEFA) said the east coast of Australia currently produced about three times more gas than it consumes.

But as most of this is exported, those states are facing potential gas shortfalls – and potentially higher prices.

Mr Robertson said if all five terminals were built, about 90 per cent of the eastern Australian gas market would be supplied by imports.

He said while some of that gas will come from Queensland, he also expected some to come from overseas, such as Japan or Korea, which in recent years had overestimated demand and over-committed to large forward contracts, and so were looking to offload the excess gas.

Senator Patrick told The New Daily it was a ludicrous situation that Australia was the world's largest exporter of LNG, but was facing potential shortfalls in domestic supply.

"If the Australian gas market was functioning properly, there would be no need for import terminals," Senator Patrick said.

"We have more gas than you can poke a stick at, but they [gas producers] choose to export it and keep the market tight.

"That's because their focus is to make money for shareholders. These are contracts these companies have entered into, and for their benefit they are exporting their gas and leaving Australia short and leaving us to pay more for gas."

"What's noteworthy is that 'somehow' there has not been a shortage of supply ever since – there's enough gas to at least meet the market demand, but it's still been kept tight," Senator Patrick said.
Let's get one thing straight. Japan and Korea don't have any gas to sell us. They import it mainly from…well…us: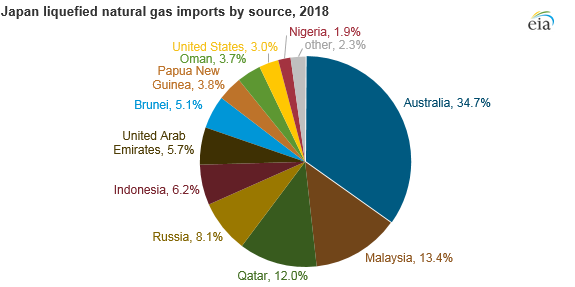 So, if they are going to sell us gas, they are only acting as a middle man in brokering gas from elsewhere while clipping the ticket. Given it will be cheapest to simply sell us our own gas, and fatten that ticket clipping, that is what they will do. They must be laughing their heads off at the morons Downunder.
Of course all of that ticket clipping means our own gas will come back to us at a considerably inflated prices via import terminals. After all, the cheap local stuff comes out of the ground for $1Gj and the putative importers are shopping contracts around for $11Gj, an 1100% mark-up on our own gas.
It's not hard to see why toughening domestic reservation will kill LNG imports. Indeed, it already is, with various import proposals finding ways to stall while this plays out.
Thankfully, it is now playing out via falling gas prices as the cartel with no social licence to operate shows that a little scrutiny and cojonies sends it scuttling into hiding. We saw the lowest spot prices in well over a year yesterday as a tougher ADGSM looms: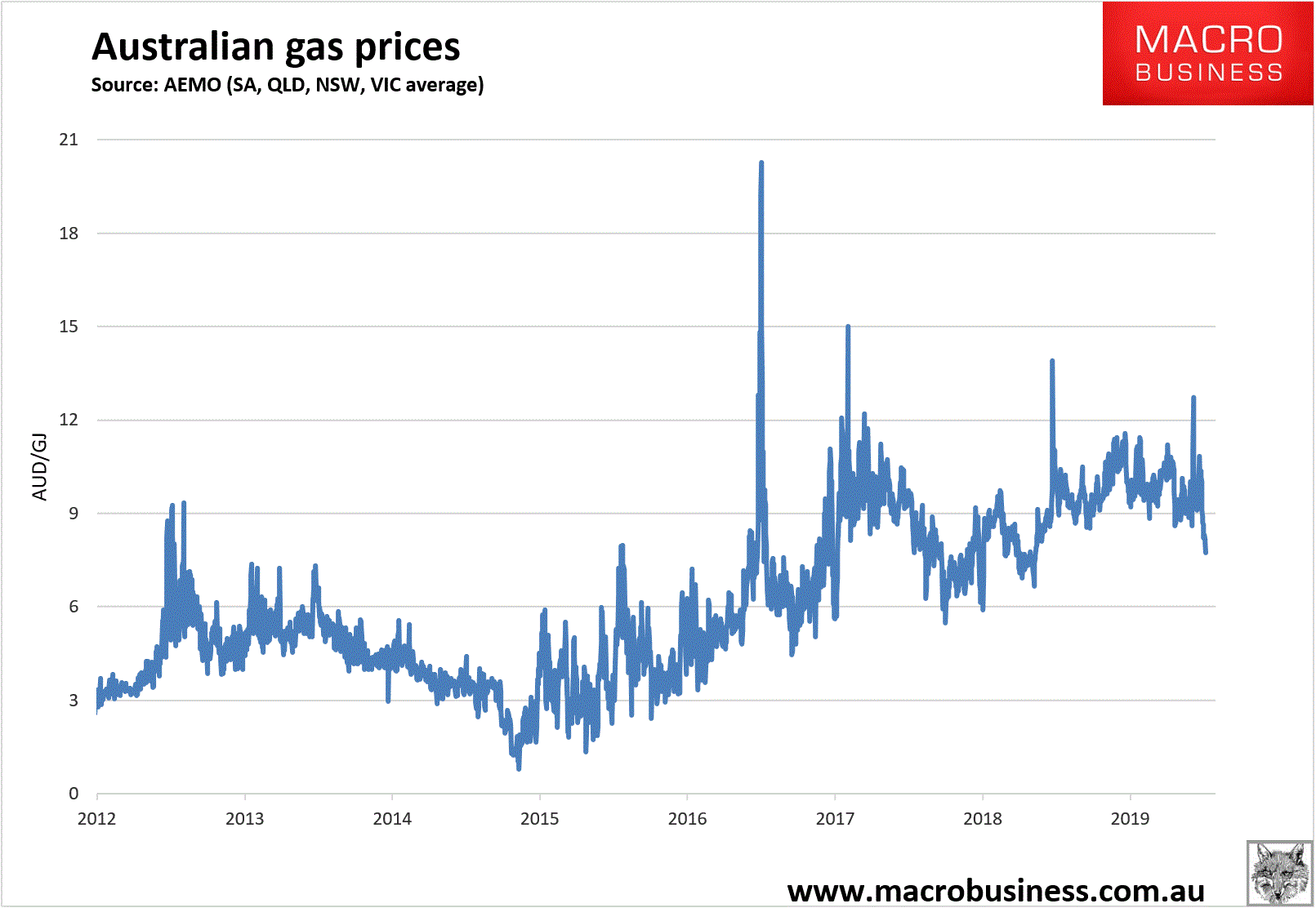 The real test will be contract prices which will also need to fall to $7Gj from their post-2015 average of $10-12Gj in the near future to prove that the ADGSM has finally whipped the cartel.
Make no mistake, it will need to be policed. The cartel is a coward that operates in the dark via quiet whispers and corruption. Only sunlight will keep it at bay.
David Llewellyn-Smith is Chief Strategist at the MB Fund and MB Super. David is the founding publisher and editor of MacroBusiness and was the founding publisher and global economy editor of The Diplomat, the Asia Pacific's leading geo-politics and economics portal.

He is also a former gold trader and economic commentator at The Sydney Morning Herald, The Age, the ABC and Business Spectator. He is the co-author of The Great Crash of 2008 with Ross Garnaut and was the editor of the second Garnaut Climate Change Review.
Latest posts by David Llewellyn-Smith (see all)