Deary me Matthew Stevens:
Queensland's gas exporters appear to have quietly anticipated the gathering post-election furore over their domestic market obligations by embracing market logic in pushing their uncontracted coal seam production into domestic markets.

While the politics of gas gets ever more confused by personal and party ambitions, the latest data assembled by independent analyst EnergyQuest shows that Queensland's liquid natural gas exporters are no longer sucking in gas from other states.

The numbers reveal that, through June, the Gladstone exporters were collectively fully self-sufficient and that they are now reliably feeding gas back into the other eastern states.
Well, gee, who could have know that not siphoning off third party gas would lead to lower prices? Aaaaand down it goes: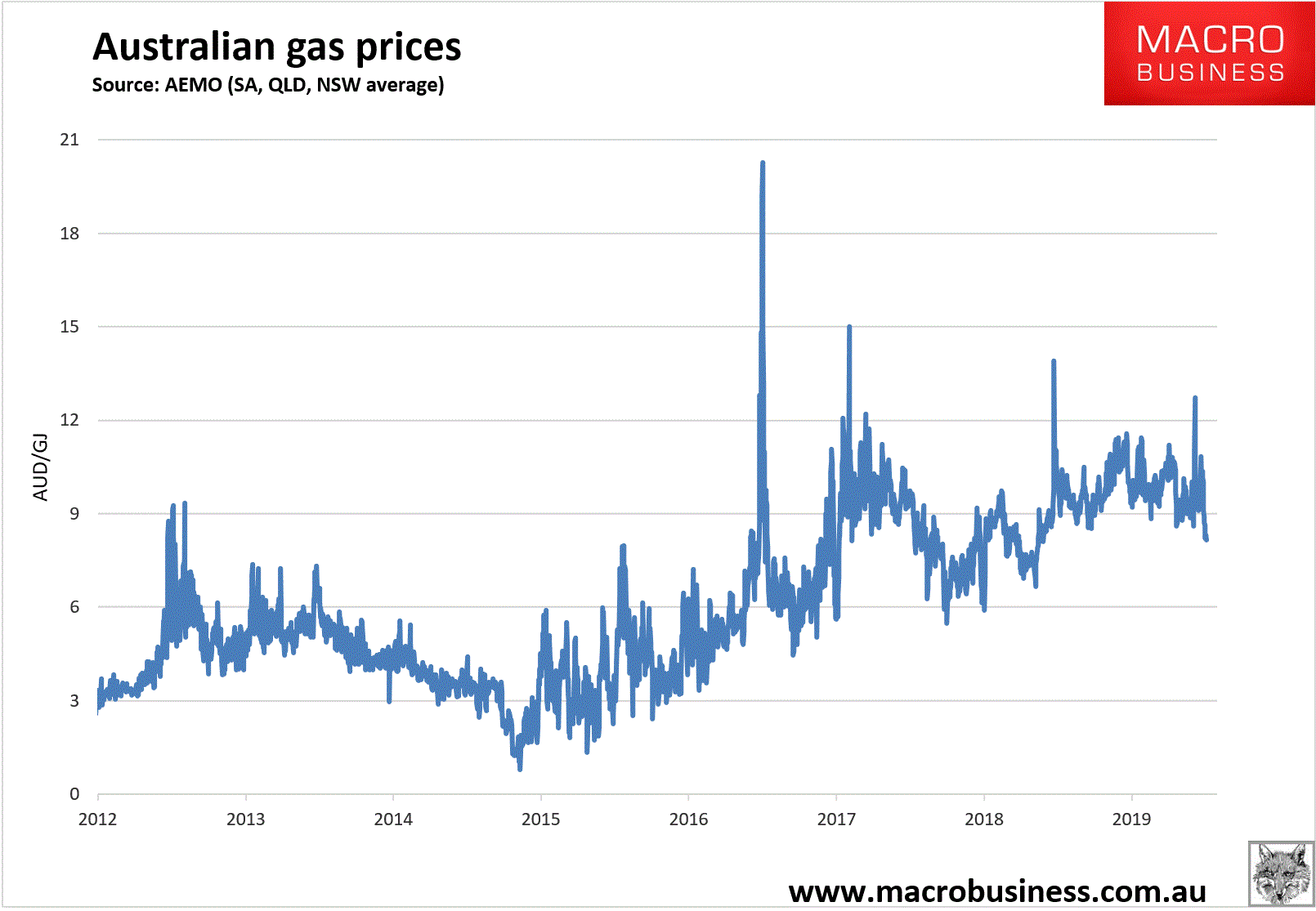 More from the AFR:
One of the great myths of the gas debate has been that east coast gas customers are paying more for Australian gas than do gas consumers in Japan. That is a nonsense sustained by innocence or deliberate misrepresentation.

The unavoidable fact is that the vast majority of Australian LNG tonnes that arrive in Tokyo are priced on terms that reflect the oil price rather than the spot price, so many rely on to sustain this argument. So, if your argument about an appropriate gas price is sustained by observations of export parity, then the reference price just has to be the contract rather than the spot price.
No, it doesn't. The ACCC uses the JKM spot price for its export net back benchmark. This is the basis of prices set in the Australian Domestic Gas Security Mechanism (ADGSM) agreed between the Turnbull Government and the gas cartel.  You can't just change the goal posts whenever you like. In Japan, right now, you can buy Aussie gas for $6Gj. Fact.
Besides, short term pricing is the future for LNG with it gobbling up contracts at a very impressive rate: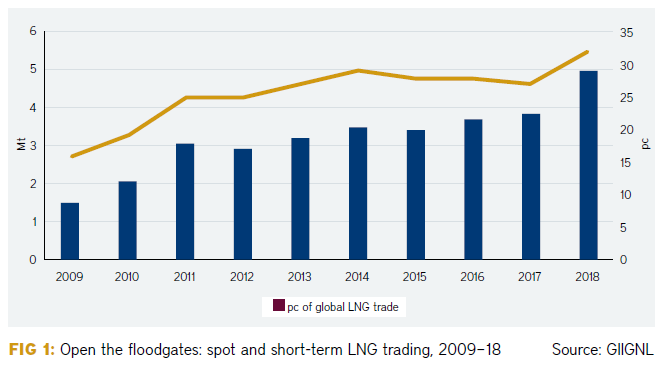 More from the AFR:
As MST Marquee gas analyst Mark Samter said in a recent note to clients:

"If manufacturing really is important to Australia then there is absolutely no doubt whatsoever that the lowest cost option to the economy is to just provide a government subsidy to those C&I (commercial and industrial) customers who truly need it.

"That might not make for good politics, but it avoids blowing up an upstream industry that is ~2.5 per cent of GDP and employs a lot of people too, it avoids the sovereign risk of intervening after astronomical amounts of capital has already been sunk poorly and it ensures that imports can co-exist and at least ensure sufficient liquidity of supply to never see true gas shortages occur.

"All this for what is probably A$200-300m pa [per annum] feels far more sensible than hitting the nuclear button."
The biggest problem is not manufacturing (though that is large). It is the role of gas in setting power prices for everybody. Not to mention the near total carbon policy meltdown that has resulted directly from those gas price driven price rises. It was supposed to be our "transitional fuel" as coal retired remember.
And let's not forget that this is the same Mark Samter that led the debate on gas reservation before joining MST. And I quote:
■ Our preferred option is to reclaim the third-party gas currently being exported: Aside from the Horizon contract between GLNG and Santos, there was no evidence in the EIS or FID presentations that more non-indigenous gas was required. As such, one could argue reclaiming what has only been signed due to a scope failure, is equitable. Including the Horizon contract GLNG will be exporting >160PJa of third-party gas in the later part of this decade. Whilst we get less disclosure these days, BG previously said that after an initial 10–20% in the early days (now gone) QCLNG would use ~5% third party gas – 20–25PJa. APLNG is self-sufficient, but as can be seen the other third party gas would get extremely close to balancing the market. Clearly these things are far better done by mutual agreement from all parties, rather than a political mandate.

■ GLNG loses but can all be compensated? We estimate that, at a US$65/bbl oil price, GLNG as an entity would lose US$447m p.a. of FCF if they could no longer toll third party volumes. Interestingly, if Kogas and Petronas could recontract their offtake on a slope of 12x (doable in the current LNG market) then their losses as an equity partner are all offset (not equally between the two albeit). Santos would see ~50% of its US$134mn net GLNG loss offset if the Horizon contract could move up to a slope of 8x from 6x. The clear loser would be Total. We wonder whether cheap government debt, a la NAIF, could be provided at the (new, lower volume) project level or even to take/fund an equity stake in it? In reality all parties (domestic buyers included) have some culpability in the situation, so a sharing of pain does not seem unreasonable 02 March 2017 Australia and NZ Market daily 31

■ If these contracts were then all diverted domestically, at US$65/bbl oil, they should deliver gas at Wallumbilla at $7.50 gj. This is highly competitive gas in the current environment we think and should certainly not be considered unreasonable by domestic buyers.
And so it is proving to be as the cartel farts out propaganda to cover its retreat to a $7Gj gas price that was always possible over the long term, thanks to Centre Alliance.
David Llewellyn-Smith is Chief Strategist at the MB Fund and MB Super. David is the founding publisher and editor of MacroBusiness and was the founding publisher and global economy editor of The Diplomat, the Asia Pacific's leading geo-politics and economics portal.

He is also a former gold trader and economic commentator at The Sydney Morning Herald, The Age, the ABC and Business Spectator. He is the co-author of The Great Crash of 2008 with Ross Garnaut and was the editor of the second Garnaut Climate Change Review.
Latest posts by David Llewellyn-Smith (see all)