Via Reneweconomy:
You don't get to see this very often – when the spot price of electricity on all the state-based grids in Australia's main wholesale market hit zero at the very same time.

The incident, captured in this screen shot of the Australian Energy Market Operator's data page by Macquarie Capital's Brian Morris and posted on his LinkedIn account, occurred at 1.15pm on Sunday.

This was when cloudless skies and good breezes – combined with low demand – pushed the share of renewables to more than 43 per cent. At the time of the zero pricing, wind was providing 12.3 per cent of supply in the National Electricity Market, while the combination of rooftop solar and utility-scale solar was providing 22.5 per cent. (Graph at top, courtesy of OpenNem.org).

About half an hour earlier, the total output from renewable energy was 9931.64MW , or around 44 per cent – well ahead of total black coal 9014.85MW and nearly three times the output of brown coal 3426.06MW. This looked like a major milestone but in fact is not the first time renewables have nudged out black coal – it did it in April.

The zero pricing reflected just one 5 minute dispatch period, so the actual settlement price for that half-hour period (based on the average of the six dispatches) was not zero – it was $6.44 per megawatt hour in Queensland, $7/MWh in NSW, $6/MWh in Victoria, and $5.39/MWh in South Australia.
The Australian has more:
The trend also reflects a profound shift in the grid as cheaper solar and wind challenges the long-term role of coal and gas in the power mix. Australia's big coal stations, responsible for 70 per cent of overall generation, have typically run around the clock. However, with solar now at times outbidding the fossil fuel on price during the day, coal plant owners like Origin Energy and AGL Energy are weighing shutting down units after meeting morning demand and firing them back up to meet evening peaks. "It is very unusual for the midday but represents a glimpse of the new normal coming our way in two years' time once all the renewable energy projects under construction reach completion," Green Energy Markets director Tristan Edis told The Australian. Some $25bn of large-scale renewable energy projects are under way or expected to start construction soon, according to Clean Energy Council data, further challenging the prospects of the country's coal fleet.
Which will eventually shut down as the price of generation plus storage falls below that of coal. On our numbers we're just about there already.
In the meantime, we rely on gas to generate the peaking power that is needed when the renewables grid goes the other way when the wind doesn't blow and the sun doesn't shine. Only gas can be turned on off quickly and is dispatchable.
Thankfully the gas price also continues to fall as the tougher ADGSM approaches, yesterday hitting a new 15 month low at $7.73Gj: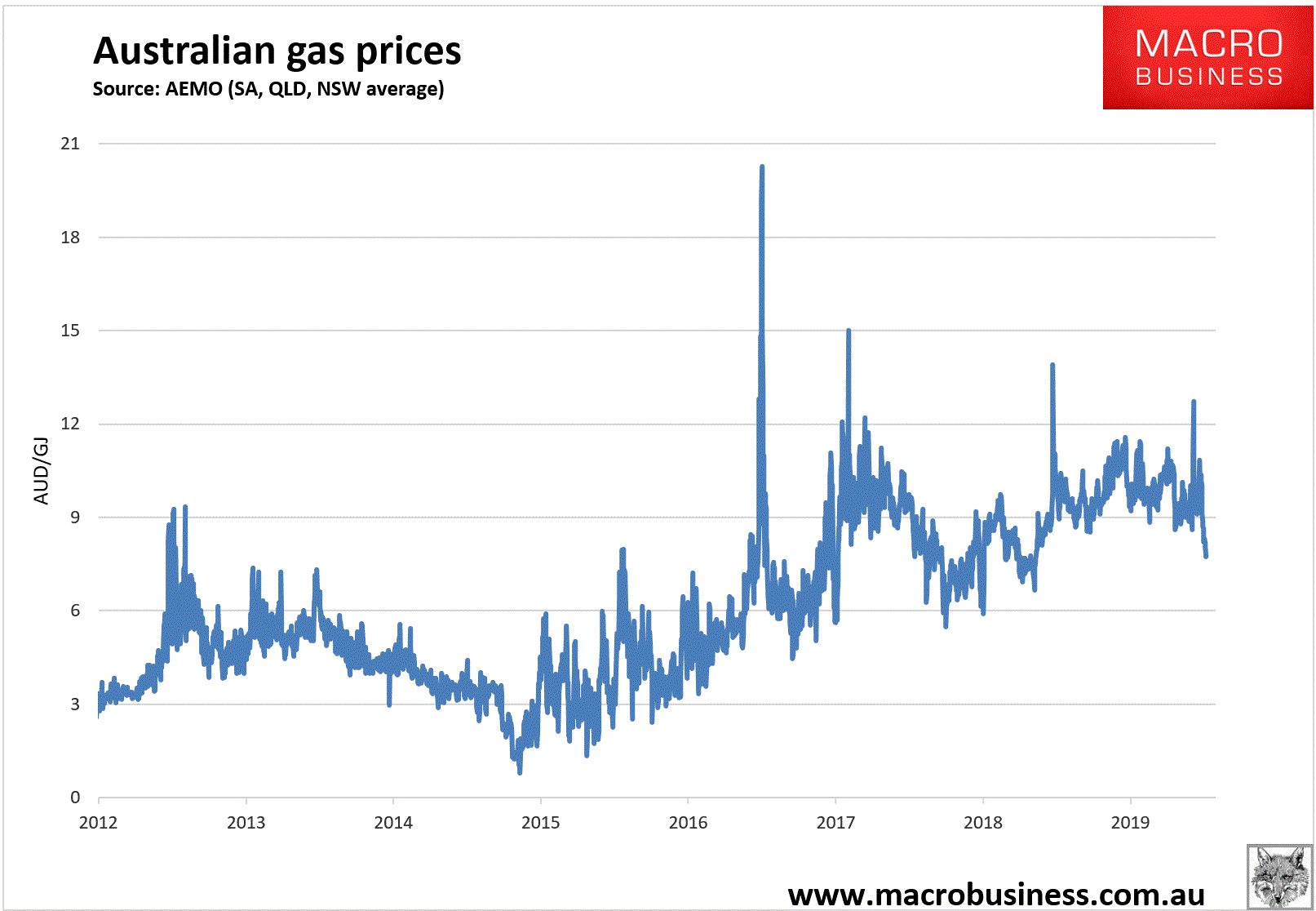 Fingers crossed, Australia may be through the worst of its energy crisis, at the AFR:
Ms Zembrodt pointed to the forward curve for wholesale prices, which, while still signalling elevated prices for the coming summer, shows a steep decline through the rest of 2020 and 2021.

The futures market signals a 22 per cent drop in baseload strip prices in Victoria between 2020 and 2021, to $87.78/MWh, while Queensland prices fall 13 per cent to $63.30/MWh.

Still, she and others in the sector are expecting increasingly violent price swings as more renewable energy enters the market, with more instances when ample wind and solar power push prices down towards zero on days of low demand, and potentially more spikes in prices when low winds coincide with peak consumption.
But not as bad so long as the gas price is contained below $7Gj. However, note that even if we hit these lower prices, both gas and power will still be double historical norms.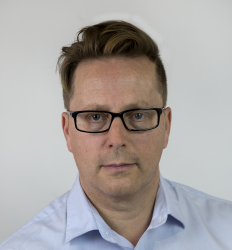 Latest posts by David Llewellyn-Smith
(see all)