Back in 2005, my little magazine, The Diplomat, asked Peter Costello how Australia would reconcile China's dictatorial government with our growing economic dependence. He replied it was not an issue because China's liberalising economy would ultimately liberalise its political system. 
I'm not sure if he believed it. It was convenient for everyone to believe at the time. Just as it was fed by Chinese propaganda that its rise was peaceful and beneficial to all.
Now that those illusions have passed like rain on the mountainside, it is time for the violent rise (or fall) of China. On multiple fronts.
First, geopolitical, via Domain:
Australia has warned a Chinese base in Cambodia would upend peace and stability in the region, as the superpower moves to use debt-laden developing nations to expand its military footprint.

The apparent discovery by US intelligence services of a secret deal to station Chinese troops, store weapons and berth warships at the Ream Naval Base has alarmed the Morrison government, which has raised its concerns directly with Cambodia amid growing fears over Beijing's reach into South East Asia and the Pacific.

A military base on the Gulf of Thailand would give China more ability to assert contested territorial claims and economic interests in the South China Sea, and cement suspicions that it is using a wave of multi-billion dollar infrastructure projects to have more control over the waters to Australia's north.
It is a much more violent move than that, if true. This is effective containment of Thailand, a formal US allie. It places enormous pressure on Singapore where the US uses various military facilities. Plus it adds seriously contestability to all of South East Asia's islands including the vital Malacca Straights.
China already sends naval ships to Australia with impunity to spy on our military and to pressure us when it feels like it. Any base in Camboida will intensify this gunboat diplomacy significantly.
The second increasingly violent dimension of the Chinese state is domestic security, via Al Jazeera:
A mob of thugs dressed in white shirts wielding sticks and metal rods stormed into a Hong Kong subway station and indiscriminately beat passengers and black-clad protesters.

The unprecedented attack on Sunday night follows seven weeks of mass demonstrations that have stoked fears the Chinese territory is spiralling out of control.

While police fired rubber bullets and tear gas at protesters on Hong Kong Island, suspected triad gangsters descended on a subway station in a northwest territory closer to mainland China, apparently targeting participants from the protests and sending passengers screaming into cars and hallways.

At least 45 people were injured, including a pro-democracy legislator and journalists. By Monday night, police arrested six men in connection with the attacks.

Sunday assaults mark a dark turn in a movement where radicalism has become the new norm as the government descends deeper into political crisis.

What's next? That's the question everyone is asking. Nobody seems to know, but as action escalates and the government refuses to stand down on the anti-extradition bill and address protest demands, there is little sign of demonstrations coming to an end.

"The Hong Kong situation appears to be deteriorating further," says Lo. "The radicalisation of the protest movement, the criminalisation of the anti-protest movement, and now the police are increasingly becoming a political sandwich among all those competing political forces. The situation is quite critical."

And of course, there is always the looming question of Chinese intervention, and observers often draw quick parallels to the 1989 Tiananmen Square massacre.

"A very specific, also very worrying, historical parallel is that People's Daily has been using terms to denigrate the Hong Kong protests that are very similar to those the same paper used to denigrate the Beijing protests of 1989 – before declaring a state of martial law," says history professor Jeffrey Wasserstrom of the University of California, Irvine, citing several historical echoes in protest and repression in 20th century China, his area of expertise.

"Of course Beijing is not the Red Cross. If they want to crack down on us, I wouldn't be surprised," says Emily Lau, former chairwoman of Hong Kong's Democratic Party.

"Hong Kong is not Tiananmen Square. There is a lot hanging on Hong Kong's place as an international business centre. Hong Kong has taken decades to build up. Why would you want to destroy a city in days?"
Not to mention 1.5 million deemed internal dissidents on the mainland now imprisoned for re-education and organ harvesting. This is roughly the same size as the USSR's gulag system at its very height.
The third dimension of violence is economic. You would be quite right if you reckoned that the above is not very good for the Chinese economy. All of this violence saps the reform agenda of opening up and liberalising, which is what China needs to do to shift its economy into a new growth phase.
The development model of using debt-charged building to accelerate growth has left the nation's balance sheet in a woeful state. We can see this today in the Baoshang Bank takeover and ripples of counterparty risk shaking the financial system.
If China were to undergo either more aggressive military adventures abroad or another Tienanmen Square at home, that would further cut it off from the liberalising path into greater global economic integration just as the trade war has begun to shove it out of same.
The response has been as predictable as it is short sighted. To violently force grow the old economy by endless aisles of empty apartments via debt: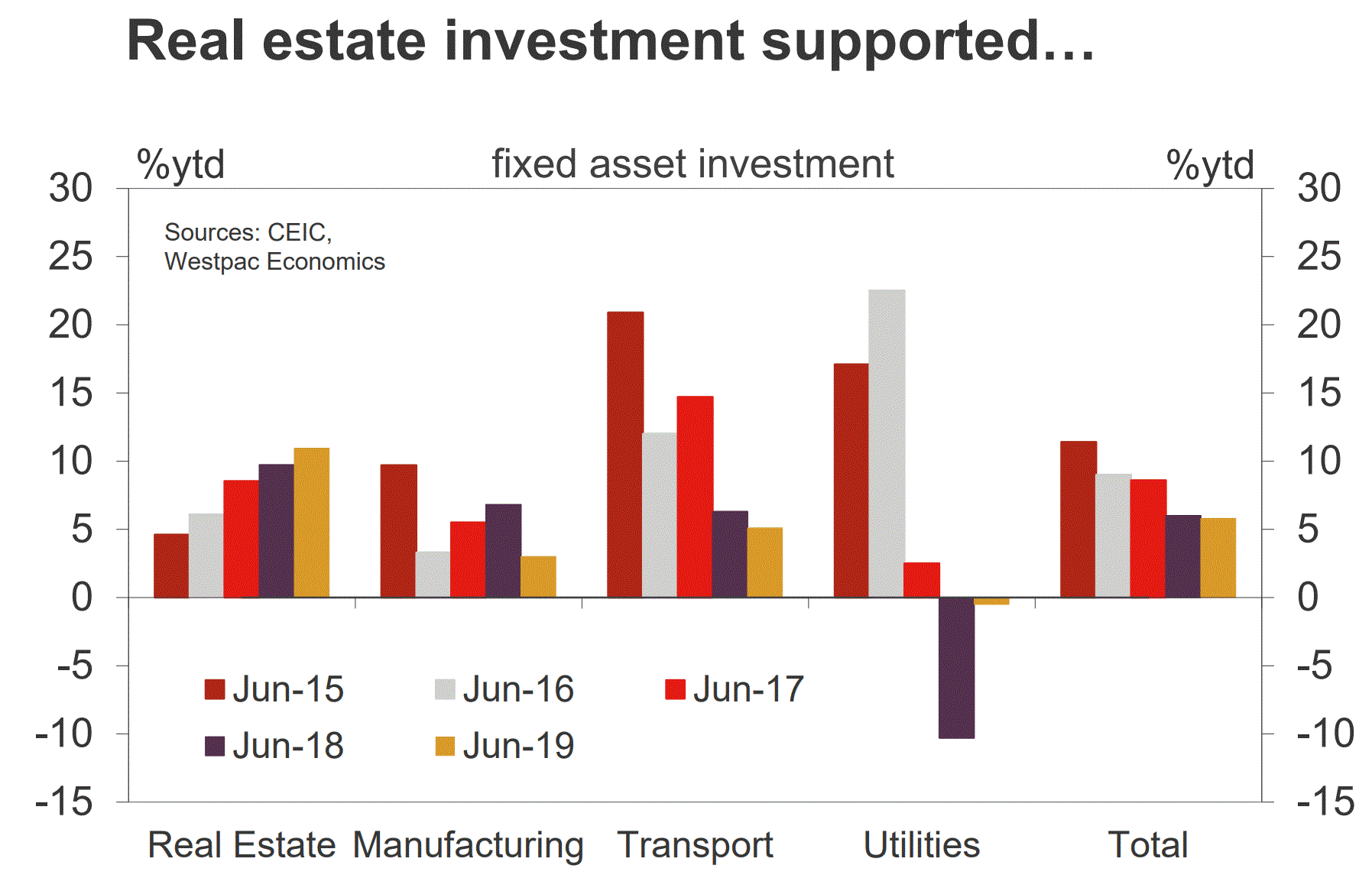 Driving levels of construction now double the footprint that we saw in 2011 when China warned its own growth model was unsustainable: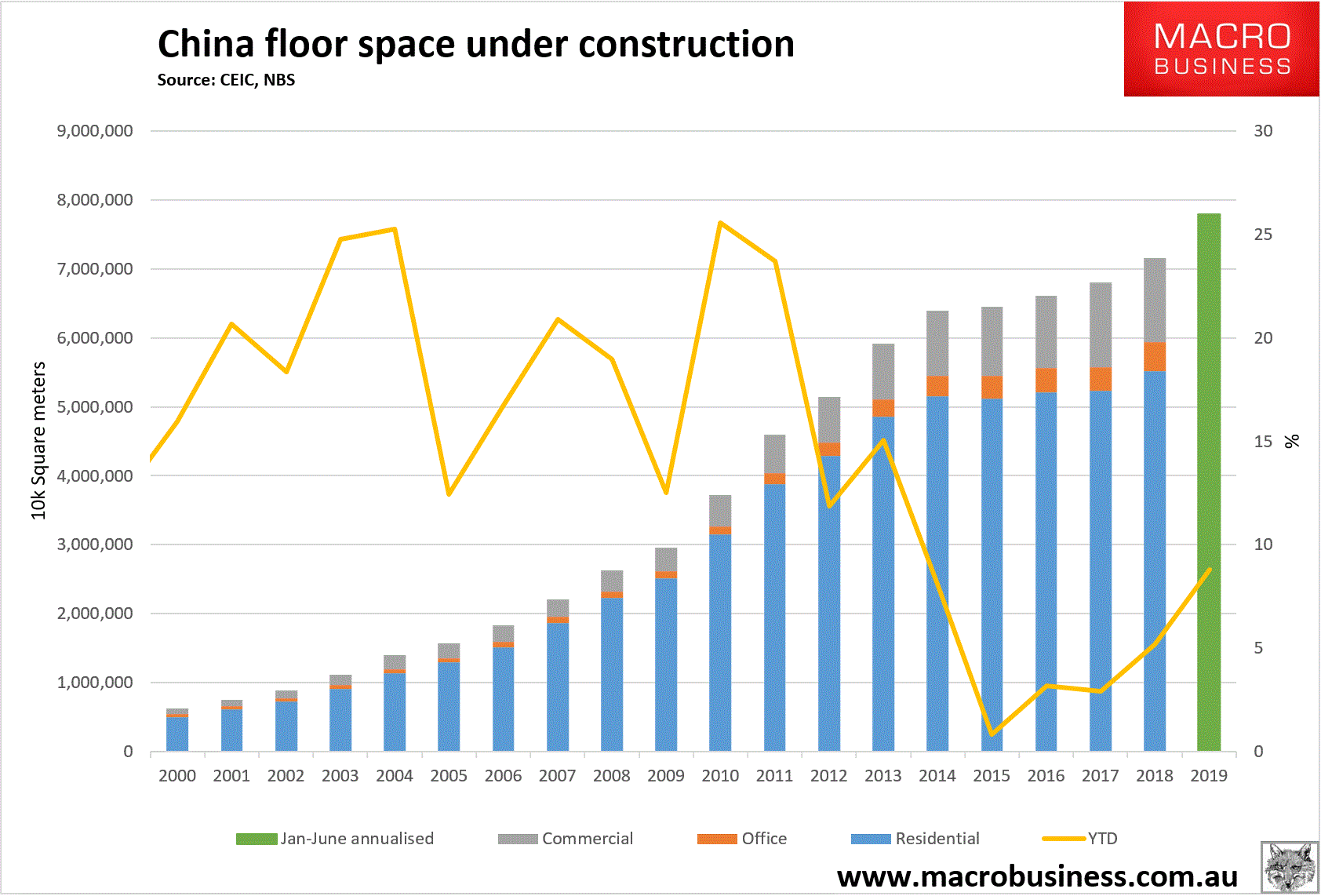 The fourth feature of China's violent rise is personal. It is now arresting and imprisoning Western business people and intellectuals willy nilly and using them as bargaining chips for nationalist gains. Via the CSM:
For years Jeff Ball, the president of a 20,000-cattle beef production company in southern Alberta, has been pushing their high-end Wagyu brand into China, visiting often to set up a network of distributors on the ground.

Those trips have come to an abrupt end, however, after a diplomatic spat between Canada and China has made a market that once seemed the most viable alternative to the United States much more fraught. The arrests of two Canadian men in China shortly after Huawei Chief Financial Officer Meng Wanzhou was arrested in Vancouver, British Columbia, in December are widely perceived here as a form of "hostage diplomacy." And they have altered the paths of Canadian farmers, ranchers, businesspeople, and professors.

"I decided to stop going there. It's not worth it," Mr. Ball says. "You just don't know what local law enforcement would do.=

The arrest of Ms. Meng on an extradition request by the U.S. has generated an angry response from Beijing directed squarely at Canada. But the targeting of other foreign nationals, whether on drug charges or with "exit bans" that the U.S. State Department has cautioned its travelers about, has many worried that China is engaging in a new form of aggressive diplomacy, one that goes against international law and diplomatic practice as it vies for superpower status.

While "hostage diplomacy" itself is not the general norm, it could fit into a larger pattern of asymmetrical responses that China is employing to test the limits of the Western alliance, says John Hemmings, director of the Asia Studies Centre at the Henry Jackson Society think tank in the United Kingdom. "I think the long-term strategy is to begin to weaken the bonds between the U.S. and its allies," he says.
Australia recently joined the ranks of those held hostage, via the ABC:
Family and friends of detained Australian citizen Yang Hengjun say Chinese authorities look set to charge him with endangering state security.

Dr Yang, 54, has been detained in a Beijing state security prison for six months without access to his lawyers or family, but has recently been moved to a different facility.

His Chinese wife, Yuan Xiaoliang, travelled to Beijing and was served a formal notice of charges, one day ahead of a six-month deadline to either charge Dr Yang, release him or extend his detention.

Authorities said he was being investigated for endangering state security, but declined to comment on details of the case.
All of China's rise is turning violent. It is classic imperial overreach and will end in the Chinese economy stagnating permanently, capping its rise, and trapping it a declining and increasingly hostile feedback loop.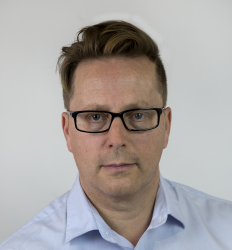 Latest posts by David Llewellyn-Smith
(see all)