The AFR has published an interesting report on how developer Geocon is driving a high-rise construction boom across Canberra:
While many developers across the country, facing lacklustre demand for apartments during the housing downturn, have scaled back their construction pipeline, Geocon is continuing full steam ahead.

Since, its inception 10 years ago, Geocon has delivered 1460 apartments to the Canberra market, and now has triple that number – another 4,300 units – in the pipeline…

At the end of 2018, there were about 7400 apartments and units under construction across Canberra with another 1200 awaiting commencement, according to Shane Garrett, chief economist for Master Builders Australia…

"In fact while some of the housing market across Australia struggled in 2018, Canberra actually started [to build] more new homes than any year on record," Mr Garrett said.
The ABS' approvals data backs this report. As shown in the next chart, Canberra's high-rise boom is unprecedented: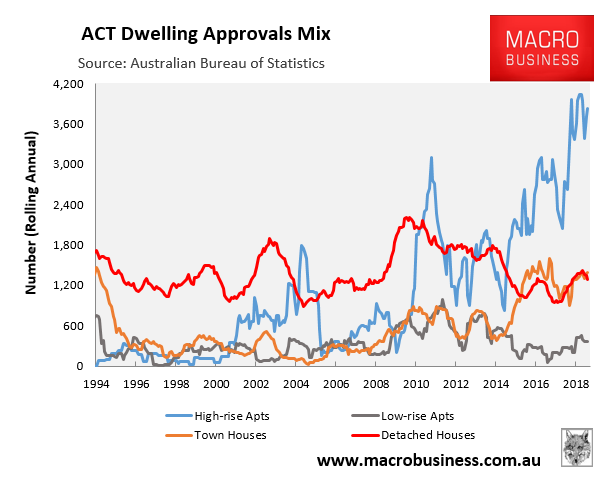 Let's hope the apartments being built are better quality than the junk built across the East Coast.
Leith van Onselen is Chief Economist at the MB Fund and MB Super. Leith is an economist and has previously worked at the Australian Treasury, Victorian Treasury and Goldman Sachs.
Latest posts by Unconventional Economist (see all)