They'll be rooned, says News:
Setting aside the fact that just 160,000 members of the Conservative party will ultimately decide who will secure Britain's exit from the EU, the new leader will find themselves in much the same position as that which forced Theresa May to quit.

The conundrum is this: Theresa May negotiated a withdrawal agreement with the EU in the first stage of Brexit negotiations. Parliament has rejected that deal three times. It has also rejected leaving the EU with no deal, and having no Brexit altogether.

The EU has said it will not reopen the withdrawal agreement for further negotiation. Both Mr Hunt and Mr Johnson have claimed they will be able to make this happen, but whether it is true remains to be seen.

The root of the problem is the Conservatives don't have a parliamentary majority after Theresa May made the ultimately disastrous gamble to call a snap election in 2017.

At the time, she formed a government on the basis of a confidence and supply deal with Northern Ireland's DUP. However that deal has been effectively smashed by an impasse over the Northern Ireland "backstop" — the key sticking point of May's deal with the EU.

Defections to other parties and the absolute fault line Brexit has carved through traditional parties means Conservatives have no hope of a majority they can rely on to ratify a Brexit deal. May's attempts at a cross-party deal with Labour also ended in disaster earlier this year.

That leaves the option of a general election, and the risk of handing more seats to Nigel Farage's Brexit Party or Labour, or a second referendum which both Mr Hunt and Mr Johnson have ruled out.

Therefore, it's back to no deal, which has been blocked by parliament and will likely face a legal challenge in the courts. Mr Johnson and Mr Hunt have said they don't want no deal, but refuse to rule it out as a negotiating tactic.

Did we mention MPs will take from 25 July to 3 September off for a summer break? After that it will be 8 weeks until the proposed deadline of 31 October, Halloween, for Brexit.

UK in a Changing Europe director, Anand Menon told news.com.au "it's very, very hard to see how a new prime minister could achieve anything the old prime minister couldn't."

He said while Mr Johnson is "massively unpredictable" he's unlikely to call a general election quickly, but the high stakes game of threatening a no deal has the fundamental flaw in that it would not have such severe consequences for the EU.

"That sort of game of chicken works if the stakes are equal for both people," he said. "The fact of the matter is, the EU recognise that no deal will hurt the UK far worse than the EU as a whole. 'Give me what I want or I will shoot myself in the foot' isn't that compelling as a negotiating strategy."
It's working pretty well right now! It's kept the GBP under pressure for years: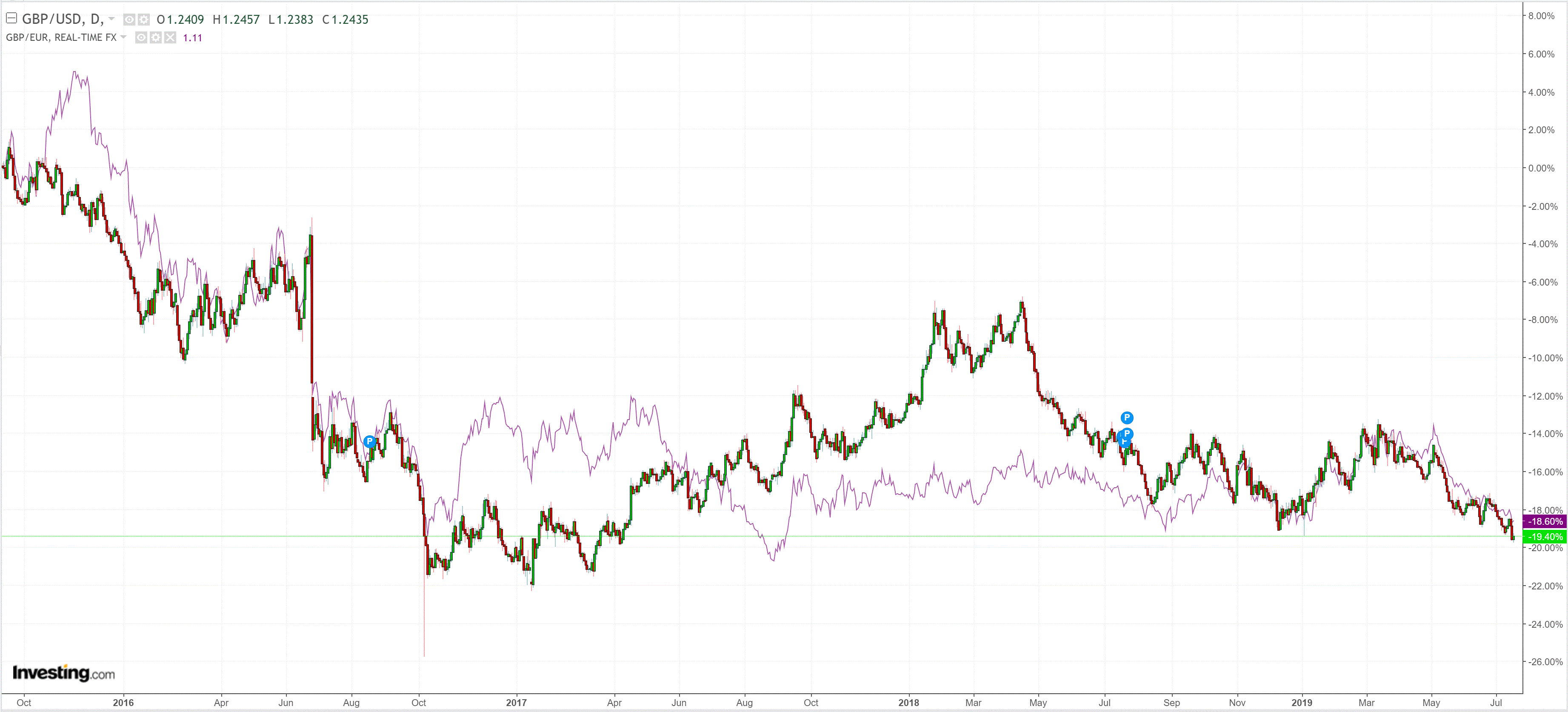 That's helped drive unemployment to 45 year lows: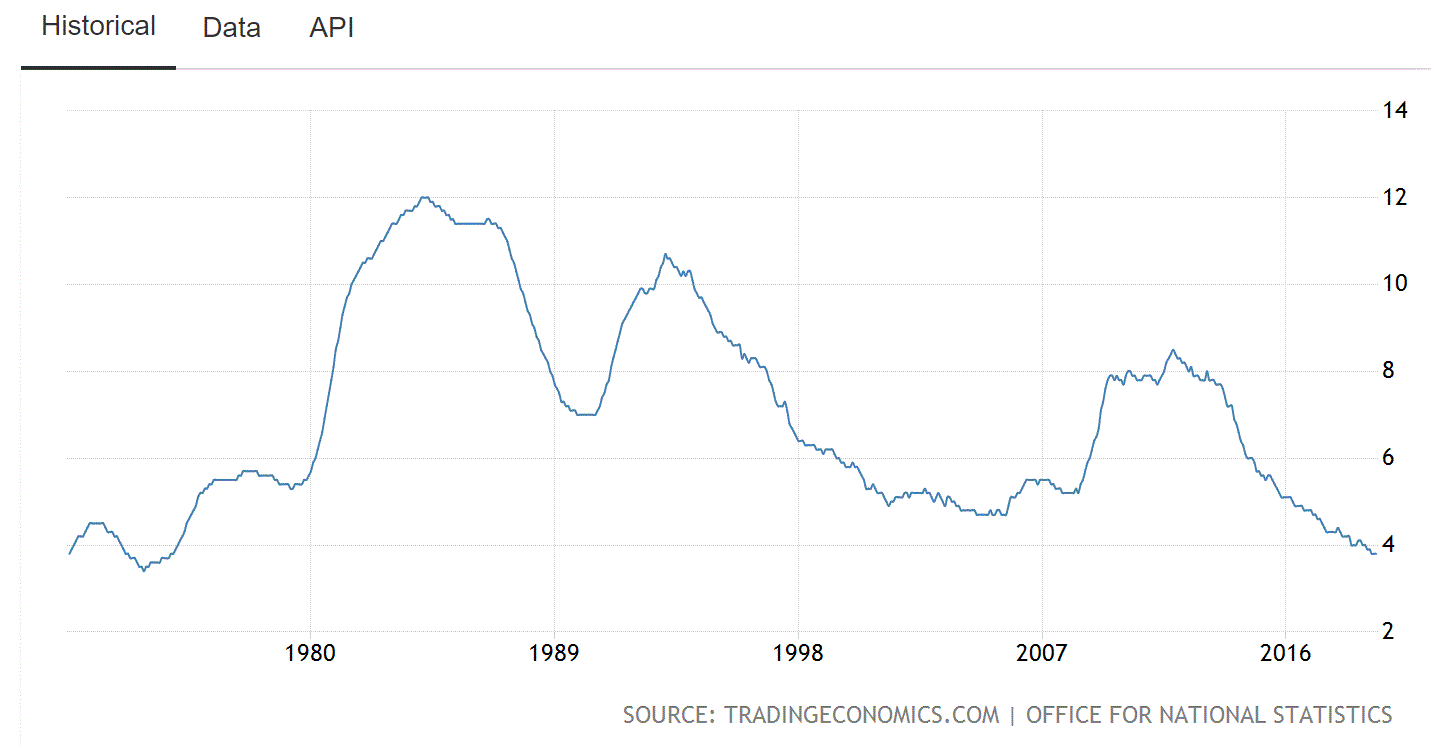 Underemployment has improved significantly, the complete opposite to Davosian Australia: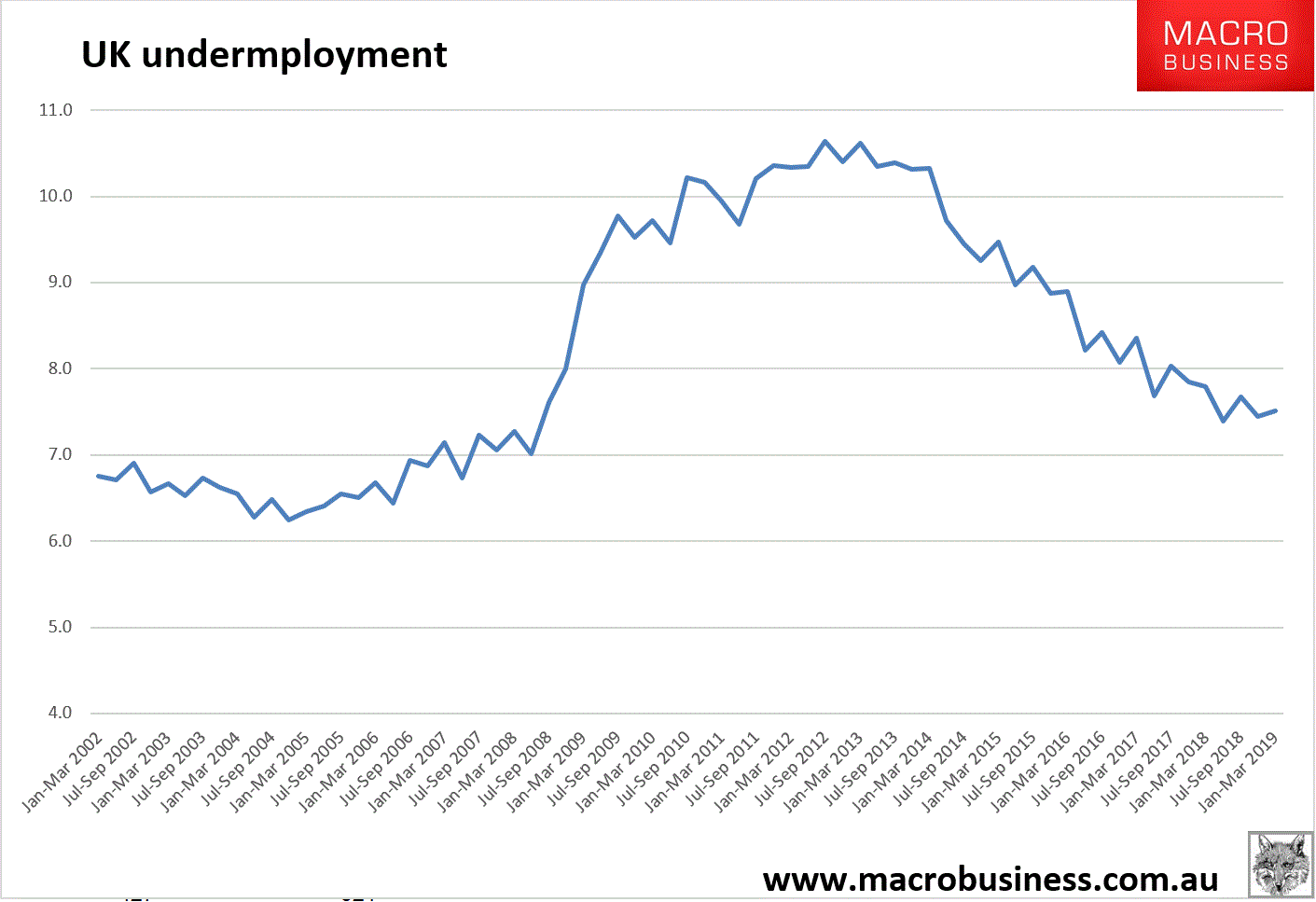 Wages are booming and inflation contained, via the BBC:
Wage growth in the UK accelerated to 3.6% in the year to May 2019, the highest rate since 2008, according to Office for National Statistics figures.

Wages have been outpacing inflation since March 2018.

A record high of 32.75 million people were in employment up to the end of May, while 1.29 million were out of work, the lowest since at least 1992.

"The labour market continues to be strong," said ONS deputy head of labour market statistics Matt Hughes.

"The number of self-employed part-timers has passed one and a half million for the first time, well over double what it was 25 years ago," he added.

"Regular pay is growing at its fastest for nearly 11 years in cash terms, and its quickest for over three years after taking account of inflation."
Even productivity is off the floor, via the FT:
Silvana Tenreyro, an external member of the BoE's monetary policy committee, said in a speech in Glasgow that fluctuations in output per hour had masked an uptick in productivity since 2014, leaving the UK economy with excess capacity and mitigating the need for further interest rate rises.

"Smoothing through some of the volatility, there is some evidence of a mildly improving trend emerging," Ms Tenreyo said, adding that according to BoE calculations, annual productivity growth had picked up from 0.4 per cent between 2010 and 2014 to 0.6 per cent in the next four years to 2018.

"Moreover, early estimates of [output] (and therefore productivity) are typically revised up over time," she said, pointing out that Bank of England economists believed revised statistics would show that the trend in productivity growth increased to 0.8 per cent per year between 2014 and 2018.

Productivity growth has been the missing piece of the UK's economic recovery since the 2008 financial crisis: it has been blamed for low wage growth and, until recently, slow growth in tax receipts.
As we know, the magic tonic has been Brexit immigration cuts: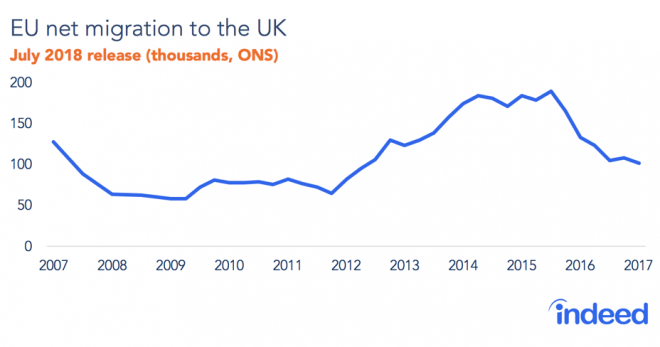 The decline in EU immigration into the UK in the wake of the Brexit Turmoil has proven to be a massive boon for workers, with unemployment falling to the lowest level since the 1970s:
Average wages are rising at the fastest rate in a decade and employment has reached a record high in the UK, according to official figures released today…

The Office for National Statistics (ONS) said total earnings were up 3.5%, including bonuses, despite expectations the labour market would be suffering more from the UK's looming departure from the European Union.

Figures released by the ONS also show employment has soared to its joint highest level since records began at 76.1% of the working-age population. The official unemployment rate has dipped to 3.9%, the lowest since the mid-1970s…

Matt Hughes of the ONS said: "The jobs market remains robust, with the number of people in work continuing to grow. The increase over the past year is all coming from full-timers, both employees and the self-employed"…
Meanwhile, with the UK's unemployment rate cratering, and wages rising, employers have lashed-out at the government for stemming the flow of EU migrant workers:
"A tight labour market represents yet another headache for small business owners," the FSB said yesterday.

"One in five small UK employers rely on staff from the EU. The sharp drop in European arrivals is a real concern for many smaller firms."

The Recruitment & Employment Confederation also piped up – "our surveys show that firms are still experiencing shortages of key staff. This is a big risk to future growth" – while the British Chambers of Commerce bemoaned "the perennial skills shortages plaguing UK businesses"…
That has also stopped house prices in their tracks:

Annual GDP is roughly the same as Australia's: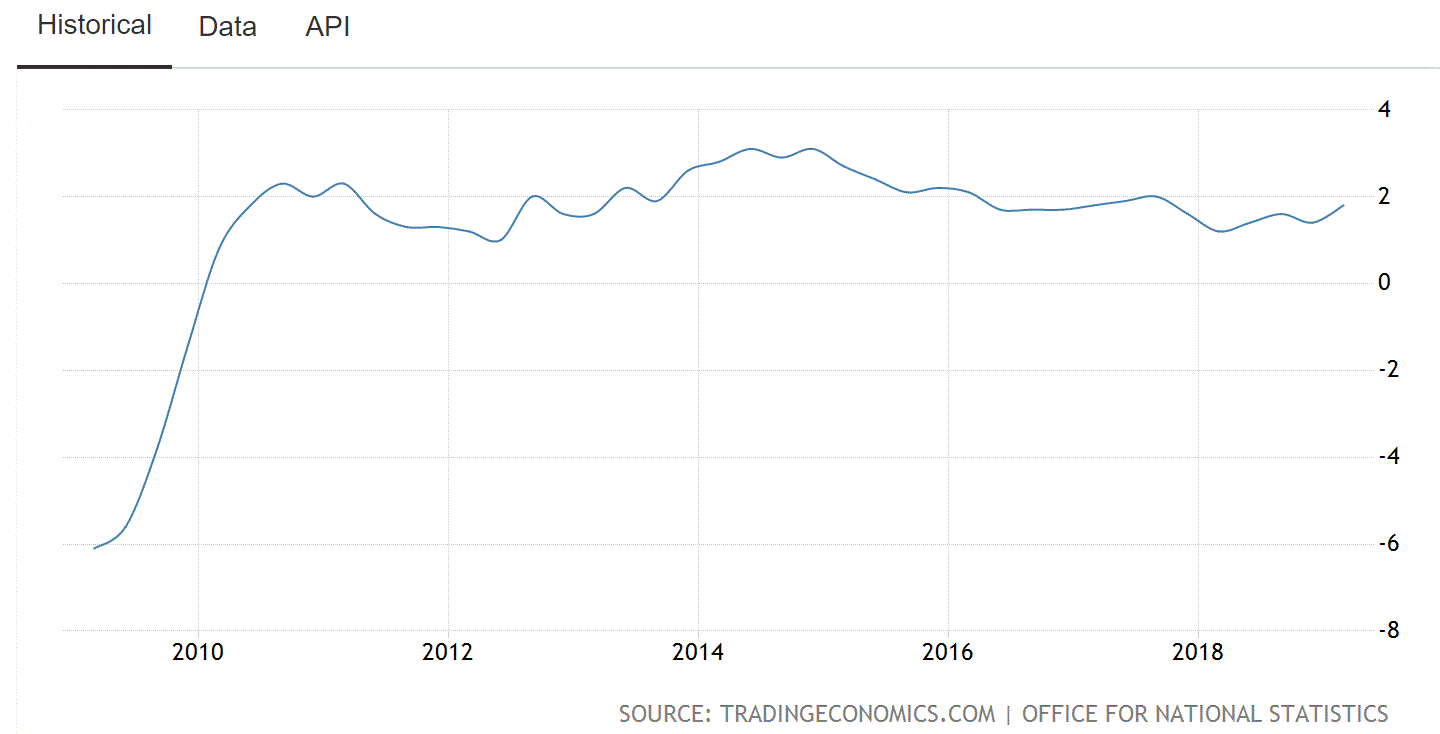 But contrary to Australian falls, GDP per capita has been growing at a decent clip: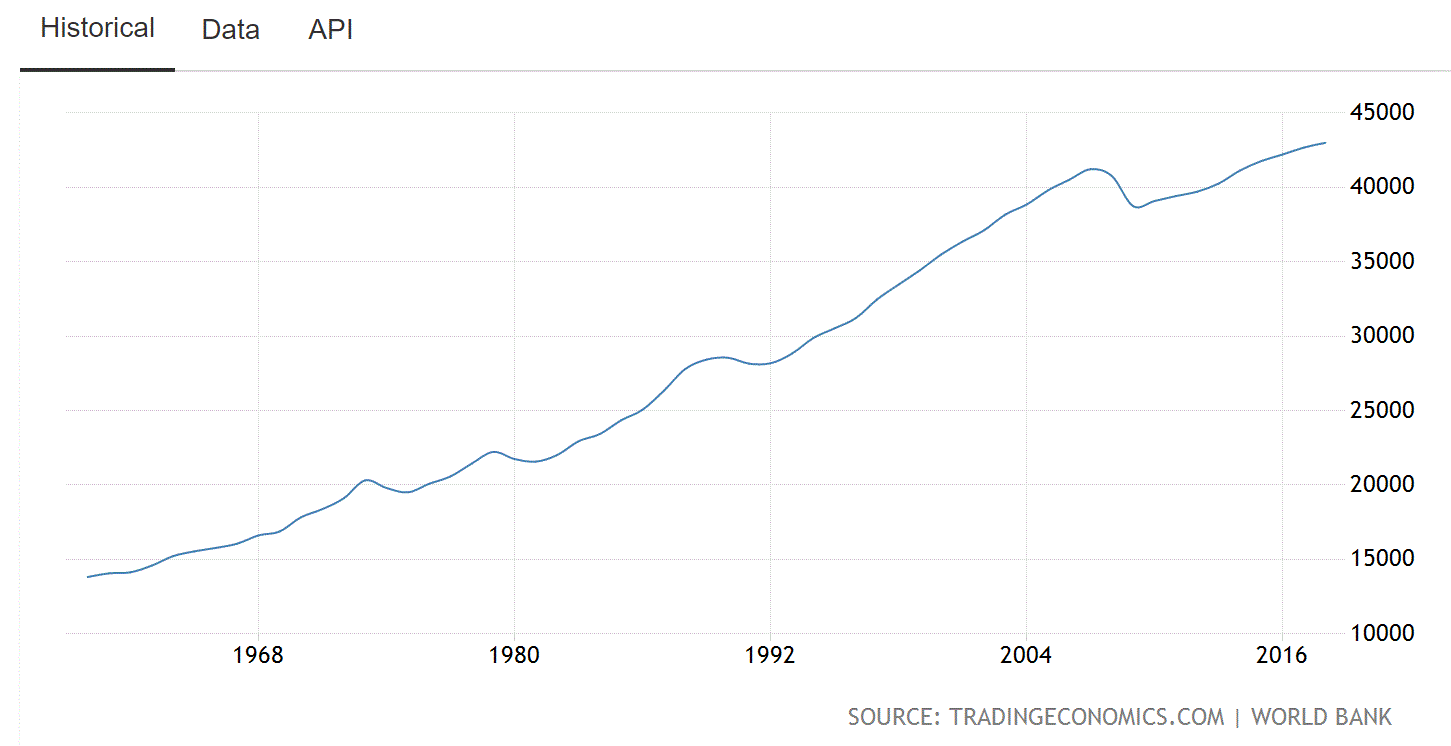 Decent GDP. Low unemployment (3.8%). Strong wages growth (3.6%). Low and steady inflation (2%). Crashing currency. Roaring competitiveness. Rising productivity and living standards. Stalled house prices offering future generations a leg up. What's not to like?
Sure, leading indicators are softening with the rest of the world but the UK is holding up much better than the rest of Europe. If it does drop out in a no deal Brexit there'll be a shock and probable recession, along with everywhere else, but it will be brief and the crashing GBP restore this little golden age for working people pretty quickly.
Brussels will look on in horror as Rome looks on with interest. Canberra should also take note (but won't).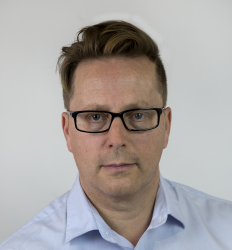 Latest posts by Houses and Holes
(see all)