Bloxo is back with a suggestion, via the AFR:
Having cut its cash rate to a record low of 1 per cent recently, the Reserve Bank of Australia (RBA) is rapidly running out of room to provide further support for growth…forcing the central bank to use unconventional policy tools, such as quantitative easing, at a time when the government is running budget surpluses, would be a truly strange policy mix.

After all, among the many lessons from Australia's long boom has been that having an independent central bank, within the constraints of an agreed mandate (the 2-3 per cent inflation target), has been a key institutional framework that has helped to reduce the volatility of the economic cycle…policymakers could consider setting up an independent fiscal authority.

One example that may offer lessons could be Chile's copper stabilisation fund, given the big role that commodities also play in driving Australian government tax revenues.
Not a bad idea in principle. Especially if it were to work counter-cyclically in both directions in conjunction with a mining super profits tax, just as the Chile's sovereign wealth fund does, gathering in revenues when the boom is on as well.
Oh well.
But there is one issue with it nicely illustrated by Bloxo himself. The Fiscal Bank of Australia (FBA) would still need to able to forecast accurately to deploy within its mandate. The RBA and Bloxo's issue is that neither was able to forecast their way out of wet paper bag in the last cycle: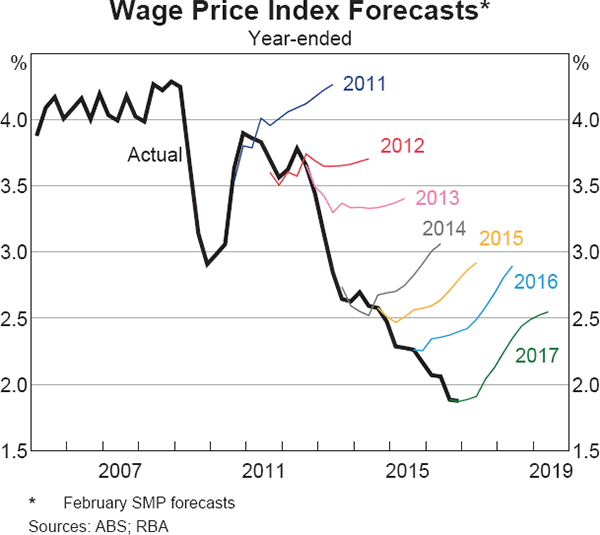 So why would we hand fiscal policy over to an unaccountable technocratic failure as well?
At least we can boot governments at the ballot box.
David Llewellyn-Smith is Chief Strategist at the MB Fund and MB Super. David is the founding publisher and editor of MacroBusiness and was the founding publisher and global economy editor of The Diplomat, the Asia Pacific's leading geo-politics and economics portal.

He is also a former gold trader and economic commentator at The Sydney Morning Herald, The Age, the ABC and Business Spectator. He is the co-author of The Great Crash of 2008 with Ross Garnaut and was the editor of the second Garnaut Climate Change Review.
Latest posts by David Llewellyn-Smith (see all)