Via BISOxford:
The 2019/20 financial year should represent the trough for total building, with a strong rebound anticipated from 2020/21 onwards as interest rate cuts, easing mortgage serviceability tests and first-home buyer stimulus help facilitate a broad recovery.

Total building activity is anticipated to climb near its previous peak over the coming five years.
Strong population growth, a rising national dwelling stock deficiency and housing stimulus are set to provide considerable support to the residential building and renovation sectors, while non-residential building is projected to remain elevated at a high base over the medium term.

Halfway through the residential downturn, our sights are now set on the recovery.

The next pick-up in new dwelling construction is expected to coincide with a continued buoyant level of non-residential investment and a turn in mining investment. Queensland and Western Australia are well-positioned to lead the next residential upturn, ahead of New South Wales and Victoria.

Once gross yields for residential property appear more favourable, investor demand is expected to start firing for both new and existing dwellings, but this is unlikely to occur until the second half of 2021.
That seems a reasonable base base in terms of timing, similar to Morgan Stanley last week:
A recovery in housing construction activity is still yet to start in Australia, and building materials providers have more pain to come, acording to Morgan Stanley.

In a study of less materials-intensive apartment activity, versus more-intensive detached houses, the broker has created its Morgan Stanley Intensity Adjusted index which signals the worst is yet to be felt.

Analysts led by Andrew Scott say the downturn will hit worst in FY20, with forecasts suggesting activity won't trough until late FY21.

"The Australian residential- exposed building materials stocks have enjoyed a post-election bounce that we believe has come too early and ignores the pain yet to come in the group," Mr Scott says.

CSR is primed to feel the worst of the downturn, with the greatest exposure to residential exposure – while James Hardie, Boral and Reliance Worldwide are overweight thanks to their exposure to instrastructure construction and offshore earnings.

Morgan Stanley is equal weight on Adelaide Brighton and Fletcher Buildings.
Here is the MS housing index, via the AFR: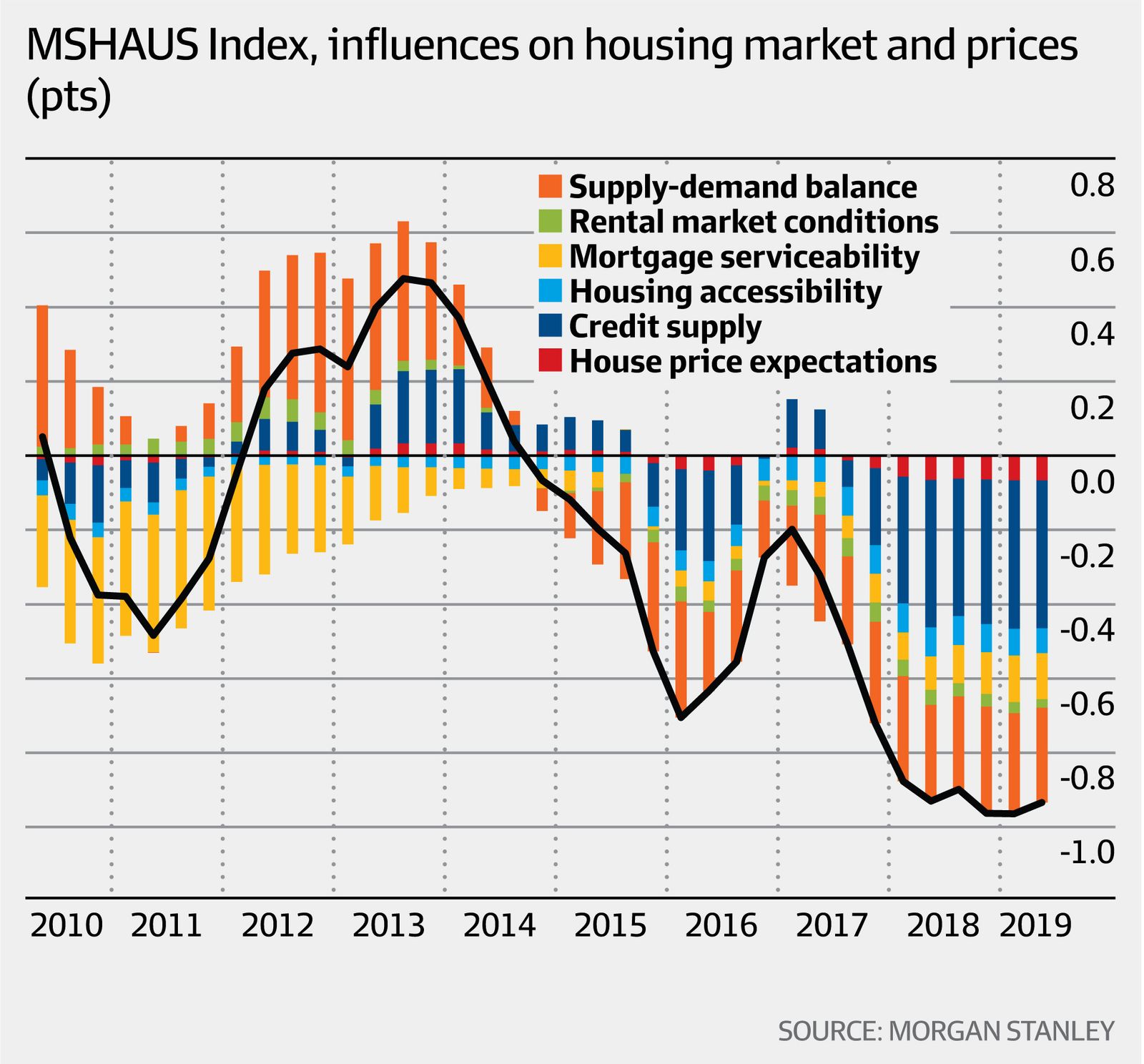 The bust in building activity is already here and will get much worse as commencements fall away: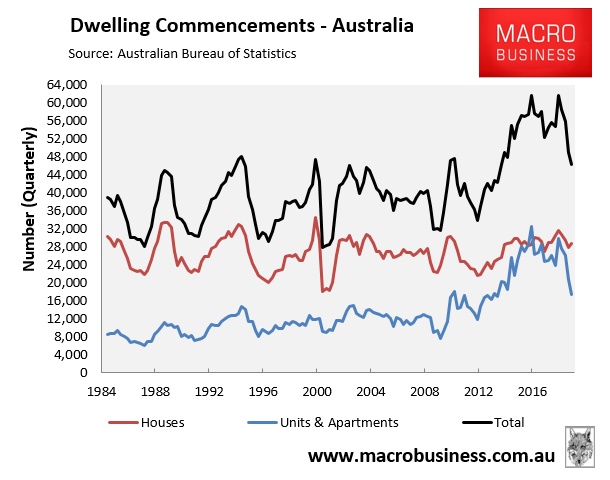 Followed by completions: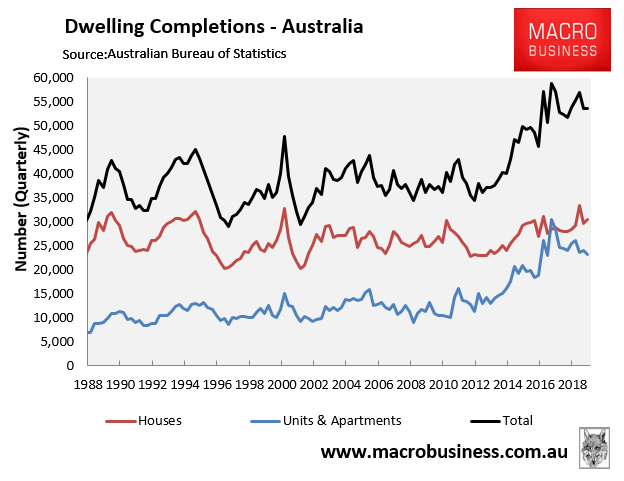 This is going to deliver a period of domestic demand rather like the 2013-16 mining capex bust only with no growth drivers in the east or west: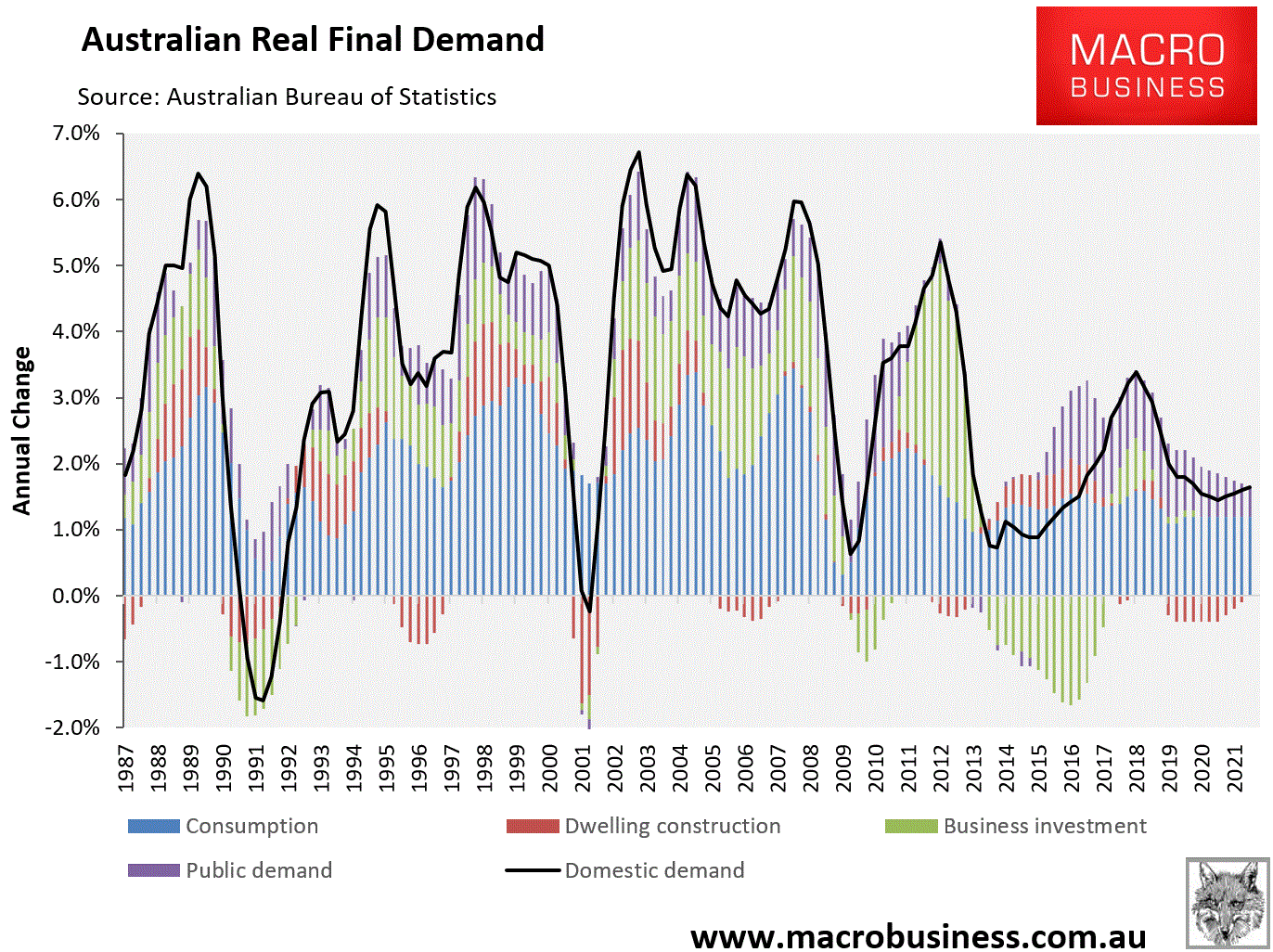 If MS and BIS are right, and there are good reasons to think that they are given the apartment quality control crisis, it will mean unemployment grinds higher throughout, above 6%, as mass immigration pours in warm bodies without the jobs to support them, and a 0.5% cash rate is not going to be low enough.
Latest posts by David Llewellyn-Smith (see all)