The ABS yesterday released its Participation, Job Search and Mobility survey, which reported that long-term underemployment in Australia has increased significantly over the past decade:
"Over one million Australians were underemployed in 2019. That is, they wanted to work more hours and were available to work those extra hours. This was 8.2 per cent of the total labour force, up from 7.6 per cent in 2009."

"Forty-six per cent of underemployed workers in 2019 reported that they had been working insufficient hours for a year or longer – with the median duration of underemployment now at 39 weeks, up from 26 weeks back in 2009"…

12.7 million people were employed in February 2019, which is almost two-thirds of the civilian population aged 15 and over (20.1 million). Of these, around 1.1 million people (9% of employed) were underemployed, almost all of whom usually work part time (1.0 million). Underemployment has been reasonably stable in the past few years (1.0 million people in February 2015), but has grown over the past decade (from 0.5 million people in February 2008).

45.9% of underemployed part-time workers in February 2019 had been underemployed a year or more. If a suitable job was offered, 16.8% would be prepared to move interstate, and 22.6% would be prepared to move intrastate.

Just under half (49.6%) of underemployed part-time workers took active steps to look for additional hours…
The ABS also notes that there are around one-in-five Australians that are willing and available to work, with 3.7 million Australians wanting more work and around 2 million of those not employed and wanting a job:
WANTING WORK

Total wanting work – 3.68 million (18.3%)

Works full-time and wants more hours – 560,000 (2.8%)
Works part-time and wants more hours – 1.14 million (5.7%)
Not employed and wants to work – 1.98 million (9.8%)

Does not want to work – 4.84 million (24.0%)
Unable to work – 560,000 (2.8%)…

AVAILABLE TO WORK

Not everyone who wants to work is available to work, and this therefore limits their ability to supply their labour. Of the 1.98 million people who wanted to work, 1.27 million were available to start working straight away, while 420,000 would be available in the next 4 weeks. The remaining 289,000 wanted to work, but were not available within 4 weeks.

There were many reasons why people are not available to work. The main reason was because they were busy caring for children (24.2%). Other reasons included studying or returning to studies (18.5%), a long term health condition or disability (17.9%) or caring for an elderly person or relative (7.7%). Similarly to those who do not want to work, these people who are unavailable to work are not included in the available labour supply.

Based on these two conditions of wanting and being available to work straight away, the proportion of available workers who were seeking work would be 9.1%.

Similarly, there were fewer workers who were both wanting and available to work more hours. Of the part-time workers, 1.07 million were available to work more hours, and 534,000 full-time workers were available for more hours.

This brings the total to 1.6 million workers who were available and wanted to work more hours, or 11.4% of all available workers. Combing these ratios results in a figure of 20.5% of the population that was willing and available to work.
This is bad news for wages, given underemployment and wage growth are inversely related: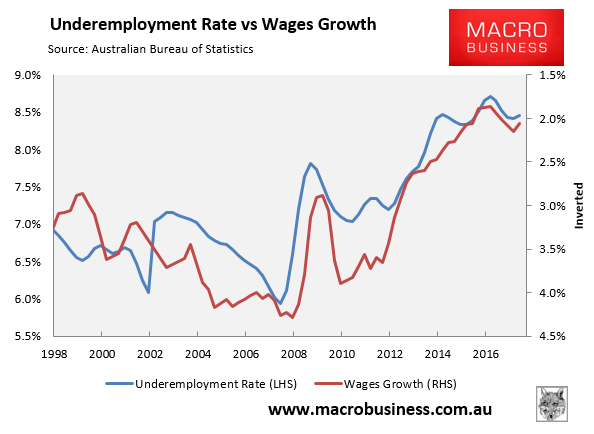 Basically, Australia has oodles of spare labour capacity, which is continually made worse by the federal government's mass immigration program.
As long as mass immigration persists, wage growth will remain in the gutter.
Leith van Onselen is Chief Economist at the MB Fund and MB Super. Leith has previously worked at the Australian Treasury, Victorian Treasury and Goldman Sachs.
Latest posts by Unconventional Economist (see all)