See the latest Australian dollar analysis here:
DXY was strong last night as EUR fell and CNY was stable: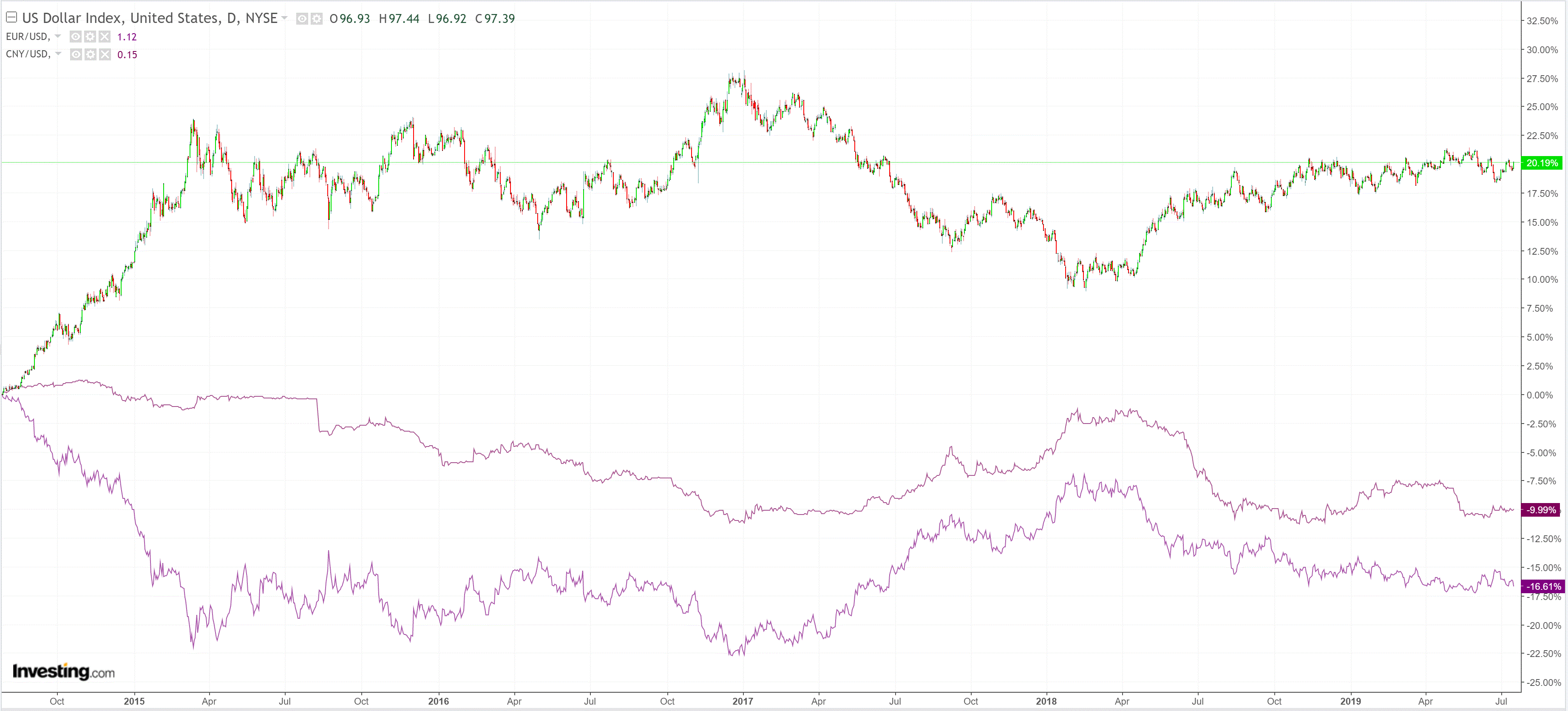 The Australian dollar was sucked lower: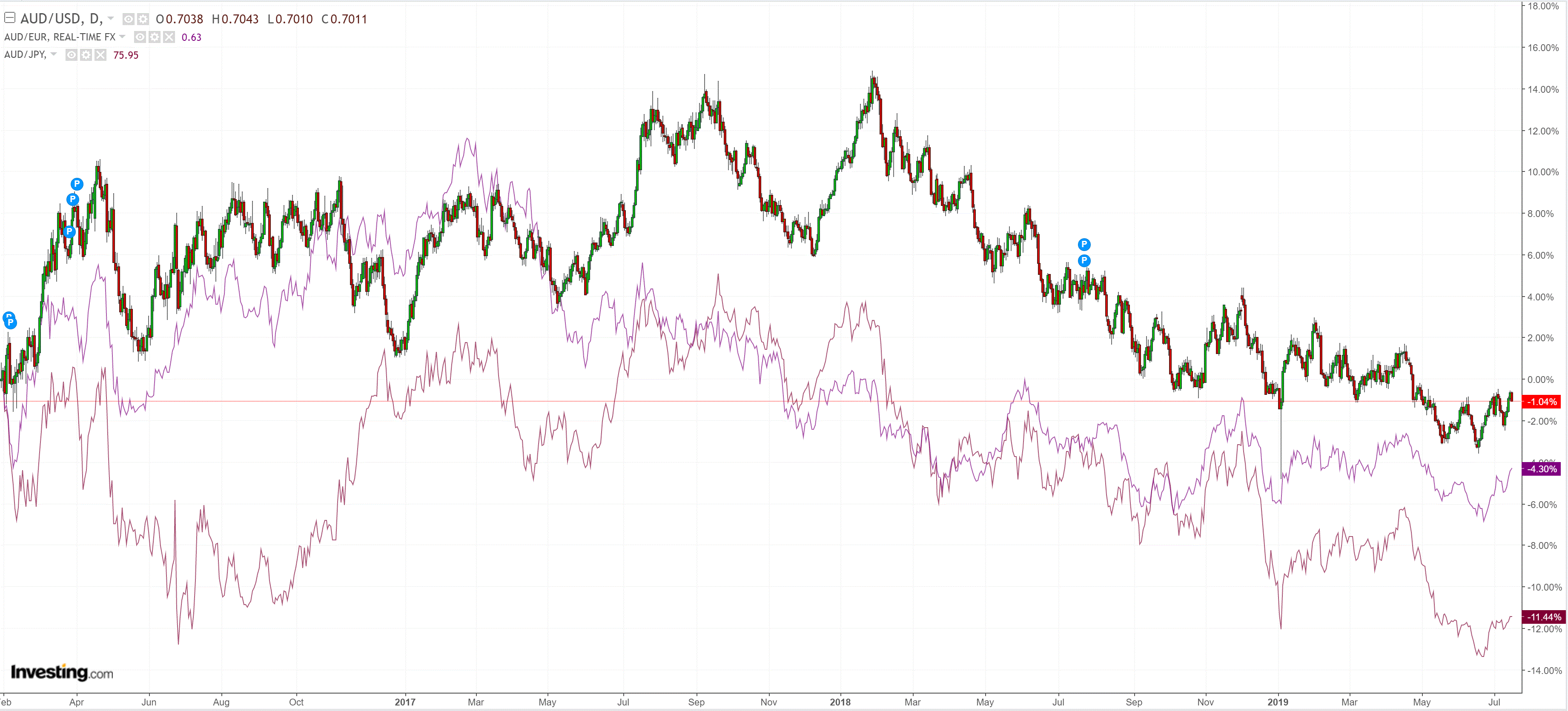 It was mixed versus EMs: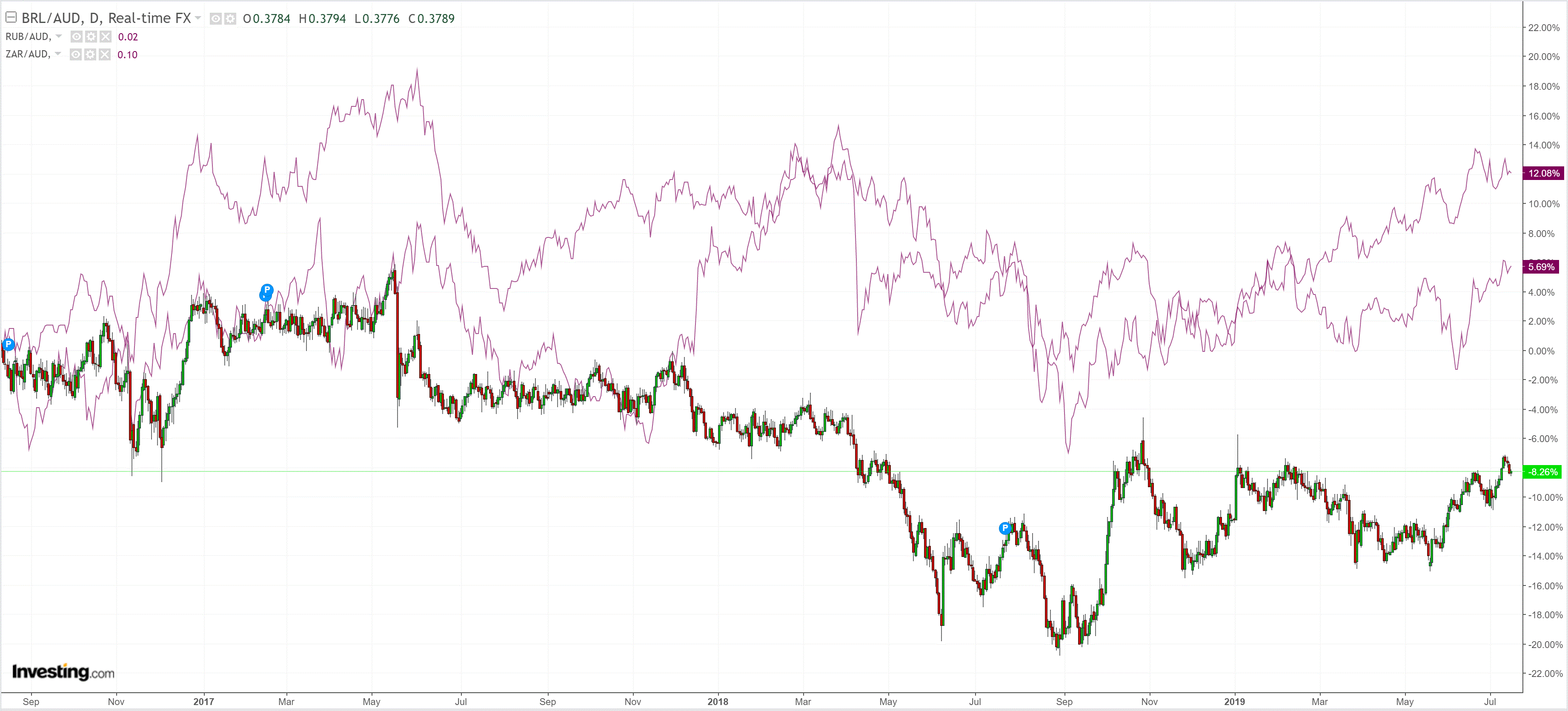 Gold was hit: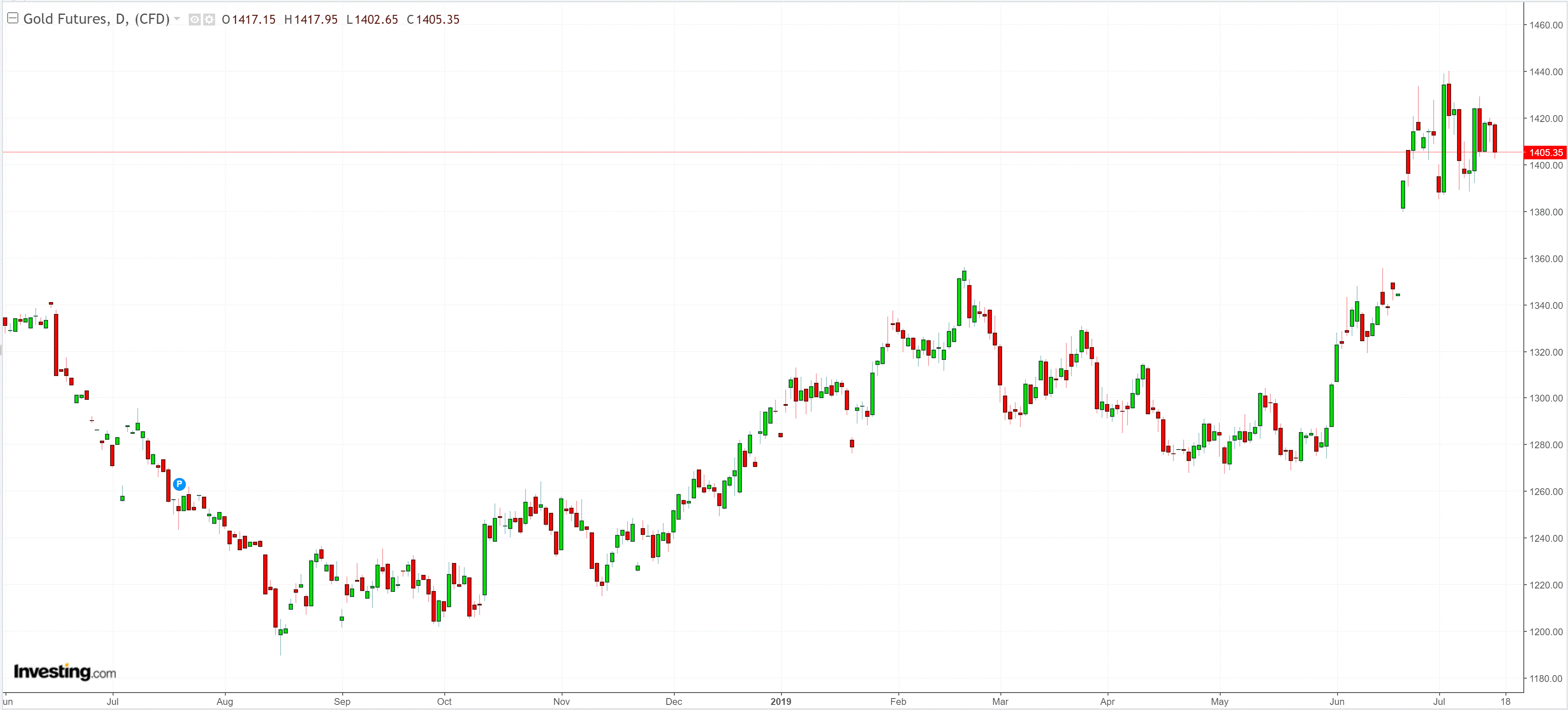 Oil crashed as Iran tensions eased: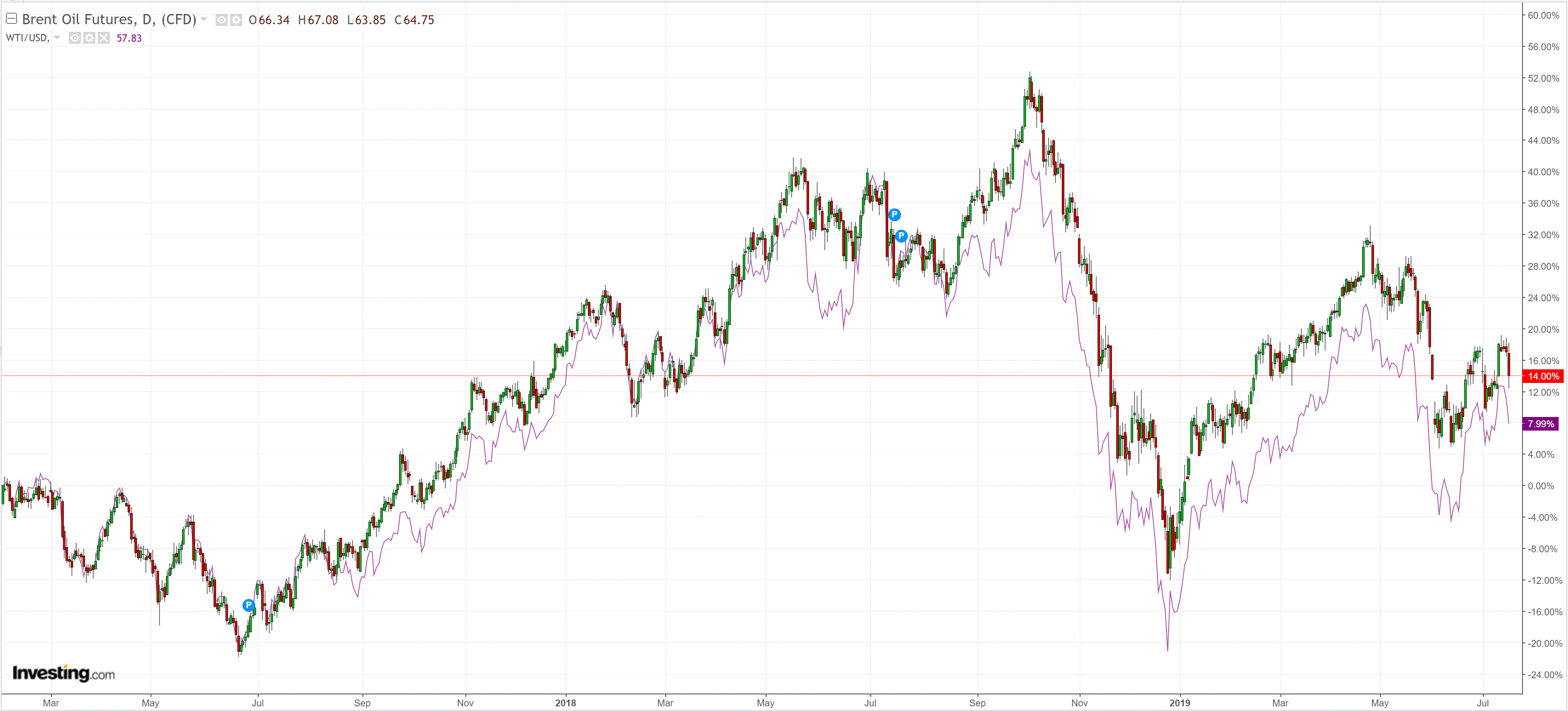 Metals were mixed: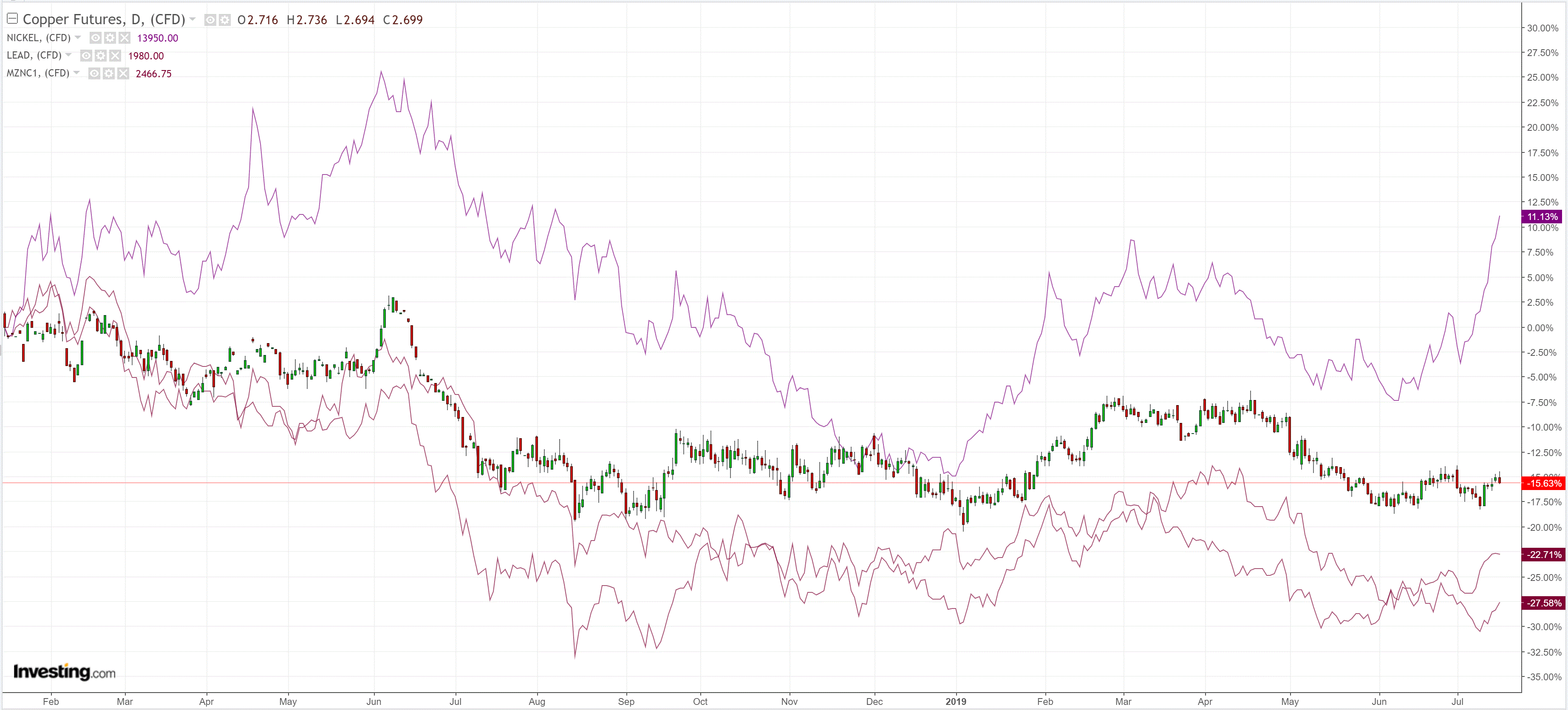 And big miners: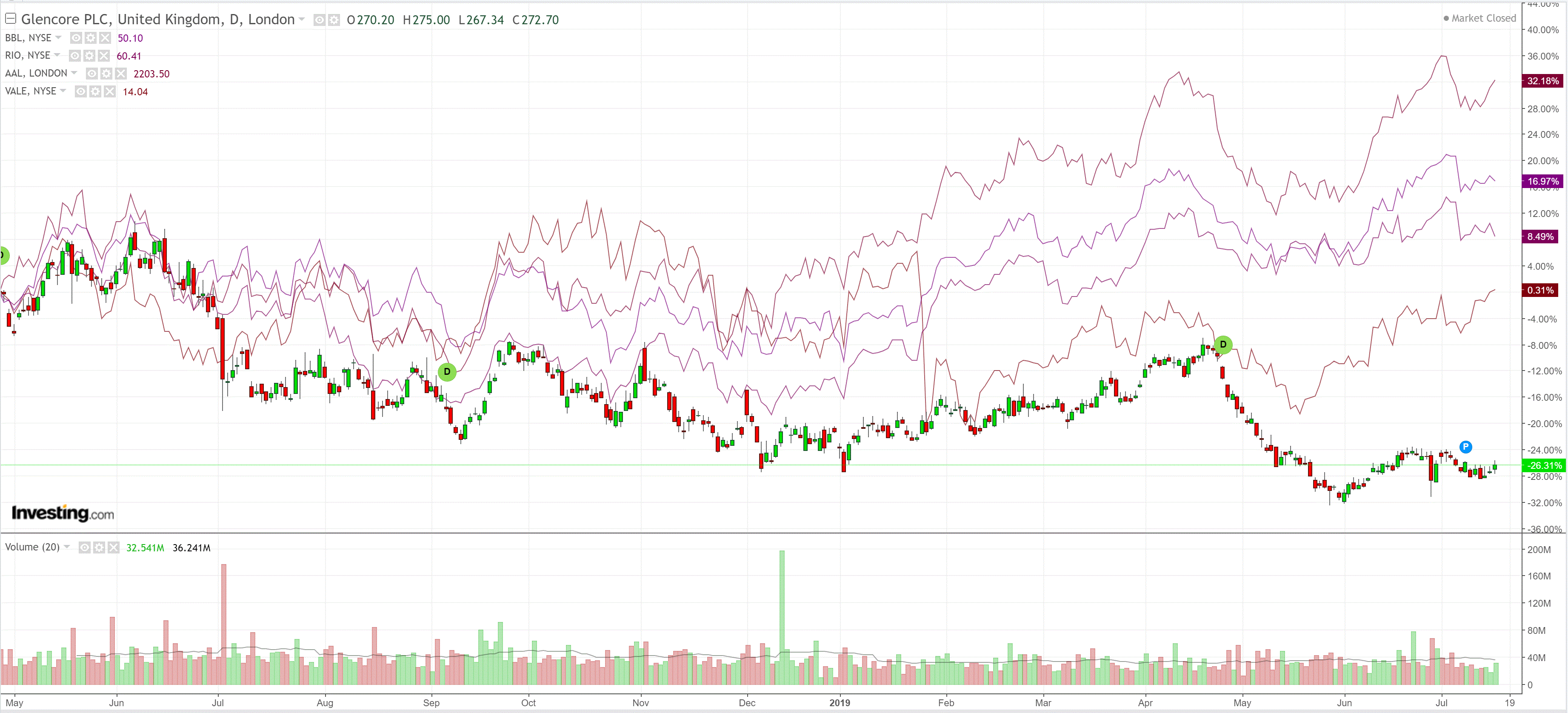 EM stocks held on: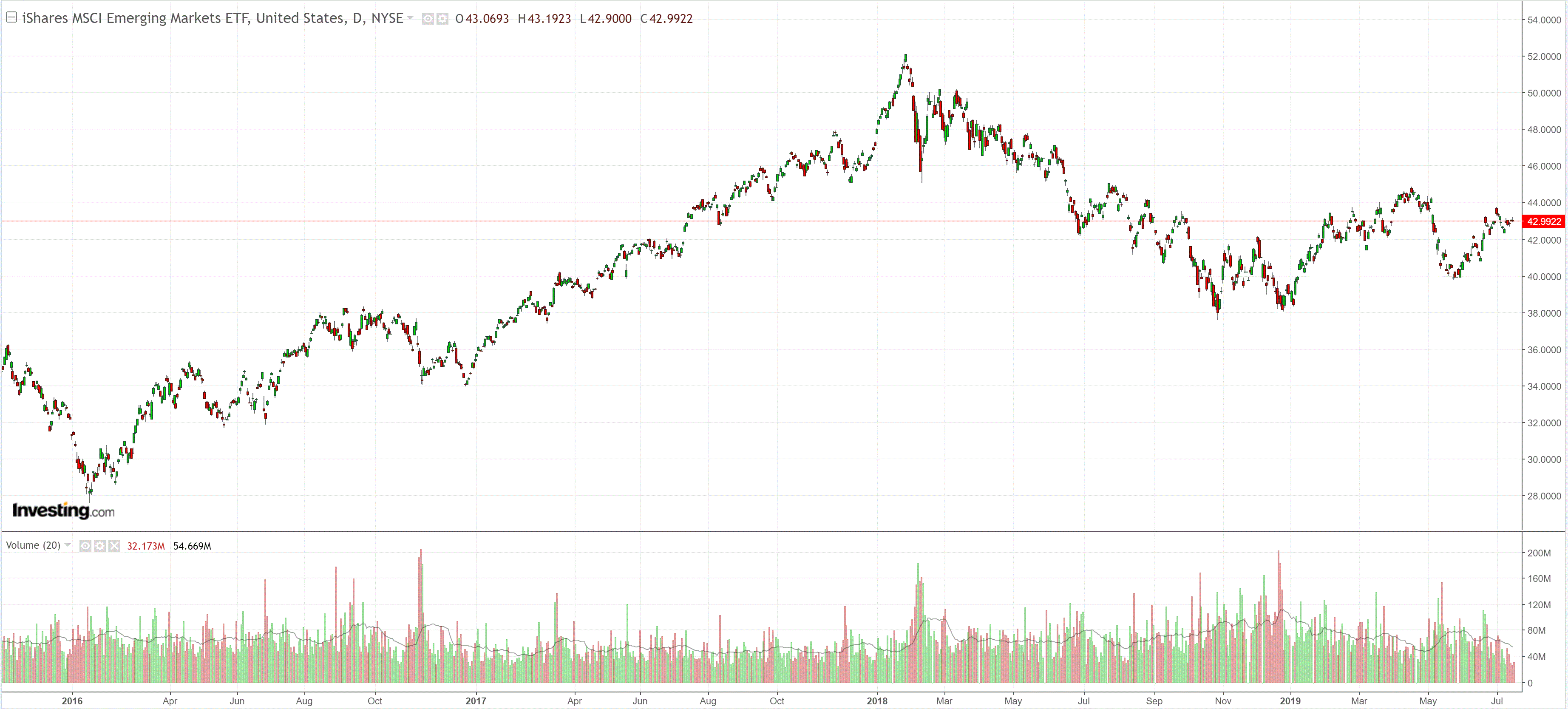 Junk faded: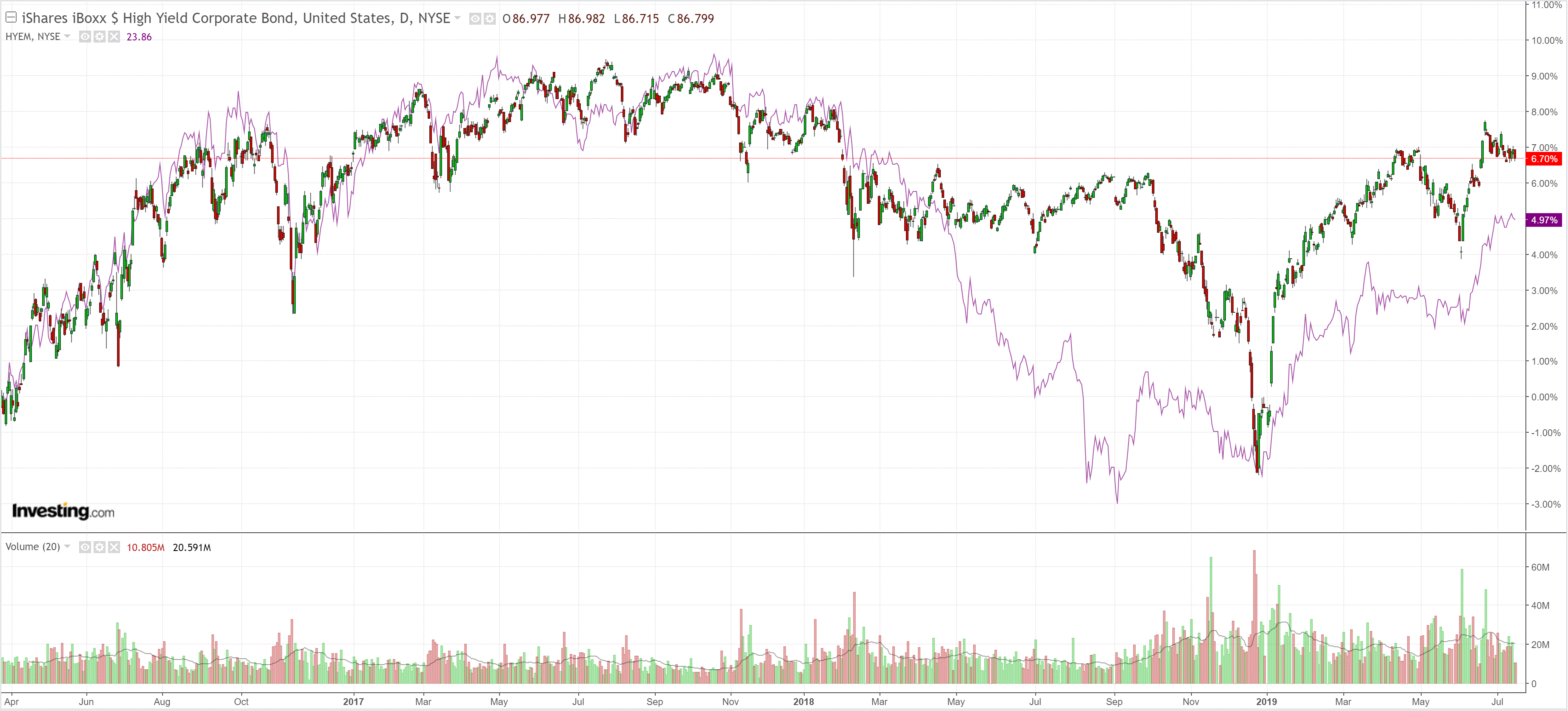 Treasuries were sold: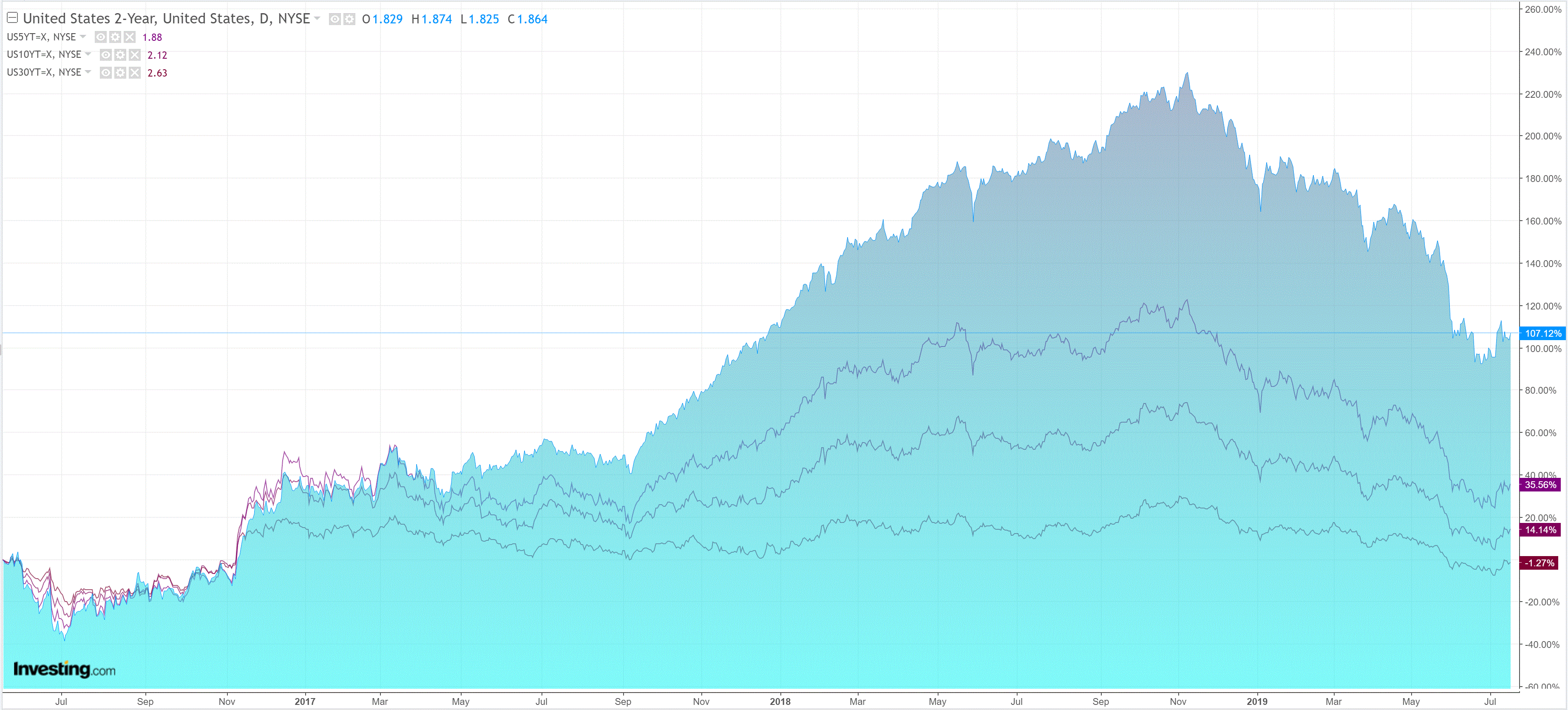 Bunds bid: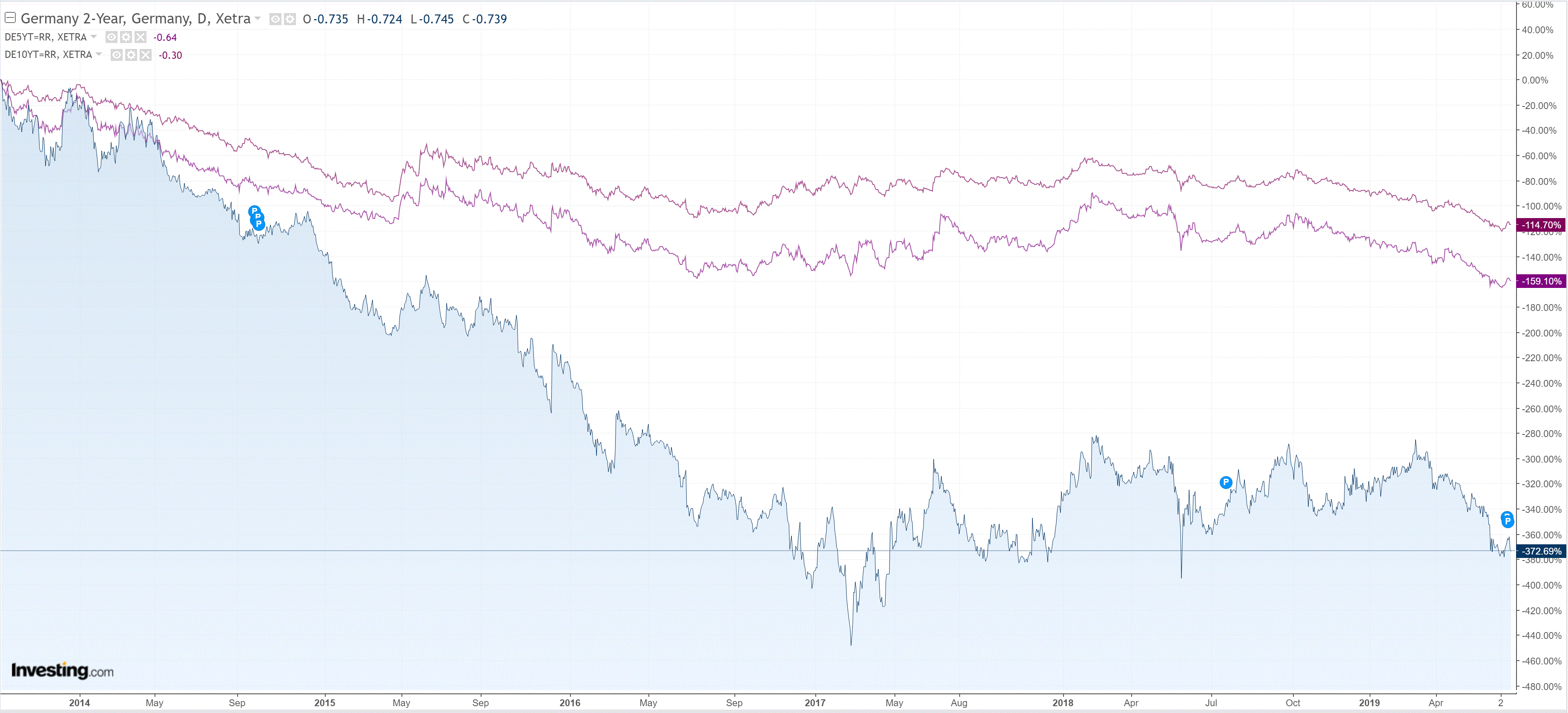 Aussie bonds too: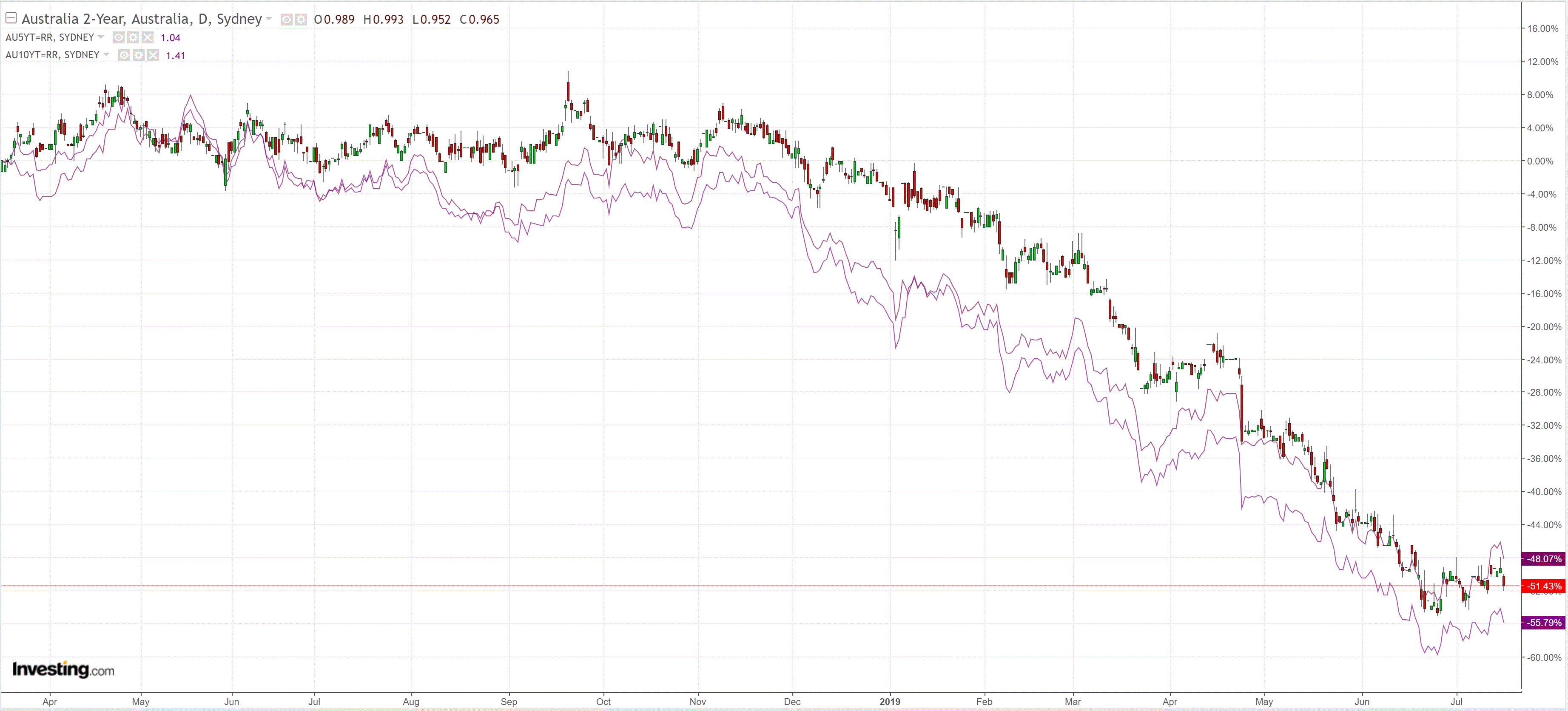 Stocks fell a little: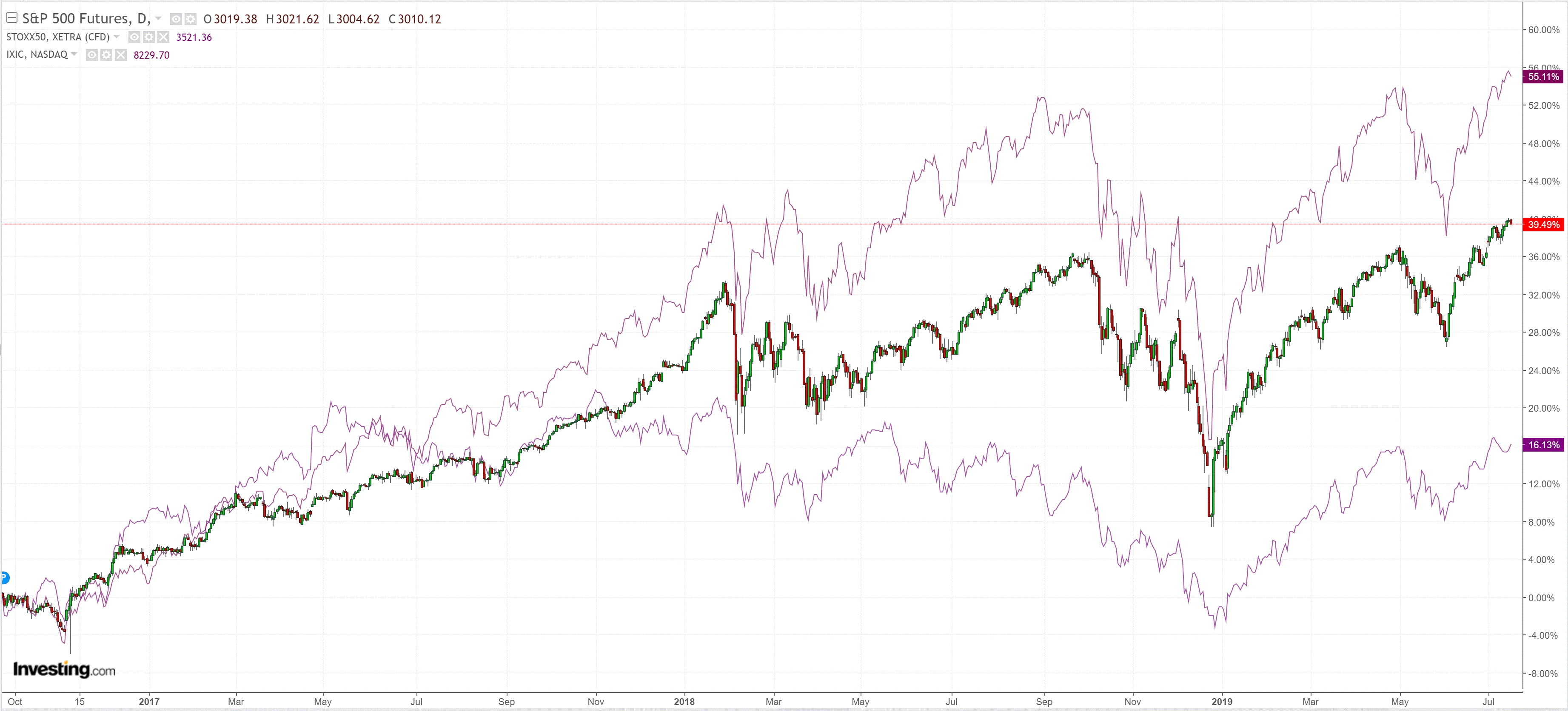 Data showed a big divergence between the US and Europe. The US had flat industrial production and solid builder confidence plus it still has a booming consumer:
Advance estimates of U.S. retail and food services sales for June 2019, adjusted for seasonal variation and holiday and trading-day differences, but not for price changes, were $519.9 billion, an increase of 0.4 percent from the previous month, and 3.4 percent above June 2018. … The April 2019 to May 2019 percent change was revised from up 0.5 percent to up 0.4 percent.
But Europe's industrial heart has stopped pumping. The German ZEW was awful with current conditions coming in at -1.1 from +7.8 and the forward looking expectations sub-index sliding more than expected to -24.5 from -21.1:
ZEW President Professor Achim Wambach noted: "In particular the continued negative trend in incoming orders in the German industry is likely to have reinforced the financial market experts' pessimistic sentiment. A lasting containment of the factors that are causing uncertainty in the export-oriented sectors of the German economy is currently not in sight. The Iran conflict seems to be intensifying and the ongoing trade dispute between the USA and China is a burden not only to Chinese economic development. Furthermore, no discernible progress has been made in the negotiations as to what Brexit will look like."
The leading indicators are not good either: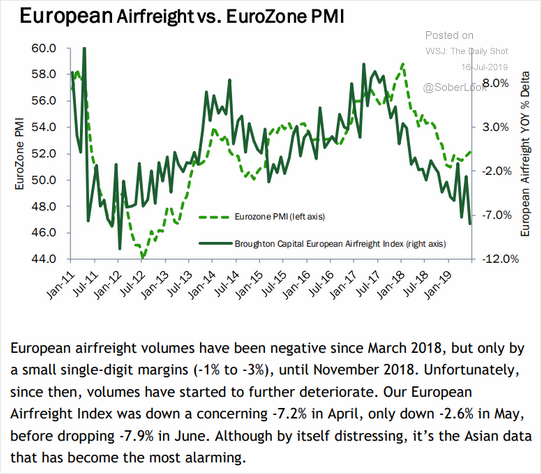 And a hard Brexit looms as a real possibility as both potential Tory leaders go all-in, at The Guardian, hammering GBP:
Boris Johnson and Jeremy Hunt have declared the Northern Ireland backstop "dead" and promised to throw it out of any deal they negotiate with the EU, in comments that significantly harden their Brexit positions.

The Tory leadership rivals both ruled out trying to tweak the backstop, which critics said could trap the UK indefinitely in a customs union with the EU.

They said it would not feature in any deal with the EU, saying it was no good to have a time limit on it or a way of the UK exiting it unilaterally – even though Eurosceptics had previously indicated they could vote for such compromises.

Pressed in a Sun and Talk Radio debate on whether he would seek a time limit to the backstop, Johnson said: "The answer is no. The problem is really fundamental. It needs to come out."
On top of that, Deutsche is reeling from an institutional bank run, via Bloomie:
When Deutsche Bank AG said it was exiting the business of servicing hedge funds as part of its historic retreat, French rival BNP Paribas SA seemed poised to benefit. The reality is more complicated.

The two European banking giants are discussing how to transfer 150 billion euros ($168 billion) of balances linked to hedge funds at Deutsche Bank's so-called prime-brokerage unit along with technology and potentially hundreds of staff, people familiar with the matter said. Yet the German lender's clients have been pulling about $1 billion of funds per day and going elsewhere as the firms iron out the details, placing pressure on them to complete a deal soon, said the people, who requested anonymity as the talks aren't public.
And although the ECB is is in flux, uber-dove Christine Lagarde is circling:
Christine Lagarde announced on Tuesday she had submitted her resignation from the global lender, saying she had more clarity about her nomination to be the next head of the European Central Bank (ECB).

"With greater clarity now on the process for my nomination as ECB President and the time it will take, I have made this decision in the best interest of the Fund," Lagarde said in a statement.

Lagarde's resignation comes two weeks after she was nominated to be the first woman president of the European Central Bank on July 2 by the eurozone's 19 member governments. She said her resignation will be effective from September 12.
Goldman is expecting some serious fireworks:
The market is currently discounting around 100-150 EURbn of additional ECB sovereign purchases since Sintra. We ultimately expect the ECB to exceed these expectations at the September meeting.

We think the ECB can purchase 200-250EURbn under existing constraints and will re-start sovereign purchases in September.
I'm inclined to agree that some kind of bazooka will be forthcoming.
The US is slowing and the Fed is going to cut. But Europe is leading global growth down the gurgler even before it deals with burgeoning Brexit and Deutsche risks plus an ECB that is going to have to go all-in once again to save the Block.
Where the EUR goes the AUD follows.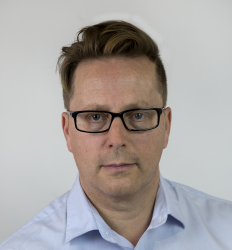 Latest posts by David Llewellyn-Smith
(see all)